Ethics prof at one of Canada's oldest universities on temporary paid leave for stance against forced vaccinations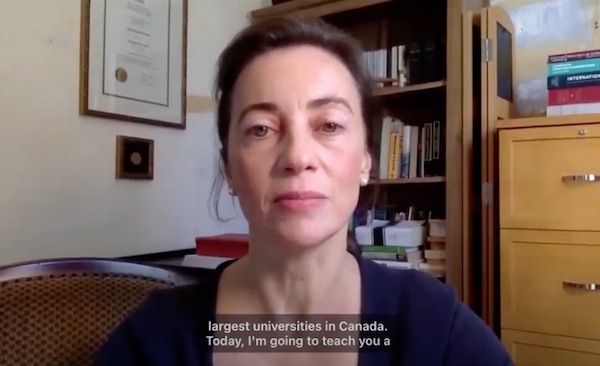 Huron University in London, Ontario, was incorporated way back in 1863 as one of the founding colleges of Western University. Western is one of the largest universities in Canada.
On the University's website under academic objectives, Huron University strongly encourages "critical thinking through excellent teaching and research". But it appears critical thinking may have landed a university ethics professor in a career ending dilemma. Dr. Julie Ponesse has been teaching Ethics at Huron for 20 years. Dr. Ponesse says the University of Western Ontario has barred her from campus and put her on temporary paid leave for taking an ethical stance against the University's vaccine policy.
Here is the first measure of that policy as highlighted on the University website.
Mandatory Vaccination on Campus: Huron and its affiliate partners are implementing a vaccination policy which will require proof of vaccination or have an exemption in order to come on campus, including living in residence. Those with an exemption must be tested for COVID-19 twice weekly. There is no testing option for those who choose not to be vaccinated. Those without proof of vaccination or an exemption will not be permitted on campus.
Professor Ponesse says just a few days before the school year began, she was mandated by her employers to take the vaccine immediately. As an Ethics educator she decided it was her job to teach her students it's ethically wrong to force people to take a vaccine. Instead of lining up for the jab, Dr. Ponesse went to her office and recorded a video which has now been seen across Canada tens of thousands of times. At the end of the video a statement appears indicating Professor Julie Ponesse was dismissed by her employers on September 7.
The video is being shared and commented on by Canadians from coast to coast, in various social media platforms. It's a fascinating discussion on ethics in a terribly confusing and controversial time, by an experienced ethics professor who has courageously put her ethics ahead of her career.

The video has been taken down by both Facebook and Twitter for statements Ponesse makes about the effectiveness of vaccines. This video was reloaded to Facebook. Supporters of Dr. Ponesse have also posted it to Instagram. We've posted two links in case one is taken down yet again.
Dr. John Campbell – The health researcher who's been explaining the pandemic to millions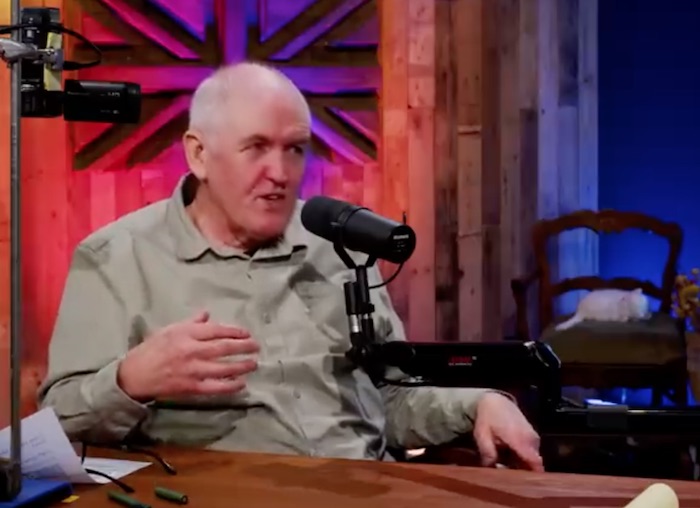 Throughout the last three years people around the world have been searching for answers. As the Covid pandemic swept the globe, hundreds of millions of people where locked down. Most turned quickly to their trusted news sources for information. But as the pandemic continued, millions found that this time newspapers, tv reporters and the regular experts haven't been very much help.
After the initial lockdown turned from two weeks into month after month, regular citizens everywhere started to question what they were being told. From lockdowns, to mask mandates, to early treatment, to vaccine mandates, millions became sceptical of media sources as they discovered data from around the world, experts who had different opinions, and doctors who treated patients despite the consequences.
But how could they know who was correct?
That's where Dr. John Campbell came in. Dr. Campbell is a retired nursing instructor from the United Kingdom. For years, before the days of youtube even, he's been making informative videos about health studies and sharing them with what used to be modest audiences of a few thousand medical enthusiasts. When the pandemic began and he switched his focus to covid-19 topics, his popularity exploded.
His videos of 10 to 20 minutes are short enough to watch daily. His conversational approach is easy for regular people to follow. But perhaps his best attribute is that he shares every single source of information he talks about. And he tends to only share data and studies from legitimate, recognizable and verifiable sources. When data changes or new information comes to light, he apologizes and makes corrections. In short, his daily presentations are like nothing else out there.
In the late fall of 2021, millions of people followed his videos as he tracked the new Omicron variant in South Africa. Campbell correctly predicted the new variant would be far less dangerous than the Delta variant it was replacing. He predicted almost to the day when Omicron would sweep into the UK and then through North America. While the regular news outlets warned their viewers the new variant would affect even more people, Campbell was assuring his viewers that this was perfectly OK because the strain wasn't very dangerous. Thousands, and millions stopped going elsewhere for the latest information on the pandemic.
For three years, his audience has been growing steadily. His presentations are often seen by larger audiences than almost any media outlet could hope for. Dr. John Campbell has become "the" source of trusted covid information for millions.
If you haven't been introduced to Dr. John Campbell yet, this interview by Russell Brand is a great place to start. In this video Brand takes Dr. Campbell on a very quick and informative look back at the last three years of covid, and all the information surrounding the pandemic.
If you'd like to dive deeper into this conversation, here's the entire conversation which lasted about an hour.
Here's the very latest daily video from Dr. Campbell posted Thursday, March 30. In this video Campbell shows how Covid symptoms have evolved into what looks almost precisely like the common cold.
Appropriate for Alberta premier to discuss COVID case with accused, deputy says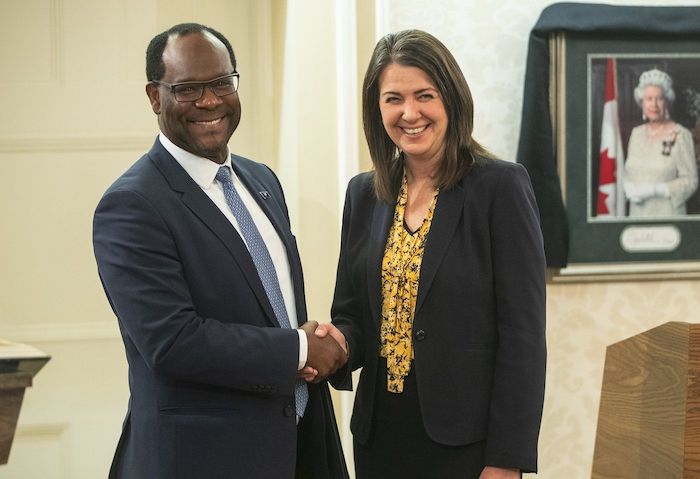 Kaycee Madu shakes hand with Alberta Premier Danielle Smith after he was sworn into cabinet in Edmonton, Monday, Oct. 24, 2022. Madu says it was appropriate for his boss to phone up a pastor charged over pandemic-rule protests and discuss the accused's upcoming criminal trial. THE CANADIAN PRESS/Jason Franson
By Dean Bennett in Edmonton
Alberta's deputy premier says it was appropriate for Premier Danielle Smith to phone up a pastor and discuss his upcoming criminal trial on charges stemming from protests over pandemic restrictions.
Kaycee Madu, who is also the province's former justice minister, said Thursday that Smith is working to make Alberta better, adding that she is free to contact whomever she wants in pursuing that mission.
Opposition NDP Leader Rachel Notley labelled Madu's comments a dangerous "la la land" rationale and the start of a slippery slope toward a "tinpot dictatorship."
Smith faces renewed criticism over a leaked phone conservation she had with Calgary pastor Artur Pawlowski in January about his looming criminal trial for his role at a protest over COVID-19 health measures that blocked the United States-Canada border-crossing at Coutts, Alta., in January 2022.
Audio of the call was obtained by the Opposition NDP and played for reporters Wednesday.
In it, Smith is heard commiserating with Pawlowski over her government's trial tactics, offering to make inquiries on his behalf and saying the Crown is pursuing politically motivated charges against him.
Legal and political observers say the call is a profound breach of the firewall separating politicians from those who decide who gets prosecuted.
Smith has long been critical of COVID-19 masking, gathering and vaccine mandate rules, questioning if they were needed to fight the pandemic. She has called them intolerable violations of personal freedoms.
Madu, when asked by reporters whether it was proper for Smith to have called Pawlowski, said: "COVID policies were divisive for the people of Alberta. I am looking to see us pass that particular era and focus on the people's priorities."
He said Smith's focus as premier has been on things that matter to Albertans, such as affordability, economic growth and taking care of the vulnerable.
"In the course of that particular work, the premier is free to speak with anyone that she wishes to speak with."
Notley said those remarks, coupled with Smith's words on the phone call, put Alberta on a slippery path to the politicization of its justice system. She called for an expedited independent inquiry into the matter before the writ is dropped next month for a scheduled provincial election.
"We're on the verge of a tinpot dictatorship," Notley said.
"You start ripping apart the fundamental tenets of democracy, you move into dictatorship. It's that simple."
Madu moved out of the justice portfolio under former premier Jason Kenney after a third-party report found he tried to interfere in the administration of justice by calling up Edmonton's police chief to complain about a traffic ticket.
Madu was given a new portfolio under Kenney, then promoted to deputy premier when Smith won the party leadership and became premier in October.
Smith has not spoken to reporters since the audio was released, but in a statement Wednesday reiterated she has acted strictly within the parameters of advice from justice officials and has not spoken directly to Crown prosecutors.
"There is no need for further investigation of this matter," Smith said in a statement Thursday.
Notley said the call is dramatic and disturbing proof of Smith breaching the judicial firewall.
"You cannot have unfettered power in the office of the premier. There are limits," Notley said. "Our Constitution for as long as we've been a country has said that those limits are defined by an independent judicial system."
Calgary-based pollster Janet Brown said the controversy will reanimate voter concerns with Smith.
"Why was she even taking a call from someone facing a criminal offence and talking about their criminal charges?" said Brown in an interview.
"This will give undecided voters pause. They will be wondering about her judgment, and her judgment is her Achilles heel."
Political scientist Duane Bratt said Smith is exerting pressure on the justice system by constantly questioning justice officials about why they are pursuing COVID-19 cases.
"Even if this isn't about talking to Crown prosecutors, this is clear pressure on (Justice Minister Tyler) Shandro," said Bratt, with Mount Royal University in Calgary.
Constitutional law professor Eric Adams, with the University of Alberta, said the call threatens public trust in the courts.
"You expose the administration of justice to the reasonable concern of the public that some people have access to the premier and preferential treatment and some people don't," said Adams.
"Our system can't function on that basis."
This report by The Canadian Press was first published March 30, 2023.