Ethics prof at one of Canada's oldest universities on temporary paid leave for stance against forced vaccinations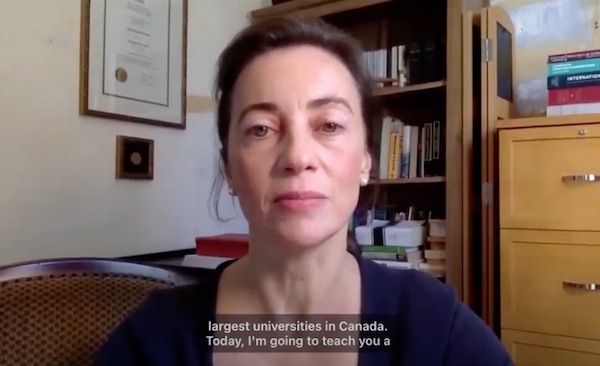 Huron University in London, Ontario, was incorporated way back in 1863 as one of the founding colleges of Western University.  Western is one of the largest universities in Canada.
On the University's website under academic objectives, Huron University strongly encourages "critical thinking through excellent teaching and research".  But it appears critical thinking may have landed a university ethics professor in a career ending dilemma. Dr. Julie Ponesse has been teaching Ethics at Huron for 20 years.  Dr. Ponesse says the University of Western Ontario has barred her from campus and put her on temporary paid leave for taking an ethical stance against the University's vaccine policy.
Here is the first measure of that policy as highlighted on the University website.
Mandatory Vaccination on Campus: Huron and its affiliate partners are implementing a vaccination policy which will require proof of vaccination or have an exemption in order to come on campus, including living in residence. Those with an exemption must be tested for COVID-19 twice weekly. There is no testing option for those who choose not to be vaccinated. Those without proof of vaccination or an exemption will not be permitted on campus.
Professor Ponesse says just a few days before the school year began, she was mandated by her employers to take the vaccine immediately.  As an Ethics educator she decided it was her job to teach her students it's ethically wrong to force people to take a vaccine.  Instead of lining up for the jab, Dr. Ponesse went to her office and recorded a video which has now been seen across Canada tens of thousands of times.  At the end of the video a statement appears indicating Professor Julie Ponesse was dismissed by her employers on September 7.
The video is being shared and commented on by Canadians from coast to coast, in various social media platforms.  It's a fascinating discussion on ethics in a terribly confusing and controversial time, by an experienced ethics professor who has courageously put her ethics ahead of her career.

The video has been taken down by both Facebook and Twitter for statements Ponesse makes about the effectiveness of vaccines.  This video was reloaded to Facebook.  Supporters of Dr. Ponesse have also posted it to Instagram.  We've posted two links in case one is taken down yet again.
Africa tries to end vaccine inequity by replicating its own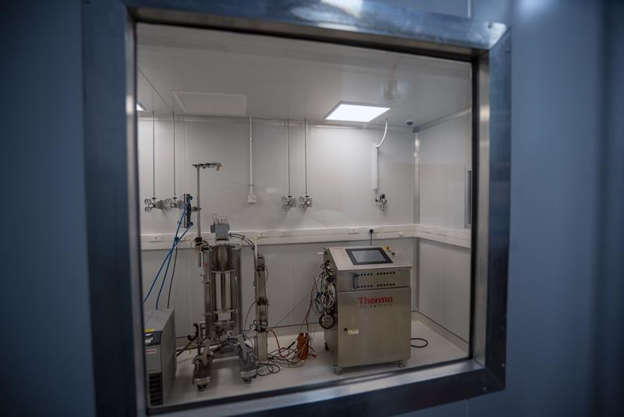 CAPE TOWN, South Africa (AP) — In a pair of Cape Town warehouses converted into a maze of airlocked sterile rooms, young scientists are assembling and calibrating the equipment needed to reverse engineer a coronavirus vaccine that has yet to reach South Africa and most of the world's poorest people.
The energy in the gleaming labs matches the urgency of their mission to narrow vaccine disparities. By working to replicate Moderna's COVID-19 shot, the scientists are effectively making an end run around an industry that has vastly prioritized rich countries over poor in both sales and manufacturing.
And they are doing it with unusual backing from the World Health Organization, which is coordinating a vaccine research, training and production hub in South Africa along with a related supply chain for critical raw materials. It's a last-resort effort to make doses for people going without, and the intellectual property implications are still murky.
"We are doing this for Africa at this moment, and that drives us," said Emile Hendricks, a 22-year-old biotechnologist for Afrigen Biologics and Vaccines, the company trying to reproduce the Moderna shot. "We can no longer rely on these big superpowers to come in and save us."
Some experts see reverse engineering — recreating vaccines from fragments of publicly available information — as one of the few remaining ways to redress the power imbalances of the pandemic. Only 0.7% of vaccines have gone to low-income countries so far, while nearly half have gone to wealthy countries, according to an analysis by the People's Vaccine Alliance.
That WHO, which relies upon the goodwill of wealthy countries and the pharmaceutical industry for its continued existence, is leading the attempt to reproduce a proprietary vaccine demonstrates the depths of the supply disparities.
The U.N.-backed effort to even out global vaccine distribution, known as COVAX, has failed to alleviate dire shortages in poor countries. Donated doses are coming in at a fraction of what is needed to fill the gap. Meanwhile, pressure for drug companies to share, including Biden administration demands on Moderna, has led nowhere.
Until now, WHO has never directly taken part in replicating a novel vaccine for current global use over the objections of the original developers. The Cape Town hub is intended to expand access to the novel messenger RNA technology that Moderna, as well as Pfizer and German partner BioNTech, used in their vaccines.
"This is the first time we're doing it to this level, because of the urgency and also because of the novelty of this technology," said Martin Friede, a WHO vaccine research coordinator who is helping direct the hub.
Dr. Tom Frieden, the former head of the U.S. Centers for Disease Control and Prevention, has described the world as "being held hostage" by Moderna and Pfizer, whose vaccines are considered the most effective against COVID-19. The novel mRNA process uses the genetic code for the spike protein of the coronavirus and is thought to trigger a better immune response than traditional vaccines.
Arguing that American taxpayers largely funded Moderna's vaccine development, the Biden administration has insisted the company must expand production to help supply developing nations. The global shortfall through 2022 is estimated at 500 million and 4 billion doses, depending on how many other vaccines come on the market.
"The United States government has played a very substantial role in making Moderna the company it is," said David Kessler, the head of Operation Warp Speed, the U.S. program to accelerate COVID-19 vaccine development.
Kessler would not say how far the administration would go in pressing the company. "They understand what we expect to happen," he said.
Moderna has pledged to build a vaccine factory in Africa at some point in the future. But after pleading with drugmakers to share their recipes, raw materials and technological know-how, some poorer countries are done waiting.
Afrigen Managing Director Petro Terblanche said the Cape Town company is aiming to have a version of the Moderna vaccine ready for testing in people within a year and scaled up for commercial production not long after.
"We have a lot of competition coming from Big Pharma. They don't want to see us succeed," Terblanche said. "They are already starting to say that we don't have the capability to do this. We are going to show them."
If the team in South Africa succeeds in making a version of Moderna's vaccine, the information will be publicly released for use by others, Terblanche said. Such sharing is closer to an approach U.S. President Joe Biden championed in the spring and the pharmaceutical industry strongly opposes.
Commercial production is the point at which intellectual property could become an issue. Moderna has said it would not pursue legal action against a company for infringing on its vaccine rights, but neither has it offered to help companies that have volunteered to make its mRNA shot.
Chairman Noubar Afeyan said Moderna determined it would be better to expand production itself than to share technology and plans to deliver billions of additional doses next year.
"Within the next six to nine months, the most reliable way to make high-quality vaccines and in an efficient way is going to be if we make them," Afeyan said.
Zoltan Kis, an expert in messenger RNA vaccines at Britain's University of Sheffield, said reproducing Moderna's vaccine is "doable" but the task would be far easier if the company shared its expertise. Kis estimated the process involves fewer than a dozen major steps. But certain procedures are tricky, such as sealing the fragile messenger RNA in lipid nanoparticles, he said.
"It's like a very complicated cooking recipe," he said. "Having the recipe would be very, very helpful, and it would also help if someone could show you how to do it."
A U.N.-backed public health organization still hopes to persuade Moderna that its approach to providing vaccines for poorer countries misses the mark. Formed in 2010, the Medicines Patent Pool initially focused on convincing pharmaceutical companies to share patents for AIDS drugs.
"It's not about outsiders helping Africa," Executive Director Charles Gore said of the South Africa vaccine hub. "Africa wants to be empowered, and that's what this is about."
It will eventually fall to Gore to try to resolve the intellectual property question. Work to recreate Moderna's COVID-19 vaccine is protected as research, so a potential dispute would surround steps to sell a replicated version commercially, he said.
"It's about persuading Moderna to work with us rather than using other methods," Gore said.
He said the Medicines Patent Pool repeatedly tried but failed to convince Pfizer and BioNTech to even discuss sharing their formulas.
Rep. Raja Krishnamoorthi, who is among the members of Congress backing a bill that calls on the United States to invest more in making and distributing COVID-19 vaccines in low- and middle-income countries, said reverse engineering isn't going to happen fast enough to keep the virus from mutating and spreading further.
"We need to show some hustle. We have to show a sense of urgency, and I'm not seeing that urgency," he said. "Either we end this pandemic or we muddle our way through."
Campaigners argue the meager amount of vaccines available to poorer countries through donations, COVAX and purchases suggests the Western-dominated pharmaceutical industry is broken.
"The enemy to these corporations is losing their potential profit down the line," Joia Mukherjee, chief medical officer of the global health nonprofit Partners in Health, said. "The enemy isn't the virus, the enemy isn't suffering."
Back in Cape Town, the promise of using mRNA technology against other diseases motivates the young scientists.
"The excitement is around learning how we harness mRNA technology to develop a COVID-19 vaccine," Caryn Fenner, Afrigen's technical director, said. But more important, Fenner said, "is not only using the mRNA platform for COVID, but for beyond COVID."
___
Cheng reported from London; Hinnant reported from Paris.
Lori Hinnant, Maria Cheng And Andrew Meldrum, The Associated Press
Parents more hesitant to vaccinate kids than themselves, researcher says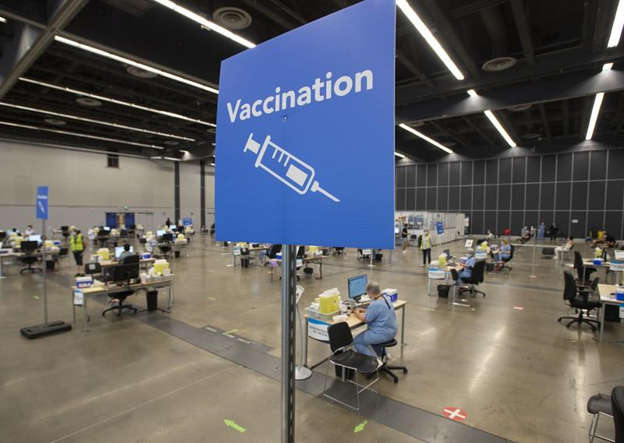 OTTAWA — Jennifer Hubert jumped at the opportunity to get her COVID-19 vaccine, but she's not looking forward to having to make the decision about whether to vaccinate her three-year-old son Jackson.
She recognizes the safety and effectiveness of vaccines, but said she also understands her son is at a much lower risk for serious illness than older adults.
"To me it's not a clear benefit," she said.
While many parents were overjoyed at the news that Health Canada is considering approval of the first COVID-19 vaccine for kids age five to 11 in Canada, parents like Hubert are feeling more trepidatious, and public health officials said they are going to have a much more nuanced conversation with parents about vaccination than they did with adults.
While 82 per cent of eligible Canadians aged 12 and up are already fully vaccinated, a recent survey by Angus Reid shows only 51 per cent of parents plan to immediately vaccinate their kids when a pediatric dose becomes available.
Of parents with children in the five to 11 year age range, 23 per cent said they would never give their kids a COVID-19 vaccine, 18 per cent said they would wait, and nine per cent said they weren't sure, according to the survey of 5,011 Canadians between Sept. 29 and Oct. 3, which cannot be assigned a margin of error because online surveys are not considered random samples.
"Most of the research that I've seen sort of indicates that parents are more hesitant to vaccinate their kids against COVID than themselves," said Kate Allen, a post-doctoral fellow at the Center for Vaccine Preventable Diseases of the University of Toronto.
There are several reasons parents might pause, she said.
It's true that children are at a much lower risk of serious outcomes associated with COVID-19, and there have been very rare incidents of mRNA vaccines like Pfizer or Moderna linked to cases of myocarditis, a swelling of the heart muscle.
As of Oct. 1, Health Canada has documented 859 cases associated with the vaccines, which mainly seem to affect people under 40 years old, and people who've developed the complication have typically been fine.
"I know it's rare, I know it's not deadly, but I also see the risk of severe symptoms from COVID as being rare and not deadly for Jackson," Hubert said when asked about weighing up the risks and benefits of the vaccine.
But public health experts stress that some children do suffer from rare but serious impacts from COVID-19, which can also cause myocarditis as well as the little-understood impacts of the condition known as long COVID.
They say parents should consider the less tangible benefits of vaccination as well.
"It's less of a conversation about a direct benefit to them, and more of a community benefit," Allen said.
The pandemic has taken a heavy toll on children, depriving them of school, time with their peers, extracurriculars — and their mental health has suffered as a result, said Dr. Vinita Dubey, associate medical officer of health with Toronto Public Health.
"Not one child has been spared from this pandemic. I mean every single child has had to bear a sacrifice because of the pandemic in one way or the other," Dubey said.
So far Pfizer-BioNtech is the only manufacturer to request approval for its pediatric COVID-19 vaccine and Health Canada is still reviewing the data.
The regulator has promised the review will be thorough, and the vaccine will only be approved for children if the benefits outweigh the potential risks.
Policy-makers know they're going to have to take parents' concerns seriously as well.
On a recent tour of the Childrens' Hospital of Eastern Ontario in Ottawa, Prime Minister Justin Trudeau spoke with Dr. Anne Pham-Huy, a pediatric infectious diseases physician.
"Vaccine confidence is going to be the most important part of it this time around," Pham-Huy said, to which Trudeau agreed.
Dubey has published research on improving parents' vaccine confidence when it comes to long-established inoculations like mumps and rubella.
While she offered several tips, they mainly come down to building trust. Her research focused on the role of family doctors, but she said during the pandemic anyone can be that trusted sounding board.
"It could be a faith leader, it could be an important family member or friend, someone who you trust, to help guide you to the right sources to make that decision," she said.
With that in mind, several students from across North America launched a peer-to-peer education program called Students for Herd Immunity to allow kids to have those conversations among themselves.
The public health experts agree, the debate around vaccines has become polarized and open conversations will be the key to addressing parents' concerns.
"I think one thing to say to parents is you don't have to make your decision right away," Dubey said. "I mean for those who are ready to make their decision, but it's fine but if you have questions, seek the answers."
Her only advice is to get those answers from a trusted source, and not social media.
This report by The Canadian Press was first published Oct. 24, 2021.
Laura Osman, The Canadian Press