Encouraging news: Update on E. coli outbreak in Calgary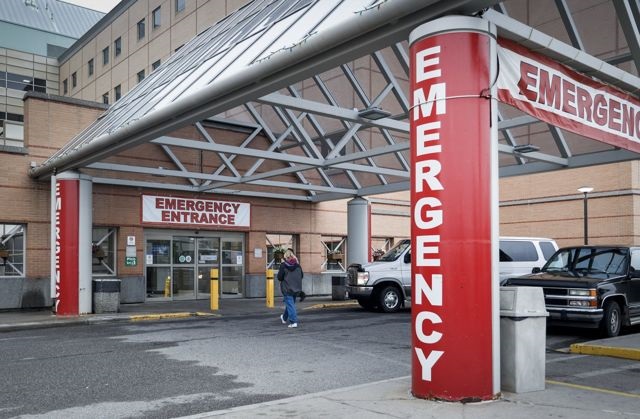 The Emergency Department at Calgary's Peter Lougheed Hospital at the height of the E. coli outbreak, Sept 7, 2023
As hospital admissions and daily numbers of new E. coli cases continue to decline, health officials are seeing signs that the initial outbreak that affected several Calgary daycares has peaked.
The number of secondary transmissions connected to this outbreak remains low, indicating there is limited transmission of the E. coli bacteria beyond the initial outbreak.
The kitchen connected with the original outbreak remains closed indefinitely. In addition, precautionary measures at specific daycare facilities remain in place. Parents and operators have been made aware of these measures directly and through communication with Alberta Health Services.
"I am relieved every time I hear of a child who is well enough to leave hospital. My heart goes out to each family member who has been impacted, and I want them to know that we will get to the bottom of this. Thank you as well to our front-line staff for supporting these children and their families on the road to recovery."
"Families have had their lives turned upside down by this outbreak. I'm relieved many of them are seeing their children recover and start to get back to their normal routines. I want to reassure parents they can place their trust in our high-quality child-care system and that they are not alone. We are here to support them in any way we can."
"We are cautiously optimistic that the outbreak has peaked and that we will continue to see case numbers drop. That said, this does not diminish the fact that we still have some children who remain very ill, and my heart goes out to them, their parents and their loved ones."
Hospitalizations and cases
As of Sept.19, there were a total of 348 lab-confirmed cases connected to this outbreak, no increase from Sept. 18. Between Sept. 9 and Sept. 14, there was an average increase of 33 new cases a day. Since then, the average case numbers decreased to fewer than four a day to no increase on Sept. 19.
There have been a total of 27 lab-confirmed secondary cases, with no additional secondary cases confirmed, since Sept. 16. Some cases of secondary transmission are common and expected in significant outbreaks such as this.
Currently eight patients are receiving care in hospital, down one from Sept. 18. All these patients have been confirmed as having hemolytic uremic syndrome (HUS), including two on dialysis (a decrease of one since Sept. 18). All patients are in stable condition and responding to treatment. Front-line health care teams continue to provide the best care and support possible.
A total of 707 children connected to the outbreak have been cleared to return to a daycare facility.
Daycares
As of Sept. 19, six daycare facilities are under closure or partial closure orders:
Active Start Country Hills – Dolphin and Starfish preschool classes
CanCare Childcare – Scenic Acres location­ – Busy Bees, Bumble Bees and Butterflies classrooms
CEFA Early Learning Calgary South ­– JK 3-1 classroom
Renert Junior Kindergarten – all four Junior K classrooms
1st Class Childcare Shawnessy ­– "Main daycare" area is being closed
Calgary JCC Child Care ­– a closure order was issued for infant and toddler rooms on Sept. 15
Closure orders were rescinded for Classrooms 3 and 4 at Vik Academy on the afternoon of Sept. 18 following negative test results for E. coli.
Additionally, while MTC Daycare site is not being closed, affected children and staff in Prominade and McKenzie classrooms are being notified that they are excluded from attending all child-care facilities until they test negative for E. coli and remain symptom-free.
All closure orders are posted on the Calgary Zone Alberta Health Services website.
Initial results suggest these cases affecting additional daycare facilities are predominantly cases of secondary transmission. Either these new cases were in contact with children from the original daycare or children from the original daycares were in contact with the facility.
Parents and staff from all the daycare facilities involved are being provided with information about what to do if they experience symptoms, test positive or have concerns about the health and safety of their child.
Investigations
The public health investigation into this outbreak continues, and work continues to identify the source of the outbreak. Additionally, the ministries of Health and Children and Family Services are conducting a review of all shared kitchens serving child-care facilities across Alberta.
The food histories of more than 1,150 children and 250 daycare staff are being reviewed by public health officials. This includes those who became ill and those who did not, all of whom were at the 11 affected daycares between Aug. 15 and Aug. 31.
Guidance to parents
If children develop symptoms, including bloody diarrhea, families are encouraged to visit an emergency department. If a child is not symptomatic, do not take them to hospital. Families with concerns or questions can call Health Link at 8-1-1 or contact their family physician for advice and support.
In addition, Alberta's government is providing families with a one-time payment of $2,000 per child enrolled in the original facilities that were closed due to the outbreak.
Alberta's government is committed to working with parents and operators through this challenging time and encourage them to reach out to Child Care Connect at 1-844-644-5165 with questions or concerns.
Related links
Update on E. coli outbreak in Calgary (Sept. 12, 2023)
Premier Smith reacts to Liberal Government's announcement on new methane reduction targets at COP 28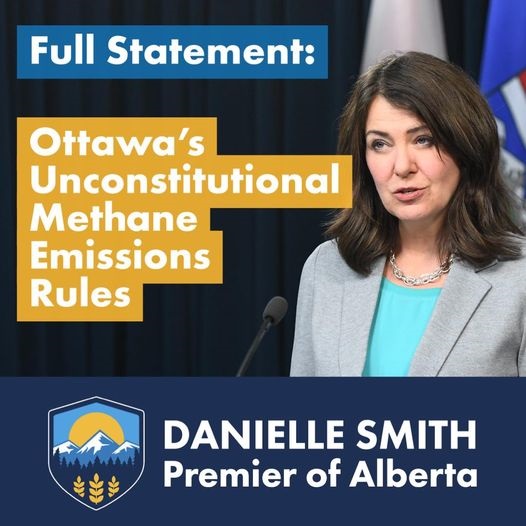 Federal methane emissions targets: Joint statement
"Once again, the federal government is setting unrealistic targets and timelines. Infrastructure can only be updated as quickly as technology allows. For example, Alberta will not accept nor impose a total ban on flaring at this time, as it is a critical health and safety practice during production. Any regulation that completely prohibits this is putting lives at risk"
Premier Danielle Smith and Minister of Environment and Protected Areas Rebecca Schulz issued the following statement on the federal government's proposed methane emissions regulations:
"The federal government has unilaterally established new methane emissions rules and targets to help win international headlines. Instead of building on Alberta's award-winning approach, Ottawa wants to replace it with costly, dangerous and unconstitutional new federal regulations that won't benefit anyone beyond Environment and Climate Change Minister Steven Guilbeault's post-office career.
"Managing emissions from Alberta's oil and gas industry is our constitutional right and responsibility, not Ottawa's, and we are getting the job done. Using a province-led approach, Alberta has already reduced methane emissions from the oil and gas sector by 45 per cent – hitting our target three years early – and we're just getting started.
"Meanwhile, not only is it illegal for Ottawa to attempt to regulate our industries in this manner, Ottawa also hasn't even hit one of its past arbitrary and unscientific emissions targets largely because it has little to no credible expertise regulating the natural resource, agricultural and other industry sectors in this space.
"Ottawa could have helped us keep reducing emissions with joint incentive programs in line with Alberta's Emissions Reduction and Energy Development Plan. It could have listened to the Supreme Court's declaration that the Impact Assessment Act was unconstitutional and abandoned this kind of arrogant and ineffective scheme. Instead, these new regulations threaten our successful province-led approach and impede good work that's already underway.
"Once again, the federal government is setting unrealistic targets and timelines. Infrastructure can only be updated as quickly as technology allows. For example, Alberta will not accept nor impose a total ban on flaring at this time, as it is a critical health and safety practice during production. Any regulation that completely prohibits this is putting lives at risk. A total ban would also be costly, resulting in shut-ins and loss of production.
"This approach will also cost tens of billions in infrastructure upgrades, yet Ottawa has provided virtually no financial support to do so. Thousands of Albertans could be put out of work in the coming years due to these costly regulations. A federal government willing to invest $37.7 billion into just three battery plants in Ontario and Quebec cannot credibly refuse to provide tax credits and financial incentives for producers in Alberta and Saskatchewan to assist with achieving a carbon-neutral economy by 2050.
"For years, Alberta, not Ottawa, has done the hard work and achieved results. We strongly support reducing methane emissions and have invested tens of millions into developing these technologies. Minister Guilbeault must work with us, and not against us, to keep cutting methane emissions and charting a course for carbon neutrality by 2050.
"Given the unconstitutional nature of this latest federal intrusion into our provincial jurisdiction, our government will use every tool at our disposal to ensure these absurd federal regulations are never implemented in our province."
Alberta's Methane Target Reached Early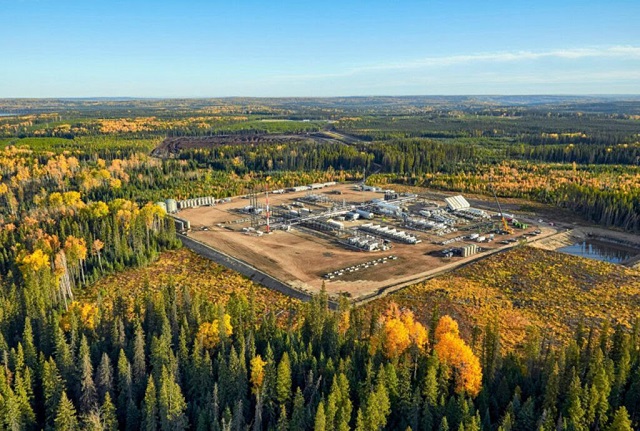 Gas processing plant in northwest Alberta, courtesy of EnergyNow
Courtesy of ENERGYminute
See more articles and infographics from ENERGYminute HERE
---
In a pat-yourself-on-the-back moment, Alberta's oil and gas industry successfully achieved a 45 percent reduction in methane emissions, surpassing the province's mandated target ahead of schedule.
Background: Alberta was the first province in Canada to commit to a 45 percent reduction in methane emissions from the oil and gas sector by 2025, based on 2014 levels. Spoiler alert: Alberta achieved its methane mission three years early.
Their targeted approach to reducing methane emissions from flaring, venting and fugitives has become an example globally, earning national and international awards for its effectiveness and cost-efficiency.
Alberta strong: The government credited the early success to close collaboration with the industry, implementing early action programs such as carbon offsets, tough regulations for all facilities, and enhanced leak detection and repair methods.
Minister of Environment Rebecca Schulz highlighted that this made-in-Alberta approach not only achieved the goal three years ahead of schedule but also resulted in roughly $600 million in savings for the industry compared to the proposed federal program.
Getting the job done: Alberta allocated $57 million from the Technology Innovation and Emissions Reduction fund for methane emissions programs, including:
$25 million in rebates to companies adopting emissions reduction equipment.
$17 million supporting alternatives to detecting and quantifying emissions.
$15 million to help small- and medium-sized operators assess methane reduction opportunities.
Overall, the initiatives eliminated 16.6 million tonnes of carbon dioxide equivalent from the atmosphere.
Looking ahead: Alberta is committed to building on this momentum and collaborating with industry experts to determine the next steps in their emissions reduction journey, aligning with the goal of carbon neutrality by 2050.