Edmonton Police warning citizens about sexual offender in the Edmonton area
From the Edmonton Police Service
Public information and warning: Sexual Offender Released
In the interest of public safety, the Edmonton Police Service is issuing the following warning; Calvin Soosay is a convicted sexual offender and the Edmonton Police Service has reasonable grounds to believe he will commit another sexual offence against a female under the age of 16 while in the community.
Soosay will be residing in the Edmonton area. The Edmonton Police Service is seeking a recognizance order on Soosay and he will be monitored by the Behavioural Assessment Unit of the Edmonton Police Service.
Soosay has been placed on a series of court-ordered conditions including:
– He must abide by a curfew of 10 p.m. to 6 a.m. daily
– He shall not purchase, possess or consume any alcoholic beverages. He shall not consume or possess any drug listed in the schedules of the Controlled Drugs and Substances Act including cannabis, any prescription drugs not prescribed to you, or any other intoxicating substances.
– He shall not be in any licensed premises other than a dining room for the sole purpose of having a meal. He shall not attend at any liquor store.
– He shall not possess any drug paraphernalia such as crack or marijuana pipes, self-made pipes of any kind, e cigarettes, bongs, water pipes, cigarette papers, or syringes.
– He must not travel out of the City of Edmonton without written approval of his Supervisor or the Provincial Court of Alberta.
– He will not purchase, acquire, possess, produce or access pornography or sexually explicit material in any form or type of media.
– He shall not enter into any sexual, intimate or interpersonal social relationship with any person until his/her identity has been disclosed to your supervisor (or designate) and he/she has been informed by your supervisor (or designate) of your criminal history and your prohibitions regarding children under 16. He shall not enter into any personal or romantic relationship, cohabitation, marriage or common-law relationship with a person who is a parent/guardian of children under the age of 16 years.
– He is not to be in or with 100 meters of the perimeter of places where children under the age of 16 years are likely to congregate such as elementary and secondary schools, daycare centres, parks, swimming pools, wading pools, splash parks, recreational centres, youth shelters, or public libraries unless accompanied by an adult previously approved in writing by your Supervisor.
– He is not to be in the presence of any children under the age of 16 unless accompanied by a responsible adult who knows his criminal history and has previously been approved in writing by his Supervisor.
Anyone with any information about any potential breaches of these conditions by SOOSAY can contact the EPS at 780-423-4567.
The Edmonton Police Service is issuing this information and warning after careful deliberation of all related issues, including privacy concerns, in the belief that it is clearly in the public interest to inform the members of the community.
Calvin Soosay, 47
Height: 5'10"
Weight: 216 lbs
Eyes: Brown
Hair: Black
Members of the public are advised that the intent of this process is to enable citizens to take suitable precautionary measures. Releasing this information is NOT intended to encourage people to engage in any form of vigilante action.
This information is released under the authority of the FOIP Act, RSA 2000, C. F-25.
The information in this release is that which was verifiable prior to the release time indicated. Continued investigation and review could result in additional information or clarification.
Elks down Tiger-Cats 29-25 for first win of CFL season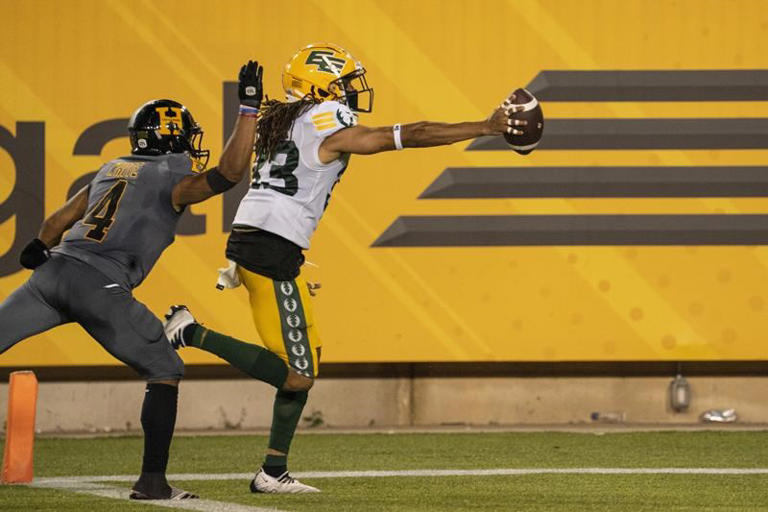 HAMILTON — Tre Ford was in his happy place Friday in Hamilton.
The Edmonton Elks quarterback got a win in his first career CFL start 30 minutes down the Queen Elizabeth Highway from his hometown of Niagara Falls, Ont.
The Elks came from behind to beat the Tiger-Cats 29-25 in front of 20,233 at Tim Hortons Field.
"To come back to Hamilton and have all my family watching me get that first start and that first win has been fantastic," Ford said.
Among Ford's supporters were his wife, parents, sister, sister-in-law and mother-in-law, his high school football coach from A.N. Myer Secondary, his University of Waterloo head coach Chris Bertoia, eight of his former university teammates and more friends.
Ford was shaky at times as the Elks trailed by 13 points early in the second half.
But the 2021 winner of the Hec Crighton Trophy winner that goes to the most outstanding Canadian university football player threw a game-tying touchdown pass to Kenny Lawler early in the fourth quarter.
The winning play for the Elks (1-3) arrived with 1:38 remaining when defensive back Scott Hutter tackled Hamilton quarterback Dane Evans and knocked the ball loose.
Jalen Collins recovered for a 14-yard touchdown.
"I saw him tackle him and thought, 'please punch the ball out," Collins said. "All we needed was an opportunity to close the game out. We were fighting all night. It was ugly."
The winless Tiger-Cats opened a season with four straight losses for the first time since 2017 when they started 0-8.
"I want to apologize to all the guys. I put both home losses on me," Evans said. "I just have to take care of it, and we win the game."
Evans was 20-for-31 in passing for 197 yards and a touchdown throw. He was intercepted twice.
Ford's numbers didn't sparkle, although he did rush for 61 yards on six carries. The 24-year-old competed 15 of 26 passes for 159 yards and a touchdown. He was intercepted once.
Edmonton's defence helped out with interceptions by Sheldon Brady and Matthew Thomas, as well as the pivotal late-game recovered fumble by Collins.
"A big shout out to the defence," Ford said. "They won us that game. They made what, three or four turnovers? They did super well.
"I have room for improvement. I'm not going to complain because we did win. But I'm going to hit the film room to see what I can critique and where I can get better."
Hamilton went after the rookie with various blitzes in the first half.
"My legs are going to open things up for my arm," Ford said.
Ford credited teammate and quarterback Nick Arbuckle, who started in Edmonton's three losses this season, for advising him during the game on defensive reads.
"He's been like that since day one, even though we're competitors for the position," Ford said.
He admitted to early jitters as Hamilton led 16-6 after the first quarter and 19-9 at halftime.
"I always get nervous for the first play of every game," Ford said. "I think it's a good thing because it means I care and that I want to win."
Evans hit Steven Dunbar for a 21-yard strike, and Lawrence Woods returned a kickoff of 72 yards for Hamilton's first-half touchdowns.
Edmonton's Kai Locksley scored on a one-yard plunge.
Elks kicker Sergio Castillo made two of his three field-goal attempts, while Hamilton counterpart Michael Domagala nailed his three and gave the Ticats at lead with a 33-yarder with 3:10 remaining in the game
"We're not good enough right now," Hamilton head coach Orlondo Steinauer said. "We're not executing at the level which needs to happen. We're just not making those plays we need to make."
This report by The Canadian Press was first published July 1, 2022.
Tim Wharnsby, The Canadian Press
Alberta judge finds man guilty of manslaughter in death of one-year-old son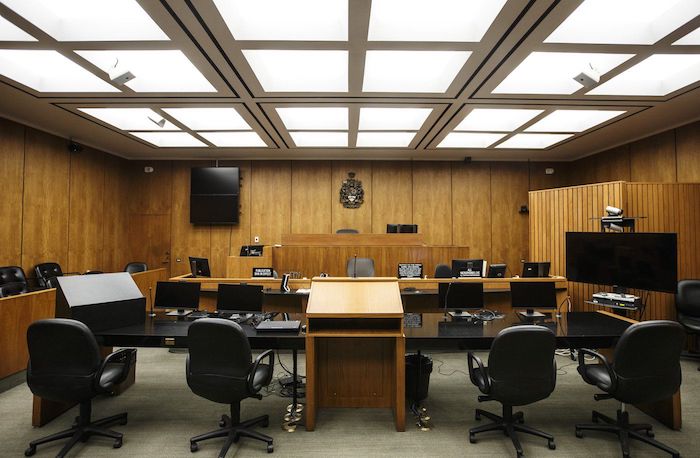 By Daniela Germano in Edmonton
An Alberta judge has found a man guilty of manslaughter in the death of his one-year-old son as well as of assaulting his young daughter.
The man's lawyer argued in court that the father should be found not criminally responsible for his son's death in November 2019.
Rory Ziv argued that a severe sleep disorder put the man from Fort Saskatchewan, Alta., in a state of automatism, which made him incapable of understanding his actions when he killed his son and injured his daughter, who was five at the time.
There is a publication ban on identifying the girl because she is a minor.
The man testified at trial that he has no memory of hurting his children, saying he fell asleep on the couch while caring for them. He said he dreamt he was being attacked and awoke to find that he injured his children.
A sleep expert also testified at trial after examining the man two years following the boy's death. Dr. Colin Shapiro said he found "thumbprints" of parasomnia, a disorder in which people do things while asleep that they are unaware of, such as sleepwalking.
Shapiro testified he saw multiple arousals during the man's deep sleep.
The man was initially charged with second-degree murder, but the prosecution asked the judge to consider a verdict of manslaughter instead.
Crown attorney Sandra Christensen-Moore said at trial earlier this month that evidence suggested the man was intoxicated at the time of the attack, which would affect his ability to form the intent needed for second-degree murder.
In announcing his verdict Wednesday, Justice John Henderson said it was more likely that the accused was suffering from severe withdrawal symptoms from his opioid addiction and lashed out at his children.
Court heard that the man has a history of substance abuse with cocaine, alcohol, heroin and prescription opioids. He admitted to self-medicating his back pain with heroin and illegally obtained Percocet.
Henderson said the man got into an argument with is partner the day of his son's death and threw a plate in the woman's direction because they did not have enough money for him to buy cigarettes.
"Certainly there is no doubt on the evidence that (the man) was having serious sleep difficulties and serious back pain at the time of these events," the judge said.
"I'm also satisfied that the evidence is very clear that he was experiencing other stressors, including financial issues and relationship issues. He was also experiencing significant symptoms of heroin withdrawal."
But Henderson said the defence was not able to prove that the man was in a state of automatism when he attacked his children.
"While I am satisfied that there is some evidence that could potentially support the conclusion of automatism, when I consider the totality of the evidence, I find it is not possible to come to that conclusion."
The father is to be sentenced at a later date.
The judge said the man, who was prone to explosive outbursts, adapted his story about what happened the day of his son's death as a way to rationalize his behaviour.
Henderson said such rationalization was most evident in the "evolving story" of the man's dream of being teleported and attacked by a shadow creature during which he was trying to protect his children.
"This story did not exist for more than one year after (the boy's) death and it only began evolving thereafter.
"The story was crafted to satisfy a narrative that would lead to a conclusion of automatism."
Henderson noted that a forensic psychologist testified that the man had unresolved anger issues.
The judge said the man became overwhelmed by his situation and burst out in an aggressive and disproportionate manner when striking his children.
"I conclude that this explanation is for the attack is much more likely than the conclusion of automatism."
This report by The Canadian Press was first published June 29, 2022.