E-coli shows up at more daycares in Calgary – Alberta Chief Medical Officer of Health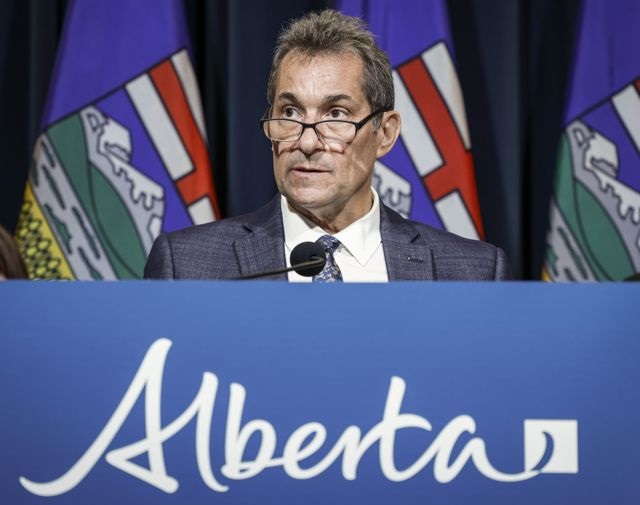 Statement from Chief Medical Officer of Health
Dr. Mark Joffe, Chief Medical Officer of Health, issued the following statement on the E. Coli situation in Calgary:
"It has come to my attention that five additional daycare sites have had children attend who have tested positive for E. Coli. Some of these children are connected to daycares from the original outbreak. These additional facilities will be closed, out of an abundance of caution. Facilities will be required to be cleaned and sanitized and all children will be tested to confirm their negative status before returning to the centre. All facility operators have been contacted, and parents of these facilities will be directly notified as soon as possible by the operators working with Alberta Health Services.
"The six additional sites are:
Active Start Country Hills
CanCare Childcare – Scenic Acres location
CEFA Early Learning Childcare North
MTC Daycare
Renert Junior Kindergarten
Calgary JCC Child Care
"Additionally, Vik Academy is again closed for precaution pending testing results. This facility was part of the original closures.
"To all the parents involved in this terrible situation – we hear you and understand what you are going through. However, it is crucial for parents who have children who attend these daycares follow the guidance being given to them by health care professionals. If your daycare is closed, please respect why this is done and keep your children at home. Only send your child to another facility if they have tested negative for E. Coli and have no symptoms.
"To all daycare operators in the Calgary region – please confirm the health and daycare history of children who are new to your facility.
"By working together and following health guidance, we will stop this outbreak.
"Parents and staff from all impacted daycares involved are being provided with information about what to do if they or their children experience symptoms, test positive, or have concerns about the health and safety of their child. If your child is experiencing more severe symptoms, such as bloody diarrhea, they should be taken to an emergency department immediately.
"E. Coli is a highly transmissible bacteria that can be spread by food or water sources, or by hand to mouth contact. Some secondary transmission is common and expected in significant outbreaks such as this."
The original 11 sites that were closed are:
Fueling Brains Braeside
Fueling Brains West 85th
Fueling Brains New Brighton
Fueling Brains Centennial
Fueling Brains McKnight
Kidz Space
Vik Academy in Okotoks
Fueling Brains Bridgeland
Little Oak Early Education (formerly Mangrove)
Almond Branch School
Braineer Academy
Edmonton Police charge 19 year old with trafficking gun used to kill Constables Jordan and Ryan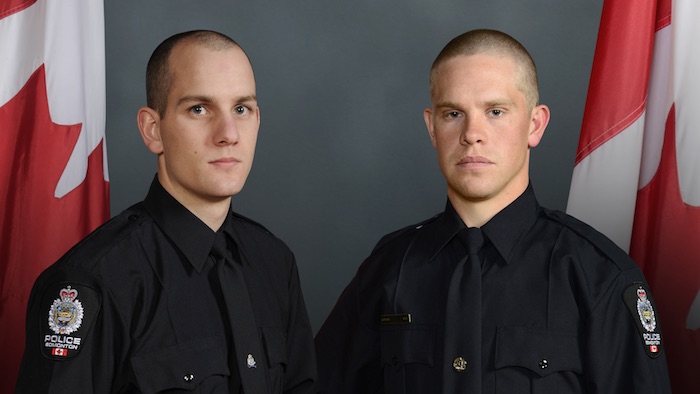 From the Edmonton Police Service
Charges laid in line of duty deaths
The EPS Firearms Investigations Unit (FIU) has completed their investigation into the origins of the firearm used in the Mar. 16, 2023, officer deaths.
Following the shooting deaths of Const. Brett Ryan and Const. Travis Jordan, FIU launched an investigation into the origins of the gun used by the 16-year-old male shooter.
Early in the investigation, detectives determined a bullet cartridge casing recovered from the scene of a Mar. 12, 2023, shooting at a nearby restaurant (133 Street and 114 Avenue) was forensically matched to the firearm that was recovered at the 132 Street and 114 Avenue apartment where both officers were tragically murdered. Investigators have since confirmed that the suspect in both shootings was the same.
Following several months of extensive investigation, FIU determined that Dennis Okeymow, 19, trafficked the firearm used in both shootings directly to the 16-year-old male shooter prior to Mar. 12.
On. Thursday, Nov. 23, 2023, police conducted search warrants on Okeymow's residence, vehicles and cell phone. Okeymow was arrested without incident from the residence and police seized a stolen loaded handgun, ammunition, illegal drugs, $10,000 in cash and other items indicative of drug trafficking.
Okeymow is charged with:
manslaughter (x3) and criminal negligence causing death (x3) in relation to the deaths of Const. Ryan, Const. Jordan and the 16-year-old male shooter
criminal negligence causing bodily harm (x2) in relation to the man injured in the restaurant shooting on Mar. 12 and the youth's mother, who was injured during the Mar. 16 shooting
firearms trafficking
unauthorized possession of a firearm
possession of a restricted firearm with ammunition
·other drug trafficking related charges
"In my 20 years in this career, this is the most complex and tragic file I have worked on," says Staff Sergeant Eric Stewart with the EPS Guns and Gangs Section. "It's heartbreaking that the trafficking of a firearm has led to multiple deaths and life-altering injuries."
"The trauma suffered by the impacted families as a result of this one simple transaction is unthinkable."
FIU would like to thank the RCMP, the Calgary Police Service (CPS) and the Alberta Law Enforcement Response Team (ALERT) and the many dedicated members of the EPS who assisted with this investigation.
Background information
On Sunday, Mar. 12, 2023, at approximately 12:25 a.m., a lone male suspect entered a pizza restaurant in the area of 133 Street and 114 Avenue carrying a firearm. The suspect shot a male employee and then fled the location. EMS attended and transported the injured 55-year-old male to hospital with serious life-threatening injuries.
At approximately 12:47 a.m. on Thursday, Mar. 16, 2023, Const. Travis Jordan and Const. Brett Ryan responded to a family dispute call in an apartment complex near 114 Avenue and 132 Street.
When the two officers arrived, they were met by a 55-year-old female complainant outside of the complex. The two officers then responded to the suite where she resided with her 73-year-old male partner and their 16-year-old son.
Immediately upon arriving at the suite, both constables were shot multiple times by the youth and were immediately incapacitated. The youth then reportedly shot his mother before turning the firearm on himself, taking his own life. The father was not physically injured during the shootings. Neither officer discharged their firearm.
Following 911 calls by multiple reporters, additional police and EMS arrived. One of the injured officers was transported in a police vehicle to hospital, while the other injured officer was taken by ambulance. The female complainant was taken by ambulance to hospital. Soon after arriving at the hospital, both officers were declared deceased.
On Saturday, Mar. 18, 2023, the Office of the Chief Medical Examiner in Edmonton conducted autopsies on both officers. In both cases the cause of death was confirmed to be gunshot wounds with the manner of death being homicide.
On Mar. 22, 2023, the Edmonton Medical Examiner confirmed that the 16-year-old male shooter's cause of death was a single gunshot wound to the head consistent with being self-inflicted.
The 55-year-old man shot in the restaurant on Mar. 12 survived, but suffered life-altering injuries. The youth's mother continues to recover from her injuries.
$6.5 billion investment! World's first 'net-zero' ethyelene plant announced for Fort Saskatchewan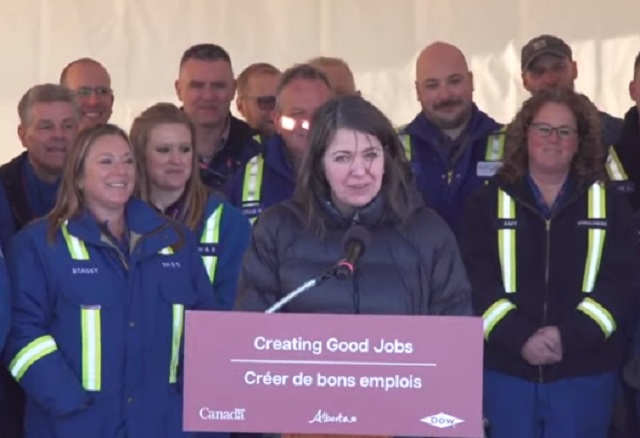 Dow Path2Zero investment in Alberta: Joint statement
Premier Danielle Smith, Minister of Energy and Minerals Brian Jean and Minister of Jobs, Economy and Trade Matt Jones issued the following statement on the Dow Path2Zero Fort Saskatchewan project:
"We are thrilled that Dow has chosen Alberta for the world's first net-zero Scope 1 and 2 greenhouse gas emissions integrated ethylene cracker and derivatives site.
"Fort Saskatchewan Path2Zero, located in Alberta's Industrial Heartland, will play an important role in expanding Alberta's natural gas industry, creating thousands of jobs, diversifying our economy and positioning our province as a global hub for petrochemicals.
"At nearly $9 billion, this project is one of the largest private sector investments in Alberta's history. At peak, this world-class petrochemical facility will create about 6,000 jobs during construction and 400 to 500 full-time jobs when operational. Path2Zero will produce and supply approximately three million metric tonnes of certified low- to zero-carbon emissions polyethylene and ethylene derivatives for customers around the globe while further establishing Alberta as a world leader in emissions-reducing technology like carbon capture, utilization and storage.
"This announcement by Dow is indicative of Alberta's commitment to attracting investment and creating good jobs while growing and diversifying our economy. Programs like Energy and Minerals' Alberta Petrochemicals Incentive Program (APIP) and the cross-ministry concierge investment support led by Jobs, Economy and Trade have been integral in Dow's decision to choose Alberta for this innovative facility. Through APIP, we are issuing a 12 per cent grant, which is approximately $1.8 billion, to help move this investment and technology forward. In addition, we are pleased that Alberta's skilled workforce, low corporate tax rates, stable industrial carbon pricing system and commitment to support innovation made Alberta the most attractive choice.
"Dow's final investment decision is proof of the Alberta Advantage, and it will be a major stepping-stone toward meeting our goal of being a global top 10 petrochemical producer. This decision proves what we have been saying for years: Alberta is the best place to invest and do business. We have the workforce, know-how and natural gas feedstock to be a world leader in carbon-neutral petrochemicals.
"This is a huge win for Alberta's petrochemical sector and clearly demonstrates our business-friendly policies are attracting job-creating investment across the province. We look forward to the beginning of construction in 2024 and are proud to be partnering with Dow to transition away from emissions while decarbonizing petrochemical products and growing our energy industry."