Disney faces losing control of its kingdom with Florida bill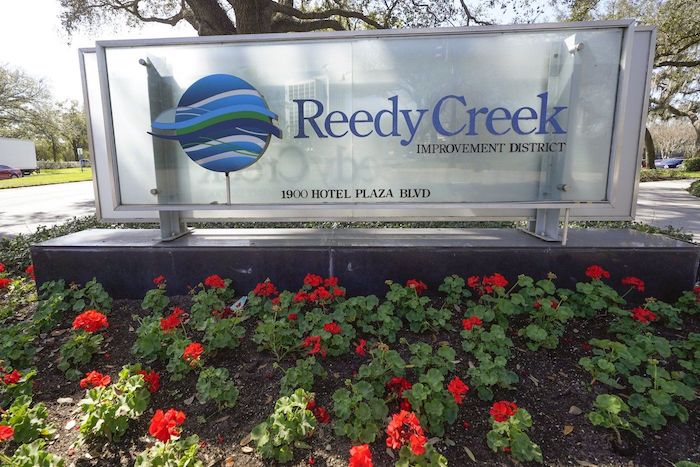 By Mike Schneider in Orlando
ORLANDO, Fla. (AP) — Disney's government in Florida has been the envy of any private business, with its unprecedented powers in deciding what to build and how to build it at the Walt Disney World Resort, issuing bonds and holding the ability to build its own nuclear plant if it wanted.
Those days are numbered as a new bill released this week puts the entertainment giant's district firmly in the control of Florida's governor and legislative leaders in what some see as punishment for Disney's opposition to the so-called "Don't Say Gay" lawchampioned by Republican Gov. Ron DeSantis and the Republican-controlled Legislature.
"Disney won't like it because they're not in control," said Richard Foglesong, professor emeritus at Rollins College, who wrote a definitive account of Disney's Reedy Creek Improvement Districtin his book, "Married to the Mouse: Walt Disney World and Orlando."
With that loss of control comes an uncertainty about how Disney's revamped government and Walt Disney World, which it governs, will work together — whether the left hand always will be in sync with the right hand as it has been with the company overseeing both entities.
The uniqueness of Disney' government, where building inspectors examine black box structures holding thrill rides instead of office buildings, also complicates matters. The district essentially runs a midsize city. On any given day, as many as 350,000 people are on Disney World's 27,000 acres (11,000 hectares) as theme park visitors, overnight hotel guests or employees. The 55-year-old district has to manage the traffic, dispose of the waste and control the plentiful mosquitoes.
"What kind of control is preferable? Control by a private business or corporation, or control by appointed officials, appointed by governor of the state?" Foglesong said. "Will they have the expertise to be able to make the new district work as efficiently as the old district works?"
The bill prohibits anybody who has worked or had a contract with a theme park or entertainment complex in the past three years, or their relatives, from serving on the revamped district's board of supervisors, a prohibition that some experts say eliminates people with expertise in the field.
The bill's sponsor, Florida Rep. Fred Hawkins, a Republican from St. Cloud, defended the exclusion Tuesday.
"This was a provision I requested," Hawkins said. "We want to try to avoid any conflicts of interest of the new board members."
Under the bill's proposals, Florida's governor appoints the five-member board of supervisors to the renamed Central Florida Tourism Oversight District instead of Disney. Limits would be placed on the district's autonomy by making it subject to oversight and regulation by state agencies, and it would be unable to adopt any codes that conflict with state regulations. The district also would no longer have the ability, if it wanted, to own and operate an airport, stadium, convention center or nuclear power plant.
DeSantis started gunning for Disney's private government last year when the entertainment giant publicly opposed what critics call the "Don't Say Gay" law, which bars instruction on sexual orientation, gender identity and other lessons deemed not age-appropriate in kindergarten through third grade. Republican critics of the Disney district also argued it has given the company an unfair advantage over rivals in issuing bonds and financing expansion.
The Legislature passed a bill last year to dissolve the Disney government by June 2023.
Lawmakers are meeting this week for a special session to complete the state takeover of the district and approve other key conservative priorities of the governor on immigration and voter fraud. A Senate committee approved separate bills Tuesday to expand the governor's migrant relocation program and allow the statewide prosecutor to bring election crime charges.
Florida Rep. Anna Eskamani, a Democrat from Orlando, calledthe Disney bill on Monday a "power grab" by DeSantis, a potential 2024 presidential candidate who has emerged as a fierce opponent of what he describes as "woke" policies on race, gender and public health. Such positions endear him to the GOP's conservative base but threaten to alienate independents and moderate voters in both parties who are influential in presidential politics.
The changes proposed in the legislation were welcomed by at least one group of Reedy Creek employees — firefighters who have clashed in the past with district leaders. Tim Stromsnes, a spokesperson for Reedy Creek Professional Firefighters Local 2117, said all the current board cares about is "bonds and low-interest loans for building Disney infrastructure, and zero about treating its employees fairly."
"We think they are going to be more receptive to first responders," Stomsnes said Tuesday of the proposed new board. "They're calling the governor a fascist for doing this … but he is actually fixing a fascist, Disney-owned government."
To the relief of taxpayers in neighboring Orange and Osceola counties, the district won't be dissolved, a prospect that had raised fears that the counties would have to absorb the district's responsibilities and raise property taxes significantly. The Reedy Creek Improvement District has more than $1 billion in bond debt.
In a statement, Orange County said officials were monitoring the bill.
The new bill appears to address some key questions raised by last year's legislation, primarily preserving the district's ability to raise revenue and service outstanding debt, said Michael Rinaldi, head of local government ratings for Fitch Ratings.
Foglesong expects a legal challenge should the bill pass. Disney didn't respond to an inquiry asking about any potential lawsuits.
"Disney works under a number of different models and jurisdictions around the world, and regardless of the outcome, we remain committed to providing the highest quality experience for the millions of guests who visit each year," Jeff Vahle, president of Walt Disney World Resort, said in a statement.
Disney could make an argument that their rights as a private business are being undermined, Foglesong said.
"It will have political appeal, the arguments they make, in a Republican state for a potential presidential candidate," Foglesong said. "It will be like, legally, 'How can you do this to us?' and politically, 'How can you do this to a corporation that has done so much for the state of Florida?'"
___
Associated Press writer Anthony Izaguirre in Tallahassee, Florida contributed to this report.
___
Follow Mike Schneider on Twitter at @MikeSchneiderAP
Why TikTok's security risks keep raising fears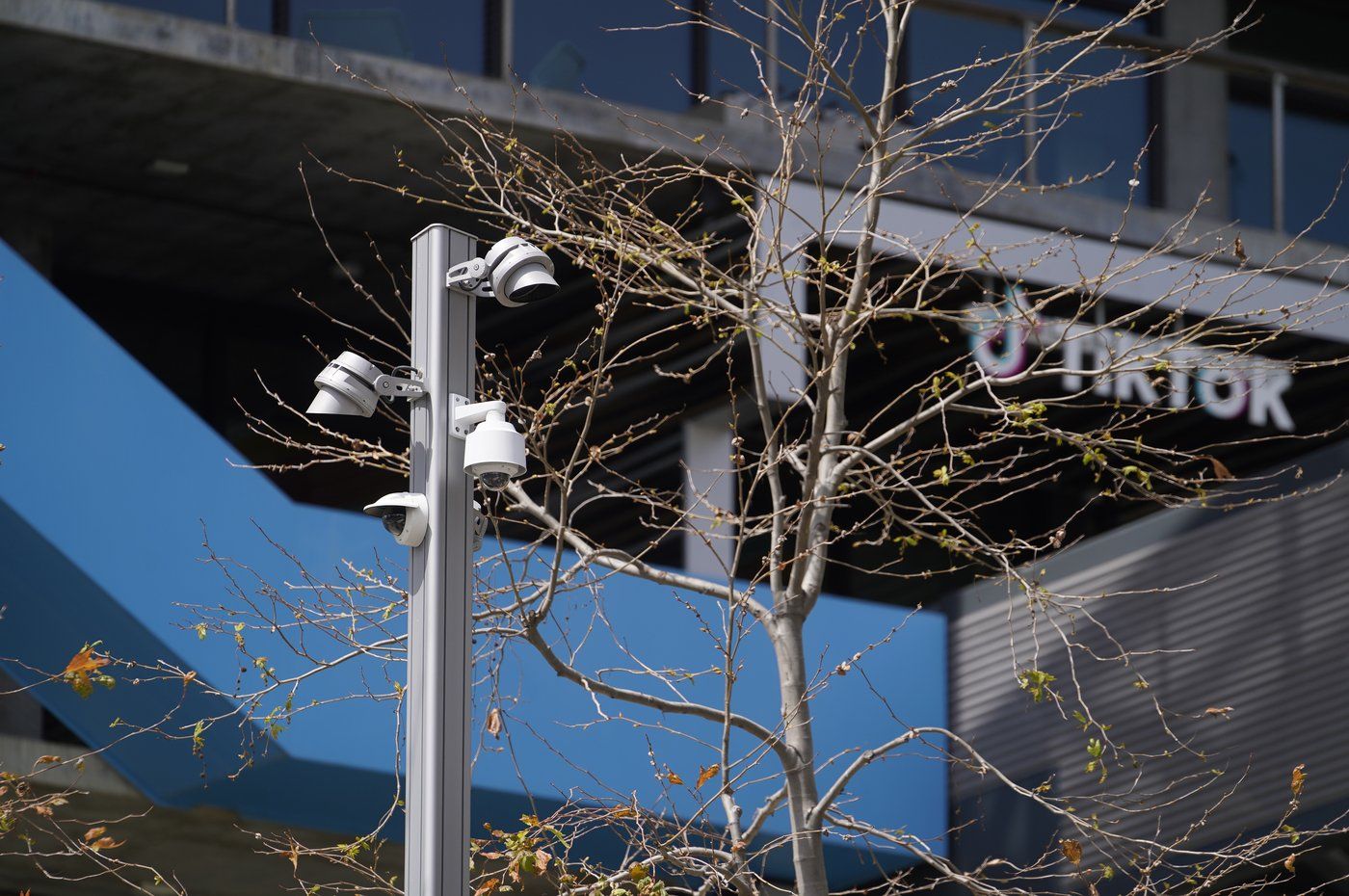 Security cameras are seen at the TikTok Inc. building in Culver City, Calif., Friday, March 17, 2023. The battle between the U.S. and China over TikTok comes to a head on Thursday when the social media platform's CEO testifies before Congressional lawmakers. (AP Photo/Damian Dovarganes, File)
By Kelvin Chan And Haleluya Hadero
The battle between the U.S. and China over TikTok comes into full view on Thursday when the social media platform's CEO testifies before Congressional lawmakers.
Shou Zi Chew's hearing is happening at what he's called a "pivotal moment" for the hugely popular short video sharing app. TikTok is owned by parent company ByteDance, which has offices in Beijing. The platform has 150 million American users but it's been dogged by persistent claims that it threatens national security and user privacy, or could be used to promote pro-Beijing propaganda and misinformation.
Chew will attempt to persuade lawmakers not to pursue a ban on the app or force its sale to new owners.
So are the data security risks real? And should users be worried that the TikTok app will be wiped off their phones?
Here's what to know:
WHAT ARE THE CONCERNS ABOUT TIKTOK?
Both the FBI and officials at the Federal Communications Commission have warned that ByteDance could share TikTok user data — such as browsing history, location and biometric identifiers — with China's authoritarian government.
Officials fear that TikTok, which like many other social media platforms collects vast amounts of data on its users, would be forced to give it to Beijing under a 2017 law that compels companies to turn over any personal data relevant to China's national security.
Concerns around TikTok were heightened in December when ByteDance said it fired four employees who accessed data on journalists from Buzzfeed News and The Financial Times while attempting to track down the source of a leaked report about the company.
HOW IS THE U.S. RESPONDING?
The Committee on Foreign Investment in the U.S. — known as CFIUS and part of the Treasury Department — is carrying out a review, and has reportedly threatened a U.S. ban on the app unless its Chinese owners divest their stake. China's Foreign Ministry in turn accused the United States itself of spreading disinformation about TikTok's potential security risks.
White House officials have said there are "legitimate national security concerns with respect to data integrity."
Some U.S. senators urged CFIUS last year to quickly wrap up its investigation and "impose strict structural restrictions" between TikTok's American operations and ByteDance, including potentially separating the companies.
At the same time, lawmakers have introduced measures that would expand the Biden administration's authority to enact a national ban on TikTok. The White House has already backed a Senate proposal that has bipartisan support.
HOW HAS TIKTOK ALREADY BEEN RESTRICTED?
Authorities in North America, Europe and Asia-Pacific have banned the TikTok app, mostly on government-issued phones or devices used for official business, citing cybersecurity concerns. Last week Britain imposed a government phone ban while New Zealand restricted lawmakers and other workers in its Parliament from having it on their phones.
The European Union's three main institutions, the executive Commission, Parliament and Council, have ordered staffers to remove it from their work phones. So has Denmark's defense ministry. The Canadian government said its ban includes blocking civil servants from downloading the app in the future. Norway and Netherlands warned this week against installing TikTok on government devices.
The White House ordered U.S. federal agencies to delete TikTok from all government-issued mobile devices. Congress, the U.S. armed forces and more than half of U.S. states had already banned the app.
WHAT DOES TIKTOK SAY?
In a TikTok video this week, Chew appealed against a ban, saying it could take the app away from 150 million American users.
In his testimony, he plans to outline how the company's data protection and security efforts go "above and beyond" anything that its social media and online entertainment rivals do.
Under a $1.5 billion project dubbed Project Texas that's underway, data from U.S. users is being routed through servers controlled by Oracle, the Silicon Valley company it partnered with in an effort to avoid a nationwide ban.
Older U.S. user data stored on non-Oracle servers will be deleted this year. Under this arrangement, there's no way for Beijing to access the data, Chew said in prepared remarks released ahead of the hearing.
TikTok has also sought to portray ByteDance as a global company, not a Chinese one. Executives have been pointing out that ByteDance's ownership consists of 60% big global investors, 20% employees and 20% Chinese entrepreneurs who founded the company. TikTok itself is headquartered in Singapore.
ARE THE SECURITY RISKS LEGITIMATE?
It depends on who you ask.
Some tech privacy advocates say while the potential abuse of privacy by the Chinese government is concerning, other tech companies have data-harvesting business practices that also exploit user information.
"If policy makers want to protect Americans from surveillance, they should advocate for a basic privacy law that bans all companies from collecting so much sensitive data about us in the first place, rather than engaging in what amounts to xenophobic showboating that does exactly nothing to protect anyone," said Evan Greer, director of the nonprofit advocacy group Fight for the Future.
Karim Farhat, a researcher with the Internet Governance Project at Georgia Tech, said a TikTok sale would be "completely irrelevant to any of the alleged 'national security' threats" and go against "every free market principle and norm" of the state department's internet freedom principles.
Others say there is legitimate reason for concern.
People who use TikTok might think they're not doing anything that would be of interest to a foreign government, but that's not always the case, said Anton Dahbura, executive director of the Johns Hopkins University Information Security Institute. Important information about the United States is not strictly limited to nuclear power plants or military facilities; it extends to other sectors, such as food processing, the finance industry and universities, Dahbura said.
IS THERE PRECEDENCE FOR BANNING TECH COMPANIES?
The U.S. has banned the communications equipment sold by Chinese companies Huawei and ZTE, citing national security risks. But banning the sale of items is easier than banning a free app.
Such a move might also wind up in courts on grounds that it could violate the First Amendment, as some civil liberties groups have argued.
Another possibility, albeit remote, is forcing a sale. That's what happened in 2020 when Beijing Kunlun, a Chinese mobile video game company, agreed to sell gay dating app Grindr after an order from CFIUS.
Beijing Kunlun said it signed a "national security agreement" with CFIUS to sell Grindr to San Vicente Acquisition for $608.5 million, promising not to send sensitive user data to China, cease its operations there and maintain its headquarters in the U.S.
Canada needs 300,000 new rental units to avoid gap quadrupling by 2026: report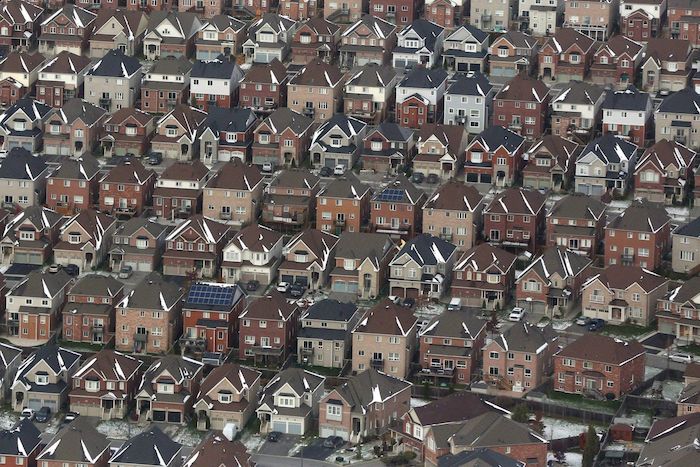 An aerial view of houses in Oshawa, Ont. is shown on Saturday, Nov. 11, 2017. A Royal Bank of Canada report predicts Canada's rental housing shortage will quadruple to 120,000 units by 2026 without a significant boost in rental stock. THE CANADIAN PRESS/Lars Hagberg
By Sammy Hudes in Toronto
Canada's rental housing shortage will quadruple to 120,000 units by 2026 without a significant boost in stock, Royal Bank of Canada said in a report Wednesday.
In order to reach the optimal vacancy rate of three per cent, the report suggested Canada would need to add 332,000 rental units over the next three years, which would mark an annual increase of 20 per cent compared with the 70,000 units built last year.
The research analyzed vacancy rate data released in January by the Canada Mortgage and Housing Corporation (CMHC).
Canada's vacancy rate fell to 1.9 per cent in 2022, its lowest point in 21 years, from 3.1 per cent in 2021.
Competition for units also drove the highest annual increase in rent growth on record, by 5.6 per cent for a two-bedroom unit.
Canada's rental housing stock grew by 2.4 per cent in 2022, led by Calgary at 7.4 per cent and Ottawa-Gatineau at 5.5 per cent, while Toronto and Montreal saw the smallest percentage increases at 2.1 per cent and 1.4 per cent, respectively.
"We haven't seen that many additions to the purpose-built inventory in almost a decade, so you would think that added supply of units would ease some of the competition, but what the CMHC rental market data revealed to us was that it didn't," said RBC economist Rachel Battaglia.
Slow growth in Canada's two most populous cities has been outpaced by rapidly increasing demand, partly fuelled by high immigration levels, she said. Annual federal immigration targets are set to grow eight per cent by 2025, meaning demand is unlikely to let up.
Battaglia also pointed to affordability and behavioural preferences for the influx of rentals sought. She said more Canadians are choosing to live alone, meaning fewer incomes per household.
"You have a lot of people being funnelled into the rental market who maybe would have liked to own something but it's just not financially in the books for them right now," said Battaglia.
The report estimated an existing deficit of 25,000 to 30,000 units of rental stock across Canada. In addition to building more supply, it recommended turning condo units into rentals, converting commercial buildings and adding rental suites to existing homes to help ease the pressure.
Without such measures, Battaglia said the market could "become infinitely more competitive."
"Which is not something that we want to realize given the competition we're already seeing," she said.
"You're already seeing rents increase dramatically."
This report by The Canadian Press was first published March 22, 2023.