Covid no longer means special measures. Province brings treatment in line with flu and other viruses
Adapting COVID-19 measures to support Albertans
With strong vaccine uptake, Alberta will gradually bring COVID-19 measures in line with other respiratory viruses to ensure health system capacity for the fall.
Nearly 75.6 per cent of eligible Albertans have now received at least one dose of COVID-19 vaccine, and 64.3 per cent are fully immunized. Vaccines dramatically reduce the risk of severe outcomes and the risk of infection. While COVID-19 cases may rise in the coming months, a surge of hospitalizations and other severe outcomes is much less likely thanks to vaccines.
In the coming weeks, Alberta's health system will take steps to make sure that it is ready to support all patients, including those with COVID-19 and other respiratory viruses, like influenza, which health officials expect to increase this year.
As a part of this, Alberta will bring COVID-19 quarantine, isolation, and other measures in line with those used for influenza and other viruses.
Testing for severe cases, provincial monitoring, outbreak management in high-risk settings, and other key measures will remain in place. Health officials will be able to adapt as needed if hospitalizations due to COVID-19 spike in the future.
"Our health system will keep protecting Albertans who are exposed to COVID-19 while also ensuring that we are able to handle all other viruses and illnesses. As the majority of us are vaccinated against COVID-19, we are adapting to make sure that the health system is ready to care for all Albertans, whatever their illness. Please get vaccinated to help protect your health and the health of those around you."
"Our top priority is supporting the health of Albertans. COVID-19 is still with us but we are now in a place where we need to manage it through vaccinations and the proven public health measures used for other communicable viruses. We expect to see increased influenza and other viruses this year, and these changes will make sure the health system is ready and able to support all Albertans in the months ahead."
A two-phase transition will be used to safely monitor the impact of the initial changes, adapt as needed over the next few weeks, and give more time to vaccinate Albertans.
The following changes will be effective July 29:
Quarantine for close contacts will shift from mandatory to recommended. Isolation for anyone with COVID-19 symptoms and for confirmed positive cases is still required.

Unimmunized individuals who know they have been exposed to COVID-19 should monitor for symptoms and seek testing if they become symptomatic.
Anyone who is not fully immunized should avoid high-risk locations such as continuing care facilities and crowded indoor spaces if they have been in contact with a case in the past 14 days.

All positive cases will continue to be notified. Contact tracers will no longer notify close contacts of exposure. Individuals are asked to inform their close contacts when informed of their positive result.
Contact tracers will continue to investigate cases that are in high-risk settings such as acute and continuing care facilities.
Outbreak management and identification will focus on high-risk locations, including continuing and acute care facilities and high-risk workplaces. Community outbreaks with a surge in cases leading to severe outcomes will also be addressed as needed.
Asymptomatic testing is no longer recommended. Testing will continue to be available for individuals who are symptomatic.
Mandatory masking remains in acute and continuing care facilities, publicly accessible transit, taxis and ride-share.
The following changes will take effect on Aug. 16:
Provincial mandatory masking orders will be lifted. Some masking in acute care or continuing care facilities may still be required.
Isolation following a positive COVID-19 test result will no longer be required, but strongly recommended.

Individuals with symptoms of any respiratory infection should still remain at home until symptoms have resolved.
Staying home when sick remains an important way to care for those around us by not passing on any infection.

Isolation hotels and quarantine support will no longer be available.
Testing will be available for Albertans with symptoms when it is needed to help direct patient care decisions.

This testing will be available through assessment centres until Aug. 31 and, after that, will be in primary care settings including physicians' offices. For those with severe illness requiring urgent or emergency care, testing will be available in acute care and hospital settings.
COVID-19 testing will also be offered as needed in high-risk outbreaks such as in continuing care facilities.

Public health will focus on investigating severe cases that require hospitalization and any deaths due to COVID-19.
Outbreak management and preventative measures will continue focusing on outbreaks in high-risk settings, such as continuing and acute care facilities.

Community outbreaks will continue to be addressed as needed.
Daycares and schools will be supported with measures that would be effective for any respiratory virus if outbreaks are identified.
Health officials will continue to closely monitor hospitalizations and other severe outcomes due to COVID-19 in the province. Additional measures will be taken, as needed, in specific facilities or areas where an outbreak is occurring leading to severe outcomes.
Universal masking will not be required in schools once students return. However, it is recommended as a temporary outbreak intervention in response to respiratory outbreaks. A guidance document to support return to schools is being finalized and will be released in mid-August.
A wastewater baseline testing program will also be launched to provide area trend information and monitor variants of concern. More details will be released in the coming weeks.
Premier Smith uses First Ministers' meeting to catch up with Quebec Premier Legault and Saskatchewan's Scott Moe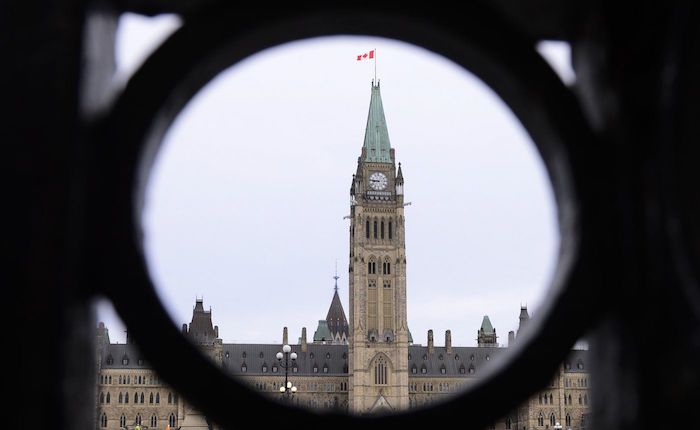 Premier Smith's update from the Ottawa
Premier Danielle Smith participated in the First Ministers' Meeting on health care in Ottawa and provided the following update.
Alberta is leading the country with major reform to health care. After 2.5 years of requests from Canada's premiers, today, the federal government presented their plan. While this is a start, overall, this is significantly lower than the premiers anticipated. Premier Smith will take this information back to her team in Alberta in advance of meeting with Canada's premiers again in the coming days.
Premier Smith also met with premiers François Legault of Quebec and Scott Moe of Saskatchewan in Ottawa in advance of today's first ministers' meeting.
Premier Smith and Premier Legault committed to a desired outcome for a health-care deal that recognizes and respects provincial jurisdiction over health delivery and leads to better outcomes for Albertans and Quebecers. Premier Smith stressed the importance of Alberta's energy sector, advocating for the importance of natural gas exploration and development both for the growth of the Canadian economy and to provide energy security for Canada's allies. Premier Legault reiterated his desire to invest in clean energy like hydroelectricity to fight climate change. Both premiers expressed concern about federal overreach and the need for the federal government to respect provincial autonomy in areas of provincial jurisdiction to better meet the needs of their citizens.
Premier Smith and Premier Moe expressed a need for flexibility in the delivery of health-care services, especially those that Alberta's Healthcare Action Plan commits to, such as reducing surgical wait times, improving ambulance services and reducing emergency room wait times. Premier Smith emphasized Alberta's progress on recovery-oriented care to support those struggling with mental health and addictions challenges and invited Premier Moe to Alberta to visit the province's recovery-oriented treatment centres. The premiers also discussed the mutual importance of the energy sector to their provinces for job growth and export to Canada's allies and a desire to work together on establishing economic corridors for trade and energy export.
Premier Smith asks Prime Minister to halt "Just Transition" legislation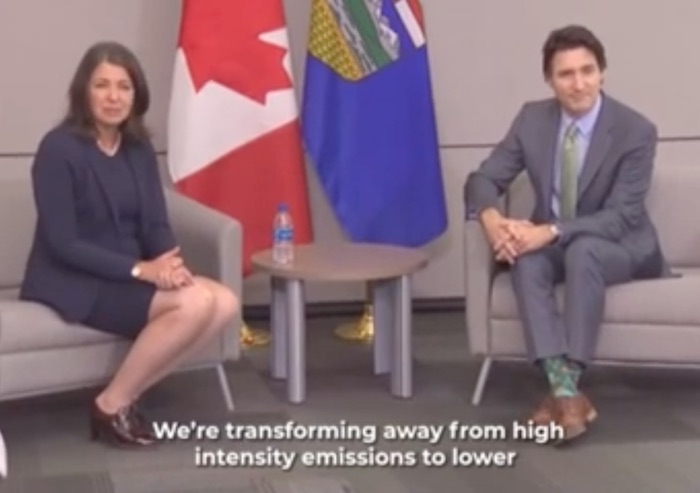 Premier Smith meets with the Prime Minister
Premier Danielle Smith met with the Prime Minister for approximately 30 minutes primarily discussing Alberta's request for the federal government to halt the introduction of its proposed 'Just Transition' legislation and other emission reduction strategies.
The Premier asked the federal government to instead work collaboratively with the Government of Alberta on developing a plan and partnership to attract energy investment and workers into Alberta's conventional, non-conventional and emerging energy sectors while reducing Canada's and Alberta's net emissions.
The Prime Minister expressed a willingness to explore this strategy with the Premier through their respective ministers and the Premier will be following up with further correspondence regarding proposed next steps in the near future.
The Premier used today's discussion to outline Alberta's expectations as to what must and must not be included in any future federal legislation, targets or policies as it relates to Alberta's energy sector. These expectations included:
Abandonment of any references to 'just transition' or any other terminology or policies that signal the phaseout of Alberta's conventional or non-conventional energy sector or workforce.
Increased workforce training and participation in all of the conventional, non-conventional and emerging energy sectors.
The need for formal consultation and collaboration with Alberta before the federal government announces or implements legislation, targets or policies that materially impact Alberta's energy sector.
Substantial increase in LNG exports to Asia through the lens of meeting targets through replacement of higher emitting fuel sources with clean Canadian LNG.
Joint federal-provincial initiatives to facilitate increased private investment in nuclear, hydrogen, bitumen beyond combustion, geothermal, lithium, helium, zero-emission vehicle, CCUS, petrochemical and other emerging technologies and fuels that make Alberta's conventional and non-conventional energy sector increasingly carbon neutral.