ConocoPhillips to exercise pre-emptive right; will buy rest of Surmont project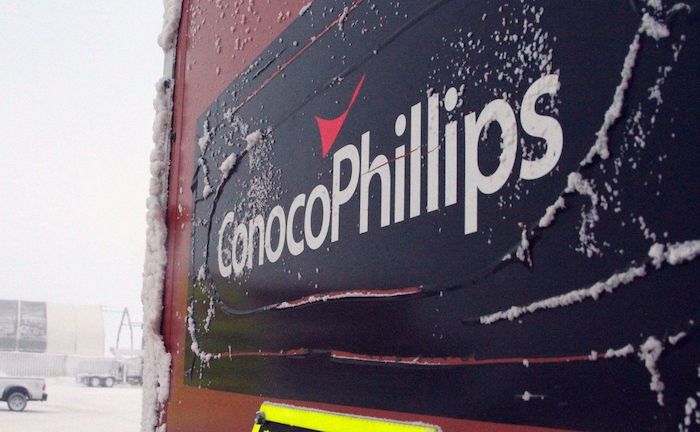 An ice-covered ConocoPhillips sign at the Colville-Delta 5, or as it's more commonly known, CD5, drilling site on Alaska's North Slope is shown on February 9, 2016. THE CANADIAN PRESS/AP, Mark Thiessen
Calgary
ConocoPhillips says it will exercise its right of first refusal and purchase TotalEnergies' 50 per cent stake in the Surmont oilsands project for $4 billion.
The Houston-based oil company is currently the operator and the 50 per cent owner of the in situ oilsands asset near Fort McMurray, Alta.
In April, Suncor Energy Inc. said it would acquire the other half of Surmont, part of a larger $6.1-billion deal that would also see Suncor acquire French company Total's stake in the Fort Hills oilsands project.
But ConocoPhillips says it will pre-empt Suncor and purchase the remainder of Surmont for itself.
The company says it expects the deal will add approximately US$600 million of annual free cash flow in 2024, based on a West Texas Intermediate oil price of US$60.
The deal is expected to close in the second half of 2023, with an effective date of April 1, 2023.
This report by The Canadian Press was first published May 26, 2023.
Companies in this story: (TSX:SU)
First Nation wants reasons for Trans Mountain ruling; says it's entitled to appeal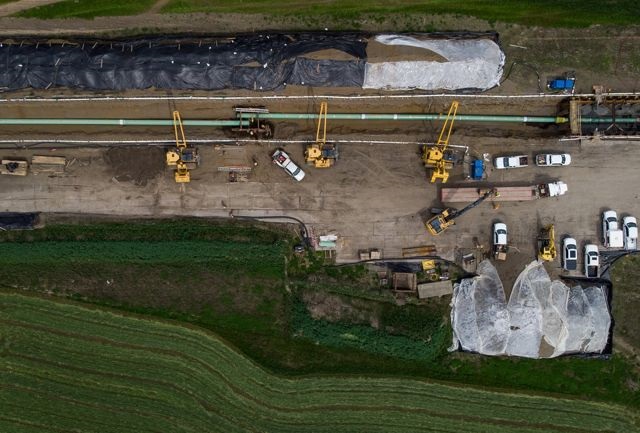 In this photograph taken with a drone, workers lay pipe during construction of the Trans Mountain pipeline expansion on farmland, in Abbotsford, B.C., on Wednesday, May 3, 2023. A B.C. First Nation is asking the Canada Energy Regulator to release its reasons as soon as possible for allowing a modification of the Trans Mountain pipeline's route.THE CANADIAN PRESS/Darryl Dyck
By Amanda Stephenson in Calgary
A B.C. First Nation is asking the Canada Energy Regulator to release its reasons as soon as possible for allowing a modification of the Trans Mountain pipeline's route.
In a letter to the regulator dated Wednesday, a lawyer representing the Stk'emlúpsemc te Secwépemc Nation (SSN) said the decision to grant the route deviation Monday without providing its reasons has left the First Nation without the ability to decide its next steps.
The letter said the First Nation has the right to request a reconsideration of the decision, or to appeal it through the Federal Court of Appeal.
"This has, in fact, created significant uncertainty for SSN and left SSN without the procedural options that would otherwise be afforded to it with the potential for irreparable harm to its rights and title as a result," the letter states.
The Canada Energy Regulator ruled Monday to allow Trans Mountain Corp. to alter the route slightly for a 1.3-kilometre stretch of pipeline in the Jacko Lake area near Kamloops, B.C.
It said it would release its reasons for the decision in the coming weeks.
Trans Mountain Corp, a Crown corporation, had requested the change because of what it said were engineering difficulties in the area related to the construction of a tunnel.
The company had warned that being forced to stick to its original route and construction method could result in up to a nine-month delay in the pipeline's completion, as well as an additional $86 million more in project costs.
Trans Mountain had been hoping to have the pipeline completed by early 2024.
But the Stk'emlúpsemc te Secwépemc Nation, whose traditional territory the pipeline crosses and who had only agreed to the originally proposed route, opposed Trans Mountain's application.
The First Nation has said the new route threatens to disturb land that has spiritual and cultural significance.
The First Nation's lawyer said in the letter Wednesday that Trans Mountain has indicated it wants to break ground on the new route on Oct. 2.
The Trans Mountain pipeline is Canada's only pipeline system transporting oil from Alberta to the West Coast. The expansion, which is currently underway, will boost the pipeline's capacity to 890,000 barrels per day (bpd) from 300,000 bpd.
The pipeline — which was bought by the federal government for $4.5 billion in 2018 after previous owner Kinder Morgan Canada Inc. threatened to scrap the expansion project in the face of environmentalist opposition and regulatory hurdles — has already been plagued by construction-related challenges and delays.
Its projected price tag has also soared: first to $12.6 billion, then to $21.4 billion and most recently to $30.9 billion.
This report by The Canadian Press was first published Sept. 28, 2023.
Alberta is getting serious about nuclear power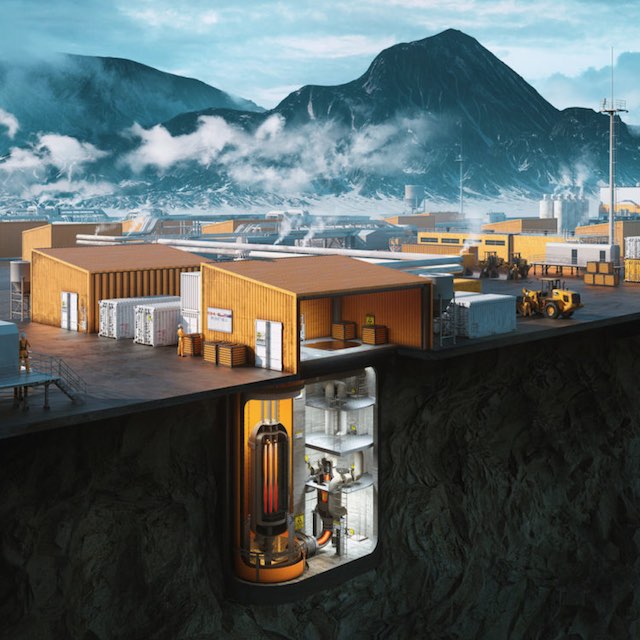 Image from CanadianMiningJournal.com
New funding to study small modular reactors
Alberta has approved funding for a multi-year study that will explore how small modular nuclear reactors could be safely, technically and economically deployed for oil sands operations.
Alberta is investing $7 million from the Technology Innovation and Emissions Reduction Fund to help Cenovus Energy study how small modular reactors could be used in northern Alberta, and what additional information might be needed to pursue regulatory approval in the future.
As outlined in the province's Emissions Reduction and Energy Development Plan and A Strategic Plan for the Deployment of Small Modular Reactors, Alberta is committed to responsible and innovative energy development, and small modular reactors have the potential to provide zero-emissions energy and further reduce emissions from Alberta's oil sands in the years to come.
"A few years ago, the idea of expanding nuclear energy use was on the back burner – that is no longer the case. In Alberta, small modular nuclear reactors have the potential to supply heat and power to the oil sands, simultaneously reducing emissions and supporting Alberta's energy future. This funding is the foundation for that promising future. I want to thank Cenovus Energy and Emissions Reduction Alberta for their leadership in this work."
Small modular reactor technology involves scalable and versatile nuclear reactors that could potentially supply non-emitting heat and power to the province's oil sands. Provincial funding delivered through Emissions Reduction Alberta is supporting the work needed to determine how this technology could be effectively used in Alberta.
"Small modular reactors have great potential to supply non-emitting energy in many different applications, including the oil sands. Further studies like this are needed to see if the technology is suitable for those industrial applications. If so, it could be transformational for the in-situ oil sands sector and other sectors in Alberta."
"This enabling study is a great example of the collaborative approach we'll need to help us reach our ambition of net-zero emissions from our operations by 2050. We're exploring multiple technologies that would help significantly reduce our emissions, and small modular reactors show potential. This study will help us understand if this possible solution is economical and technically viable."
Cenovus Energy's $26.7-million enabling study will look at whether small modular reactor technology could be applied to steam-assisted gravity drainage projects in the oil sands, which drill into the reservoir and inject steam to soften the oil. Alberta Innovates recently released a study on the feasibility of using small modular nuclear reactors in steam-assisted gravity drainage operations, which is an early step to see if this technology could be part of Alberta's long-term solutions to reducing emissions from industry operations. While there is currently no project being planned, this study frames the discussion around what is possible in the years ahead.
"Building off the work previously supported by Alberta Innovates, the success of Cenovus's small modular reactor ERA-funded enabling study could provide substantial economic and environmental advantages throughout Alberta's industrial sector, helping to advance a clean energy future for Canada."
Quick facts
Funding for this project comes from Emissions Reduction Alberta's Industrial Transformation Challenge.
Any future adoption of small modular reactor technology in Alberta would require an extensive regulatory and engagement process. The province is currently working to ensure the regulatory framework is in place and ready should private industry pursue this technology.
On Sept. 12, an Alberta-Ottawa working group on emissions reduction and energy development met for the first time. The working group agreed to commence the development of a regulatory framework for small modular reactor technology and continue work on federal and provincial incentives for CCUS, hydrogen and other emissions-reducing technologies.
Alberta, Saskatchewan, Ontario and New Brunswick released A Strategic Plan for the Development of Small Modular Reactors in 2022. The plan commits the Alberta Utilities Commission and Alberta Energy Regulator to deliver findings on areas of overlap, uncertainty and duplication between the federal and provincial regulatory systems to Alberta's government in 2023.
The Canadian Nuclear Safety Commission regulates all stages of life of nuclear power plants in Canada, starting from the initial environmental assessment to decommissioning. The approval process takes several years and offers opportunities for public participation.