Cleanse The Sport: These Men Need To Be Fired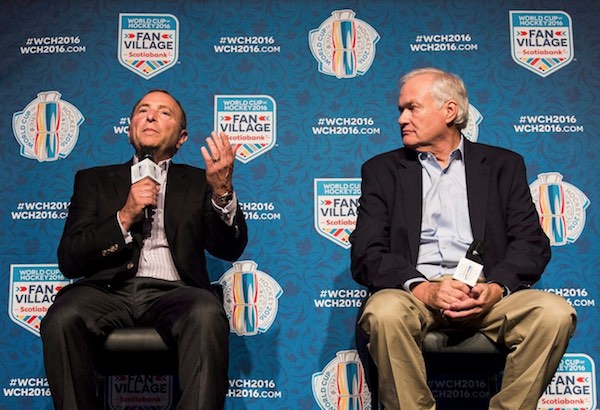 @Rwesthead Pointed out to Gary Bettman that while Blackhawks fined $2M for abuse coverup, Arizona Coyotes lost draft picks over improperly working out a prospect and that NJ Devils were fined $3M for a salary cap violation. Bettman: "Different context, different facts." Even now he thinks this is a fair statement.
There's an old Turkish idiom that says "The fish rots from the head". It's now a catch phrase to describe how an organization or state fails. Leadership, the head of the fish, is the source of the rot.
If that axiom is true then either NHL commissioner Gary Bettman or NHLPA executive director Don Fehr— or both— need to be shown the door. Nothing better exposes the organizational failure of these two executives than their treatment of the Kyle Beach sexual assault case that spilled out this week.
It took a sexual assault victim exposing his identity on nationwide TV eleven years after the event to shame them into finally admitting their complicity in his pain. Yeah, that bad. If you need background on the case, here's what we wrote in June and July . In short, the Chicago Blackhawks, NHL and NHLPA saw Beach's claim that a Chicago team official has sexually assaulted him as a distraction during the 2010 Stanley Cup run. So they buried it.
Inconveniently, people in their organization had urged them to do the right thing. "Blackhawks coach, Paul Vincent, told news outlets he told team executives, including team President John McDonough and general manager Stan Bowman, to report the allegations to Chicago police, but his request was rejected. Vincent reportedly says he will be happy to testify in court on behalf of the complainant…
(The alleged assailant Brad) Aldrich left the organization with a letter of recommendation and was later convicted in 2013 in Michigan of fourth-degree criminal sexual conduct involving a student. He is now on that state's registry of sex offenders."
What did the NHL and NHLPA do since 2010? When they saw that their omertá had worked in sidelining Beach's complaints they moved on. While Beach suffered silently as his career crumbled. And while his assailant went on to attack again in Michigan. Worse, in December of 2020, the Blackhawks rewarded Bowman, making him president of hockey operations after they had earlier fired McDonough in April 2020.
Blackhawks team spokesman Adam Rogowin blithely said the team was confident it would "be absolved of any wrongdoing." Picking up on the theme, a number of 2010 Blackhawks played the Sergeant Schultz "I know nothing" card about the story. A few of their teammates did break ranks. But not the team leaders. They let sleeping dogs lie while the collected their Stanley Cup rings.
As we noted in June: "What is most remarkable about the story is that it has been a poorly kept secret throughout the NHL since the time. Players and managers reportedly knew about it. Presumably the NHL's investigative arm, hyped in the wake of the (Graham) James episode, would have been made aware. If they were not, why not if everyone in the league knew of it?"
That's where the case sat until two diligent reporters, Katie Strang of The Athletic and Rick Westhead of TSN, re-opened the file this year. Beach revealed he was the John Doe victim in a tearful TSN interview. It went off like a bomb. The week ended with both the league and union admitting guilt for their neglect while begging Beach's forgiveness.
Tellingly they had no excuse for what happened. The "absolved of any wrongdoing" was now "sincere regret", what can we do to make up for this? As if.
Don Fehr said in a press release "There is no doubt that the system failed to support him in his time of need, and we are part of that system… the grave nature of this incident should have resulted in further action on our part. The fact that it did not was a serious failure. I am truly sorry, and I am committed to making changes to ensure it does not happen again."
Will Fehr even get to make those chances? The NHLPA has a conference where his future will be on the table after the terrible failure of the NHL/NHLPA player assistance program. It's hard to see him make an argument that he deserves a chance when the team reps ask him what he did to protect one of their brethren.
For Bettman, the commissioner who overstayed his welcome will likely be safe unless a group of the owners grow a conscience and fire him. But in most corporations his personal effects would be in a cardboard box and he would be escorted from the premises for allowing this stain on his business. Or else he'd take the initiative and resign in shame for failing his employees.
Sadly, the hockey media culture remains the same one we encountered in the 1990s when, along with Carl Brewer, Sue Foster and Russ Conway, we exposed the corruption between the league and NHL Players Association director Alan Eagleson on a range of subjects from player pensions to collective bargaining to Canada Cup fraud.
That story had largely lain dormant for a generation despite the repeated calls by Brewer for investigations into the cozy relationship between the league and Eagleson. Media with NHL sponsorships or broadcast deals would rather have eaten glass than reported what they saw.
Thanks to the digging of Conway, Foster and CBC Toronto the truth emerged in the mid 1990s. Eagleson was convicted of fraud and NHL president John Ziegler was replaced by Bettman. A familiar pattern then ensued. When the facts became too hard to deny the negligent media put on the hair shirt, condemning corruption and vowing to never allow its negligence to happen again.
Now ask Kyle Beach how well they did on their promise.
Bruce Dowbiggin @dowbboy is the editor of Not The Public Broadcaster (http://www.notthepublicbroadcaster.com). The best-selling author of Cap In Hand has been nominated for the BBN Business Book award of 2020 for Personal Account with Tony Comper. A two-time winner of the Gemini Award as Canada's top television sports broadcaster, he's also a regular contributor to Sirius XM Canada Talks Ch. 167. His new book with his son Evan is called InExact Science: The Six Most Compelling Draft Years In NHL History is now available on http://brucedowbigginbooks.ca/book-personalaccount.aspx
East Germany's Triumphant Comeback Over Woke West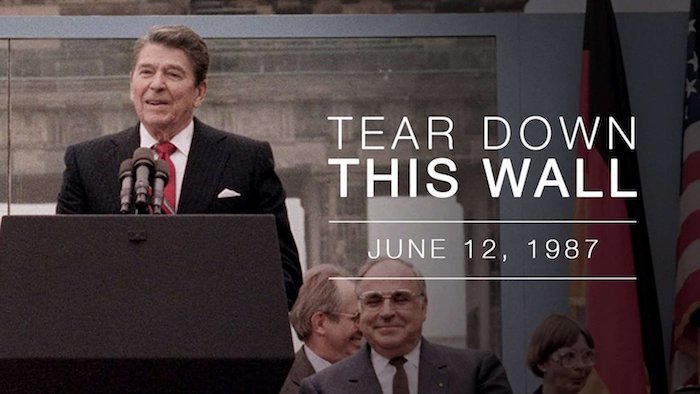 "Mr. Gorbachev… tear down this wall."— Ronald Reagan
News Item: California lawmakers pushing legislation that would impose a new tax on the state's wealthiest residents — even if they've already moved to another part of the country.
It's nostalgic to remember the euphoria in 1991 when the Berlin Wall crumbled. After decades in the shadow of nuclear war, everyone believed Western values had triumphed when the Wall came down. Freedom of movement reigned. Authoritarian rule had been delegitimized. Individual dignity was restored. Never before would the grey spectre of East Germany cast its shadow on the world.
Now it's clear that, in fact, East Germany has won. The #WEF charter now tells people in the West that they actually lost WWII and the Cold War due to their privileged racism. Totalitarian European zealots backed by social-media Stasi are again running the show. Sadly, it seems to be working.
WEF "Mr. Big" Klaus Schwab can hardly wait: "Just think of the amazing 4th Industrial Revolution, aka singularity and transhumanism, whose technology includes AI, IoT, and genetic engineering!
With the WEF (confabbing in Davos) and United Nations calling the tune, free speech and freedom of movement are being subordinated to elite cadres of the unelected State in public and private spheres. Digital ID that would have made Erik Honeker jealous are being pushed by Canada's PM. People who wish to express opinions or dissent with the ruling class must pass through a Checkpoint Charlie gauntlet of apprehended disloyalty and suspected subversion.
A typical sample: the Scottish government's new Green manifesto "A holistic behaviour change approach – The ask". Addled by climate-fever dreams, the Scottish Government is planning on reducing the use of private cars in the country by 20 percent. "By rethinking how we use our cars and reducing the number of daily journeys we take, we can help make Scotland a healthier, fairer, greener place to live and significantly contribute towards Scotland reaching net zero".
This is not a suggestion. This will be the government using coercion to reduce citizens' access to the roads. (That's the "fairer" part.) Employing the intimidation template used for Covid-19 and its vaccines, they will let public snitches and scolds police the dissent. As happened with Covid, the quaking Greta Thunberg media will fall in line.
The Scots are not alone among First World nations employing the heavy hand. (Ironically, Scotland is ancestral home of Adam Smith, the father of free-market capitaltiism, and David Hume, a prophet of personal freedom.) Far from it. Remember Australia's Tribute To Xi re-education camps, scooping up Covid-19 dissenters for sequestration in isolated barracks? This, in the sun-splashed, fun-loving Land Down Under?
Here in Justin Trudeau's Canada, punishment hotels were employed on returning citizens to keep the population suitably frightened. If a few truckers decided that health passports, ArriveCan and non-vaccinated pariahs were an affront to 150 years of Canadian tradition? Employ media stooges and the banks to get them back in line. Get the RCMP to show weapons caches that had nothing to do with the border crossings. Dissemble.
For a nation as large as Canada Trudeau knows that restricting car mileage is impractical. So he cleverly does the next best thing. Jack the rate of tax as a climate devotional. Restrict fossil fuel consumption with the felicitously named Carbon Tax. Drive up the price of gas till citizens are forced onto crappy subways and buses to be preyed upon by junkies and mental patients.
The Liberal plastics-elimination program announced by former Greenpeace stuntman Stephane Guilbault is typical. When finally cornered on specious evidence that the road to hell in paved with plastic straws, the minister had to concede no such evidence actually exists beyond a few NGO websites. No matter. It seemed right and re-directed the sheeple to more snitching and signifying on CBC. It's all done in the sacred name of climate, but the real goal is control of the government/ corporate nexus. Facts no longer matter.
It was all so easy-peasy. And if a few eggs were broken in making this omelette? The memory hole will seal up behind it. Novak Djokovic will be invited back to play tennis and pretend-normal will resume. Having established this new standard for abuse, we must nows pretend that all those police busting churches and barbecue joints was a hallucination.
As Matt Taibbi writes, the past six or seven years, "has been like being trapped in a fugue state, where reality is kaleidoscopic, memory is elusive, and moments of clarity sometimes more jarring than reassuring. To be reminded of what we were told day after day for years, after being trained to forget, is like waking from an unpleasant dream, prompting thoughts like, "Did that really happen?"
A perfect example of this disorientation is Leana Wen, the New York Times health reporter who'd led the charge on every form of Covid panic. Confirming data that would have gotten others banned 18 months ago she now tells CNN we've been vastly overcounting COVID deaths, outlining the crucial distinction between deaths "with COVID" and deaths "from COVID." Duh.
As Taibbi describes: "… the pandemic was reported not as a collective problem to be solved, but a horror movie to be passively experienced. This is a media approach we see deployed in a variety of issues from fake news to 'sonic weapons', one that trains frightened audiences to endorse extreme solutions and outsource thinking to authorities."
In case the frightened relent, there will be poisoned comebacks for what passed as normal since the Schwabians declared The Reset. Currently the U.S. Department of Justice is attempting to restore the CDC airline mask mandates that roiled the Excited States for two-plus years. This despite president Joe Biden, the document king, declaring Covid over last summer.
Still, the midwits like Chrystia Freeland and camp followers like Tony Blair and John Kerry keep flocking to the Davos CEO carnival. And what does WEF achieve worldwide— other than attract the fashionable and fatuous? Dilbert creator Scott Adams charts a WEF success story:
"They watched Norway create a fund, took credit for the work of members, mobilized coalitions, bragged about the work of signatories, teamed with others, signed a compact to develop a framework which will allow the measurement of a long-term approach, agreed to six principles, and endorsed a plan. How would the planet survive without all of that?"
How indeed in the tourist haven of East Germany? Ein prosit!
Sign up today for Not The Public Broadcaster newsletters. Hot takes/ cool slants on sports and current affairs. Have the latest columns delivered to your mail box. Tell your friends to join, too. Always provocative, always independent. https://share.hsforms.com/16edbhhC3TTKg6jAaRyP7rActsj5
Bruce Dowbiggin @dowbboy is the editor of Not The Public Broadcaster A two-time winner of the Gemini Award as Canada's top television sports broadcaster, he's a regular contributor to Sirius XM Canada Talks Ch. 167. Inexact Science: The Six Most Compelling Draft Years In NHL History, his new book with his son Evan, was voted the seventh-best professional hockey book of all time by bookauthority.org . His 2004 book Money Players was voted sixth best on the same list, and is available via http://brucedowbigginbooks.ca/book-personalaccount.aspx
NHL's New Woke Agenda Is A Pucking Mess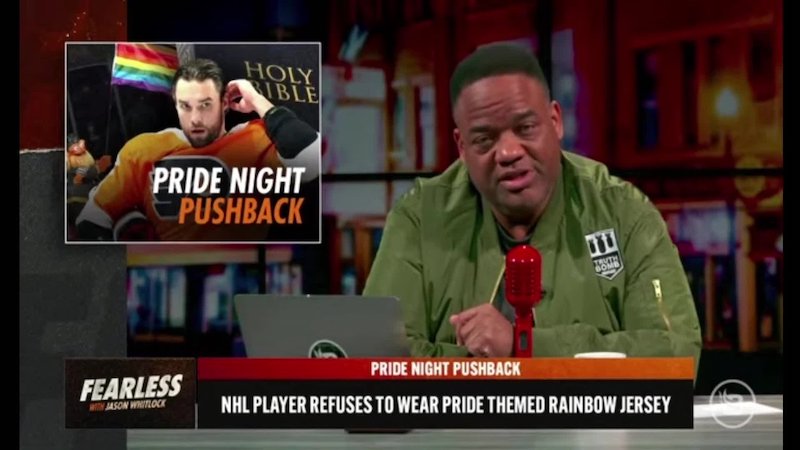 "Religion is like a pair of shoes…..Find one that fits for you, but don't make me wear your shoes." ―George Carlin
As Justice Minister in the 1960s, Pierre Trudeau articulated the essence of liberal tolerance with his "government has no place in the bedrooms of the nation". Sixty years later, PET's son Justin would like to amend that to "the government has no place in the bedrooms of the nation— unless those people are saying nasty things about me."
What once was a proud definition of liberty has transformed into a confidence game run for the Woke elite and its friends in the Media Party. Example this week: The Philadelphia Flyers— in keeping with the NHL's sudden conversion as a ESG colossus— staged a Gay Pride night. As part of the promotion they wore rainbow-coloured jerseys in warmup.
All except Ivan Prokorop, who is Russian Orthodox. His religion is not slack-jawed with Progressive awe at same-sex marriage. So he refused to join the parade. Cue the Church ladies of the sporting press.
"Adam Proteau: Ivan Provorov has the right to any opinion he chooses. And we have the right to have any opinion on Ivan Provorov that we choose. Like this: he's a shameful human being whose homophobia is only going to get more shameful over the years."
NHL Network senior reporter EJ Hradek suggested the Russian-born Flyer should go back to his homeland and join the fight against Ukraine if participating in Pride events is "that problematic for him".
Citing the checkered history of organized religion, Breakfast TV's Sid Sixeiro, coming at you from the beating heart of urban Toronto, was on the verge of "throwing up" over Provorov declining to don the gaudy sweater. "I think you fine the Flyers a million dollars for this, I'm not kidding," said Sixeiro. "Figure this out and stop offending people on nights where it's not about that, it's supposed to be about inclusivity. (Despite Sid's strenuous calls for action the NHL has yet to sanction Provorov or the Flyers.)
Fine. Then answer this: If an NHL team held a Christian night, and players were forced to wear jerseys with a crucifix, would you defend a player who opted out because of his conscience? Or would you go full Proteau and say he's a "shameful human being whose religious intolerance is only going to get more shameful over the years"?
No one in the chattering class wants to take that on, of course. They don't comprende that rights that work for them also must work for people they consider heretics.
Meanwhile, Flyers coach John Tortorella had no trouble with Provorov: "Just because you don't agree with his decision, doesn't mean he did anything wrong". The unwashed mass, the ones who, unlike Antifa, actually support the NHL, responded with their wallets. Provorov jerseys sold out on the NHL Shop and Fanatic. Prompting this tweet from tweeter Colin Rugg: "America hates wokeness."
Perhaps the "burn the witch" vibe from the NHL upset something called NFL World. Because they contributed their own drive to censorship of Christians over remarks made by former coach and now NBC analyst Tony Dungy, who is a devoted Christian (and whose eldest son committed suicide). Dungy's Leftist apostasy was mocking the movement beloved by the AOC crowd— that of allowing grown men to use girls' washrooms if they identify as women.
When it was suggested feminine hygiene products be available in all men's washrooms, Dungy suggested they also put kitty litter in the washrooms for those identifying as cats. Okay, not terribly clever. But he made his point. No amount of Davos-inspired lunacy was going to make him change his definition of what constitutes a woman.
That highly offended NFL World and those who collect pronouns the way some collect stamps. There were demands from the predictable corners— okay #MSNBC— for him to be taken off the air by NBC and banned by the NFL from its stadiums. "Be better", said people who ten years ago would have thought menstruating men was a Monty Python skit.
The joke in all this is not on the fanatical left and its demands for a brave new world of Green economy and Woke sensibility. It's not on the conservative right who know what— and who— they are despite the storms of vitriol issuing from Justin Trudeau or Vijay Singh.
The joke is on the stubborn centrist liberals of the media who worshipped PET or JFK. They still believe they control the agenda. They don't.
Here's what we wrote on the eve of the Biden election in October of 2020. "Liberalism as practiced today is deader than Tutankhamen. When they're not planning escapes to Canada, American liberals like Rob Reiner think they've achieved a sweet deal, using the radical left to subdue Trump while centrist Joe Biden waltzes to victory. The theory being that once Biden is in the White House it'll be tools down for the radicals and the Swamp will rise again. [Ed.: How's that working for you?]
"Canadian liberals might not notice the change quite as dramatically. That's largely because the Kings of Smug surrendered to the radical left years ago when the Ralph Goodale Libs gave the keys to Prince Justin. Trudeau has surrounded himself with Woke activists and climate zealots bound on creating a progressive socialist nirvana.
If you're looking for grownups such as John Turner, Donald MacDonald, Bob Rae or Paul Martin you're as dated as Facebook. Freed from icky responsibilities such as Canada's defence, Canada's liberals are hellbent on a climate dreamworld. To solidify his Green bonafides Trudeau is now incorporating the floundering NDP into his new party, outflanking (for the time being) the Greens.
"Canadian liberalism is a cadaver, waiting for the embalmer to finish the job. American liberalism is not far behind. The radical left is on the move— and it won't be pretty."
Just how not-pretty can be seen with the Antifa mob that staged a violent riot in Atlanta this past week. Or at Davos where eating insects, indulging climate fantasies and throttling popular dissent movements are all unquestioned articles of the faith for former liberals. When Biden gets the shove in the near future the remaining Hollywood liberals will see it's too late to grab their movement back.
Sign up today for Not The Public Broadcaster newsletters. Hot takes/ cool slants on sports and current affairs. Have the latest columns delivered to your mail box. Tell your friends to join, too. Always provocative, always independent. https://share.hsforms.com/16edbhhC3TTKg6jAaRyP7rActsj5
Bruce Dowbiggin @dowbboy is the editor of Not The Public Broadcaster A two-time winner of the Gemini Award as Canada's top television sports broadcaster, he's a regular contributor to Sirius XM Canada Talks Ch. 167. Inexact Science: The Six Most Compelling Draft Years In NHL History, his new book with his son Evan, was voted the seventh-best professional hockey book of all time by bookauthority.org . His 2004 book Money Players was voted sixth best on the same list, and is available via http://brucedowbigginbooks.ca/book-personalaccount.aspx