Clean tech innovation cuts emissions, creates jobs
March 12, 2019
Alberta's Climate Leadership Plan is helping major industries reduce emissions and create jobs while cutting costs and becoming more competitive.
Emissions Reduction Alberta is funding more than a dozen new clean technology projects across the province, while Energy Efficiency Alberta is supporting small and medium-sized oil and gas companies to reduce methane emissions through upgrades.
"Innovation is a key part of Alberta's economic and environmental success, and our industries continue to show tremendous leadership. Clean technology investments lead to made-in-Alberta solutions that support jobs, protect our environment, and point Alberta toward a healthy, prosperous future."
Emissions Reduction Alberta (ERA)
From Fort McMurray to Waterton, 16 innovative clean technology projects will receive funding through ERA's $100-million Biotechnology, Electricity and Sustainable Transportation (BEST) Challenge – the largest challenge in ERA's history.
These projects have a combined value of $600 million and the potential to reduce a total of 2.5 million tonnes of greenhouse gas emissions by 2030 – the same as taking 530,700 cars off the road. These projects will also result in 114 new jobs.
"Our BEST Challenge is about accelerating the most promising clean technology solutions across multiple sectors – from new solar opportunities in coal-impacted communities to efficient fleet solutions. These projects will be a showcase for innovative technologies that can be adopted in communities across Alberta. They support economic growth, community health and demonstrate environmental leadership on a national and global scale."
The Alberta Motor Transport Association (AMTA) is working to develop and demonstrate a 700-kilometre-plus-range zero emission truck. These trucks will reduce greenhouse gas emissions through improved fuel efficiency of the fuel cell hybrid drivetrain. Sequestering carbon at the hydrogen generation facility will result in even greater emissions reductions.
"This is a very exciting project for the AMTA and our member companies. This initiative is primarily about moving freight on Alberta's highways with zero emissions, but it is also about the future of the Alberta economy. Alberta is in the transportation fuel business, and that business is changing. The AZETEC project demonstrates that Alberta's commercial transportation industry is leading the transition towards innovative, zero-emission transportation that meets the province's unique needs."
Another funding recipient, eCAMION, is working on a project to transition Alberta's buses from diesel to electric. Its first-of-a-kind charging system could lower installation and operating costs, encouraging broader and faster adoption across the province. eCAMION will partner with the City of Edmonton on a trial of its fast-charge technology. A complete list of BEST Challenge projects is available here.
Energy Efficiency Alberta (EEA)
Government is providing an additional $5 million to support the continued success of EEA's popular $10-million Methane Emissions Reduction initiative.
The program has already made it easier for 30 small and medium-sized oil and gas companies to address methane waste through energy-efficient equipment upgrades, which also helps facilities hire more staff, reduce annual emissions and boost competitiveness. To date, 2,534 applications are approved, with at least 1,500 more anticipated by March 31, 2019.
"Through methane-reduction education and deployment of existing technologies, companies ultimately have the ability to become more competitive and efficient. This announcement will result in a great collaboration to further our methane-reduction programming for the oil and gas sector."
The funding boost will also support a $1.5-million grant for the Petroleum Technology Alliance of Canada to introduce technologies that reduce methane emissions. The grant is expected to reduce up to 200,000 tonnes of emissions – the same as taking 42,460 cars off the road.
"Energy Efficiency Alberta's Methane Emissions Reduction initiative is a momentous step towards a massive deployment of proven, cost-effective, economic methane-mitigation technologies that will benefit our people, planet and industry. It will enable producers – large and small – to maintain competitiveness, while helping Alberta's entrepreneurs and small technology providers prosper and create jobs."
"EEA's Methane Emissions Reduction Program continues to improve the province's emissions inventory while growing local jobs and incentivizing capital investment in Alberta-based emission-reduction projects. We look forward to continuing to contribute to the success of this program and working with industry to implement emission-reduction technologies."
Quick facts
The biotechnology, electricity and sustainable transportation sectors account for more than 40 per cent of Alberta's annual greenhouse gas emissions.
ERA takes action on climate change and supports economic growth and diversification by investing carbon pricing paid by industry directly into clean technology solutions that reduce emissions, attract investment and create jobs. To date, ERA has committed more than $572 million in funding to 164 projects with a total value of roughly $4.3 billion.
The climate change impact of methane is 25 times greater than carbon dioxide over a 100-year period. Methane emissions in 2014 from Alberta's oil and gas sector accounted for 70 per cent of provincial methane emissions, and 25 per cent of all emissions from the upstream oil and gas sector.
The Methane Emissions Reduction Program was announced in October 2018, and 60 per cent of the first year's budget has already been committed. The program received three dozen applications in the first six weeks.
Edmonton council to ask province to support new centre to fight downtown crime
By Fakiha Baig in Edmonton
City council has voted unanimously to ask the government of Alberta to support the creation of a hub in Edmonton's Chinatown where social workers, firefighters and peace officers could work together to reduce crime.
City administration submitted a report to council Monday that describes the proposed Healthy Streets Operations Centre.
David Jones, who is with the city and presented the report, told councillors it would not be a traditional police station.
"The people who will see the benefits of this include Chinatown residents and businesses, but also people who are on the streets who are vulnerable and being preyed on by some of the criminal element," Jones said.
The creation of the centre is one of several actions the city has promised to address a spike in violent crime downtown, in nearby Chinatown and on the transit system.
Edmonton police officers have already increased their presence in problem areas.
In May, Justice Minister Tyler Shandro used his ministerial power to demand a report from the city on what is being done to get crime under control.
Mayor Amarjeet Sohi said during Monday's council meeting that the city has delivered with its plan for the centre and now it is time for the province to step up.
"Edmonton gets the lowest per-capita funding to support ending homelessness compared to seven other cities (in Alberta). I think it's really important that we ask the people whose inaction has caused harm to the community to be stepping up," Sohi said.
"Most of the violence in Chinatown is related to houselessness … and addictions causing a lot of harm to the community and to individuals. We're asking city taxpayers to pick up the pieces or pay for the consequences of lack of investment in health and lack of investment in housing."
Sohi added he gets the sense the province wants to help.
The provincial government did not immediately respond to a request for comment.
The report says the centre will operate seven days a week, 21 hours a day, and could cost up to $18.1 million over the next four years.
The city and Edmonton Police Service could partially support the centre and Jones said there have also been offers from different businesses in Chinatown to provide a building for the hub at no cost.
But council voted in favour of asking the provincial government to determine how it can provide mental health, housing and shelter support.
Sohi said he plans to engage with the province and will report back to council on Aug. 15.
Jones said to get the centre up and running by next summer, the city aims to hire four peace officer sergeants, 16 community peace officers, two community safety liaisons and three firefighters or fire prevention officers.
The report said community members asked for increased security in problem areas and that building a centre in "hot spots" can effectively reduce crime. Research cited in the report has also shown it wont displace violence to other areas.
"Studies have consistently found no noticeable displacement and, in some cases, a diffusion effect, meaning that hot-spot policing reduces crime in the areas adjacent to the hot spots as well."
Dr. Temitope Oriola, a criminology professor at the University of Alberta, said the hub model has been around for at least a decade in Canada and the centre is a good start.
"The real test is to ensure it is not too heavily tilted toward and reliant on policing," he said in a email.
"The approach needs to have law enforcement as one of several critical components with people, community revitalization and customized social service at the epicentre."
Oriola added the centre would be most effective in reducing crime if it also goes hand-in-hand with other initiatives in the city that address addictions issues and homelessness.
"Employment created should also focus on those most directly connected to Chinatown," he said.
This report by The Canadian Press was first published on July 4, 2022.
—
This story was produced with the financial assistance of the Meta and Canadian Press News Fellowship.
Alberta expands its support for Ukrainians fleeing war and settling in the province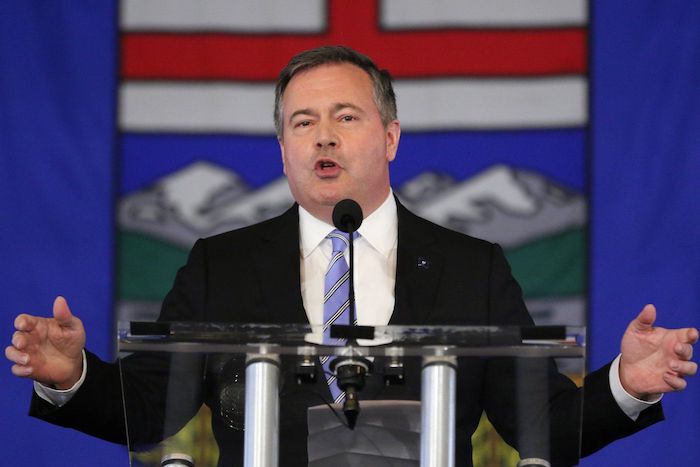 Edmonton – The Alberta government is expanding its support for Ukrainians coming to the province from the war-ravaged country.
Premier Jason Kenney said there's a special, deep connection between Alberta and Ukraine, with more than 369,000 Albertans who have Ukrainian roots.
"That is why we are proud to have opened our doors of refuge to Ukrainians fleeing the violence of that conflict," he said Monday at a news conference at the Ukrainian Cultural Heritage Village just east of Edmonton.
Kenney said more than 3,800 Ukrainians — many of whom are women and children because men are required to stay behind to help defend their nation — have already arrived in Alberta and thousands more are expected as the conflict continues into its fourth month.
"Starting July 25, Ukrainian evacuees arriving in Alberta will be eligible for new forms of aid," he said.
Those additional measures, he said, include temporary financial assistance for basic living expenses — such as food, clothing and rent — for up to six months. Anyone with children under the age of 12 would also be able to apply for child-care support for six months, said Kenney.
"This expanded support will be key for people whose lives have been thrown into chaos by the invasion," he said. "We can't take away their fears for those who have been left behind, but we can at least dispel the uncertainties that come with trying to start over and make ends meet in a new country."
Orysia Boychuk, president of the Alberta chapter of the Canadian Ukrainian Congress, said the income support and child-care subsidy are appreciated.
"We are confident this will definitely help support and contribute to the Ukrainian nationals' successful integration in Canadian society," she said at the news conference.
"We also thank the Alberta government for its unwavering support for the past four months as Russia continues to wage war on Ukraine."
Kenney said the additional supports are expected to cost between $15 million and $38 million, depending on how many Ukrainians arrive in the coming months.
The province has already provided money for settlement and language services, humanitarian aid and defensive equipment.
This report by The Canadian Press was first published July 4, 2022.
— By Colette Derworiz in Calgary