'Catching some hell': Hurricane Michael slams into Florida
PANAMA CITY, Fla. — Supercharged by abnormally warm waters in the Gulf of Mexico, Hurricane Michael slammed into the Florida Panhandle with terrifying winds of 155 mph Wednesday, splintering homes and submerging neighbourhoods. It was the most powerful hurricane to hit the continental U.S. in nearly 50 years.
Its winds shrieking, the Category 4 storm crashed ashore in the early afternoon near Mexico Beach, a tourist town about midway along the Panhandle, a lightly populated, 200-mile stretch of white-sand beach resorts, fishing towns and military bases.
Michael battered the shoreline with sideways rain, powerful gusts and crashing waves, swamping streets and docks, flattening trees, stripped away leaves, shredding awnings and peeling away shingles. It also set off transformer explosions and knocked out power to more than 190,000 homes and businesses.
"We are catching some hell," said Timothy Thomas, who rode out the storm with his wife in their second-floor apartment in Panama City Beach.
With the hurricane still pounding the state hours after it came ashore, and conditions too dangerous in places for search-and-rescue teams to go out, there were no immediate reports of any deaths or serious injuries.
Michael was a meteorological brute that sprang quickly from a weekend tropical depression, going from a Category 2 on Tuesday to a Category 4 by the time it came ashore. It was the most powerful hurricane on record to hit the Panhandle.
"I've had to take antacids I'm so sick to my stomach today because of this impending catastrophe," National Hurricane Center scientist Eric Blake tweeted as the storm — drawing energy from the unusually warm, 84-degree Gulf waters — became more menacing.
More than 375,000 people up and down the Gulf Coast were urged to evacuate as Michael closed in. But the fast-moving, fast-strengthening storm didn't give people much time to prepare, and emergency authorities lamented that many ignored the warnings and seemed to think they could ride it out.
"While it might be their constitutional right to be an idiot, it's not their right to endanger everyone else!" Walton County Sheriff Michael Adkinson tweeted.
Diane Farris, 57, and her son walked to a high school-turned-shelter near their home in Panama City to find about 1,100 people crammed into a space meant for about half as many. Neither she nor her son had any way to communicate because their lone cellphone got wet and quit working.
"I'm worried about my daughter and grandbaby. I don't know where they are. You know, that's hard," she said, choking back tears.
Hurricane-force winds extended up to 45 miles (75 kilometres) from Michael's centre. Forecasters said rainfall could reach up to a foot (30 centimetres), and the life-threatening storm surge could swell to 14 feet (4 metres).
A water-level station in Apalachicola, close to where Michael came ashore, reported a surge of nearly 8 feet (2.5 metres).
Based on its internal barometric pressure, Michael was the third most powerful hurricane to hit the U.S. mainland, behind the unnamed Labor Day storm of 1935 and Camille in 1969. Based on wind speed, it was the fourth-strongest, behind the Labor Day storm (184 mph, or 296 kph), Camille and Andrew in 1992.
It appeared to be so powerful that it was expected to remain a hurricane as it moved into Alabama and Georgia early Thursday. Forecasters said it will unleash damaging wind and rain all the way into the Carolinas, which are still recovering from Hurricane Florence's epic flooding.
At the White House, President Donald Trump said the government is "absolutely ready for the storm." "God bless everyone because it's going to be a rough one," he said. "A very dangerous one."
In Mexico Beach, population 1,000, the storm shattered homes, leaving floating piles of lumber. The lead-grey water was so high that roofs were about all that could be seen of many homes.
In Panama City, plywood and metal flew off the front of a Holiday Inn Express. Part of the awning fell and shattered the glass front door of the hotel, and the rest of the awning wound up on vehicles parked below it.
"Oh my God, what are we seeing?" said evacuee Rachel Franklin, her mouth hanging open.
The hotel swimming pool had whitecaps, and people's ears popped because of the drop in barometric pressure. The roar from the hurricane sounded like an airplane taking off.
Meteorologists watched satellite imagery in complete awe as the storm intensified.
"We are in new territory," National Hurricane Center Meteorologist Dennis Feltgen wrote on Facebook. "The historical record, going back to 1851, finds no Category 4 hurricane ever hitting the Florida panhandle."
Colorado State University hurricane expert Phil Klotzbach said in an email: "I really fear for what things are going to look like there tomorrow at this time."
The storm is likely to fire up the debate over global warming.
Scientists say global warming is responsible for more intense and more frequent extreme weather, such as storms, droughts, floods and fires. But without extensive study, they cannot directly link a single weather event to the changing climate.
With Election Day less than a month away, the crisis was seen as a test of leadership for Scott, a Republican running for the Senate, and Tallahassee Mayor Andrew Gillum , the Democratic nominee for governor. Just as Northern politicians are judged on how they handle snowstorms, their Southern counterparts are watched closely for how they deal with hurricanes.
Thousands of evacuees sought shelter in Tallahassee, which is about 25 miles from the coast but is covered by live oak and pine trees that can fall and cause power outages even in smaller storms.
As winds started to topple trees in Tallahassee, one of them landed on Joe Marino's chimney.
"It was like an earthquake. The bookshelf shook and a frame fell down," he said. "It was weird. We went outside and you could smell the pine, and there it was, laying on the chimney."
Marino, who lives with his girlfriend and her grandmother, said water started dripping through the chimney, and they feared the wind would send the tree crashing through the roof. They planned to stay on the first floor.
"Upstairs is a no-go zone," he said.
Only a skeleton staff remained at Tyndall Air Force Base, situated on a peninsula just south of Panama City. Hundreds of military families were moved out, and the base's aircraft, which include F-22 Raptors, were flown to safety hundreds of miles away.
In St. Marks, John Hargan and his family gathered up their pets and moved to a raised building constructed to withstand a Category 5 after water from the St. Marks River began surrounding their home.
Hargan's 11-year-old son, Jayden, carried one of the family's dogs in a laundry basket in one arm and held a skateboard in the other as he waded through calf-high water.
Hargan, a bartender at a riverfront restaurant, feared he would lose his home and his job to the storm.
"We basically just walked away from everything and said goodbye to it," he said, tears welling up. "I'm freakin' scared I'm going to lose everything I own, man."
___
Associated Press writers Tamara Lush in St. Petersburg, Fla.; Terry Spencer in Fort Lauderdale, Fla.; Freida Frisaro in Miami; Brendan Farrington in St. Marks, Fla.; Russ Bynum in Keaton Beach, Fla.; Jonathan Drew in Raleigh, North Carolina; and Seth Borenstein in Kensington, Md., contributed to this story.
___
For the latest on Hurricane Michael, visithttps://www.apnews.com/tag/Hurricanes
Jay Reeves And Brendan Farrington, The Associated Press
CP NewsAlert: City of Iqaluit declares emergency due to water shortage
IQALUIT, Nunavut — The City of Iqaluit has declared a state of emergency due to a water shortage.
More coming.
The Canadian Press
Author Salman Rushdie attacked on lecture stage in New York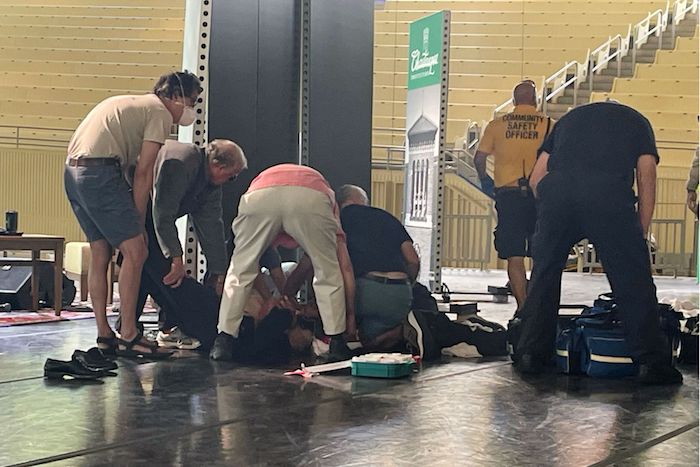 CHAUTAUQUA, N.Y. (AP) — Salman Rushdie, the author whose writing led to death threats from Iran in the 1980s, was attacked and apparently stabbed in the neck Friday by a man who rushed the stage as he was about to give a lecture in western New York.
An Associated Press reporter witnessed a man confront Rushdie on stage at the Chautauqua Institution and punch or stab him 10 to 15 times as he was being introduced. The 75-year-old author was pushed or fell to the floor, and the man was arrested.
State police said Rushdie was apparently stabbed in the neck and was flown to a hospital. His condition wasn't immediately known. The moderator at the event was also attacked and suffered a minor head injury, police said.
Rabbi Charles Savenor was among the roughly 2,500 people in the audience. Amid gasps, spectators were ushered out of the outdoor amphitheater.
The assailant ran onto the platform "and started pounding on Mr. Rushdie. At first you're like, 'What's going on?' And then it became abundantly clear in a few seconds that he was being beaten," Savenor said. He said the attack lasted about 20 seconds.
Another spectator, Kathleen Jones, said the attacker was dressed in black, with a black mask.
"We thought perhaps it was part of a stunt to show that there's still a lot of controversy around this author. But it became evident in a few seconds" that it wasn't, she said.
A bloodied Rushdie was quickly surrounded by a small group of people who held up his legs, presumably to send more blood to his chest.
Rushdie has been a prominent spokesman for free expression and liberal causes. He is a former president of PEN America, which said it was "reeling from shock and horror" at the attack.
"We can think of no comparable incident of a public violent attack on a literary writer on American soil," CEO Suzanne Nossel said in a statement.
Rushdie "has been targeted for his words for decades but has never flinched nor faltered," she added.
His 1988 book "The Satanic Verses" was viewed as blasphemous by many Muslims. Often-violent protests against Rushdie erupted around the world, including a riot that killed 12 people in Mumbai.
The novel was banned in Iran, where the late leader Grand Ayatollah Ruhollah Khomeini issued a 1989 fatwa, or edict, calling for Rushdie's death. Khomeini died that same year.
Iran's current Supreme Leader Ayatollah Ali Khamenei has never issued a fatwa of his own withdrawing the edict, though Iran in recent years hasn't focused on the writer.
Iran's mission to the United Nations did not immediately respond to a request for comment on Friday's attack.
A bounty of over $3 million has also been offered for anyone who kills Rushdie.
The death threats and bounty led Rushdie to go into hiding under a British government protection program, which included a round-the-clock armed guard. Rushdie emerged after nine years of seclusion and cautiously resumed more public appearances, maintaining his outspoken criticism of religious extremism overall.
He has said he is proud of his fight for freedom of expression, saying in a 2012 talk in New York that terrorism is really the art of fear.
"The only way you can defeat it is by deciding not to be afraid," he said.
Iran's government has long since distanced itself from Khomeini's decree, but anti-Rushdie sentiment has lingered. The Index on Censorship, an organization promoting free expression, said money was raised to boost the reward for his killing as recently as 2016, underscoring that the fatwa for his death still stands.
In 2012, Rushdie published a memoir, "Joseph Anton," about the fatwa. The title came from the pseudonym Rushdie had used while in hiding.
Rushdie rose to prominence with his Booker Prize-winning 1981 novel "Midnight's Children," but his name became known around the world after "The Satanic Verses."
The Chautauqua Institution, about 55 miles southwest of Buffalo in a rural corner of New York, has served for more than a century as a place for reflection and spiritual guidance. Visitors don't pass through metal detectors or undergo bag checks. Most people leave the doors to their century-old cottages unlocked at night.
Police said a state trooper was assigned to Rushdie's lecture.
The Chautauqua center is known for its summertime lecture series, where Rushdie has spoken before. Speakers address a different topic each week. Rushdie and moderator Henry Reese were set to discuss "the United States as asylum for writers and other artists in exile and as a home for freedom of creative expression."
___
Associated Press writers Carolyn Thompson in Buffalo, New York; Michael Hill in Albany, New York; and Jennifer Peltz in New York City contributed to this report.