Calgary English Stirrup Manufacturer Launches Fundraising Campaign to Help Alberta SPCA
Calgary English Stirrup Manufacturer Launches Fundraising Campaign to Help Alberta SPCA
April 18, 2020, Calgary, AB
PEAK Equestrian is a Calgary-based manufacturer and seller of angled English stirrup irons. They've joined forces with the Alberta SPCA to help horse and other animal owners keep their animals safe, healthy and fed during this difficult time.
From every pair of Peak Stirrups sold through Peak Equestrian's website, by phone, email or direct message, $10.00 will be donated to the Alberta SPCA. Email: [email protected] or call 403.230.0113 to get involved.
The donated funds will go towards helping horse and domestic pet owners who are struggling to pay for hay or other feed as a direct or indirect result of the COVID-19 pandemic.
The company's hope is to raise a minimum of $10,000 for this important cause.
"We are passionate about animals," said Claire Goddard, sales and marketing director with Peak Equestrian. "We want to help horse owners and pet owners keep their animals at home instead of having to surrender them to the Alberta SPCA or worry about not being able to feed them because they can't afford to."
"Rather than seeing horse and other animal owners worry about feeding their animals when they are struggling financially and feeling like they have no other choice but to surrender their animals, the Alberta SPCA wants to work with animal owners to make sure owners have enough food for their pets and livestock," said Dan Kobe, Communications Manager with Alberta SPCA.

"If horse owners or pet owners are having trouble sourcing and paying for feed due to the COVID-19 outbreak, they can contact us at albertaspca.org/helpforanimals, and we will donate dog and cat food as needed, and will even source and donate hay and other livestock feed until the grass begins to grow," he added. "Donating part of the sales from our stirrups feels like the right thing to do," said Craig Goddard, president and design specialist at Peak Equestrian. "We are horse owners ourselves and we know how hard it can be to take care of animals during this difficult time, especially livestock, so we are happy to donate to such a great cause."
Peak Equestrian is a new start-up company under Corma Industries, a Calgary-based manufacturer. Learn more here.
The Alberta SPCA is a registered charity dedicated to the welfare of animals. The organization encourages the humane treatment of animals through enforcement of animal protection legislation and through education programs throughout Alberta. The society works closely with other agencies in animal welfare, agriculture, education, violence prevention and other areas to provide the best level of protection for animals.
Olymel temporarily closes due to COVID-19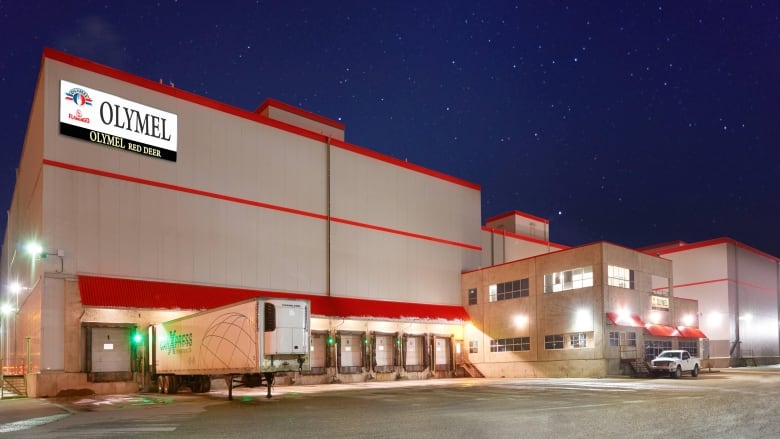 This is a news release from Olymel L.P.
Olymel announces the temporary closing of its Red Deer plant
Olymel management is announcing the temporary closing of its hog slaughtering, cutting and deboning plant in Red Deer, Alberta. Despite the testing protocols and sanitary measures already in place, as well as the close collaboration of Alberta Health Services to deal with a resurgence of positive cases of Covid-19 among plant employees, Olymel management believes that the conditions are no longer assembled to continue normal operations in a safe and efficient manner.
After notifying the union, Olymel management drew up an orderly temporary closing plan for an indefinite period. Over the next few days, plant management will mobilize the staff necessary to cease operations and complete the facility closure as soon as possible. The sanitary measures will continue to be in effect at the plant during the shutdown and Olymel management will be in contact with officials at Alberta Health Services to continue working closely with this organization.
Olymel sincerely hopes that all employees at the Red Deer plant who have tested positive for Covid-19 soon regain their health. The company will follow up with all employees to ensure their quarantine period is being respected and will strongly encourage all staff to get tested before returning to work. Olymel will also continue ongoing investigations to determine what may have caused such a large outbreak of Covid-19 cases since January 20.
Olymel management has also informed all hog suppliers of the Red Deer plant of the situation and has suspended all pending deliveries until further notice.
Why Canadians Should Care About Land Loss
Why Canadians Should Care About Land Loss
Developments are increasingly taking over Canadian farmland. Farms once took up much of Canadian land. However, that case is not true today. Only about 5% of Canada's land is considered prime farmland. This prime land borders one of Canada's fastest-growing regions, and once suburban development overtakes it, Canadian farmers will have a challenging time providing food for the cities.
Farmers in Canada make their livelihood by planting, growing, harvesting and distributing food to the Canadian populations. Without land, both farmers and the rest of those living in Canada will not get fresh, Canadian grown produce.
Here are some reasons why Canadian farmers should care about land loss:
Farmland Provides Food
While this is an apparent reason, it's an essential one. Prime farmland in Canada produces food for major Canadian cities. As farmers continue to lose land, they have to rely on a smaller acreage to make the same amount of food — if not more — for the growing population.
Over the past 10 years, almost 1 million hectares of agricultural land has diminished due to development and growing populations. Agriculture continues to adapt to land loss. However, further technological advancements must first take place to grow enough produce vertically rather than horizontally.
Land Preservation Will Help the Economy
Farmland preservations come with a wealth of economic benefits. Agriculture contributes to the economy through the following ways:
Sales: For the economy to survive, there needs to be consumer demands and sales. Almost everyone purchases produce, so there will always be a demand for those goods. Without land to grow agricultural products, no sales will be made, and the economy could suffer.
Job opportunities: Less than 2% of Canada's population works in the agriculture industry. While it's not much, that's still over 750,000 people. Preserving farmland shows a commitment to the industry. Land loss would create job loss. However, maintaining the farmland — and even reclaiming it, along with pastures — could boost the sector and, therefore, the economy. It would provide unemployed people with job security.
Secondary markets: Farmers are just one part of the food business. Because of farmers and farmland, secondary markets can thrive. These would include processing businesses, restaurants, schools, grocery stores and even waste management companies.
Canadian farmers should care about land loss because standing back and allowing companies to overtake the farmland could seriously affect the economy.
Farmland Benefits the Environment
Wildlife often depends upon farmland for both food and habitat. Various types of farmland create diverse habitats for many different species. Without land protection, these habitats and food sources would be destroyed, leaving many animals without a place to survive. Many would have difficulty finding a native habitat.
Additionally, growing crops helps eliminate some of the carbon dioxide released into the air. Air pollution could decrease for Canadian cities as long as no more farmland is used for development.
One major problem occurring with Canadian farmland is desertification. This happens when the soil loses nutrients and becomes barren. The urbanization of Canadian farmland is the primary contributor to desertification, which speeds up climate change and harms the environment. Keeping farmland as-is will slow down climate change.
Land Loss Affects Farmers' Jobs
Perhaps the main reason why Canadian farmers should care about land loss is because their livelihood could be taken away. If they don't have the means to keep up with technological advancements in the agricultural industry, they will not be able to continue their jobs if they experience land loss.
Agriculture is an essential industry. Not everyone can pick up the skills needed to grow their own food, and so many people depend upon farmers for nutrition and goods.
Take a Stand to Preserve Farmland
Farmland is a worthwhile and precious resource for many people. Reduction in farmland acreage will hurt Canadian farmers and the rest of the population, the economy and the environment. Taking steps to prevent more land loss can slow the rates of destruction and keep natural habitats thriving for both humans and animalls.
Click here read more stories by Emily Folk. 
I'm Emily Folk, and I grew up in a small town in Pennsylvania. Growing up I had a love of animals, and after countless marathons of watching Animal Planet documentaries, I developed a passion for ecology and conservation.