British, EU leaders to meet as Brexit deadline looms
LONDON — British Prime Minister Theresa May will meet with European Commission President Jean-Claude Juncker in Brussels on Wednesday in a bid to finalize a Brexit agreement as she continued to battle domestic critics of the draft deal.
The U.K. and the European Union agreed last week on a 585-page document sealing the terms of Britain's departure, but are still working to nail down agreement on future relations.
EU leaders will meet in Brussels on Sunday to rubber-stamp the deal, but sticking points remain. Spain has said it will vote against if Gibraltar's future isn't considered a bilateral issue between Madrid and London.
Spanish Prime Minister Pedro Sanchez said Tuesday that his government "cannot accept that what will happen to Gibraltar in the future depends on negotiations between the U.K. and the EU."
German Chancellor Angela Merkel said Wednesday that she hoped Spanish reservations could be overcome before Sunday's summit. But, she added, "I can't say how we will solve this issue."
The deal, which spells out the conditions of Britain's exit from the EU in March and a framework for future relations, also needs to be approved by the European and British Parliaments.
But May is under intense pressure from pro-Brexit and pro-EU British lawmakers, with large numbers on both sides of the debate opposing the divorce deal.
Before leaving for Brussels, she will face opponents of the agreement during the prime minister's weekly question-and-answer session in the House of Commons.
She won a reprieve from some of her Conservative Party foes after pro-Brexit rebels acknowledged that a bid to trigger a no-confidence vote in May had failed, for now.
But Northern Ireland's Democratic Unionist Party — whose 10 lawmakers prop up May's minority — has begun abstaining on votes in the House of Commons as a sign of their displeasure at the deal. The DUP opposes plans for keeping the border between Northern Ireland and EU member Ireland open after Brexit, saying it weakens the ties binding the U.K. by creating separate trade rules for Northern Ireland.
The prospect of Parliament rejecting the deal when it comes up for a vote — likely next month — has increased fears among businesses that Britain could crash out of the bloc without a plan to keep trade running smoothly.
Conservative lawmakers loyal to May also warned that defeating the agreement could mean that Brexit never happens, because Parliament would halt Britain's departure rather than accept a chaotic "no-deal" Brexit.
"I think people will take a careful look over the abyss … and consider whether they think it is in the best interests of the whole country," Work and Pensions Secretary Amber Rudd said.
"The Brexiteers may lose their Brexit," she added.
___
Frank Jordans in Berlin contributed to this story.
Jill Lawless, The Associated Press
Trudeau, Biden agree to end 'loophole' in Safe Third Country Agreement: sources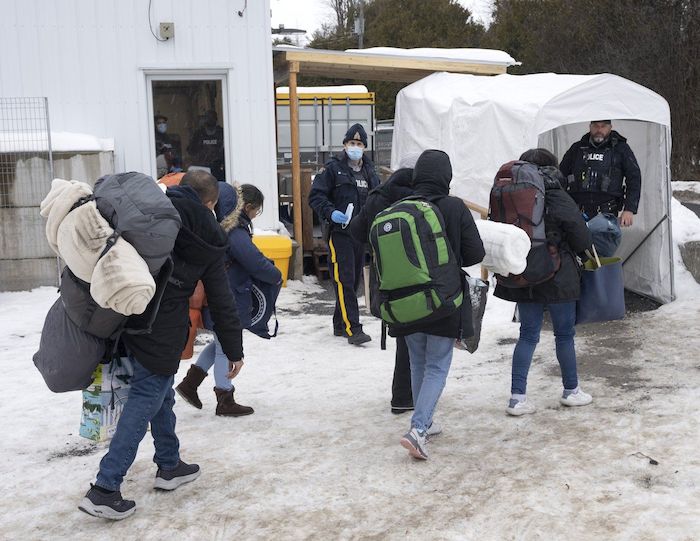 A family of asylum seekers from Colombia is met by RCMP officers after crossing the border at Roxham Road into Canada Thursday, Feb. 9, 2023, in Champlain, New York. Canada and the United States are on the cusp of agreeing to designate all 8,900 km of their shared border as an official crossing under the Safe Third Country Agreement.THE CANADIAN PRESS/Ryan Remiorz
By Mia Rabson and Laura Osman in Ottawa
Canada and the United States have agreed to have asylum seekers turned back at irregular border crossings across the border, including Roxham Road in Quebec.
The U.S. will agree to extend a bilateral treaty known as the Safe Third Country Agreement to apply along the 8,900 kilometres of the shared border, according to an official with the administration of President Joe Biden, who arrived in Ottawa Thursday evening.
In exchange, Canada will agree to welcome an additional 15,000 migrants from across the Western Hemisphere over the next year on a humanitarian basis, said the official, who spoke on condition of anonymity.
A Canadian government official with knowledge of the talks, granted anonymity to discuss matters not yet made public, also said Thursday that Prime Minister Justin Trudeau and Biden would discuss the issue during a bilateral meeting Friday.
The official said details were still being negotiated, but the leaders agreed in principle.
The agreement follows talks between Trudeau and Biden at the Summit of the Americas in Los Angeles last June, a migration-heavy meeting where Canada agreed to admit just 4,000 more migrants by 2028.
Such a deal would not physically close off the Roxham Road unofficial crossing in Quebec, where thousands of migrants have entered Canada so they can make an asylum claim.
But it would effectively end its time as a viable route to Canada, as migrants who continue to cross there, or at any other unofficial crossing, would be treated as if they crossed at an official border checkpoint and be returned to the United States to make an asylum claim there.
Those travelling into the U.S. from Canada at unofficial crossings would likewise be returned north of the border by American authorities.
Under the Safe Third Country Agreement, first signed between the U.S. and Canada in 2004, asylum seekers must make their claim in whichever country they arrive first. That currently applies only to official border crossings.
But increasing numbers of migrants are opting to get around that rule by crossing at unofficial locations, such as Roxham Road, 50 kilometres south of Montreal. Taking this route means they can stay in Canada while waiting for a hearing, or for their case to be decided.
Last year, 39,000 people claimed asylum after crossing the unofficial border point into Quebec.
A lawyer for Amnesty International called the move to expand the provisions of the agreement "unconscionable," from a human rights perspective.
"It'll just push people to more remote areas, more dangerous crossings," said Julia Sande, a lawyer for the organization.
"If they're not going to be offered protection in the United States, they'll do what they need to do to get here, and that will just push people into dangerous situations."
The organization is one of three that are challenging the constitutionality of the Safe Third Country Agreement in the Supreme Court, arguing that the United States can't be counted on to carry out Canada's obligations to refugees under international law.
Meanwhile, the mayor of Niagara Falls, Ont., expressed relief that Canada and the U.S. appear to have made a tentative decision on the border crossing.
The federal government began transferring asylum claimants to various cities in Ontario, including Niagara Falls, after the Quebec government voiced concerns the migrants were placing pressure on publicly funded services.
Mayor Jim Diodati said 2,000 hotel rooms have been booked by the federal government for the asylum seekers and he found out Thursday that 500 more rooms were reserved for another group arriving on buses from the country road.
"That's a lot of people in our community, considering (the) population is about 95,000 people," he said in a phone interview. "That's a huge, immediate impact to our community."
The federal immigration minister's office would not comment on the details and status of the Canada-U.S. negotiations on Thursday.
At a press conference Wednesday, Immigration Minister Sean Fraser would only say his department was working on a solution that would go beyond the politics of the president's visit and "provide an actual lasting solution" to irregular border crossings.
Fraser said there has been no need for "horse trading" in the negotiations with the U.S. on the issue.
"This is something that both Canada and the United States believe in, is having an orderly policy at all of our borders, but also welcoming immigration policies for those who are fleeing violence, war, or persecution," he said.
There are larger-scale issues that must also be addressed, he said, including capacity to address the root causes of migration from countries people are fleeing from in the first place.
Biden arrived in Canada Thursday night for a 27-hour state visit, his first formal trip to Canada since being sworn in as the U.S. president in January 2021. Trudeau and Biden are to meet for a formal bilateral discussion in Trudeau's Parliament Hill office Friday morning.
Canada and the United States have been discussing how to improve the Safe Third Country Agreement for nearly five years.
In Canada, there are political divisions about what to do, with Conservative Leader Pierre Poilievre calling for Canada to just "close" Roxham Road.
NDP Leader Jagmeet Singh, for his part, wants the Safe Third Country Agreement suspended, allowing any migrant to make a claim in Canada regardless of how they get here.
"We believe that would give dignity to people that are already fleeing serious threats to their lives," Singh told reporters Thursday, though he said he's open to other solutions.
This report by The Canadian Press was first published March 23, 2023.
— With files from Fakiha Baig in Toronto and James McCarten in Washington.
CP NewsAlert: U.S. President Joe Biden touches down in Ottawa
OTTAWA — Air Force 1, carrying U.S. President Joe Biden, has touched down in Ottawa, kicking off a 27-hour visit in the national capital.
More coming.
The Canadian Press