British, EU leaders to meet as Brexit deadline looms
LONDON — British Prime Minister Theresa May will meet with European Commission President Jean-Claude Juncker in Brussels on Wednesday in a bid to finalize a Brexit agreement as she continued to battle domestic critics of the draft deal.
The U.K. and the European Union agreed last week on a 585-page document sealing the terms of Britain's departure, but are still working to nail down agreement on future relations.
EU leaders will meet in Brussels on Sunday to rubber-stamp the deal, but sticking points remain. Spain has said it will vote against if Gibraltar's future isn't considered a bilateral issue between Madrid and London.
Spanish Prime Minister Pedro Sanchez said Tuesday that his government "cannot accept that what will happen to Gibraltar in the future depends on negotiations between the U.K. and the EU."
German Chancellor Angela Merkel said Wednesday that she hoped Spanish reservations could be overcome before Sunday's summit. But, she added, "I can't say how we will solve this issue."
The deal, which spells out the conditions of Britain's exit from the EU in March and a framework for future relations, also needs to be approved by the European and British Parliaments.
But May is under intense pressure from pro-Brexit and pro-EU British lawmakers, with large numbers on both sides of the debate opposing the divorce deal.
Before leaving for Brussels, she will face opponents of the agreement during the prime minister's weekly question-and-answer session in the House of Commons.
She won a reprieve from some of her Conservative Party foes after pro-Brexit rebels acknowledged that a bid to trigger a no-confidence vote in May had failed, for now.
But Northern Ireland's Democratic Unionist Party — whose 10 lawmakers prop up May's minority — has begun abstaining on votes in the House of Commons as a sign of their displeasure at the deal. The DUP opposes plans for keeping the border between Northern Ireland and EU member Ireland open after Brexit, saying it weakens the ties binding the U.K. by creating separate trade rules for Northern Ireland.
The prospect of Parliament rejecting the deal when it comes up for a vote — likely next month — has increased fears among businesses that Britain could crash out of the bloc without a plan to keep trade running smoothly.
Conservative lawmakers loyal to May also warned that defeating the agreement could mean that Brexit never happens, because Parliament would halt Britain's departure rather than accept a chaotic "no-deal" Brexit.
"I think people will take a careful look over the abyss … and consider whether they think it is in the best interests of the whole country," Work and Pensions Secretary Amber Rudd said.
"The Brexiteers may lose their Brexit," she added.
___
Frank Jordans in Berlin contributed to this story.
Jill Lawless, The Associated Press
CP NewsAlert: Alleged Chinese spy in Quebec freed on bail ahead of trial
LONGUEUIL, Que. — A former employee of Quebec's power utility charged with spying on behalf of China has been freed on bail while he awaits trial.
Yuesheng Wang, 35, is the first person to be charged with economic espionage under Canada's Security of Information Act, and he also faces three charges under the Criminal Code for fraudulent use of a computer, fraudulently obtaining a trade secret and breach of trust.
Federal prosecutors had opposed his release because they feared he would flee the country.
More coming.
The Canadian Press
Hawaii's Mauna Loa starts to erupt, sending ash nearby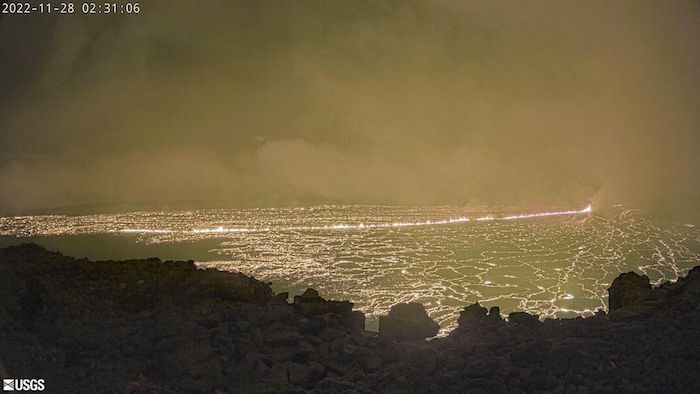 HONOLULU (AP) — Hawaii's Mauna Loa, the world's largest active volcano, has started to erupt for the first time in nearly four decades, prompting volcanic ash and debris to fall nearby, authorities said Monday.
The eruption began late Sunday night in the summit caldera of the volcano on the Big Island, the U.S. Geological Survey said. Early Monday, it said lava flows were contained within the summit area and weren't threatening nearby communities.
"However, lava flows in the summit region are visible from Kona. There is currently no indication of any migration of the eruption into a rift zone," the Hawaiian Volcano Observatory said in a statement. A rift zone is where the mountain is splitting apart, the rock is cracked and relatively weak and it's easier for magma to emerge.
How long the volcano erupts and whether it could cause lava to flow to populated areas of the island is impossible to predict, said Miel Corbett, a USGS spokesperson.
"But I can tell you, we're in constant communication right now with Hawaii Civil Defense, and they're providing updates to community members," she said.
Even though it noted there is no indication of lava exiting the summit, the civil defense agency said it has opened shelters in Kailua-Kona and Pahala because it has reports of of people self-evacuating along the South Kona coast.
"Multiple images have surfaced on social media indicating lava activity outside of the caldera. At this time, no lava migration into a rift zone has been confirmed," according to a statement.
The USGS warned residents at risk from Mauna Loa lava flows should review their eruption preparations. Scientists had been on alert because of a recent spike in earthquakes at the summit of the volcano, which last erupted in 1984.
Portions of the Big Island were under an ashfall advisory issued by the National Weather Service in Honolulu, which said up to a quarter-inch (0.6 centimeters) of ash could accumulate in some areas.
Mauna Loa is one of five volcanoes that together make up the Big Island of Hawaii, which is the southernmost island in the Hawaiian archipelago.
Mauna Loa, rising 13,679 feet (4,169 meters) above sea level, is the much larger neighbor to Kilauea volcano, which erupted in a residential neighborhood and destroyed 700 homes in 2018. Some of its slopes are much steeper than Kilauea's so when it erupts, its lava can flow much faster.
During a 1950 eruption, the mountain's lava traveled 15 miles (24 kilometers) to the ocean in less than three hours.