Band cancelling tour dates in Red Deer and two other communities after supporting protests in BC
Small Town Artillery is springing into the national spotlight, but not for it's "horn-powered riff wagon riding" sound. Back in mid February the band offered a contest on it's Facebook page, giving away 50 tickets for an upcoming show to "Indigenous Land Defenders & Allies". That post caught the attention of people in communities the band had booked on it's upcoming national tour. This has lead to a huge online backlash against the band by people concerned the band opposes the oil and gas industry and by extension people who work in these industries. So far three dates have been cancelled including their show at The Vat in Red Deer.
In the ensuing days the band has responded to the backlash with a couple of well written and passionate posts attempting to further explain their stance. The posts from the group's Facebook page respond to their first cancelled show in Kindersley, Saskatchewan. The second is in response to two more cancelations including Cold Lake and Red Deer. Here they are:
Posted March 4:
Tom here. I'd like to take a moment to address something.
This band has been an advocate for the move towards renewable energy & continues to try our best to put First Nations rights in front of our audiences. We have written songs about our discontent surrounding these issues. However, we hold no malice towards those working in the Energy sector, or their families – there is nothing more universal than providing for the ones you love, and supporting your family and community. These are the values we hold closest. The feeling of being good at something, using your skills to support yourself & those dear to you – that is something I understand deeply. If there were a movement against touring bands, the thing I have lashed my hopes & dreams & identity to, I would feel attacked no doubt.
We were booked to perform at the Norman Ritchie Community Centre in Kindersley, Saskatchewan as part of our upcoming tour. After seeing some of our videos, the NRCC reached out to me with concerns about our stance on the oil & gas industry, feeling it would harm attendance. They asked if we could keep the politics out of the show, and focus on the music. I was happy to oblige this. A few weeks ago, we decided to go ahead.
In the last 48 hours, we have received messages from some folks, expressing their discontent with the band & our message. I believe they feel that their very livelihood is under fire by some of the messages our band has. This snowballed into a groundswell of resistance to our show, and targeted the community group bringing us in as well. It got to the point where there were threats to cut off the gas to the building during our show, and "run us out of town". The Mayor of Kindersley stepped in and advised the venue to cancel the show. After discussing with the NRCC at length, we all decided it was in everyone's best interests to do just that. So we will no longer be playing in Kindersley on April 9th.
Our intention with our music is not to personally attack hard-working Canadians. It is to keep the conversation moving forward with an open mind. We burn fossil fuel, we participate in capitalism, we have great privilege to be able to do what we do.
Our aim is to work toward what we believe to be a better earth in the future, though it will take time. Our goal with this post is not to back down from these views, but to let you know that we tour with open hearts and it is only through conversation that we can make steps in this direction. I cannot claim to know the whole story, and my hope with this tour is to get to speak with & play for people with many different points of view & ways of life.
We are disappointed that we won't be coming to Kindersley to play this time around, and that we are letting down the fans in Kindersley who responded so positively. We'd also like to credit the NRCC for being diplomatic and reasonable in all of their dealings with us, and know this doesn't reflect the whole town.
We come with open arms, and we come to play.
Thank you
Tom & BAND.
Posted March 7:
Hello! We are posting to address the national media attention our band has garnered over the past few days. Due to the online actions of a few individuals, controversy over our national tour has led to 3 shows being cancelled: Kindersley (SK), Cold Lake and Red Deer (AB). It stems from differing opinions surrounding the move toward more renewable energy sources and our views on the matter, which have been skewed to say that we are against people who work in the oil and gas industry. We are not. As we've repeatedly stated, our band is about music & community first, though we do not shy away from conversations about such topics, especially with those of differing opinions. We are not on tour with a political agenda, we write songs about issues we care about.
The majority of the backlash stems from our decision to support the protests in BC. We did this because they were focused on Indigenous land rights, and challenging the system to take a different approach toward reconciliation.
In the last week, we have learned so much about people who work in the oil & gas industry and how they also feel threatened by the changes we are all struggling to understand. I called Rod Perkins, the Mayor of Kindersley, and we had a good talk. He opened my eyes to the challenges people in his jurisdiction are facing, and it brought home the point that there are so many nuances to every story, this one included.
We have spent our career listening to & trying to amplify voices that need it. We believe this is the duty of an artist, to recognize and address social issues. Art is a commentary on the world around you at any given time, with the information you have at hand. We will continue to hold our heads high and do our best to navigate this – music is meant to unite, not divide.
Respectfully,
Tom
STA
New Zealand arts funder rejects Shakespeare as 'imperialism'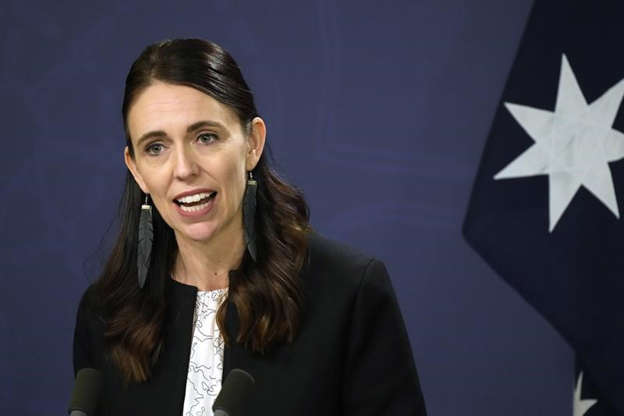 WELLINGTON, New Zealand (AP) — Is Shakespeare still relevant to today's students?
New Zealand's arts council appears to have its doubts after ending funding for a popular school Shakespeare program, arguing it relied too heavily on busy schools, failed to show relevance to "the contemporary art context" and relied on a genre "located within a canon of imperialism."
But many have taken issue with the decision by Creative New Zealand, including Jacinda Ardern, the nation's prime minister — and former student thespian.
"I was a participant in Shakespeare in Schools. I thought it was a great program," Ardern said.
She said students interested in drama and debate have limited opportunities to interact with peers from other schools.
"I was one of those kids. And so I would like to continue to see other kids have those opportunities," she said.
Ardern added that the funding decision wasn't up to her, or even to the government. Creative New Zealand is funded by taxpayers but is run independently.
The school programs, workshops and festivals have been run for about 30 years by the Shakespeare Globe Centre New Zealand. Students can act, direct make costumes or create a soundtrack. Often the plays are set in contemporary times or have different takes on the originals written by William Shakespeare more than 400 years ago.
The center has been receiving about 30,000 New Zealand dollars ($17,000) each year from the arts council, about 10% of its overall budget.
Dawn Sanders, the center's chief executive, said the initial rejection last month, which remained in place after a crisis meeting Friday, blindsided her.
"I was gobsmacked and disgusted," she said.
She said more than 120,000 students had been involved in the festivals and programs over the years, and many became professionals in theater or film.
Others, she said, had used their acting skills in their jobs, for instance lawyers who were better able to argue their cases or doctors who developed a more engaging bedside manner.
Creative New Zealand did not immediately respond to requests for comment.
In its 11-page rejection note, however, one arts council assessor said the center had "proved the ongoing value" of its regional and national Shakespeare competition model, with some 4,600 young people participating in 24 regional festivals annually.
"The application does make me reflect on the ongoing relevance of Shakespeare, and question whether a singular focus on an Elizabethan playwright is most relevant for a decolonizing Aotearoa in the 2020s and beyond," the assessor added, using the Indigenous name for New Zealand.
A panel concluded that the Shakespeare center "seems quite paternalistic" and that its funding proposal "did not demonstrate the relevance to the contemporary art context."
Sanders said she would try to find alternative funding and vowed the show would go on. Since the dispute became public, she said, people had already donated thousands of dollars through online crowdsourcing.
Former Deputy Prime Minister Winston Peters wrote on Facebook that the decision amounted to political and social engineering by "overpaid sickly liberal bureaucratic wokester morons."
Ardern, meanwhile, said it would be wrong to extrapolate a wider comment on society from a single funding decision. And she demurred on saying what Shakespeare role she had played as a student, saying such a disclosure could become a distraction.
"So I might just leave out the details for now," she said.
Nick Perry, The Associated Press
Activists in UK court after soup thrown at Van Gogh picture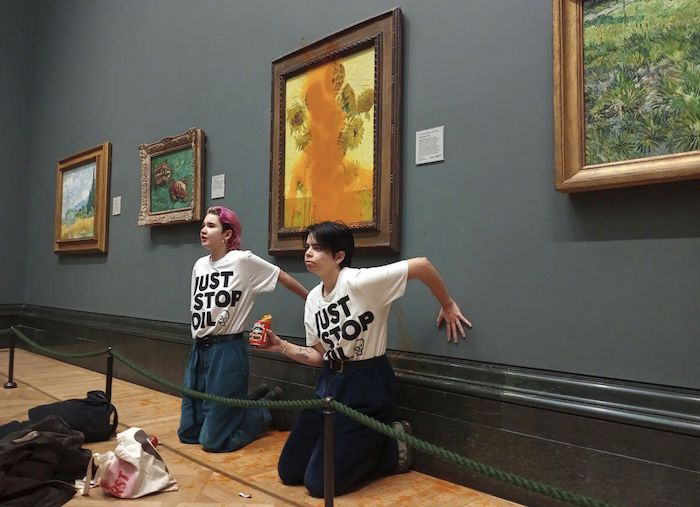 By Sylvia Hui in London
LONDON (AP) — Three climate activists appeared in a London court on Saturday on charges of criminal damage after protests including throwing soup over Vincent van Gogh's "Sunflowers" painting in the National Gallery.
Two women, age 20 and 21, were charged in relation to the soup-throwing protest on Friday, while a third was charged over paint sprayed on a rotating sign at the Metropolitan Police's headquarters in central London. The three women pleaded not guilty to criminal damage at Westminster Magistrates' Court during two brief hearings Saturday.
Demonstrators from climate change protest groups Extinction Rebellion and Just Stop Oil, which wants the U.K. government to halt new oil and gas projects, staged a series of protests in London on Friday.
Just Stop Oil said activists dumped two cans of tomato soup over the Van Gogh oil painting, one of the Dutch artist's most iconic works. The two protesters also glued themselves to the gallery wall.
Prosecutor Ola Oyedepo said the pair didn't harm the oil painting, which was covered by a glass protective case, but damage was caused to the frame.
The painting, one of several versions of "Sunflowers" that Van Gogh painted in the late 1880s, was cleaned and returned to its place in the National Gallery on Friday afternoon.
District judge Tan Irkam released the women on bail on condition that they don't have paint or adhesive substances on them in a public place.
Police said they made some 28 arrests in relation to Friday's protests, and 25 others were bailed pending further investigation. On Saturday, police arrested a further 26 people after Just Stop Oil protesters blocked a major road in east London. Some demonstrators glued themselves to the road surface.
Just Stop Oil has drawn attention, and criticism, for their disruptive tactics, including targeting artworks in museums. In July, activists glued themselves to the frame of an early copy of Leonardo da Vinci's "The Last Supper" at London's Royal Academy of Arts, and to John Constable's "The Hay Wain" in the National Gallery.
Activists have also blocked bridges and intersections across London during two weeks of protests against the U.K. government's approach to climate change.
The latest wave of demonstrations came as Prime Minister Liz Truss ' Conservative government opened a new licensing round for oil and gas operations in the North Sea and reversed a 2019 ban on fracking in England. Environmentalists say the U.K. government was undermining the fight against climate change.
___
Follow AP's climate coverage at https://apnews.com/hub/climate-and-environment