Attention Culture Organizations! Grants for Culture Days are now available
From the Province of Alberta
Communities and organizations are invited to apply for funding to host Alberta Culture Days events to showcase their arts, heritage, diversity and community spirit.
Albertans have the chance to discover, experience and celebrate arts and culture in their communities during Alberta Culture Days, Sept. 27–29.
"Our government is proud to support Alberta's vibrant culture. Alberta Culture Days help us all better understand the arts, culture, diversity and community spirit in our province. Last year was one of our best yet, and we're excited to see what 2019 brings. I encourage all communities and organizations to apply for an Alberta Culture Days grant to share their art, music, history and food this September."
Applications can be downloaded from the Alberta Culture Days grant website and submitted via mail. The deadline to apply is April 4.
Grants are open to cultural organizations, non-profit groups, venues and facilities, school and community groups, First Nation and Métis settlements, and post-secondary institutions. Eligible community organizations can apply for one of the following:
up to $10,000 for three days of programming as a Feature Celebration Site
up to $5,000 for two days of programming as a Host Celebration Site
up to $1,000 for one day of programming as a Pop Up Celebration Site
Last year, 471 events took place in 56 communities giving thousands of Albertans access to events to celebrate our culture, diversity and community spirit.
Alberta Culture Days is part of the National Culture Days initiative, where millions of people across Canada participate in Culture Days activities and programs.
Calgary mayor says lifting remaining COVID-19 health orders 'height of insanity'
Calgary's mayor says it's the "height of insanity" that Alberta is moving ahead with removing almost all of its remaining COVID-19 public health orders.
As of today, close contacts of people who test positive for COVID-19 will no longer be notified of exposure by contact tracers nor will they be legally required to isolate. 
The province is also ending asymptomatic testing. 
Mayor Naheed Nenshi says it inconceivable that the announcement would be made at the same time as cases have nearly tripled from recent weeks.
He says the decision puts Albertans' health at risk.
Nenshi suggests that even the most fervent of anti-maskers wouldn't agree with allowing people who have COVID-19 to be allowed in public.
This report by The Canadian Press was first published July 29, 2021.
The Canadian Press
Red Deer man arrested in one of Alberta's largest ever contraband tobacco seizures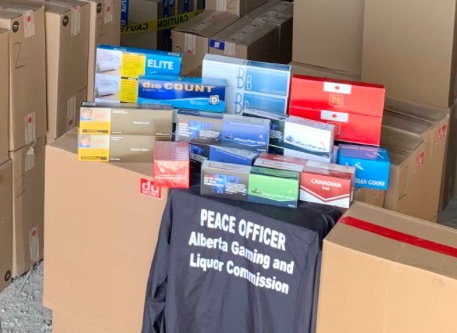 News Release from Alberta Gaming, Liquor & Cannabis
$4.5 million in contraband tobacco products seized by AGLC investigators
An investigation by Alberta Gaming, Liquor & Cannabis (AGLC) led to the seizure of an estimated $4.5 million dollars of contraband tobacco. The seizure represents one of the largest recorded in Alberta history. The total potential lost tax revenue is estimated to be more than $2.5 million dollars.
A search warrant was executed in partnership with Calgary Police Service and the RCMP at a storage facility in southeast Calgary. Ali Al-Hameedawi of Red Deer and Husham Hakeem of Calgary were each charged with trafficking in contraband tobacco, contrary to section 121.1 of the Criminal Code of Canada and fraud over $5,000. The accused are scheduled to appear in Calgary Provincial Court on August 26, 2021.
Contraband tobacco:
is any tobacco product that does not comply with federal and provincial laws related to importation, marking, manufacturing, stamping and payment of duties and taxes;
comes from four main sources: illegal manufacturers, counterfeits, tax-exempt diversions and resale of stolen legal tobacco; and
can be recognized by the absence of a red (Alberta) or peach/light tan (Canada) stamp bearing the "DUTY PAID CANADA DROIT ACQUITTÉ" on packages of cigarettes and cigars or pouches of tobacco.
In addition to lost revenues that may otherwise benefit Albertans, illegally manufactured products also pose public health and safety risks as they lack regulatory controls and inspections oversight.
All wholesalers and importers of tobacco into Alberta must be licensed to sell or import tobacco for resale. Furthermore, all tobacco products must be labelled according to federal and provincial regulations. Albertans who suspect illegal tobacco production, packaging and/or trafficking are encouraged to contact AGLC's Tobacco Enforcement Unit at 1-800-577-2522.
Under a Memorandum of Understanding with Alberta Treasury Board and Finance, AGLC enforces the Tobacco Tax Act and conducts criminal  investigations  related to the possession, distribution and trafficking of contraband tobacco products. In 2020-21, provincial revenue from tobacco taxes was $755 million.