Arson suspected in Edson car dealer fires
Jan. 6, 2020
Edson RCMP respond to multiple fires – Update
Edson, Alta. – The Edson Chrysler Dodge Jeep dealership and vehicle fires that occurred on Dec. 9, 2019, are believed to be arson. Edson RCMP General Investigation Section continue to investigate the fire that occurred at the Edson Honda Dealership on Dec. 30, 2019 and it is believed to be suspicious in nature.
It is still unknown whether the recent Edson Honda Dealership fire is related to the Dec. 9, 2019, dealership and vehicle fires.
RCMP are asking for anyone who has information, to contact Edson RCMP at 780-723-8822 or your local police. If you wish to remain anonymous, you can contact Crime Stoppers at 1-800-222-8477 (TIPS), online at www.P3Tips.com or by using the "P3 Tips" app available through the Apple App or Google Play Store."
BACKGROUND:
Dec. 9, 2019
Edson RCMP respond to multiple fires
Edson, Alta – On Dec. 9, 2019, at approximately 3:30 a.m., Edson RCMP responded to a structure fire at the Edson Chrysler Dodge Jeep dealership. The Edson Fire Department continues to work to fully extinguish the fire.
On Dec. 9, 2019, at approximately 4:15 a.m., Edson RCMP received a call of a vehicle on fire in the area of 41 Street and 51 Avenue in Edson.
Both of these matters remain under investigation by the Edson RCMP.
Winnipeg man pleads guilty to manslaughter in the death of Saskatchewan RCMP officer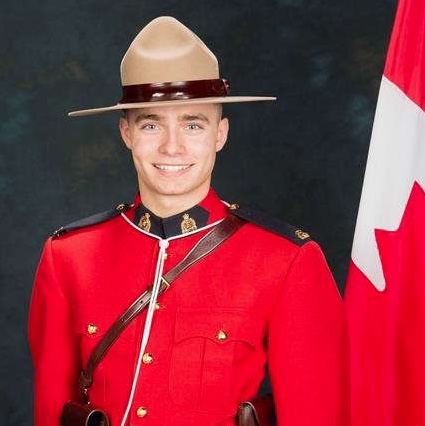 A man has pleaded guilty to manslaughter in the death of a Saskatchewan RCMP officer. RCMP Constable Shelby Patton is shown in this undated handout photo. Patton, of the Indian Head Detachment, was killed on June 12, 2021, after being hit by a pickup truck during a traffic stop. THE CANADIAN PRESS/HO, RCMP
By Jeremy Simes in Regina
The mother of a Saskatchewan RCMP officer who was killed two years ago says it was "hell" to watch a Winnipeg man plead guilty to manslaughter in her son's death.
Alphonse Stanley Traverse pleaded guilty on Wednesday to the charge in Regina Court of King's Bench for his role in Const. Shelby Patton's death. Traverse also pleaded guilty to a charge of stealing a motor vehicle.
"It's very traumatic," Melanie Patton, the mother of the 26-year-old Mountie, said in an interview.
"It's better than sitting through a trial, but at the same time there's so much trauma and we're not going to recover. It's like I'm living in hell."
Shelby Patton was killed more than two years ago when he attempted to stop a stolen truck, driven by Traverse, near the town of Wolseley, east of Regina.
According to an agreed statement of facts, Traverse had been driving from Winnipeg to Saskatchewan in June 2021 to play VLTs. He was with Marlene Pagee at the time, and they chose to go to Saskatchewan because bars were open in the province. COVID-19 measures meant bars were closed in Manitoba.
Traverse was on warrant status for various Criminal Code offences, the document said, and Pagee had been on bail with conditions. She also faces one count of accessory to murder after the fact in Patton's death.
Court heard Traverse and Pagee were driving a stolen green truck as they made their way to Saskatchewan. They were both using crystal meth.
However, the green truck wasn't working well, so Traverse and Pagee began looking for another vehicle. The document said they came across another truck near Pipestone, Man., and stole it. The truck was unlocked and had keys in the ignition.
The document said Traverse and Pagee made their way to Wolseley and stopped outside a hotel. Patton was then dispatched to investigate a suspected stolen truck in town.
When Patton arrived, court heard the couple noticed the Mountie's car, so they decided to drive away. However, Patton stopped them shortly thereafter and walked towards the driver's window, speaking with Traverse.
Court heard Patton had asked Traverse if he worked for the company that owned the truck. Traverse lied, saying he did. Patton then told him the truck had been reported stolen, asking him to step out of the vehicle until the issue could be sorted.
Traverse then turned to Pagee, saying "I can't," and started the truck.
Court heard Patton stepped up on the truck's running board and reached for the key's inside. The truck then accelerated rapidly and jerked.
The document said Patton fell off the running board. The rear driver-side tire ran over his body, killing him.
Melanie Patton said her son's death was no accident.
"He was a very good officer. He did not make a mistake," she said. "I'm sure any officer would have done the same. The job is very dangerous and getting more dangerous, unfortunately."
She said she hopes Traverse is given the maximum penalty.
Traverse is scheduled for sentencing on Jan. 17.
This report by The Canadian Press was first published Sept. 27, 2023.
Conditional sentence for woman who set fires at start of 2022 wildfire season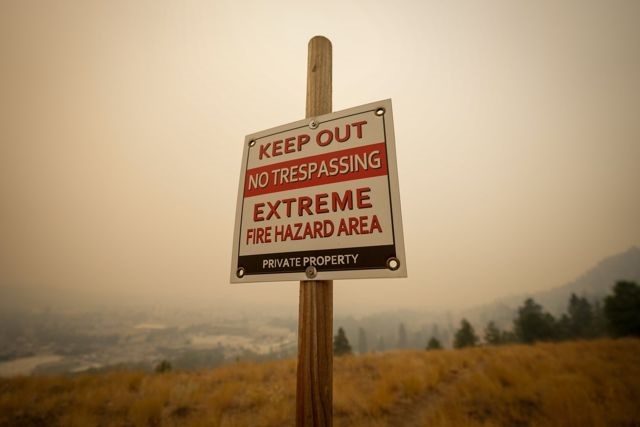 A 43-year-old Kamloops, B.C., woman has been sentenced for two arson fires she admitted to setting. A warning sign about fire risk is seen as smoke from wildfires fills the air, in Kelowna, B.C., Saturday, Aug. 19, 2023. THE CANADIAN PRESS/Darryl Dyck
Kamloops
A 43-year-old Kamloops, B.C., woman who admitted to setting two arson fires has been sentenced.
Angela Cornish was charged with four counts of arson, related to numerous fires set between April and May 2022, at the start of the wildfire season.
Cornish pleaded guilty to two arsons near the southern Interior community of Lac Le Jeune and records show she received a six month conditional sentence during an appearance in provincial court in Kamloops on Tuesday.
The court stayed three other charges related to alleged arsons near Monte Lake, Pinantan Lake and Lac Le Jeune.
An investigation by RCMP and the BC Wildfire Service began last spring after residents alerted officials to slash piles that had been set ablaze along remote logging roads south and east of Kamloops.
None of the fires spread into the nearby grass or bush.
This report by The Canadian Press was first published Sept. 27, 2023.