Arson suspected in Edson car dealer fires
Jan. 6, 2020
Edson RCMP respond to multiple fires – Update
Edson, Alta. – The Edson Chrysler Dodge Jeep dealership and vehicle fires that occurred on Dec. 9, 2019, are believed to be arson.  Edson RCMP General Investigation Section continue to investigate the fire that occurred at the Edson Honda Dealership on Dec. 30, 2019 and it is believed to be suspicious in nature.
It is still unknown whether the recent Edson Honda Dealership fire is related to the Dec. 9, 2019, dealership and vehicle fires.
RCMP are asking for anyone who has information, to contact Edson RCMP at 780-723-8822 or your local police. If you wish to remain anonymous, you can contact Crime Stoppers at 1-800-222-8477 (TIPS), online at www.P3Tips.com or by using the "P3 Tips" app available through the Apple App or Google Play Store."
BACKGROUND:
Dec. 9, 2019
Edson RCMP respond to multiple fires
Edson, Alta – On Dec. 9, 2019, at approximately 3:30 a.m., Edson RCMP responded to a structure fire at the Edson Chrysler Dodge Jeep dealership. The Edson Fire Department continues to work to fully extinguish the fire.
On Dec. 9, 2019, at approximately 4:15 a.m., Edson RCMP received a call of a vehicle on fire in the area of 41 Street and 51 Avenue in Edson.
Both of these matters remain under investigation by the Edson RCMP.
Police looking for help to identify three people of interest in shooting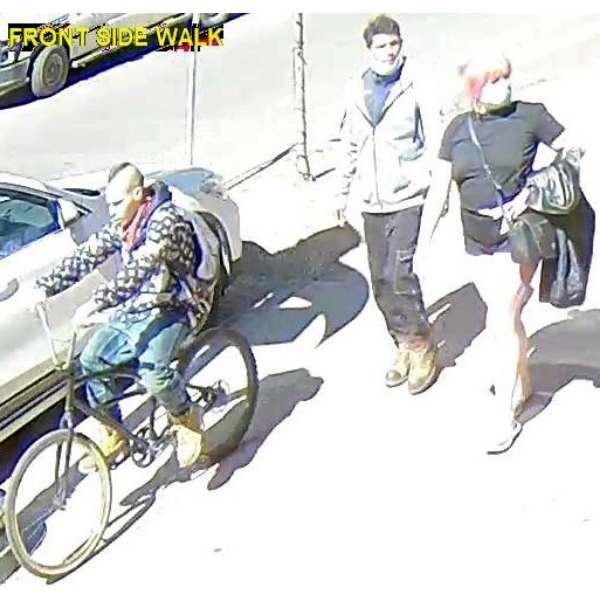 Police seek assistance identifying three people of interest in shooting
May 12, 2021 Edmonton, AB
Police are seeking the public's assistance in identifying three people of interest in a recent shooting.
At approximately 2 p.m. on Monday, May 3, 2021, police responded to the report of a shooting in the area of 110 Street and 86 Avenue. It was reported that two males and one female were trespassing on a residential property, when a confrontation occurred with a 59-year-old man in the area. The 59-year-old was subsequently shot and the three individuals fled the scene.
The victim is recovering in hospital and his injuries are considered to be serious, but non-life-threatening.
Investigators are trying to confirm the identities of the three individuals in the photos below, who were in the area at the time of the shooting.
Anyone with any information regarding the identity of any of the three individuals is asked to contact the EPS at 780-423-4567 or #377 from a mobile phone. Anonymous information can also be submitted to Crime Stoppers at 1-800-222-8477 or online at www.p3tips.com/250.
Four people ticketed after hundreds attend anti-lockdown rally at Alberta cafe: RCMP
MIRROR, Alta. — RCMP say they ticketed four people after an anti-lockdown rally was attended by hundreds in central Alberta over the weekend.
A "Save Alberta Campout Protest" was held Saturday outside the Whistle Stop Cafe in the hamlet of Mirror, Alta., to support owner Chris Scott as health officials had closed his business earlier in the week.
Alberta Health Services had said they received hundreds of complaints about the cafe and that it had not been complying with COVID-19 restrictions.
Scott, who also organized the rally, stood on a stage in the rain and rallied the crowd to challenge measures meant to curb the spread of the virus.
He was arrested a few hours later and RCMP say they ticketed four people under the Public Health Act for attending the gathering.
A court decision last week gives health authorities and the RCMP the power to take legal action to stop any planned protests of public health restrictions.
This report by The Canadian Press was first published May 12, 2021.
The Canadian Press