Alberta's Internet Child Exploitation Unit working on record number of cases
Article submitted by the Alberta Law Enforcement Response Team
ICE responds to surge in record number of case files
ALERT's Internet Child Exploitation (ICE) unit has begun the new year with a number of arrests across Alberta. Twenty-four suspects have been charged with 60 offences related to the online sexual exploitation of children.
After receiving a record number of case referrals in 2020, ICE has been collaborating with its policing partners across the province to make arrests. Last year, ICE experienced nearly a 40% increase in its number of case referrals with over 2,100 intakes.
2020-21 – 2,136;
2019-20 – 1,555;
2018-19 – 1,237;
2017-18 – 903;
2016-17 – 894;
2015-16 – 749.
"This is a concerning consequence of our digital dependency during the pandemic. ALERT has responded by directing more tools and resources to our ICE units and we are prepared to travel to every corner of the province in order to stop child sex predators," said ALERT CEO Supt. Dwayne Lakusta.
"The sexual exploitation of children is a crime that tears at the fabric of society and preys on our most vulnerable. Increased provincial funding is enabling ALERT to double the size of its ICE unit, ensuring it has the tools and resources to track down predators who commit these heinous acts and bring them to justice," said Hon. Kaycee Madu, Minister of Justice and Solicitor General.
With new provincial funding, ALERT has sought to double the size of the ICE unit with the addition of investigators, forensic technicians, analysts, and disclosure clerks, along with new technologies and software applications. With now more than 50 positions, Alberta's ICE unit is one of the largest of its kind in Canada.
Between January 1 and March 31, 2021, ICE arrested 24 suspects. There is no definitive link between the suspects other than the nature of offences allegedly committed.
The arrests came as the result of investigative referrals from the RCMP's National Child Exploitation Coordination Centre, which works with internet and social media providers to track and investigate online instances of child sexual exploitation.
Each of the suspects was charged with at least one child pornography offence:
Michael Antonio, 25-year-old man from Calgary;
Curt Backlund, 48-year-old man from Grande Prairie;
Brad Bailey, 19-year-old man from Marlboro;
Brett Beer, 54-year-old man from Onoway;
Eric Bultmann, 30-year-old man from Calgary;
Kevin Dykstra, 35-year-old man from Barrhead;
Brian Harrison, 35-year-old man from Calgary;
Jeremy Henderson, 42-year-old man from Okotoks;
Bryan Hillman, 39-year-old man from Calgary;
Christopher Hoffner, 34-year-old man from Medicine Hat;
James Kydd, 39-year-old man from Calgary;
Mica LePage, 44-year-old man from Edmonton;
Jordan MacDonald, 30-year-old man from Edmonton;
Cris Marshall, 29-year-old man from Stettler;
Stedson McDonald, 32-year-old man from Grande Prairie;
James Merrison, 21-year-old man from Edmonton;
Traline Munn, 44-year-old man from Cold Lake;
Krishnamoort Nalla Naidu, 38-year-old man from Edmonton;
Van Linh Nguyen, 24-year-old man from Edmonton;
Ivan Scott, 47-year-old man from Cochrane;
Jerry Lee Thompson, 47-year-old from Fort MacLeod;
Hunter Tonneson, 20-year-old man from Blackfalds;
Chase Viau, 23-year-old man from Edmonton; and
Richard Westland, 45-year-old man from Medicine Hat.
During the investigations, ICE relied upon the assistance of a number of partner agencies, including: Calgary Police, Edmonton Police, Lethbridge Police, Medicine Hat Police, and RCMP detachments in Barrhead, Beaverlodge, Blackfalds, Cochrane, Edson, Fort MacLeod, Grande Prairie, Onoway, Okotoks, Slave Lake, Stettler, and Wood Buffalo.
Anyone with information about these investigations, or any child exploitation offence is encouraged to contact local police or cybertip.ca.
Cenovus Energy to buy remaining stake in Toledo refinery from BP for $300 million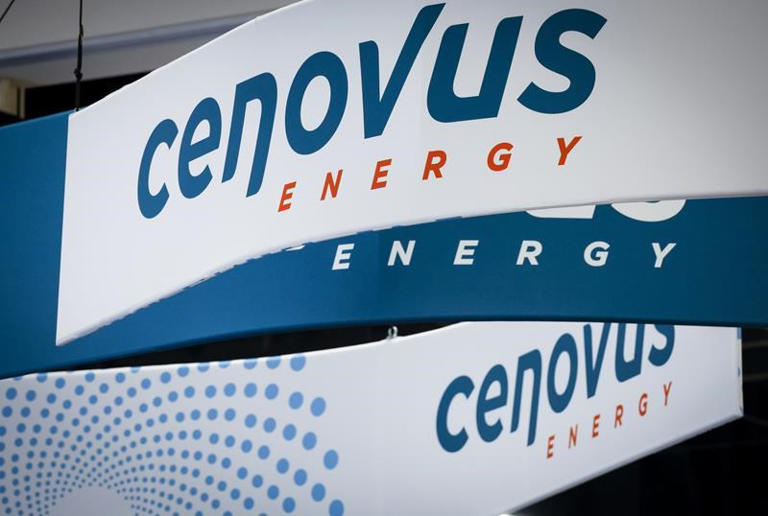 CALGARY — Cenovus Energy Inc. has reached a deal with British energy giant BP to buy the remaining 50 per cent stake in the BP-Husky Toledo Refinery for $300 million.
The Calgary-based oil producer has owned the other 50 per cent of the Ohio-based refinery since its combination with Husky Energy in 2021.
Cenovus says its U.S. operating business will take over operations when the transaction closes, expected before the end of the year.
The company says the Toledo refinery recently completed a major, once in five years turnaround to improve operational reliability.
It says the transaction will give Cenovus an additional 80,000 barrels per day of downstream throughput capacity, including 45,000 barrels per day of heavy oil refining capacity.
The deal brings Cenovus' total refining capacity to 740,000 barrels per day.
Alex Pourbaix, Cenovus president and CEO, says fully owning the Toledo refinery provides an opportunity to further integrate the company's heavy oil production and refining capabilities, including with the nearby Lima Refinery.
"This transaction solidifies our refining footprint in the U.S. Midwest and increases our ability to capture margin throughout the value chain," he said in a statement.
This report by The Canadian Press was first published Aug. 8, 2022.
Companies in this story: (TSX:CVE)
The Canadian Press
Nutrien names Ken Seitz president, CEO amid sweeping changes in agriculture markets
Saskatoon-based fertilizer giant Nutrien Ltd. has named Ken Seitz president and CEO following a months-long global talent search.
The company says Seitz, who has served as interim CEO since January and previously headed up its potash operation, brings 25 years of experience in agriculture and mining to the role.
Nutrien says it has achieved record results under Seitz's leadership amid sweeping changes in agricultural markets and unprecedented global food security challenges.
Russ Girling, chairman of Nutrien's board of directors, says the company's record performance during some of the most turbulent times in the sector underscore the strength of Seitz's leadership.
Seitz, who grew up on a dairy farm in Saskatchewan, says he's "honoured and humbled" to work alongside growers during challenging times.
He says Nutrien is well positioned to help meet the global goals of food security and climate action.
This report by The Canadian Press was first published Aug. 8, 2022.
Companies in this story: (TSX:NTR)
The Canadian Press