Alberta wildfire situation (May 8, 6:00 p.m.)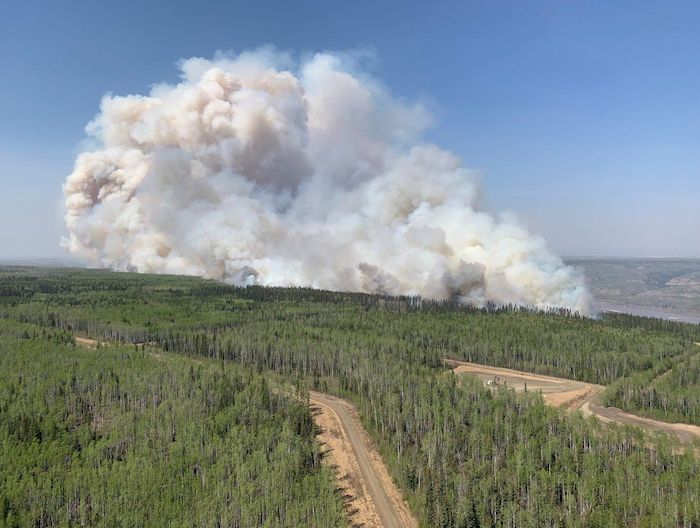 More than 29,000 individuals have been evacuated from communities throughout north and central Alberta.
Those evacuated due to wildfires should register at local reception centres or at emergencyregistration.alberta.ca.
Current situation
Alberta has declared a provincial state of emergency. Visit alberta.ca/emergency for information or call 310-4455, now available 24-7.
The evacuation for the town of Edson as well as central and eastern parts of Yellowhead County has lifted. Some areas remain under evacuation order.
The Big Lakes County evacuation order has been downgraded to a one-hour evacuation alert. Large portions of the affected area currently have no electrical power or natural gas services.
The mandatory evacuation notice has been lifted in Northern Sunrise County. Residents are now allowed to return to their homes.
Mandatory evacuation orders remain in effect for the following areas. Please check alberta.ca/emergency or download the Alberta Emergency Alert mobile app for complete information:

Parts of Brazeau County, including the town of Drayton Valley. Evacuees should register in Edmonton at the Expo Centre, Hall C, at 7515 118 Avenue.
The entire town of Rainbow Lake. Evacuees should register in High Level at the High Level Arena, at 10101 105 Avenue.
Fox Creek, Little Smoky and surrounding areas. Evacuees should register at the Allan and Jean Millar Centre, at 58 Sunset Boulevard in Whitecourt.
Parts of Sturgeon Lake Cree Nation and the Municipal District of Greenview. Evacuees should register at Memorial Hall, 4808 50 Street in Valleyview.
Parts of the County of Grande Prairie. Evacuees should register at the Bonnets Energy Centre, 10017 99 Avenue, Grande Prairie.
Parts of Big Lakes County. Evacuees should register at Elks Rodeo Hall on Highway 749.
Parts of Lac Ste. Anne County. Evacuees should register at the Mayerthorpe Diamond Centre, at 4184 54 Street.
Parts of Yellowhead County (east of Range Road 110 and east of Range Road 101 and south of Township Road 560). Evacuees should register at the Dr. Duncan Murray Rec Centre, 805 Switzer Drive, Hinton, or at the Jasper Fitness & Aquatics Centre, at 305 Bonhomme Street, Jasper.
Parkland County and the Hamlet of Entwistle. Evacuees should register at Wabamun Jubilee Hall, at 5132 53 Avenue in Wabamun.

Residents of the following areas should be prepared to evacuate on short notice:

The Grovesdale area of the Municipal District of Greenview.
Clearwater County in the area west of Beaverdam Provincial Recreation Area and east of the Bighorn Dam, including the hamlet of Nordegg.
Parts of the County of Grande Prairie, including the Pipestone Creek area.
The town of Valleyview.
Lac St. Anne County, in the area north of Township Road 560 and south of Highway 43, and between Range Road 60 to 53 and the community of Cherhill.
Athabasca County, in the area of Range Road 214 and Range Road 215 north of Township Road 674. The prepare to evacuate notice for everyone else in the area between Jackfish Lake and the Athabasca River to the west remains in effect.
Big Lakes County
MD of Greenview, in the area west of Highway 40 and south of the Wapiti River to the British Columbia border.

Eighteen declared states of local emergency (SOLE) and two band council resolutions include:

Big Lakes County
Brazeau County
Clear Hills County
Drayton Valley
Town of Edson
MD of Fairview
Town of Fairview
MD of Greenview
Town of Fox Creek
Gift Lake Metis Settlement
County of Grande Prairie
Town of High Prairie
Northern Sunrise County
East Prairie Metis Settlement
Peavine Metis Settlement
Lac St. Anne County
Parkland County
Town of Rainbow Lake
Yellowhead County
The Little Red River Cree Nation (Fox Lake) has declared a SOLE through Band Council Resolution
Whitefish Lake First Nation has declared a SOLE through Band Council Resolution
Information for evacuees
Evacuees should register at the reception centre identified for their community so staff can quickly assist them and connect them with the resources they need.
Evacuees with special needs who are unable to stay in an evacuation centre can request emergency financial assistance to cover hotel accommodations.

Special needs could include having a disability, a medical condition or other family needs.
Apply for emergency financial assistance by visiting an Alberta Supports Centre or calling the Income Support Contact Centre at 1-866-644-5135. Information is also available through the Alberta Supports Contact Centre at 1-877-644-9992.

Any Albertan who has evacuated under mandatory order for seven consecutive days or more can apply for a one-time emergency evacuation payment at alberta.ca/emergency using an Alberta.ca Account.

Eligible evacuees will receive $1,250 per adult and an additional $500 per dependent child under 18 years.
Funds can take up to 24 hours to flow into accounts and will be disbursed via e-transfer.
Evacuees unable to receive an e-transfer or who cannot apply online can contact 310-4455 for assistance and to make alternate arrangements.

Albertans affected by wildfires, including evacuees, can access supports by calling the Alberta Supports Contact Centre at 1-877-644-9992.

The centre is open from 8:15 a.m. to 8 p.m. on weekdays and from 9 a.m. to 3 p.m. on weekends.

The Income Support Contact Centre is also available 24-7 and provides emergency financial assistance. Call 1-866-644-5135.
Albertans can report a price gouging complaint by calling 310-4455.
Fire bans and other restrictions
Unusually warm, dry weather and strong winds mean it is easier for a wildfire to start and spread.
As a result of these conditions, there is a fire ban issued for most of the province. Fire restrictions in some parks and southern municipalities are also in effect. No open burning is allowed, including backyard fire pits, inside the Forest Protection Area. Alberta Parks and many municipalities and communities have ordered their own bans and restrictions. For more information, visit albertafirebans.ca.
A provincial off-highway vehicle (OHV) restriction is also in place, which means the recreational use of off-highway vehicles on public land, including on designated OHV trails, is prohibited.
Wildfire activity updates
There are currently 88 active wildfires in the Forest Protection Area, 25 of which are classified as out of control.
Travel
There are multiple road closures and advisories for north and central Alberta.
Visit 511.alberta.ca for up-to-date information on road closures and travel advisories.
Health
No additional evacuations were required over the last 24 hours. Evacuated patients and continuing care residents are being relocated in safe and appropriate settings. All zones are opening care spaces to accommodate those in need.
Alberta Health Services has issued a boil water advisory for the River Bend Water Co-op in Big Lakes County as a precautionary measure.
All patients who are expected for assessment or treatment for a cancer diagnosis in an evacuated area are asked to call the Cancer Centre Transition Team (toll-free at 1-888-432-8865) to ensure they are receiving the care they require.
All appointments with laboratory services, mental health and public health in evacuated communities continue to be postponed at this time. Clients will be contacted directly by AHS to be rescheduled as soon as possible. Dialysis clients are being booked at alternate sites. Home care clients impacted by evacuations are being contacted to arrange for alternative home visits and support from nursing teams.
EMS and zones continue to be fully engaged to ensure the safe transport and care of all patients/residents. Other zones and provincial programs are assisting with reception centres and ensuring availability of spaces/equipment as needed.
Residents affected by the wildfires who have health care-related questions and are looking for up-to-date information about the wildfires or health care resources, should visit the Alberta Health Services Wildfire Resources webpage.
For non-emergency health advice, including information on their health care options, residents should call Health Link at 811.
Mental health and addiction resources
If you're struggling with your mental health or need to talk to someone about how you are feeling, resources are available:

Call the AHS Mental Health Helpline at 1-877-303-2642 or Health Link at 811
Call 211 or text INFO to 211 or visit ab.211.ca to access digital supports or find local services near you
Call Counselling Alberta at 1-833-827-4230 or visit counsellingalberta.com for virtual counselling services

Addiction supports are also available:

Call the AHS Addiction Helpline at 1-866-332-2322 or Health Link at 811
Call the Virtual Opioid Dependency Program at 1-844-383-7688 for same-day treatment
Air quality concerns
As of noon today, most conditions across the province are rated "low-risk".

Conditions in Fort Chipewyan, Fort McKay and Fort McKay South are rated "moderate risk".

People who are concerned about air quality impacts on their health should refer to the Air Quality Health Index. The Air Quality Health Index is updated hourly.
Alberta Health Services is deploying mobile air quality monitoring, as multiple communities are reporting high levels of smoke and ash residue.
Justice
The Drayton Valley circuit court is within the Town of Drayton Valley's evacuation order. The next sitting is scheduled for Tuesday, May 16.
Agriculture and livestock
Agricultural societies may have room for livestock evacuated from wildfire areas. Contact the Alberta Association of Agricultural Societies.
Evacuated farmers and ranchers:

Should visit alberta.ca/emergency to find the most up-to-date information on the current wildfire situation.
Can contact the wildfire resource line at 310-4455 with agriculture and livestock-related questions.
Should register at the reception centre identified for their community so staff can quickly assist them and connect them with the resources they need.
May need re-entry permits if they want to go back into an evacuated area to check on livestock and should check with their municipality before entering.
Alberta Emergency Alerts
For up-to-the-minute Alberta Emergency Alert information, visit Alberta Emergency Alert.
Albertans are encouraged to download the Alberta Emergency Alert mobile app, which immediately pushes all alerts out to subscribers.
Albertans may notice emergency alerts for their community expiring or being removed from the system. This does not mean the emergency is over. What it does mean is that your community has been able to return to normal communication methods to update residents via local media.
Please pay close attention to alert updates, local media and the alberta.ca/emergency website for up-to-date information on evacuation orders, reception centres and resources for people who have been impacted.
Donations
Albertans who wish to help can make cash donations through the Canadian Red Cross or within their regions to a recognized charitable organization of their choice.
Financial donations are preferred for disaster events, as most critical items can be sourced locally and monetary donations can be used to support vulnerable populations and be targeted to mental health initiatives in support of evacuees.
Individuals and companies with goods or services to offer or donate to support government's response to the wildfire event can email

[email protected]

.ca.
Insurance
Albertans with questions about their insurance coverage during the wildfires should contact their insurance representative.
The Insurance Bureau of Canada (IBC) has updated information about insurance during wildfires. Albertans affected by wildfires can visit the IBC web page for information on property and auto insurance.
Albertans can call IBCs Consumer Information Centre at 1-844-2ask-IBC (1-844-227-5422) or email IBC's regional office at

[email protected]

(Western and Pacific regions).
Hot rental market makes search 'stressful' for many — and it won't get better soon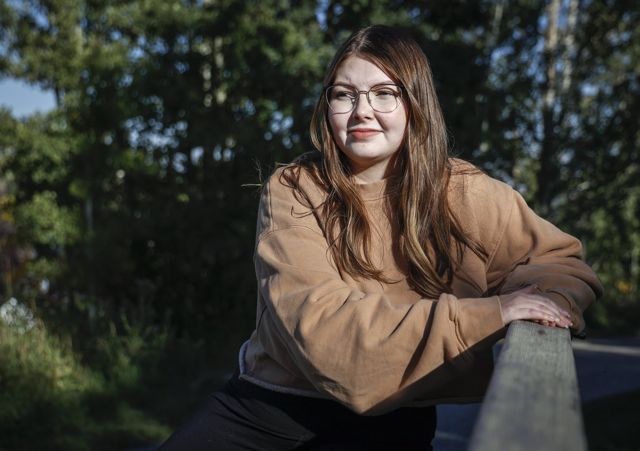 Marissa Giesinger is pictured in Calgary, Thursday, Sept. 21, 2023. On the hunt for a rental home in Calgary over the last six weeks, Giesinger and her boyfriend trawled through listings morning, noon and night, only to find most come along with dozens of applications and a steep price tag. THE CANADIAN PRESS/Jeff McIntosh
By Tara Deschamps in Toronto
On the hunt for a rental home in Calgary over the last six weeks, Marissa Giesinger and her boyfriend trawled through listings morning, noon and night, only to find most come along with dozens of applications and a steep price tag. As an added difficulty, many landlords are unwelcoming to the couple's brood — dogs Kado and Rosco and a cat named Jester.
"We made the tough decision recently to house our dogs with someone else until we can find a place that's affordable and we can take both of them," said Giesinger, a 23-year-old Mount Royal University student.
"It's definitely been stressful."
The competitive rental market Giesinger has encountered in Calgary is being seen across the country as multiple factors combine: high interest rates deter buyers and add to rental demand, still-high inflation is squeezing renter budgets, there's an undersupply of purpose-built rental units and population growth is fuelling demand.
These conditions have left prospective renters feeling even more frustrated than usual by sky-high rents, the frenzy of interest that surrounds any affordable listing and the litany of demands landlords can make when so many people are interested in their home.
Giacomo Ladas, communications director for Rentals.ca, calls it "almost a perfect storm" — and it isn't likely to ease up any time soon.
"What this does is create such a burden on this rental housing market that even though we're out of the (busy) summer rental season, there's so much demand that (these conditions are) going to continue like this until the fall and into the winter," he said.
Data crunched by his organization and research firm Urbanation.ca shows average asking rents for newly-listed units in Canada increased 1.8 per cent between July and August and 9.6 per cent from a year earlier to reach a record high of $2,117 last month.
Between May and August, asking rents in Canada increased by 5.1 per cent or an average of $103 per month.
When Giesinger rented a two-bedroom basement unit with a roommate a few years ago, the duo paid $1,000 per month, but now she routinely spots "super tiny," one-bedroom places for $1,350 a month.
"If you want a basement suite or an apartment, you're looking at minimum $1,200 and that doesn't include any utilities or anything like that unless it's a super rare listing," Giesinger said.
Rentals.ca data show newly listed one-bedroom properties in Calgary priced at an average $1,728 per month in August, up 21.6 per cent from a year earlier. Two-bedroom homes have climbed 17.4 per cent to $2,150 over the same period.
The picture in Vancouver and Toronto is far bleaker. Rentals.ca found the cities had the highest rents in the country.
Newly-listed one-bedroom properties in Vancouver averaged $2,988 in August, up 13.1 per cent from a year earlier, while two-bedroom units hit $3,879, an almost 10 per cent increase year-over-year.
Newly-listed Toronto one-bedroom homes averaged $2,620 in August, up almost 11 per cent from the year before, while two-bedroom properties had a 7.1 per cent rise over the same time frame to $3,413.
It's numbers like these that have convinced Kanishka Punjabi to abandon her hopes of moving in the near term.
"Two days ago, I gave up on my search because the rental market is that bad," she said.
The public relations worker has been living in Mississauga, Ont., but felt it was time to find a home in downtown or midtown Toronto, closer to where she works.
However, few of the two-bedroom homes she spotted in her two-month search were within her $2,800 budget.
For example, one apartment she liked at the intersection of Yonge and Eglinton streets had 25 offers in just over a week.
"Some people actually just sent in their offer without looking at the apartment too because there are so many people who are in desperate need of rental units," said Punjabi. "There's just not enough."
The Canada Mortgage and Housing Corp. has projected that the country needs to build 3.5 million additional homes beyond what's planned before the market reaches some semblance of affordability.
It also calculated that the annual pace of housing starts — when construction begins on a home — edged down one per cent in August to 252,787 units compared with 255,232 in July.
Despite the nudge down, Rishi Sondhi, an economist with TD Bank Group, said it has been a strong year for starts because the industry is responding to elevated prices by building at a robust pace.
But between population growth and rising interest rates, he said, "supply is struggling to keep up with demand" and that's bound to weigh on renters for quite some time.
"In the short term, it would be unrealistic to expect too much of a reprieve simply because population growth is likely to remain strong through the duration of this year — and that's really one of the big fundamental drivers," he said.
"In addition, it's unlikely to expect affordability in the ownership market to improve too much either because we think the Bank of Canada (key rate) is going to be on hold for the remainder of the year, but there is some risk that they take rates even higher, especially if inflation doesn't co-operate."
For renters like Giesinger that message puts even more pressure on her to settle on a place soon.
"Now I'm scrambling to find the money for a deposit and we're still never really sure like what kind of place we're going to get," she said.
"And when you're battling dozens of other people for a rental it can be super stressful."
This report by The Canadian Press was first published Sept. 24, 2023.
UCP asks Albertans to consider an Alberta Pension Plan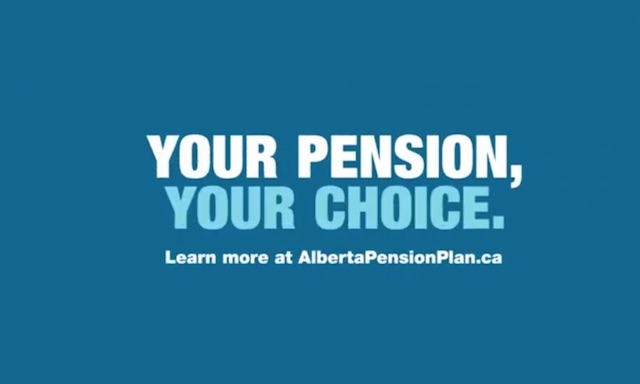 News release from the United Conservative party
The Government of Alberta is starting a public engagement to discuss the possibility of creating an Alberta Pension Plan.
You might be wondering, what's in it for you? Learn more by watching the short video below:
The government is eager to hear your views. To find more information, and participate in a survey, tap the button below.
Albertans deserve a pension plan that reflects their hard work and earnings, and it is up to Albertans to decide which pension plan that is.
-Your UCP Team