Alberta supports the development of Small Modular Nuclear Reactors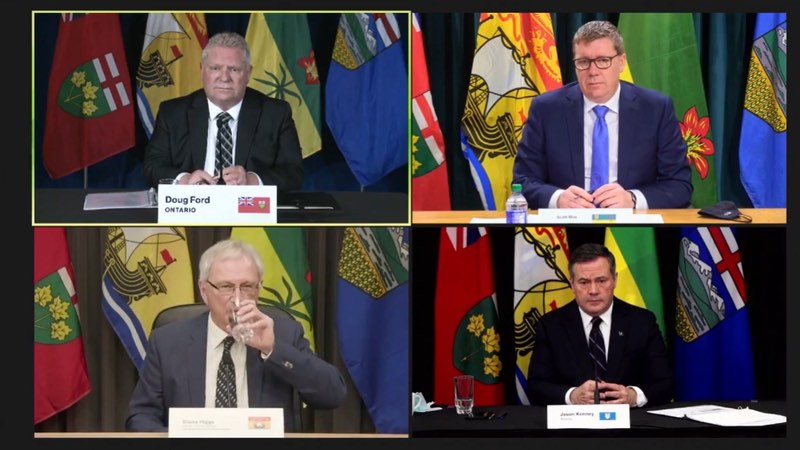 Alberta signs small modular nuclear reactor MOU
Alberta has signed a memorandum of understanding (MOU) with New Brunswick, Ontario and Saskatchewan to support the development of small modular nuclear reactors (SMRs).
Premier Jason Kenney signed the MOU, previously signed by the three other provinces, on April 14. He joined New Brunswick Premier Blaine Higgs, Ontario Premier Doug Ford and Saskatchewan Premier Scott Moe at a virtual event where the premiers shared the findings of a study that examined the feasibility of SMRs in Canada.
"Alberta has always been committed to clean, affordable energy. Small modular reactors are an exciting new technology that could be used in the future to significantly cut greenhouse gas emissions, for example by generating power for Canadian oilsands producers. Nuclear is the cleanest form of electricity production, and with SMRs is now more affordable and scalable for industrial use. We are excited to be part of this group that will help develop Canadian SMR technology."
"Today's announcement confirms the commitment of our provinces to advancing SMRs as a clean energy option, leveraging the strength and knowledge of each of our jurisdictions. This study confirms the feasibility of small modular reactors in Canada and outlines a path forward to deploy this new clean, safe, reliable and competitively priced power. This new technology will help attract investment, create high-skilled jobs and contribute to our growing economy."
"Our government believes the best way to ensure that Canada becomes a leader in advanced small modular reactor development and deployment is through continued engagement and partnerships. New Brunswick has already attracted two tremendous vendors in ARC Clean Energy Canada and Moltex Energy who are now developing their capacity and generating local economic development in the province. New Brunswick is well-positioned to be a world leader in the SMR field."
"It is important that our provinces take these next steps together to continue leading the development of cutting-edge small modular reactors for the benefit of future generations. Ontario is home to a world-class nuclear industry, which we will leverage as we continue our critical work on this innovative technology in order to provide affordable, reliable, safe and clean energy while unlocking tremendous economic potential across the country."
With the addition of Alberta to the MOU, all provinces involved have agreed to collaborate on the advancement of SMRs as a clean energy option to address climate change and regional energy demands while supporting economic growth and innovation.
The SMR Feasibility Study, formally requested as part of the MOU in December 2019, concludes that the development of SMRs would support domestic energy needs, curb greenhouse gas emissions and position Canada as a global leader in this emerging technology. SMRs are nuclear reactors that produce 300 megawatts of electricity or less. They can support large established grids, small grids, remote off-grid communities and resource projects.
The study, conducted by Ontario Power Generation, Bruce Power, NB Power and SaskPower, identifies three streams of SMR project proposals for consideration by the governments of Ontario, New Brunswick and Saskatchewan.
Stream 1 proposes a first grid-scale SMR project of approximately 300 megawatts constructed at the Darlington nuclear site in Ontario by 2028. Subsequent units in Saskatchewan would follow, with the first SMR projected to be in service in 2032.
Stream 2 involves two fourth generation advanced small modular reactors that would be developed in New Brunswick through the construction of demonstration units at the Point Lepreau Nuclear Generating Station. By fostering collaboration among the various research, manufacturing, federal and provincial agencies, an initial ARC Clean Energy demonstration unit plans to be ready by 2030.
Moltex Energy Inc.'s waste recycling facility and reactor is preparing to be ready by the early 2030s. Through ongoing support and collaborations, these advanced technologies could start being deployed as early as 2030 in support of the industrial needs in areas like Saskatchewan, Alberta and around the globe.
Stream 3 proposes a new class of micro-SMRs designed primarily to replace the use of diesel in remote communities and mines. A five-megawatt gas-cooled demonstration project is underway at Chalk River, Ont., with plans to be in service by 2026.
The report identifies the potential for all three streams to create employment and economic growth benefits for Canada, as well as opportunities to export technology and expertise to address global issues such as climate change and energy reliability.
The next action identified in the MOU is the development of a joint strategic plan, to be drafted by the governments of Alberta, New Brunswick, Ontario and Saskatchewan. The plan is expected to be completed this spring.
The partner provinces will continue to work together and across the nuclear industry to help ensure Canada remains at the forefront of nuclear innovation while creating new opportunities for jobs, economic growth, innovation and a lower-carbon future.
Top-ranked Winnipeg Blue Bombers edge Edmonton Elks 37-22 for fourth straight victory
EDMONTON — DeAundre Alford and Adam Bighill recorded defensive touchdowns as the league-leading Winnipeg Blue Bombers fought their way past the Edmonton Elks 37-22 Saturday.
The Blue Bombers (6-1) have won four games in a row while the Elks (2-4) have lost two straight and fell to 0-4 at home this season.
Winnipeg got off to a blazing start by scoring on its first drive, going 80 yards in nine plays, capped off by a 12-yard touchdown pass from QB Zach Collaros to Darvin Adams.
Collaros went 19 of 24 passing for 252 yards, a TD and an interception. 
The Bombers doubled their lead on their next drive as Nic Demski ploughed his way through several defenders for a 21-yard rushing major to make it 14-0.
Edmonton got back into the game midway through the second thanks to a Christian Rector fumble recovery on the Bombers' nine-yard-line, leading to a James Wilder Jr. touchdown run.
Winnipeg kicker Ali Mourtada missed a 28-yard field goal attempt before Edmonton's Sean Whyte nailed a three-pointer from 44 yards out to make it 15-10 at the mid-mark.
The Blue Bombers had 250 yards of offence in the first half to the Elks' 125. QB Taylor Cornelius passed for 106 yards in the first half in his CFL debut as he replaced Trevor Harris, who was placed on the six-game injured list with a neck injury.
Cornelius finished the game with 19 completions on 33 pass attempts for 243 yards and three interceptions. 
Edmonton surged into the lead early in the third quarter with an unconverted 19-yard TD run by Wilder.
However the Bombers regained the lead as Alford picked off Cornelius and took it back 22 yards for the touchdown. A two-point convert made it 23-16 for Winnipeg.
Whyte responded with a 32-yard field goal before Mourtada missed his third field goal attempt of the game from 44 yards.
The Bombers defence did it again late in the third as Cornelius fumbled deep in his own end, leading to a three-yard scoop and score by Bighill.
After Whyte kicked a 19-yard field goal, Winnipeg put the game away with a one-yard TD plunge by Sean McGuire.
Both teams have a bye next week. The Elks' next game will be in Ottawa on Sept. 28, while the Bombers will be in B.C. on Oct. 1. Winnipeg and Edmonton will then play each other again in a home-and-home series.
Notes: Two highly anticipated players made their Elks debuts: offensive lineman SirVincent Rogers and linebacker Derrick Moncrief… Winnipeg was trying its third place-kicker of the season with Mourtada making his CFL debut, relegating rookie Marc Liegghio to punting duties.
This report by The Canadian Press was first published Sept. 18, 2021.
The Canadian Press
Veteran Canadian rider Mario Deslauriers wins Spruce Meadows Grand Prix
CALGARY — Canada's Mario Deslauriers and Bardolina 2 posted two clear rounds Saturday to take the Queen Elizabeth II Cup Grand Prix at Spruce Meadows.
In a jump-off with Mexico's Carlos Hank Guerreiro and Australian Katie Laurie, Deslauriers and the 12-year-old mare didn't put a rail down and topped the leaderboard with a time of 53.05 seconds.
Deslauriers said Bardolina 2 can be difficult to ride, but she was on her game Saturday in Calgary.
"Today, she jumped incredible," Deslauriers said. "She was straight like an arrow and she jumped beautiful."
Deslauriers and Bardolina 2 were Canada's lone show jumping entry in the summer's Tokyo Olympics where the duo placed 22nd.
"She was very good I think in the medal round (there)," Deslauriers said. "She had two fences down that were very cheap, but overall she jumped super well.
"Before she came here, she had to do three weeks quarantine because I was over my limit when I came back from Europe.
"Really, I jumped her one time at home, she got in the truck and came here, so I think she's matured a lot. I can count on her. I don't need to practise so much any more."
Deslauriers, 56, is from Saint-Jean, Que., but lives in New York.
The North American is the last of three September tournaments totalling $5.6 million in prize money.
Spruce Meadows resumed hosting international show jumping events after a two-year hiatus because of the COVID-19 pandemic.
This report by The Canadian Press was first published Sept. 18, 2021.
The Canadian Press