Alberta Sports Hall of Fame announces 2023 Inductees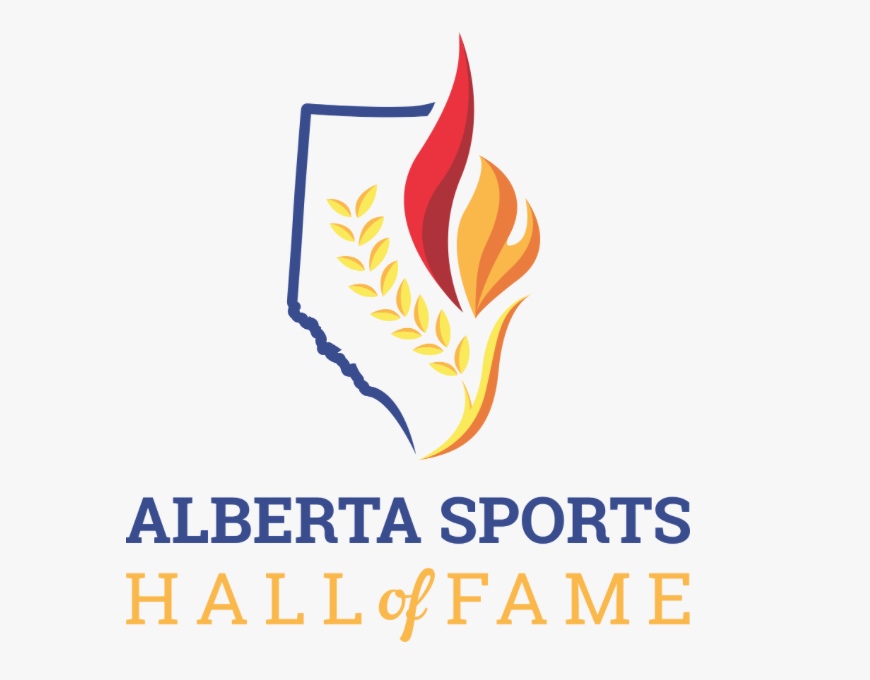 Introducing the Alberta Sports Hall of Fame's Class of 2023!
The Alberta Sports Hall of Fame is excited to announce our Class of 2023. The inductees are:
Andrew Buckley- Football Athlete
Andrew is a Calgary born football legend. Moving from a star high school quarterback to a University of Calgary Dinos champion to decorated Calgary Stampeder. Buckley won 3 Canada West Championships with the Dinos and set numerous club records. Drafted 62nd overall to the Calgary Stampeders in 2015, Andrew played in both the 2016 and 2017 Grey Cups with the team before announcing his retirement from professional football in 2018.
Mike Johnson- Baseball Athlete
Born and raised in the Edmonton region, Mike has been involved with baseball for the majority of his life. He played his amateur baseball in Sherwood Park, and provincially with Team Alberta before he was drafted by the Toronto Blue Jays in 1993. His professional career spanned 17 years and included 5 seasons in the MLB with the Baltimore Orioles and the Montreal Expos, and stops overseas in Japan, South Korea, and Taiwan. He was a prominent member of Team Canada in the Olympics in 2004 and 2008, and won a Pan Am gold medal in 2011. Upon retirement, he has given back coaching locally in the Edmonton area, Team Alberta and with the Canadian Junior National Team.
Helen Upperton- Bobsleigh Athlete
Helen is a dedicated and influential force in the sport of bobsleigh in Canada helping elevate the women's program to the status of international powerhouse. Over the course of her 11-year career as a bobsleigh pilot, her team shattered numerous international start and track records en route to winning over 25 World Cup medals including Canada's first ever World Cup gold in Women's Bobsleigh in St. Moritz, Switzerland. After a close 4th place finish at the 2006 Olympics, Helen piloted her team to an Olympic silver medal in Vancouver 2010. She retired from competition following the 2012 season but continues to be involved as a coach, a mentor, and an award-winning broadcaster.
Cara Currie Hall- Multisport Builder
Cara is one of Canada's premiere indigenous sports advocates, leaders, and builders who has dedicated her life to the recognition and advancement of indigenous sports provincially, nationally, and internationally. She was a founding board member of the Indigenous Sport Council of Alberta, World Indigenous National Sports international, Aboriginal Sport Circle and the Alberta Sports Recreation Park & Wildlife Board. She has sat on the board for the Canadian Association of the Advancement of Women in Sport. Cara was instrumental in the founding of the North American Ingenious Games and was the founder the National Aboriginal Coaching School. Her years of advocacy work on behalf of indigenous athletes has positively impacted the future of sports.
Allan Ferchuk- Multisport Builder
Allan Ferchuk has devoted over 50 years of his life to sport in Alberta, with a focus on its positive outcomes on community and post-secondary education development. Ferchuk has coached hockey, both men and women and multiple levels winning national men's gold in 1977,79 and 80. He has served multiple voluntary leadership roles including President of the Alberta Colleges Athletic Conference and the Canadian Colleges Athletic Association and chair Hockey Development Canada. Allan was key to the introduction of women's hockey and soccer into the Alberta Colleges. He has volunteered his time to many community efforts including director on the Board of 2019 Canada Winter Games and Chairperson of the prime Games legacy, Central Sport.
Greg Peterson- Football Builder
Greg Peterson truly embodies the sport of football. He was born and raised in Calgary and spent his entire minor football career playing in the Calgary minor football system. After his college football career at Brigham Young University, he was drafted by the Calgary Stampeders and spent his entire nine years as a player with the Stampeders. In 1990 he was a CFL All Canadian All Star and in 1992 he was a Grey Cup Championship. Upon his retirement he spent more than 30 years coaching and managing amateur football in Calgary. He was one of the initiators and a driving force in the multimillion-dollar construction of the three artificial turf fields, the stands, locker rooms, and amenities at Shouldice Athletic Park. He and Tony Spoletini were also the initiators and forces behind the construction of the indoor dome at Shouldice Athletic Park. Rounding out his sports career he has served as the color commentator and analyst on the Calgary Stampeder radio broadcast for the past 26 years.
Lauralyn Radford- Multisport Builder
Red Deer native, Lyn Radford, has made a name for herself in the sporting community. She has dedicated her life to bringing world class sporting events to her community and rallying those around her into action to make these events a success. Some of the events she is responsible for include the 2004 & 2012 Scotties Tournament of Hearts, 2006 Alberta Summer Games, 2013 inaugural Tour of Alberta Cycling race, and the 2019 Canada Winter Games. She is past board member of Speed Skating Canada and currently sitting as a board member of the Canada Game's Council.
1991-1994 Olds Grizzlys- Hockey Team
The Taber Golden Suns moved to Olds and became the Grizzlys for the 1981-82 season and in their 10th season in Olds they won their first AJHL Championship. The first of 3 AJHL Championships in a row! The Olds Grizzlys remain as one of only 2 teams to win the AJHL Championship 3 years in a row, 1991-92, 1992-93, 1993-94. Coached and managed by Bob Clark, Chris Stewart, and Cliff Murphy for all 3 championships.
Wilf Brooks- Achievement Award
One of Wilf's strongest assets in community has been to use sport as a means for helping others achieve their goals. Wilf has a passion for identifying community strengths and resources and leveraging these to benefit others. Often navigating from his position in the local business community, Wilf has invested his energy, knowledge, and enthusiasm into countless initiatives over the past 60 years. From one time pilot projects to enduring organizations, he is proud to have served in the following: collaborating in the founding of Sport Central, partnering in the creation of the Calling Lake Hockey program and development, and supporting countless initiatives with Hockey Alberta, sharing leadership of the 'Rink of Dreams' project. A great deal of his learning came from time spent, focused in Calling Lake and other remote communities.
Mark Stephen- Bell Memorial Award
Mark Stephen's voice is known to many as one of the voices of the Calgary Stampeders. Since 1996 Stephen has done play by play of Calgary Stampeder games with former Stampeder Greg Peterson to form the longest serving broadcast tandem in CFL history. Mark has also been the national broadcaster for four Grey Cup games. He also broadcast Calgary Roughnecks for Shaw TV, did play-by-play for the Triple-A baseball Calgary Cannons and the Western Hockey League Calgary Wranglers as well as various Calgary City High School Athletic Association games.
Dr. Marcus Dunsworth- Pioneer Award
Marcus Dunsworth was an amazing multisport athlete. He was a 14-time city of Edmonton Champion in Tennis and Handball. 14-time Provincial champion in Tennis, Football, Basketball, and track. Dunsworth was a 2-time Western Canada Tennis Champion, a two-time Western Canada Basketball Champion, and two-time Grey Cup finalist. To have accomplished all of this between 1918 and 1938 when travel and financial assistance to sports was difficult only goes to highlight his athletic abilities.
Premier Smith uses First Ministers' meeting to catch up with Quebec Premier Legault and Saskatchewan's Scott Moe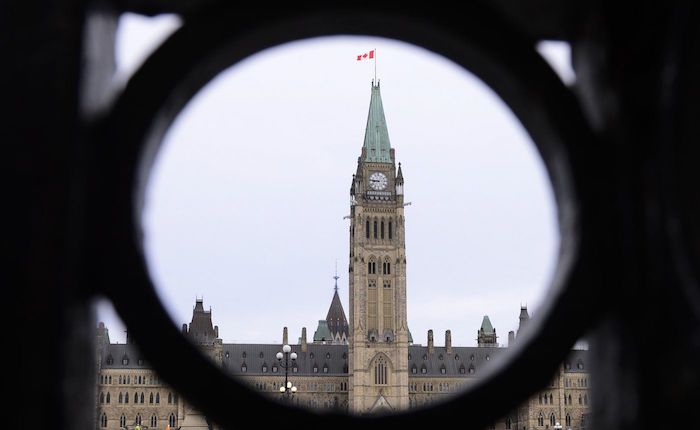 Premier Smith's update from the Ottawa
Premier Danielle Smith participated in the First Ministers' Meeting on health care in Ottawa and provided the following update.
Alberta is leading the country with major reform to health care. After 2.5 years of requests from Canada's premiers, today, the federal government presented their plan. While this is a start, overall, this is significantly lower than the premiers anticipated. Premier Smith will take this information back to her team in Alberta in advance of meeting with Canada's premiers again in the coming days.
Premier Smith also met with premiers François Legault of Quebec and Scott Moe of Saskatchewan in Ottawa in advance of today's first ministers' meeting.
Premier Smith and Premier Legault committed to a desired outcome for a health-care deal that recognizes and respects provincial jurisdiction over health delivery and leads to better outcomes for Albertans and Quebecers. Premier Smith stressed the importance of Alberta's energy sector, advocating for the importance of natural gas exploration and development both for the growth of the Canadian economy and to provide energy security for Canada's allies. Premier Legault reiterated his desire to invest in clean energy like hydroelectricity to fight climate change. Both premiers expressed concern about federal overreach and the need for the federal government to respect provincial autonomy in areas of provincial jurisdiction to better meet the needs of their citizens.
Premier Smith and Premier Moe expressed a need for flexibility in the delivery of health-care services, especially those that Alberta's Healthcare Action Plan commits to, such as reducing surgical wait times, improving ambulance services and reducing emergency room wait times. Premier Smith emphasized Alberta's progress on recovery-oriented care to support those struggling with mental health and addictions challenges and invited Premier Moe to Alberta to visit the province's recovery-oriented treatment centres. The premiers also discussed the mutual importance of the energy sector to their provinces for job growth and export to Canada's allies and a desire to work together on establishing economic corridors for trade and energy export.
Premier Smith asks Prime Minister to halt "Just Transition" legislation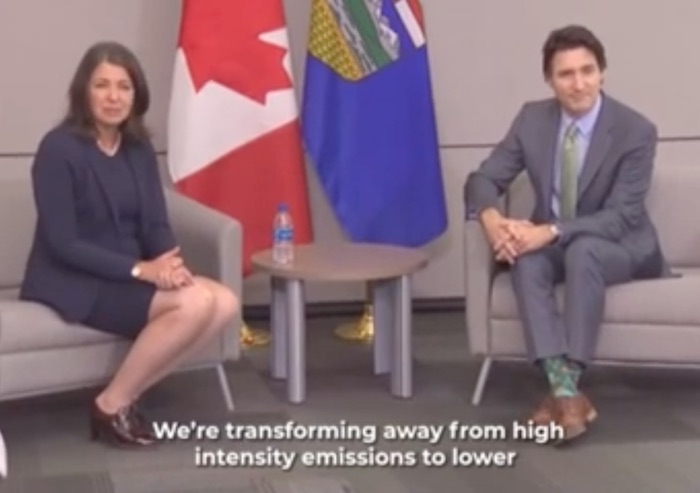 Premier Smith meets with the Prime Minister
Premier Danielle Smith met with the Prime Minister for approximately 30 minutes primarily discussing Alberta's request for the federal government to halt the introduction of its proposed 'Just Transition' legislation and other emission reduction strategies.
The Premier asked the federal government to instead work collaboratively with the Government of Alberta on developing a plan and partnership to attract energy investment and workers into Alberta's conventional, non-conventional and emerging energy sectors while reducing Canada's and Alberta's net emissions.
The Prime Minister expressed a willingness to explore this strategy with the Premier through their respective ministers and the Premier will be following up with further correspondence regarding proposed next steps in the near future.
The Premier used today's discussion to outline Alberta's expectations as to what must and must not be included in any future federal legislation, targets or policies as it relates to Alberta's energy sector. These expectations included:
Abandonment of any references to 'just transition' or any other terminology or policies that signal the phaseout of Alberta's conventional or non-conventional energy sector or workforce.
Increased workforce training and participation in all of the conventional, non-conventional and emerging energy sectors.
The need for formal consultation and collaboration with Alberta before the federal government announces or implements legislation, targets or policies that materially impact Alberta's energy sector.
Substantial increase in LNG exports to Asia through the lens of meeting targets through replacement of higher emitting fuel sources with clean Canadian LNG.
Joint federal-provincial initiatives to facilitate increased private investment in nuclear, hydrogen, bitumen beyond combustion, geothermal, lithium, helium, zero-emission vehicle, CCUS, petrochemical and other emerging technologies and fuels that make Alberta's conventional and non-conventional energy sector increasingly carbon neutral.