RCMP search for suspect leads to multiple shoot outs over 24 hours. Suspect dies from wounds.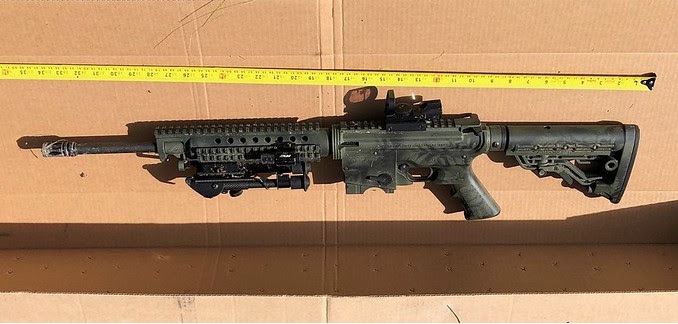 News Release from the Alberta Serious Incident Response Team and Alberta RCMP
Investigation into fatal RCMP officer-involved shooting near High Prairie continues
On June 17, the Alberta Serious Incident Response Team (ASIRT) was directed to investigate the circumstances surrounding an encounter between members of the Royal Canadian Mounted Police (RCMP) and a 29-year-old man that took place that same day near High Prairie.
The incident was ongoing when the matter was assigned to ASIRT, and while the man was not believed to have sustained any injuries, ASIRT was directed to investigate on the basis that police officers had discharged their service firearms.
Following the assignment of the matter to ASIRT, RCMP officers continued to search for the man. On June 18, the man appeared at a containment point and a confrontation occurred during which officers discharged their firearms, fatally injuring the man. ASIRT's investigation will examine not only the first encounter that resulted in the discharge of service weapons but also the circumstances surrounding the death of the man during the final encounter.
On June 17 at about 10:57 a.m., a fully-marked RCMP unit initiated a traffic stop on a red Cadillac which was associated with a 29-year-old man who had outstanding criminal warrants. The Cadillac fled from police, who did not pursue the vehicle. The RCMP officers who had attempted the traffic stop broadcast for other officers to be on the lookout for that vehicle, and at about 11:30 a.m., a different RCMP unit located the Cadillac just east of Range Road 175 about three kilometres north of Highway 679. The vehicle was stuck in the mud and partially covered with a blanket.
Two RCMP officers cleared the vehicle, which was unoccupied, and found a bag containing three different types of ammunition, as well as identification belonging to the man. Two additional police officers, one of them a Police Service Dog (PSD) handler, attended to the location. The PSD established a track and all four officers and the police dog began tracking east into thick bush for approximately three to six kilometres over about two hours. When the officers eventually encountered the man, whose identity was visually confirmed as the wanted 29 year old, the man and police exchanged gunfire. During this incident, the PSD was struck by gunfire and killed. No police officers were injured during this incident, nor was the man believed to have been struck. The officers received direction to disengage, and were removed from the area by a civilian Search and Rescue helicopter.
Additional police resources were deployed to the area, including members of the RCMP's Emergency Response Team (ERT). ERT members attended to the area of the initial incident, and again encountered the man. During this encounter, several police officers discharged their firearms. At the time, the officers believed the man had been struck. After attempts to communicate with the man or force him out of the thick bush were unsuccessful, a physical search of the area was conducted, but failed to locate the man.
After a lengthy search through dense brush spanning several hours, police made contact with the man on two additional occasions, and issued verbal commands to him. No shots were fired during these encounters, and officers were able to establish that the man did not, in fact, appear to be injured.
Police established containment around the roads in the area and continued searching for the man. On June 18, at about 11:45 a.m., two RCMP officers who were assigned to maintain containment spotted the man in a ditch on the west side of Range Road 170, about two kilometres north of Township Road 770. The officers exited their marked police vehicle and a confrontation occurred between the man and the police officers, during which both officers discharged their service firearms. The man fell to the ground in the tall grass, and additional police officers and ERT medical officers responded to the area. Medical officers attempted to treat the man, but ultimately he died at the scene. A loaded semi-automatic .22-calibre rifle, as well as a range finder, were recovered from the incident scene and have been seized as exhibits.
ASIRT's investigation will examine the actions of police during this incident, while the RCMP will maintain responsibility for the investigation of the man and his actions. As ASIRT's investigation is underway, no further information will be released at this time.
ASIRT's mandate is to effectively, independently and objectively investigate incidents involving Alberta's police that have resulted in serious injury or death to any person, as well as serious or sensitive allegations of police misconduct.
'I knew the challenges': Lethbridge police chief aware of problems before taking job
LETHBRIDGE, Alta. — It's been a particularly tough year for the police chief of Alberta's third-largest city
But Lethbridge Police Chief Shahin Mehdizadeh says he was fully aware of the problems before he took the top job in July 2020.
"I knew the challenges in this department and in this city, and a lot of these events that are bringing a lot of bad press to this department," Mehdizadeh said in a sit-down interview with The Canadian Press. "I didn't come to this with blind eyes."
The police service has faced numerous controversies in recent years.
Last year, two officers were temporarily demoted after a review determined NDP provincial legislature member Shannon Phillips, while environment minister in 2017, was surveilled and photographed at a diner. The officers involved were concerned about changes Phillips was making regarding off-highway vehicles at nearby wilderness areas.
Separately, five officers and one civilian were investigated on allegations of conducting improper database searches on Phillips while she was in cabinet.
The force was also criticized in May 2020 for the violent takedown of a citizen wearing a "Star Wars" storm trooper costume and brandishing a toy laser blaster. An independent review said the officers had not acted inappropriately.
"There were some events that have really put a lot of negative publicity on this organization," said Mehdizadeh, "but a lot of these events … range from 2016 to 2018, and any recent allegations are being tied to the historic events.
"As a result we have many investigations."
Alberta Justice Minister Kaycee Madu ordered the Lethbridge Police Service to clean up its act or risk being dissolved. He demanded an action plan to address everything from recruiting to oversight to changing the department's internal culture.
"If I concluded that the leadership of the force and the commission were not serious about fixing the problem, I was prepared to do what was necessary to fix the problem," Madu said earlier this week.
"They came back to me with an action plan that was acceptable and I approved."
Madu said he will wait to see what a public inquiry by the Alberta Law Enforcement Review Board turns up before he decides how successful the changes have been.
He noted that he doesn't blame the current chief.
"Let me be blunt … I think it stems from the previous leadership there," said Madu. "I am very sympathetic to the current chief.
"He was brought in during the midst of these problems. None of these problems are part of his watch. This is a problem that he inherited."
The president of the Lethbridge Police Association said the problems that became public were years in the making.
"It's been miserable for us for more than the past year. I think what most people don't understand is what they're seeing now is predicated on things that came before. Nothing happens in a vacuum," said Jay McMillan.
"Many of our own internal issues were born of an era where there was different leadership in place, or a lack of leadership. It sort of created a culture here that was not healthy and probably not able to withstand any external pressures."
McMillan said most of the controversies don't reflect the service now. He supports the changes outlined in the provincial action plan, he said.
"You're able to look in the mirror as an organization or an individual and identify some things you can do a little bit better," he said.
"A lot of the things in that action plan were things that were set up to take place already, so it wasn't in response to the public attention. It wasn't in response to the justice minister … the organization had already realized there were some changes that needed to be made."
Mehdizadeh said his job is to "fix these things."
"This is very historic stuff and it wasn't fair to really judge the organization based on what went on a few years ago," he said.
"I don't have the authority to make arbitrary decisions to get rid of people or fire people. There are legal processes that we have to adhere to, that we have to be respectful of and compliant to move forward."
Sanctions have been taken against a number of officers as a result of the circulation of inappropriate images, reportedly including pictures of senior staff pasted onto the bodies of characters from the animated "Toy Story" movies.
This report by The Canadian Press was first published Dec. 4, 2021.
Bill Graveland, The Canadian Press
Federal minister to provide money to fight aquatic invasive species in mountain parks
BANFF, Alta. — Federal Environment Minister Steven Guilbeault is expected to announce funding today to fight aquatic invasive species in five mountain national parks in Alberta and British Columbia.
Guilbeault, who is scheduled to be in Banff, Alta., plans to make almost $15 million available over the next five years to prevent and manage invasive species in Banff, Jasper, Kootenay, Waterton Lakes and Yoho national parks.
The money is to be used for both prevention and education programs.
Environment and Climate Change Canada says the parks are vulnerable to non-native species of mussels as well as the parasite that causes whirling disease in fish.
Invasive species can be spread by people enjoying mountain rivers and lakes.
The work is also expected to support the recovery of species at risk, including westslope cutthroat trout, Athabasca rainbow trout and bull trout.
Guilbeault is in Banff after spending Friday in Calgary meeting with oil industry representatives and Alberta Environment Minister Jason Nixon.
This report by The Canadian Press was first published Dec. 4, 2021.
The Canadian Press