Alberta leads the country in eliminating surgery backlog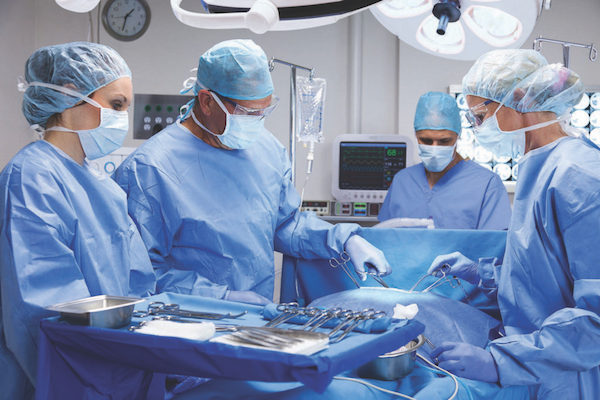 Surgery volumes exceed pre-pandemic levels
Alberta is now exceeding 100 per cent capacity for surgical volumes and is leading the country in eliminating the COVID-19 surgical backlog.
While all provinces delayed surgeries during the pandemic, Alberta delayed fewer surgeries than other provinces. For example, in the second wave, five to 10 per cent of surgeries were delayed in Alberta compared with between 30 and 60 per cent of surgeries postponed in Ontario, British Columbia and Quebec.
"As the pandemic recedes, Alberta's government will be pushing as hard as we can to ensure that any delayed surgeries are completed as fast as possible. Thanks to the incredible dedication of surgical teams in AHS and at chartered surgical facilities, we are getting closer and closer to that goal."
Through its surgical recovery plan, Alberta expects to recover faster than many other provinces.
The surgical recovery plan is now integrated into the Alberta Surgical Initiative, which will provide all Albertans the surgeries they need within recommended wait times. The initiative is improving and standardizing the entire surgical system from the time patients seek advice from their family doctor, to when they are referred to a specialist, to their surgery and rehabilitation.
"By carefully reducing the number of surgeries being performed in response to the pandemic, we were able to increase capacity in our intensive care units and ensure people with COVID-19 who needed ICU care could receive it. Now, we are able to focus on our surgical recovery plan. I am so proud of our teams who continue to work hard to ensure Albertans have high-quality care."
Quick facts
Throughout the 2020-21 fiscal year, surgical teams were able to support surgical activity at about 92 per cent of pre-COVID levels, with more than 268,000 surgeries completed compared with approximately 290,000 in the previous fiscal year.
About 40,000 surgeries were delayed in Alberta over the past 16 months:

25,000 surgeries were delayed in the first wave in the spring of 2020. All delayed surgeries from the first wave have been completed.
5,000 surgeries were delayed in the second wave during fall 2020 and early winter 2021. Another 10,000 surgeries were delayed in the third wave beginning in April 2021.
95 per cent, approximately 12,000, of these surgeries have been rebooked.

No emergency or urgent surgeries were delayed or postponed during the pandemic.
Most cancer surgeries continued during Alberta's pandemic response.
McDavid scores shootout winner as Oilers down Predators for third straight victory
EDMONTON — Connor McDavid scored the shootout winner and added a goal in regulation as the Edmonton Oilers continued their efforts to dig their way out of a recent slump with a 3-2 victory over the Nashville Predators on Thursday night.
Evan Bouchard also scored for the Oilers (21-16-2) who have now won three straight after going 2-11-2 in their previous 15 games. Edmonton goalie Mikko Koskinen stopped all three Nashville shootout attempts.
Filip Forsberg, Matt Duchene scored for the Predators (27-14-4), who lost for the first time in four games.
The Oilers tied an unfortunate franchise record by allowing the game's first goal for the 11th straight game when Forsberg scored his 200th career goal high to the stick side past Koskinen five minutes into the opening period. It was also the 26th time in the last 30 games Edmonton has allowed the first goal of the game.
Edmonton got that back with 32 seconds to play in the first as McDavid blazed up ice and cut past defender Matt Benning before putting his 21st of the season through the legs of Nashville goalie Juuse Saros.
The Predators went ahead 2-1 seven-and-a-half minutes into the second when Duchene elected to shoot on a two-on-one, notching his 21st high to the glove side past Koskinen.
The Oilers pulled even again with five minutes to play in the middle frame as a long point shot from Bouchard hit a defender and caromed into the net.
There was no scoring in the third, with Edmonton outshooting the Preds 43-26 through regulation time.
Overtime saw Darnell Nurse hitting a post for the Oilers.
The Oilers begin a three-game road trip in Montreal on Saturday. The Predators are off until Tuesday, when they will host to the Vancouver Canucks.
Notes: The Oilers, who signed forward Evander Kane to a one-year deal earlier in the day, have also been getting some of their top players back in the lineup. Ryan Nugent-Hopkins returned from injury Tuesday, and Zach Hyman returned from COVID protocol Thursday… Still out of the lineup for Edmonton were Mike Smith (thumb) and Tyson Barrie (upper body)… Missing for Nashville were Dante Fabbro (upper body) and Eeli Tolvanen (COVID-19 protocol)… Predators 24-year-old forward Tanner Jeannot came into the game leading the NHL in rookie scoring with 13 goals and his team in hits with 141.
This report by The Canadian Press was first published Jan. 27, 2022.
The Canadian Press
CP NewsAlert: Calgary police issue Amber Alert for missing two-year-old boy
Calgary police have issued an Amber Alert for a two-year-old boy.
They say Hawkin Gerald Thomas was taken from the downtown area at about 2:30 p.m. following a supervised visit with his mother, 40-year-old Tamara Jean Vanderjagt.
Police say they are concerned for the boy's welfare.
Hawkin is described as white with blond hair and he was last wearing a red sweater, green boots and dark camouflage sweat pants.
His mother is described as white with blue eyes, bright short red hair, about five foot four inches tall, and she was wearing a black hoodie and red pants.
She was driving a brown 2017 Mitsubishi Outlander with Alberta licence plate NLY 991.
The car was last seen heading west on 9 Avenue Southeast going past Blackfoot Trail.
The Canadian Press