Alberta company says it has found the energy solution the world has been waiting for
From Eavor Technologies Inc.
Eavor demonstration project near Rocky Mountain House proving ability to produce steady and dependable heat and electricity with NO emissions. The world's first truly scalable form of Green Baseload Power demonstrated by Eavor Technologies Inc.
Stars and RCMP chopper combine to rescue fallen ice climber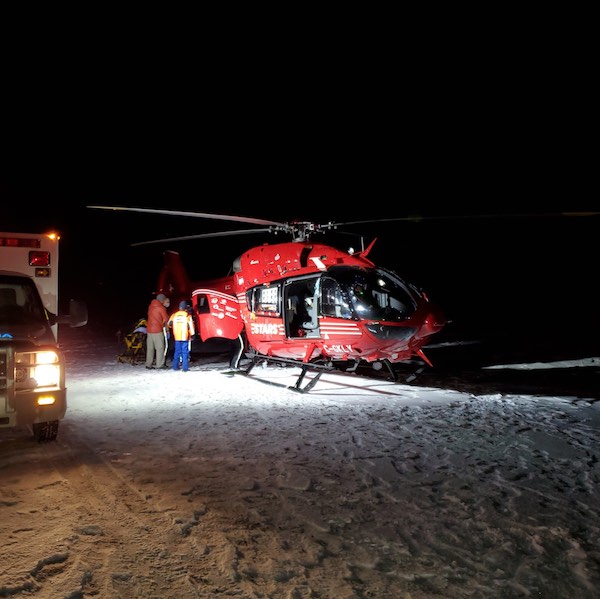 From Alberta RCMP media relations
Rocky Mountain House RCMP assist in ice climber rescue
On Jan. 15, 2021 at approximately 2:30 p.m., Rocky Mountain House RCMP received a dispatch of a fallen ice climber who was in need of medical assistance. A SOS beacon was received locating the fallen ice climber at the south end of Abraham Lake. Reports indicate the climber fell approximately 12 meters.
RCMP, EMS, Search and Rescue (SAR), STARS air ambulance and Alstrom Helicopters assisted in the rescue. The 28 year old injured male was long line rescued from his location by Alstrom Helicopters, with the assistance of Rocky Mountain House SAR. STARS was waiting nearby and further transported the injured male to a Calgary hospital.
The rescued male suffered serious but non life threatening injuries as a result of his fall.
Everyone who assisted in this rescue should be commended for their professional, swift and incredible work. Well done!
Oilers place goalie Mike Smith on long-term injured reserve
EDMONTON — The Edmonton Oilers have placed goaltender Mike Smith on long-term injury reserve, and have re-assigned Olivier Rodrigue to the club's taxi squad, pending quarantine protocols. 
Edmonton announced both transaction on Friday, but did not elaborate on Smith's injury.
Smith was supposed to start Thursday's game at home against the Vancouver Canucks but was declared inactive, forcing Mikko Koskinen into back-to-back starts. 
Smith and Koskinen were expected to split duties in the Oilers net this season. Edmonton re-signed the 38-year-old Smith to a one-year contract in the off-season. 
Rodrigue had been with the Graz99ers of the Austrian National League.
The 20-year-old Rodrigue was drafted 62nd overall by Edmonton in 2018.
This report by The Canadian Press was first published January 15, 2021.
The Canadian Press