Alberta Blue Cross shares essential summer safety tips
Alberta Blue Cross shares essential summer safety tips
Plan ahead to be prepared for any situation this summer.
COVID-19 has impacted summer vacation plans for many Albertans, but the pandemic has not stopped the arrival of summer. While large social gatherings and events like festivals and outdoor concerts aren't permitted this summer, the opportunity to spend time outdoors and travel within Alberta, responsibly, are still possible.
As a partner in Alberta's preventable injury campaign and an organization committed to health promotion, Alberta Blue Cross® encourages Albertans to have a safe and active summer.
Practice sun safety.
Avoid sunburns by using a broad-spectrum sunscreen with a Sun Protection Factor (SPF) of at least SPF 30. Generously apply it 20 minutes before going outside and reapply frequently. Don't forget about your face and eyes—protect them by wearing a hat and sunglasses with an ultraviolet (UV) A/B certified seal. With kids being more sensitive to sunlight, it's even more important they're protected when outside for even short periods.
Stay cool and hydrated.
Sunshine and high temperatures increase your risk of sunstroke and heat exhaustion—both can be life-threatening for infants, young children and seniors. To avoid this, stay hydrated by drinking lots of water and other non-alcoholic, non-caffeinated drinks. Increase your vitamin C intake—it provides a natural defense against heat stroke, exhaustion and heat rash. Make sure to stay cool by wearing light-coloured clothing and seeking shade often. Never leave children or pets inside a parked vehicle.
Be safe in and on the water.
No one plans to drown, but dozens of individuals die in water-related accidents each year in Alberta. According to the 2019 Alberta Drowning Report, 220 people drowned in Alberta from 2012 to 2016, with males aged 20 to 34 years as the most common victims of drowning-related deaths. Most drownings occur in lakes, ponds and rivers—even as a good swimmer, you're at risk of drowning if you fall out of a boat or are in an accident. When visiting bodies of water, make sure you and your family are equipped with life jackets that are properly fitted to each individual and approved by Transport Canada. Children can drown in as little as one inch of water, so never leave them unsupervised in or near water.
Avoid pesky bug bites.
While the risk of getting a serious disease from a bug bite in Alberta is low, it's important to be aware of the risks and how you can prevent them. Cover up with light-coloured clothing, which is less attractive to mosquitoes and allows you to see ticks easily. Wear insect repellent but apply sunscreen first. After being outside, check yourself, your children and pets for any ticks or bug bites. If you find a bug bite, follow proper instructions on how to treat it quickly to reduce the chance of infection or disease. You can find treatment instructions on MyHealth.Alberta.ca or by calling Health Link at 811.
Play safe.
Make sure that backyard and playground equipment is properly secured to the ground and teach children how to play safely. Be especially careful around recreational trampolines, which are an increasing cause of injuries among children—and ensure all trampolines contain a safety net enclosure and that any use is closely supervised. Always supervise children playing outdoors if they're under the age of 12—be attentive and close enough to act if needed.
Wear a helmet.
To protect yourself from injury, it's important to wear a helmet when on a bicycle, skateboard, scooter, rollerblades or when operating a motorized off-road vehicle. Alberta laws require helmets be worn by anyone operating a motorcycle or an off-highway vehicle—for example, an all-terrain vehicle (ATV). Albertans under the age of 18 are also required to wear a helmet when cycling. Make sure your helmet fits properly—it should be snug, level front-to-back, sit an inch above your eyebrows and allow for two fingers to fit between your chin and the strap.
Camp safely.
Plan to be prepared for any situation when camping. Bring a map of the area and make sure someone is aware of where you're headed—especially if there's no cellphone service. Bring clothing for all types of weather and always pack an emergency kit with a flashlight, a radio, extra batteries and medical supplies. Avoid attracting bears to your campsite by keeping food, garbage and recyclables inside a vehicle, hard-sided trailer or bear-proof container. In the event of severe weather, seek shelter in a building or metal-roofed vehicle—never stay in your tent. Prior to your trip, be sure to check the Alberta Parks website for the most up-to-date information on camping regulations.
Keep food fresh.
Prepare and handle foods safely to reduce the risk of food-borne illness—especially when barbequing or going outdoors. Wash your hands thoroughly before and after handling food. Use hand sanitizer if you're camping or on a picnic. Keep food between 4 and 6°C to prevent growth of harmful bacteria. Discard any cooked food that has been at room temperature for more than two hours. When in doubt, throw it out!
Protect your home.
Follow some of these simple tips to decrease the possibility of someone breaking into your home while you're away on vacation—even short ones. If you're going to mention your trip on social media, make sure your profile and status updates are set to private. While away, avoid geotagging pictures or adding the location to public status and story updates. Have friends or neighbours check in on your home to bring in mail and packages or identify any leaks or hazards that could become bigger problems. As a bonus, their visits will make potential criminals think your house is occupied.
Keep an eye on the sky.
As you know, summer weather conditions in Alberta can change fast. Severe weather like heavy winds, hailstorms or tornadoes can be life-threatening. Before you head out, be sure to check the weather forecast. While outside, keep an eye on the sky, keep a radio or your mobile phone nearby to be aware of any weather advisories, and have a plan to find shelter should a storm arise.
'Short-term pain': Group of Alberta lawyers escalate job action over legal aid cases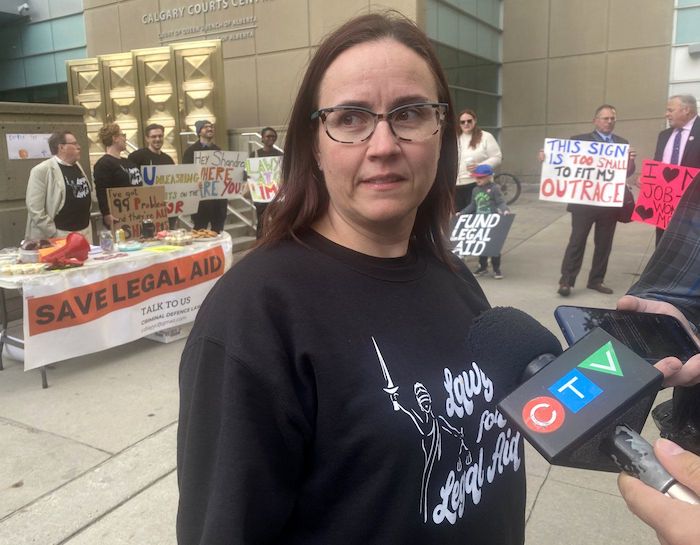 By Bill Graveland in Calgary
Alberta criminal defence lawyers are taking another step in their dispute with the provincial government over the amount of compensation paid by Legal Aid Alberta.
Organizations representing lawyers in Edmonton, Calgary, Red Deer and southern Alberta began job action Aug. 8 by refusing to accept certain bail and duty counsel files from legal aid.
The lawyers also began refusing certificates for new cases for the most serious criminal charges, including sexual offences, firearms-related crimes and homicides.
Beginning Monday, they say all services will be withdrawn.
"We're going to stop taking all certificates. That will include some our prior job actions still allowed us to take certificates for people who are already existing clients and there will be a very, very limited set of circumstances now where our members will do that," said Kelsey Sitar, vice-president of the Criminal Defence Lawyers Association in Calgary.
"The default will be: 'We are just not taking any new work from legal aid until the problem is fixed.'"
Sitar made her comments at a rally in front of the Calgary Courts Centre on Friday that drew about 50 criminal defence lawyers.
A table with a sign reading "Save Legal Aid" offered bake goods for sale. Lawyers carried signs reading "Access 2 Justice Must be Equal." Another read: "This sign is too small to fit my outrage."
"This is drastic. I mean, what we were doing up until now is something I know has happened in Ontario before, it did not last long, frankly," Sitar said.
"I can tell you that none of us want to be out here. We all want to be in there doing our jobs."
Justice Minister Tyler Shandro has said nothing is going to be done until a review of the Legal Aid Alberta administrative system is complete, which is scheduled for next month.
He said any budget changes for legal aid wouldn't happen until next year.
Sitar said the ministry chose to undertake "an incomplete and, frankly, useless review" at a time when the governing United Conservative Party is about to go through a leadership change.
"So we have to act now and they need to respond now," she said.
Sitar said she understands the people being affected the most by the job action will be people with lower incomes who need the services to afford legal representation.
"It's short-term pain right now," she said. "It's really unfortunate, but I can tell you that most of the people I've talked to on the street who are finding themselves caught up in this understand and are grateful that we're doing it."
Alberta Opposition NDP Leader Rachel Notley said the problem has been growing over the last three years. She said when her party was in power, it committed to additional funding for Legal Aid, but the UCP government backtracked.
"We simply cannot be asking the Legal Aid bar to be doing what we are asking them to do at the rate that we are asking them to do it," she told reporters.
"We have the lowest funding for Legal Aid in the country. What that means is that we don't have equal access to justice. It undermines the integrity of our justice system and, overall, it undermines our ability to build a sense of community safety, community security and an overall respect for the rule of law — all of which are important to community health and economic growth.
"It sounds like a niche issue, but it's not. It actually has knock-off effects to very, very important issues that affect all of us. So, the government needs to come to the table and negotiate decently with these lawyers."
This report by The Canadian Press was first published Sept. 23, 2022.
— With files from Colette Derworiz in Calgary.
'Kind of like carnies': International balloon festival returns to High River, Alta.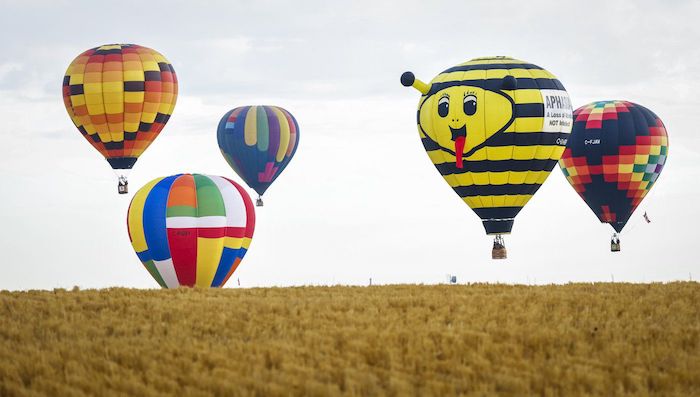 By Bill Graveland in High River, Alberta
The windswept prairie east of the Rocky Mountains seems an unlikely spot for a hot-air balloon festival, but the town of High River, Alta., is celebrating the event's 10th year.
More than 20 brightly coloured balloons — including a pink elephant, a black and yellow bee and the purple and yellow Eye of Ra, named after the Egyptian sun god — took advantage of a lull in the prevailing wind this week to get some up-in-the-air time to mark the opening of the Heritage Inn International Balloon Festival.
"We get about 50 per cent of our flights off. Weather impacts us everywhere," said event director Jamie Kinghorn, who is also a town councillor.
"This is our 10th. We started in 2013 partly because of the flood that happened. I'd been to a number of balloon events and thought this might lift the spirits of the folks in town."
The town of 12,000 just south of Calgary gained an international profile in 2013 when flooding in parts of southern Alberta caused billions of dollars in damage.
High River was one of the hardest-hit communities. Entire neighbourhoods were under water for weeks.
"I called in a bunch of friends from the balloon community and they knew what happened, so 20 of them came into High River and we put on a balloon festival that was actually amazing for the community," Kinghorn said.
"That was sort of the first major thing toward recovery after the flood and we've been doing it every year since at the end of September."
Kinghorn said the festival is a boon to local tourism and there's not a hotel room to be had in town.
He had his first hot air balloon over the city of Calgary in 1988. A year later he was a balloon pilot.
There are 23 balloons participating this year, including some from the United States, Belgium and the United Kingdom.
Kinghorn said it's a pretty small community.
"We tend to meet at various events. We tend to travel. We're kind of like carnies to some extent," he said with a laugh.
"We travel around to different cities to different balloon events."
Alan Davidson, who has been involved in the sport since 1977, is one of the volunteers.
He said those who get involved tend to stick with it.
"The amazing thing is that there are still seven or eight of the people I was ballooning with in the '70s and early '80s who are still here at this event," said Davidson. "They've been working with balloons for over 40 years."
Kinghorn, who is the owner and pilot of the Eye of Ra, was the first balloon in the air Thursday morning after a Wednesday evening flight was cancelled due to the wind.
"My God am I glad we got this off," he said as the flight came to an end.
The festival runs through Sunday.
This report by The Canadian Press was first published Sept. 23, 2022.