AHS Warns Of Respiratory Virus Outbreak
Due to an increased number of Respiratory Syncytial Virus (RSV) outbreaks and positive lab specimens across the province, Alberta Health Services (AHS) is reminding all Albertans to practise good respiratory etiquette and refrain from visiting infants, children and vulnerable individuals when sick.
"We have already seen more RSV outbreaks and positive lab specimens across the province at this point in the season than in the 2015/16 season, in full," says Dr. Gerry Predy, Senior Medical Officer of Health for AHS. "Though not unusual for us to see this illness each season, the volume is higher, which means heightened risk, particularly for infants."
RSV usually causes the same symptoms as a bad cold, including a cough, stuffy or runny nose, mild sore throat, earache and fever. However, in some people, especially infants and young children, RSV may lead to more severe respiratory complications requiring hospital care, such as bronchiolitis (an infection of the small airways) and pneumonia.
Because RSV is not preventable by vaccine, it is the responsibility of those around the vulnerable to take preventative measures.
"What we ask of you is simple: if you're feeling sick, don't visit the vulnerable. This includes infants, seniors and those with compromised immune systems," says Dr. Predy. "Also, please remember to wash hands frequently and stay home from work, school and social activities when sick."
As of Jan. 17, there have been 14 RSV outbreaks confirmed in the current respiratory illness season, as compared to nine RSV outbreaks confirmed in the full 2015/16 season.
As of Jan. 14, more than 2,000 positive lab specimens have been confirmed for RSV, as compared to approximately 1,300 in the full 2015/16 season. Because some people may be tested multiple times, positive lab specimens should not be misunderstood as representing individual patients.
Albertans can find more information on RSV at: https://myhealth.alberta.ca/health/pages/conditions.aspx?hwid=hw176517&#hw176519
Red Deer Hospital Lottery announces $25,000 winner of the Early Bird Draw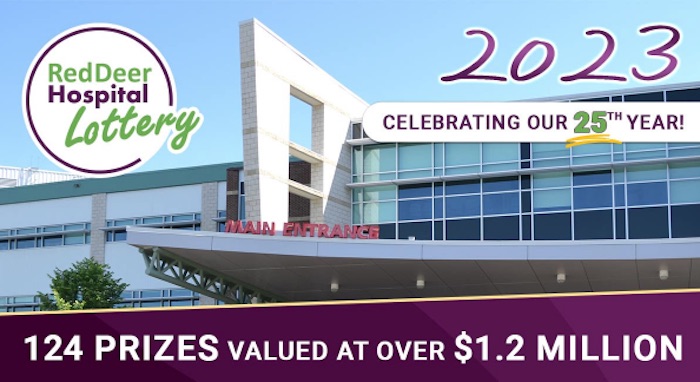 Congratulations to GAGE & VICTORIA SEAVILLEKLEIN of RED DEER,
the lucky winner of our $25,000 Early Bird Draw!
It's not too late to see your name on the Winners' List. But you'll have to hurry – tickets are only on sale until June 19th.
Our Grand Prize Sorento Custom Dream Home prize package is valued at $1,126,465 including furnishings from Urban Barn!
CHECK OUT OUR GREAT TICKET PACKAGES
1 for $25 • 5 for $75 • 10 for $125 • 25 for $250
Over $1.2 Million in prizing to be won!
Win half of an increasing jackpot of up to $1,000,000
$10 EACH | 10 FOR $25
25 FOR $50 | 50 FOR $75
Win half of the current jackpot of:
If you've ordered your tickets prior to receiving this email, thank you and good luck! If you know someone who would like to show their support for our hospital,
click below to forward this email to a friend.
Thank you so much for your support, and best of luck in the draws.
CALL RED DEER & AREA OR TOLL FREE
403.340.1878 1.877.808.9005
After yearslong delay, DEA revokes license of wholesale drug distributor over opioid crisis failures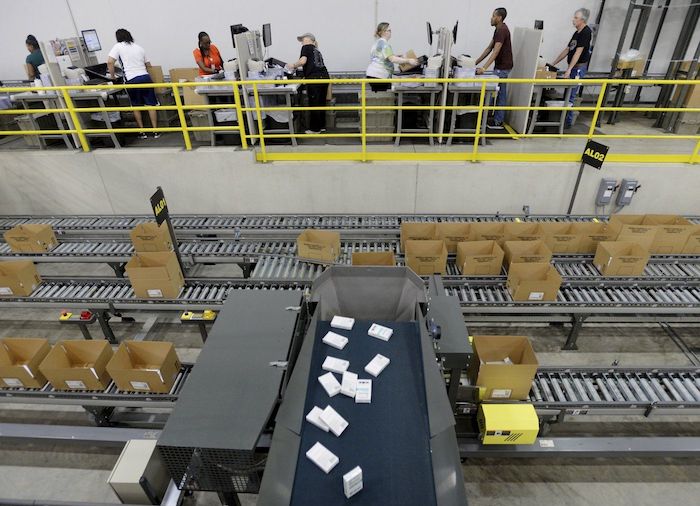 By Joshua Goodman And Jim Mustian
The U.S. Drug Enforcement Administration stripped one of the nation's largest drug distributors of its license to sell highly addictive painkillers Friday after determining it failed to flag thousands of suspicious orders at the height of the opioid crisis.
The action against Morris & Dickson Co. that threatens to put it out of business came two days after an Associated Press investigation found the DEA allowed the company to keep shipping drugs for nearly four years after a judge recommended the harshest penalty for its "cavalier disregard" of rules aimed at preventing opioid abuse.
The DEA acknowledged that the time it took to issue its final decision was "longer than typical for the agency" but blamed Morris & Dickson in part for holding up the process by seeking delays due to the COVID-19 pandemic and its lengthy pursuit of a settlement that the agency said it had considered. The order becomes effective in 90 days, allowing more time to negotiate a settlement.
DEA Administrator Anne Milgram said in the 68-page order that Morris & Dickson failed to accept full responsibility for its past actions, which included shipping 12,000 unusually large orders of opioids to pharmacies and hospitals between 2014 and 2018. During this time, the company filed just three suspicious order reports with the DEA.
Milgram specifically cited testimony of then-president Paul Dickson Sr. in 2019 that the company's compliance program was "dang good" and he didn't think a "single person has gotten hurt by (their) drugs."
"Those statements from the president of a family-owned and operated company so strongly miss the point of the requirements of a DEA registrant," she wrote. "Its acceptance of responsibility did not prove that it or its principals understand the full extent of their wrongdoing … and the potential harm it caused."
Shreveport, Louisiana-based Morris & Dickson traces its roots to 1840, when its namesake founder arrived from Wales and placed an ad in a local newspaper selling medicines. It has since become the nation's fourth-largest wholesale drug distributor, with $4 billion a year in revenue and nearly 600 employees serving pharmacies and hospitals in 29 states.
In a statement, the company said it has invested millions of dollars over the past few years to revamp its compliance systems and appeared to hold out hope for a settlement.
"Morris & Dickson is grateful to the DEA administrator for delaying the effective date of the order to allow time to settle these old issues," it said. "We remain confident we can achieve an outcome that safeguards the supply chain for all of our healthcare partners and the communities they serve."
Morris & Dickson's much larger competitors, a trio of pharmaceutical distributors known as the Big Three, have already agreed to pay the federal government more than $1 billion in fines and penalties to settle similar violations. Cardinal Health, AmerisourceBergen and McKesson also agreed to pay $21 billion over 18 years to resolve claims as part of a nationwide settlement.
While Morris & Dickson wasn't the only drug distributor who the DEA accused of fueling the opioid crisis, it was unique in its willingness to challenge those accusations in the DEA's administrative court.
In a scathing recommendation in 2019, Administrative Law Judge Charles W. Dorman said Morris & Dickson's argument that it has changed its ways was too little, too late.
Anything less than the most severe punishment, the judge said, "would communicate to DEA registrants that despite their transgressions, no matter how egregious, they will get a mere slap on the wrist and a second chance so long as they acknowledge their sins and vow to sin no more."
But as the ensuing years passed, neither the Biden-nominated Milgram nor her two predecessors took any enforcement action. Past DEA officials told the AP such decisions usually take no more than two years.
As the pills kept flowing, Morris & Dickson attempted to stave off punishment, appealing directly to Milgram to order a reopening of the proceedings, arguing it would introduce new evidence showing it had implemented an "ideal" compliance program with the help of a consultant who is now second-in-command at the DEA, Louis Milione. The DEA said that Milione has recused himself from all agency business related to Morris & Dickson.
Milione retired from the DEA in 2017 after a 21-year career that included two years leading the division that controls the sale of highly addictive narcotics. Like dozens of colleagues in the DEA's powerful-but-little-known Office of Diversion Control, he went to work as a consultant for some of the same companies he had been tasked with regulating.
Milione was hired by Morris & Dickson in 2018 as part of a $3 million contract and later testified that the company "spared no expense" to overhaul its compliance systems, cancel suspicious orders and send daily emails to the DEA spelling out its actions.
A footnote of the DEA's order Friday said that since Milione returned to the DEA as principal deputy administrator in 2021, he has not had any contact with Milgram or other agency staff about the Morris & Dickson case due to his prior involvement with the company.
___
Goodman reported from Miami, Mustian from New York. Contact AP's global investigative team at [email protected].