A-A-Ron: Sacked For Defying The Needle Gang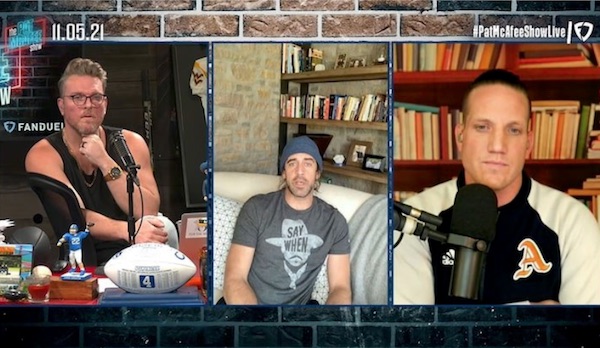 "I realize I'm in the crosshairs of the woke mob right now. So, before my final nail gets put in my cancel-culture casket, I think I would like to set the record straight on so many of the blatant lies that are out there about myself." —Aaron Rodgers
There are two popular media takes about Aaron Rodgers not taking Joe Biden's favourite vaccines for Covid-19. The first— and easiest to find agreement— is that Rodgers was less than candid about his unique approach to combatting Covid-19 under the NFL protocols made up last year— and still unreasonably clinging to the game.
Rodgers says the Packers knew his vaccination status. "I have followed every single protocol to a T… My daily routine is the routine of an unvaccinated person." But to those who've seen NBA stars like Kyrie Irving and Andrew Wiggins publicly declare their opposition to getting jabbed, Rodgers kept his unique position on the down-low.
It seems that, after watching the NBA dudes getting slammed by FauciLand, he preferred to soft-pedal his opinions. Plus there were all his sponsors. Not good optics.
He clearly has opinions to voice. "They're purely trying to out and shame people," he told former teammates Pat McAfee and A.J. Hawk. "Like needing to wear a mask at a podium when every person in the room is vaccinated and wearing a mask – makes no sense to me.
"If you got vaccinated to protect yourself from a virus I don't have as an unvaccinated individual then why are you worried about anything I could give you?" Nice try. In a game governed by rules, the liberal media mob feels Rodgers tried to add a fifth down or a ten-point TD. Rodgers should have done like Irving et al. and let these sincere objections rip rather than get exposed later.
The second take on Rodgers (engaged to actress Shailene Woodley, who prides herself on making her own medicines) is that he consulted popular podcast host Joe Rogan about alternative therapies when he learned he had an allergy to something in the mRNA vaccines. (Rodgers conversion to alternative lifestyles by his significant other is reminiscent of Colin Kaepernick— another Bay Area resident—going full BLM after being indoctrinated into Woke World by the new woman in his life.)
The Rogan consult is the take getting him most of the grief and caused his healthcare sponsor to drop him as a spokesman. As Matt Walsh tweeted, "The sports media are far, far angrier at Aaron Rodgers for not getting vaccinated than Deshaun Watson for sexually assaulting dozens of women, or Henry Ruggs for driving 156 mph while drunk and killing someone."
For the Media Party, who demand obeisance to Woke narratives about masks, lockdowns, single-, double-, triple-xaxxing and crushing scientific inquiry, consulting a standup comedian and former MMA figure is off-script. They will countenance late-night (formerly) comedy show hosts talking Covid. But dissent? Science, to them, is carved in stone. Rogan is a poison.
Rogan, however, is curious about the science around a virus that has stumped the clever folks in white coats. He asks questions. His podcasts go into depth (often two-hours plus) with people who have credentials or are simply quoting public research. He doesn't pretend to be an expert. He simply—no better way to say it— speaks his truth and reads the material.
This unconventionality represents a mortal threat to people who brought you Covid: The Musical! It would be no exaggeration that the millions in Rogan's audience for his podcasts— and a string of alternative guests— has thrown shade on the litany of false narratives generated by the WHO, CDC, Health Canada and their slappies in the press. Who react with anger when their mistakes are pointed out.
But Rogan is no Q-Anon phantom. Along with Russell Brand, Ricky Gervais and, increasingly, Bill Maher these alt-voices are relentless in debunking PCR tests, mask mandates, etc. A public exhausted by official propaganda about magic vaccines— and the media's willing acceptance of corrupt science— is turning to non-Hollywood personalities for guidance.
While Joe Biden's message pushed out by these sources is summed as "Comply!", the alt-hosts are more like Maher. "I know some people seem to not want to give up on the wonderful pandemic, but you know what? It's over… You shouldn't have to wear masks…vaxx, mask, pick one! You can't make me mask if I've had the vaxx… the red states are a joy and the blue states are a pain in the ass."
The results of the censorship have seen progressive cable-news media's ratings collapse by up to 68 percent (CNN) in primetime. And the thrashing in last week's off-year elections. But what does that say about Wolf Blitzer's feelings? Or Rachel Maddow's deeply felt conspiracy blockbusters on MSNBC?
Funny you should ask about Rachel and credibility. Last week the DOJ charged a Russian with lying about his role in the RussiaGate investigation of Donald Trump. That would be the same RussiaGate investigation Maddow sold— and still sells— nightly as fact to her viewers for four years.
The criminal charge against Igor Danchenko makes clear that the entire Russia/ Trump investigation (which paralyzed his presidency) was generated by the Hillary Clinton 2016 presidential campaign as a dirty tricks op. Primary sources were invented, laundered to a former spy, disseminated by compliant media such as Maddow and used by the FBI to launch the failed Mueller Investigation into Trump's activities.
Despite the evidence generated by the DOJ Maddow refused to admit she pushed a loser, citing more dark conspiracies on the right. Leading independent journalist Matt Taibbi— who called the story "a "sizable boil on the face of American journalism"— to excoriate the MSNBC darling. "Whatever the category below 'disgraced journalist' is, she entered it with gusto with last night's performance," Taibbi wrote. "Every reporter who touched that allegation should be ashamed, and Rachel is at the front of that huge crowd."
So if you're looking for why Aaron Rodgers might have looked elsewhere for information on Covid-19 check out the carcass of disgraced establishment healthcare and the willing wind therapists who peddled it. And who now want to bury Rodgers for going off script.
Bruce Dowbiggin @dowbboy is the editor of Not The Public Broadcaster (http://www.notthepublicbroadcaster.com). The best-selling author of Cap In Hand has been nominated for the BBN Business Book award of 2020 for Personal Account with Tony Comper. A two-time winner of the Gemini Award as Canada's top television sports broadcaster, he's also a regular contributor to Sirius XM Canada Talks Ch. 167. His new book with his son Evan is called InExact Science: The Six Most Compelling Draft Years In NHL History is now available on http://brucedowbigginbooks.ca/book-personalaccount.aspx
Concussed: The NFL Needs Its Head Read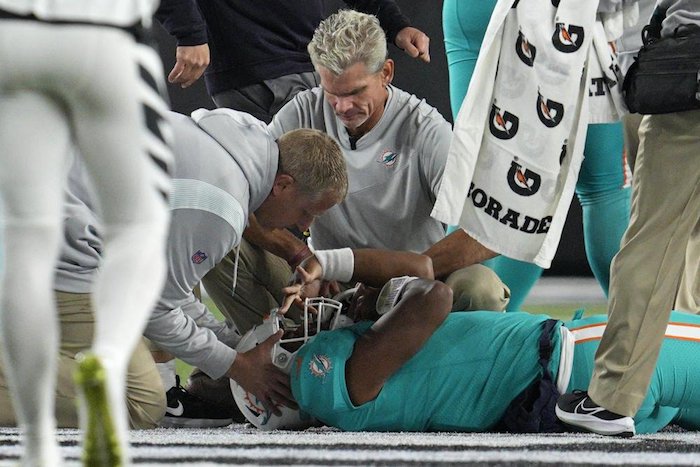 Sign up today for Not The Public Broadcaster newsletters. Hot takes/ cool slants on sports and current affairs. Have the latest columns delivered to your mail box. Tell your friends to join, too. Always provocative, always independent. https://share.hsforms.com/16edbhhC3TTKg6jAaRyP7rActsj5
In 2014 Tipping Point author Malcolm Gladwell commented that, within 25 years, the NFL might become a renegade sport outside the mainstream of culture. "We will go to a middle position where we will disclose the risks and essentially dare people to play …," Gladwell repeated in the recent film United State of Football "That's what the Army does. So we leave the Army for kids who have no other options, for whom the risks are acceptable.
"That's what football is going to become. It's going to become the Army. That's a very, very different situation. That's a ghettoized sport, not a mainstream American sport." Many derided Gladwell at the time, but events this past week have leant credence to his theory.
Perhaps it's the hangover from being lied to about The Science of Covid-19 by the mahatmas of healthcare. But if the NFL medics were hoping the public would give them the benefit of the doubt about their treatment of the gruesome Tua Tagovailoa head injury the past ten days they are sadly mistaken.
For a league that has pounded its chest about its attempts to lessen the danger from head hits, the farce that followed Tagovailoa's injury the past week is a cruel deception. Whatever the facts eventually reveal (the NFL says it's investigating) the PR failure of a system designed to protect employees is irreversible.
Former All Pro and now NBC broadcaster Rodney Harrison summed up the players' reaction to the Tua episode. ""Please take care of yourself. Don't depend on the NFL. Don't depend on anybody. If something's wrong with your head, report it." – @Rodney_Harrison
Tagovailoa exhibited concussion symptoms after hitting his head late in the first half of Miami's Week 3 game against Buffalo. He staggered and weaved before being helped off the field and into the dressing room. He was soon cleared by a team physician and an unaffiliated neurotrauma consultant to return in the second half as Miami beat the favoured Bills. Tagovailoa and the team later said his legs were wobbly because of a back injury.
Dolphins head coach Mike McDaniel said that he was comfortable with his team's processes regarding Tagovailoa's health and clearance to return to play so quickly. "He was evaluated and then cleared by several layers of medical professionals, who – I don't pretend to be one – but those people, the collection of them, cleared him of any head injury whatsoever. He had a back and ankle issue." The team said it was good with sending Tagovailoa to play in Cincinnati. again on Thursday, just four days later.
Bad idea. After the Dophins QB rolled out on a play, 340-pound Bengals defensive tackle Josh Tupou slammed Tagovailoa backward into the turf. In the classic sign of concussion, Tagovailoa's hands froze in an upright position while his fingers splayed awkwardly as he lay still on the ground. After a long delay he was taken away on a stretcher and sent to a local hospital. He was later released from the hospital and flew home with the Dolphins hours later.
The tsunami of outrage from media, fans and players quickly destroyed the NFL's cultivated narrative of a proper protocol. So a scapegoat had to found. Accordingly, the neuro-trauma consultant who let Tagovailoa back into the Bills game in Miami was fired by the NFLPA after it was discovered that the doctor has made 'several mistakes' in his evaluation.
Sure. You go with that. Baltimore head coach John Harbaugh— for one— was not buying., "I couldn't believe what I saw," Harbaugh said about Thursday night's re-injury. "I couldn't believe what I saw last Sunday. It was astonishing to see. I've been coaching for 40 years — college and the NFL — and I've never seen anything like it before."
Players present day and retired chimed in. Chris Long: "Now IF protocol wasn't followed & I'm a coach or executive who greenlit him playing 4 days after a head injury… I have no idea how you're focused on the game… shit is going to get real." Patriots star DB Adrian Phillips: "Dude should not have been playing tonight."
Shannon Sharp: "That's a serious injury . Tua shouldn't have been out there with Sunday Thursday turn around. Sometimes players need protecting from themselves. Dolphins failed Tua"
Ben Watson: "I know what I saw and Tua was concussed last week. The fact that he was able to return to play is everything that's wrong with the game so many of us love. A full investigation is forthcoming. Praying for this young man right now. This is awful to witness."
What even lay people now understand is that one brain injury makes a person more vulnerable to another injury— especially in a short period of time. Meaning the NFL needed to be extra diligent with Tagavailoa. They failed. Now no one can say when— or if— Tagavailoa will return to playing.
While attention is focussed on the NFL's shortcomings it needs to be pointed out that the NHL continues its own nonsense over brain injuries. Knowing what is known now the league still allows fit, powerful players to punch each other in the head over… no one is sure. If Don Cherry were still the measuring stick he'd say it's about honour.
NHL commissioner Gary "The Good Doctor" Bettman somehow can say that the link between punching a man in the head and brain trauma is still unproven. He seems unaware that protecting the NHL's sluggo past may make him popular with his owners, but sponsors and fans are no longer with him.
They are eventually going to follow Gladwell's advice and avoid a lucrative sport that employs only those who have nothing to lose.
Bruce Dowbiggin @dowbboy is the editor of Not The Public Broadcaster (http://www.notthepublicbroadcaster.com). A two-time winner of the Gemini Award as Canada's top television sports broadcaster, he's a regular contributor to Sirius XM Canada Talks Ch. 167. Inexact Science: The Six Most Compelling Draft YearsIn NHL History, , his new book with his son Evan, was voted the eighth best professional hockey book of by bookauthority.org . His 2004 book Money Players was voted seventh best, and is available via http://brucedowbigginbooks.ca/book-personalaccount.aspx
Dramatic? Yes. But 1972 Was Not The Greatest Hockey Ever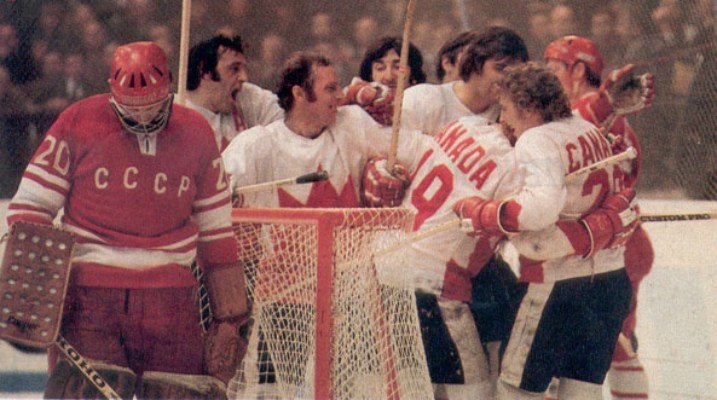 Sign up today for Not The Public Broadcaster newsletters. Hot takes/ cool slants on sports and current affairs. Have the latest columns delivered to your mail box. Tell your friends to join, too. Always provocative, always independent.
One of the advantages of being alive for an extended period is how you develop a filter for propaganda. Experiencing seminal sports events in real time affords the ability to separate hype from history. Perhaps the greatest sports events for Canadians of a certain age were those in September 1972, when— as a first-year student at U of Toronto— we cut classes to watch the national mental trauma of The Showdown Series.
Even 50 years after the emotional tumult of Canada/USSR, it's fair to say that it was a drama unlike any other. It legitimized International hockey competition. In an age when a 36-inch TV was a luxury, hockey sticks were made of wood and Foster Hewitt was still semi-coherent the eight-game matchup between Canada's top NHL stars and the "amateurs" of the Soviet Union delivered as a clash of cultures. Many who weren't there call it the greatest hockey ever played.
The greatest hockey ever? Certainly the Soviets played their best. But the Slap Shot quality of Canada's winning effort could not hold a candle to the 1987 Canada Cup squad that beat a Soviet team in a three-game final as the USSR was collapsing. Without Bobby Orr, Bobby Hull and Gerry Cheevers in the 1972 lineup— and lulled into complacency by homer media— Team Canada squandered its obvious advantages by arriving out of shape for Game 1.
Neither were they prepared mentally for the political consequences of eight games on two continents over 26 days in September. How high were tempers and how damning the criticism? The late Rod Gilbert's own brother called him "a disgrace" after Canada suffered an embarrassing 7-3 defeat in the opener. While time has soothed frayed tempers the Summit Series was not Canada at its best psychologically. To be blunt, Canada's top stars were their often own worst enemies when adversity appeared.
That's been largely forgotten today as fans smooth out the team's rough edges. Perhaps the best example of revisionism was Phil Esposito's pouting, whiny screed after Canada lost Game 4 in Vancouver. Espo was pure entitlement, demanding that fans ignore the ill-tempered, slap-dash attitude of their heroes. While sycophantic journalists have re-fashioned the Johnny Esaw interview as a call to arms, it was more like a put-upon call to Canadians for pity.
Almost as egregious was the deliberate injuring of Soviet star Valeri Kharlamov, the speedy winger (think Pavel Bure) who had destroyed Canada with his skill. And so Bobby Clarke went full Ogie Ogelthorpe, breaking Kharlamov's ankle in Game 6 with a cynical slash. Kharlamov tried to continue, but he was done as a factor in the remaining games. (Years later series star Paul Henderson admitted, "I really don't think any part of that should ever be in the game."
Then there was the late Jean Paul Parisé's intimidating assault on controversial referee Josef Kompalla in Game 8. Frustrated about calls in the final game, Parisé charged at Kompalla with his stick raised. Just before he brought the stick down on Kompalla he pulled back. Parisé was ejected, but it proved an ugly moment mitigated only by Henderson's later heroics.
To say nothing of Alan Eagleson's obstreperous behaviour skittering across the ice with a raised finger after reportedly escaping the KGB. He was matched by Bill Goldsworthy's raised finger at Game 8's end. Espo's repeated "choke" signs at bemused Soviets. Or the four Canadian players who jumped ship before the series switched to Moscow. It was high drama. The greatest hockey? No.
Thanks to Canada's globalist PM Pierre Trudeau, Canada was looking to break its image as an imperial chattel of Great Britain. The series was a springboard to that for many. But Canada had to win. My friend Bob Lewis, who covered the series for Time magazine, is excellent in the Icebreaker documentary at presenting the trauma for a vulnerable Canada. The country headed for a federal election in October wondering how a defeat might hurt Trudeau's chances. (The win didn't keep Trudeau from losing his majority.)
The 50th anniversary, like previous anniversaries of the 1972 series, has produced documentaries and films reliving the moments with surviving players and journalists who were there in the flesh. While neither CBC's four-part series Summit 1972 nor Icebreaker: The '72 Canada Soviet Summit Series breaks any new ground on the Cold War climate, they do serve as a reminder to anyone born after the Series of the cultural impact of the showdown with a feared nuclear rival. And it uses the latest technology to clean up video and audio that was being lost to time.
The principal difference between the two productions— besides length— is the scoreboard of which players on the two teams appear in each documentary. Who gets Ken Dryden? Who nails down Phil Esposito? Who gets Vladislav Tretiak? The greatest impression is the age of the surviving men now (10 Team Canada members have passed away) who look more like WW II vets than hockey heroes.
Sadly, the producers of Icebreaker also include extensive interviews with convicted felon Alan Eagleson, who stole the glory from Joe Krycka and Fred Page of the Canadian Amateur Hockey Association who originally negotiated the series. The corrupt Toronto lawyer then pushed them aside in his position as player agent and NHL Players Association director. Yes, he was part of the series, but allowing him to restore his integrity via a starring role in this documentary makes for tough watching.
So for those beleaguered by a modern world, the 1972 retellings will be a balm with a happy ending— like when Esposito met noted USSR hockey fan and cold-blooded dictator Vladimir Putin years later. "Mr. Esposito, I thought you hated all Russians," Putin remarked. "Mr. Putin, I did until my daughter married one," Esposito replied.
For others it might fill in the stories told by now-deceased relatives and friends who saw it all. And for aging Boomers, whose proxy was carried by Team Canada 1972, the throwback will be a reminder that something of worth more than bell bottoms and sideburns emerged from their glory days.
Bruce Dowbiggin @dowbboy is the editor of Not The Public Broadcaster (http://www.notthepublicbroadcaster.com). A two-time winner of the Gemini Award as Canada's top television sports broadcaster, he's a regular contributor to Sirius XM Canada Talks Ch. 167. Inexact Science: The Six Most Compelling Draft YearsIn NHL History, , his new book with his son Evan, was voted the eighth best professional hockey book of by bookauthority.org . His 2004 book Money Players was voted seventh best, and is available via http://brucedowbigginbooks.ca/book-personalaccount.aspx