7 more Albertans die from COVID-19. 1,500 total cases. April 10 Update
From the Province of Alberta
Update 28: COVID-19 pandemic in Alberta (April 10 at 4:45 p.m.)
There are now 713 confirmed recovered cases of COVID-19 in the province.
With 49 new cases reported, the total number of cases in Alberta is 1,500.
Seven Albertans have died since the last report, bringing the total deaths in the province to 39.
Four of these deaths were residents at the McKenzie Towne continuing care facility.
Latest updates
Albertans are strongly encouraged to stay home this long weekend.
Cases have been identified in all zones across the province:

917 cases in the Calgary zone
386 cases in the Edmonton zone
97 cases in the North zone
72 cases in the Central zone
26 cases in the South zone
Two cases in zones yet to be confirmed

Of these cases, there are currently 48 people in hospital, 13 of whom have been admitted to intensive care units (ICU).
201 cases are suspected of being community acquired.
Five new deaths are from the Calgary zone, bringing the total in this zone to 27. Two additional people have died in the Edmonton zone, bringing the number of deaths to seven in this zone. A total of four people have died in the North zone, and one person has died in the Central zone.
There have now been 17 deaths at the McKenzie Towne continuing care facility.
Stronger outbreak measures have been put in place at continuing care facilities. To date, 164 cases have been confirmed at these facilities.
There have been 70,080 people tested for COVID-19 and a total of 72,370 tests performed by the lab. There were 2,123 people tested in the last 24 hours.
Aggregate data, showing cases by age range and zone, as well as by local geographic areas, is available online at alberta.ca/covid19statistics.
All Albertans need to work together to help prevent the spread and overcome COVID-19.
Restrictions remain in place for all gatherings and close-contact businesses, dine-in restaurants and non-essential retail services. A full list of restrictions is available online.
Albertans are prohibited from attending all public recreation facilities, including golf courses. Staff are allowed to maintain courses as long as they follow public health measures that prevent the risk of transmitting COVID-19. More information on these measures can be found online.
Updates to continuing care facility rules
As continuing care facilities are most at risk of experiencing serious effects from COVID-19, more stringent measures are being taken to protect residents and staff.
To further protect residents and staff from exposure to COVID-19 through asymptomatic individuals, continuing care workers will now be required to wear masks at all times when providing direct patient care or working in patient care areas.
Workers in long term care and supportive living sites will only be allowed to work at one site in an effort to reduce the spread between locations. These measures will take effect next week.
To protect and provide flexibility for both workers and employers as measures are implemented, the Minister of Labour and Immigration signed a Ministerial Order today. The Government of Alberta is considering financial supports for health care aids and facility operators to minimize the impacts of this change. Details will be communicated to providers and employees in the coming days.
Fact sheet for kids now available
Many parents and caregivers are getting questions from young people in their lives. To help respond, a new fact sheet is available online at Alberta.ca/COVID19. It is aimed at kids and their families and is meant to spur open, honest conversations with kids about coronavirus and the measures being taken to prevent the spread.
Temporary changes to legislation and regulations (Service Alberta)
Service Alberta is making temporary changes to several acts and regulations to help businesses, public bodies and non-profits remain compliant as they focus their efforts on responding to COVID-19.
Under the authority of the Public Health Act, Service Alberta has issued a Ministerial Orderthat will temporarily suspend or modify provisions related to timelines, location and distance, as well as utility payments and access to information requests.
These temporary changes will remain in effect for the duration of Alberta's State of Public Health Emergency.
More information is available online.
Ensuring access to food
Government is providing $5 million to support food banks and community organizations, such as charities and not-for-profits, as they support secure access to food for vulnerable Albertans.
Expanding testing to meet needs of Albertans
Alberta has expanded access to COVID-19 laboratory tests to better trace the spread of the novel coronavirus in hard-hit areas and in vulnerable residents. Testing is being offered to three additional groups of individuals exhibiting symptoms of COVID-19 including cough, fever, runny nose, sore throat or shortness of breath:
symptomatic people living in the Calgary Zone
symptomatic people who live with someone aged 65 years or older
essential workers whose workplaces remain accessible to the public
Read the full list of people eligible for testing here. People can access tests by completing the COVID-19 self-assessment online.
The chief medical officer of health will examine and adjust testing protocols and access to COVID-19 tests based on the changing situation in Alberta.
Stay home and in Alberta this long weekend
Albertans are being strongly encouraged to stay home, in their communities, in the province and off the highways this long weekend to reduce the spread of COVID-19.
Alberta and British Columbia have released a joint statement asking families and friends to stay in their home provinces and celebrate the holidays virtually. This will reduce the risk of highway crashes – tying up emergency and medical responders who are busy with pandemic planning and care – and help slow the spread of the novel coronavirus between families and provinces.
COVID-19 health care for out-of-country visitors
To limit the potential spread of the novel coronavirus, individuals visiting Alberta from another country will receive physician and hospital services for the treatment of COVID-19 – even if they do not have health coverage or the ability to pay. This temporary measure will protect Albertans and encourage visitors to obtain treatment for COVID-19. Physicians may submit claims for this service using the new COVID-19 billing process. More information about the billing process will be provided to physicians.
Alberta Connects Contact Centre
The Alberta Connects Contact Centre continues to operate over the long weekend, and will be available to Albertans from 8:15 a.m. to 4:30 p.m., April 10-13. Direct lines to specific services (such as MyAlberta Digital Identity) will be closed. Albertans should call 310-4455 for assistance.
Mental health supports
Confidential supports are available to help with mental health concerns. The Mental Health Help Line 1-877-303-2642 and the Addiction Help Line at 1-866-332-2322 are available between 7 a.m. and 11 p.m., seven days a week. Online resources provide advice on handling stressful situations or ways to talk with children.
Family violence prevention
A 24-hour Family Violence Information Line is available at 310-1818 to get anonymous help.
Alberta's One Line for Sexual Violence is available at 1-866-402-8000 from 9 a.m. to 9 p.m. in more than 170 languages.
Information sheets and other resources on family violence prevention are available at alberta.ca/COVID19.
Quick facts
The most important measures that Albertans can take to prevent respiratory illnesses, including COVID-19, is to practise good hygiene.

This includes cleaning your hands regularly for at least 20 seconds, avoiding touching your face, coughing or sneezing into your elbow or sleeve, disposing of tissues appropriately.

Anyone who has health concerns or is experiencing symptoms of COVID-19 should complete an online COVID-19 self-assessment.
For recommendations on protecting yourself and your community, visit alberta.ca/COVID19.
Regulator gives Imperial weeks to plan fix for months-old oilsands tailings leak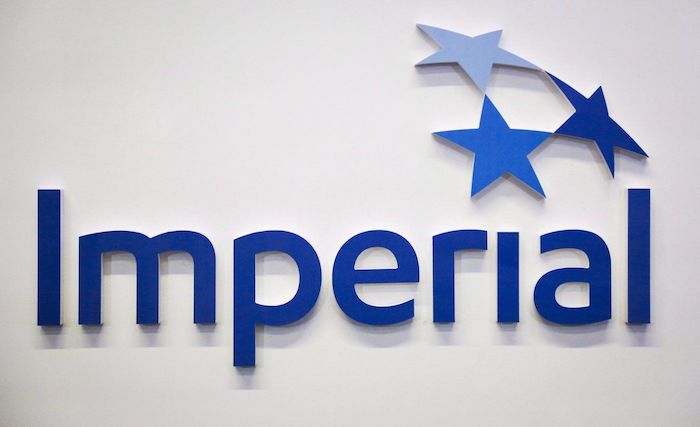 Alberta's energy regulator has given Imperial Oil until the end of the month to figure out a way to fix ongoing seepage at a tailings pond at its Kearl oilsands mine.
The Alberta Energy Regulator says a pond on the site north of Fort McMurray, Alta., has been seeping since May, releasing thousands of cubic metres of wastewater that contains toxins such as arsenic.
The seepage has been recorded both on- and off-site in areas near the tributaries of area rivers.
The regulator says there has also been overflow of tailings water from one of the system's holding ponds.
It says there have been no wildlife or human impacts from the releases.
Imperial says it is working with the regulator to try and resolve the problem.
This report by The Canadian Press was first published Feb. 8, 2023.
This is a corrected story; An earlier version said the seepage was considered to have got into tributaries to area rivers.
Warren Foegele scores twice, Oilers beat Red Wings 5-2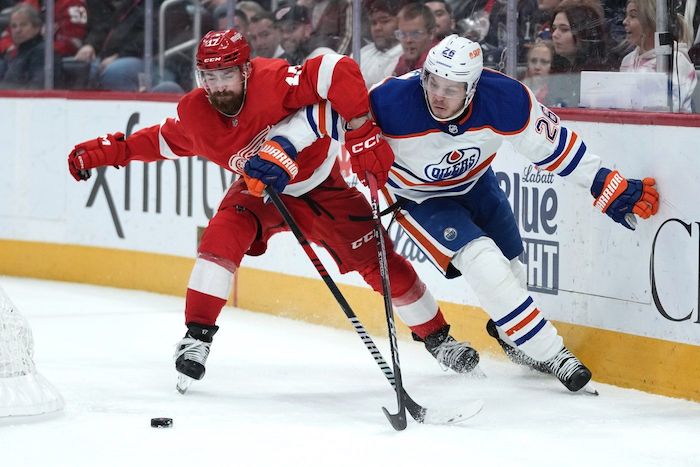 By Larry Lage in Detroit
DETROIT (AP) — Connor McDavid extended his point streak to 13 games and Warren Foegele scored twice in the second period, helping the Edmonton Oilers beat the Detroit Red Wings 5-2 on Tuesday night.
Foegele, a fourth-round winger, had his first two-goal game of the season one game after he was a healthy scratch.
"It's one of the best games I've seen from him, and he should feel real good about himself," Oilers coach Jay Woodcroft said. "There's nobody more happy for him than his teammates and his coaching staff."
Fourth-line center Ryan McLeod and Foegele had goals 36 seconds apart early in the second and Foegele scored again midway through the period to give the Oilers a 3-1 lead. Third-line center Ryan Nugent-Hopkins restored their two-goal lead late in the third period.
"We got some contributions from our entire lineup, which is great," said Edmonton's Evander Kane, who had an empty net goal. "We're going to need that as we go down the stretch here and obviously in the playoffs. That type of scoring wins or loses you series."
Edmonton's Jack Campbell stopped 30 shots, including some key ones in the third to keep a one-goal lead.
"They were big saves, but I would say Jack expects to make those days and we expect those saves," Woodcroft said. "He's starting to build a little personal momentum for himself."
The Oilers maintained the momentum they had going into the All-Star break with their eighth win in nine games.
"The boys have been playing great leading up to the break and definitely wanted to continue where we left off," Campbell said. "Great way to start the road trip and get all the juices flowing again."
Ville Husso made 22 saves for the Red Wings, who had won two of their previous three games.
"There are a lot of positives to take out of this game despite the score, but we just didn't finish," Detroit coach Derek Lalonde said.
Detroit's Tyler Bertuzzi broke a scoreless tie midway through the first period and Joe Veleno scored with 9 seconds left in the second to pull the home team within a goal.
Edmonton, the NHL's highest-scoring team and best on the power play, scored with an extra skater when Nugent-Hopkins had a goal with 4:22 left in the third.
"Their power play is on pace to be the best in the history of the game," Lalonde said. "We gave them a fourth one and it killed us."
The game had plenty of after-whistle scrums, leading to a parade into the penalty box with several penalties in the third period.
"It's today's NHL. A lot of guys think they can get in there, and the referees bail them out a lot," Kane said. "It was a bit of a chippy game, and it started in the second period. We got some guys on our team that don't mind answering the bell."
Red Wings captain Dylan Larkin said he and his teammates let the emotions get the best of them when a game-tying goal was needed.
"That's something we need to learn from," Larkin said.
NOTES: McDavid has nine goals and 12 assists during his 13-game point streak, giving him an NHL-high 41 goals and 93 points. … Bertuzzi, who has been limited to 18 games by injuries, scored his second goal of the season.
UP NEXT
Oilers: Play at Philadelphia on Thursday.
Red Wings: Host the Calgary Flames on Thursday.
___
AP NHL: www.apnews.com/hub/NHL and www.twitter.com/AP_Sports