$3.6 million in meth seized by Border Enforcement Team at Courts crossing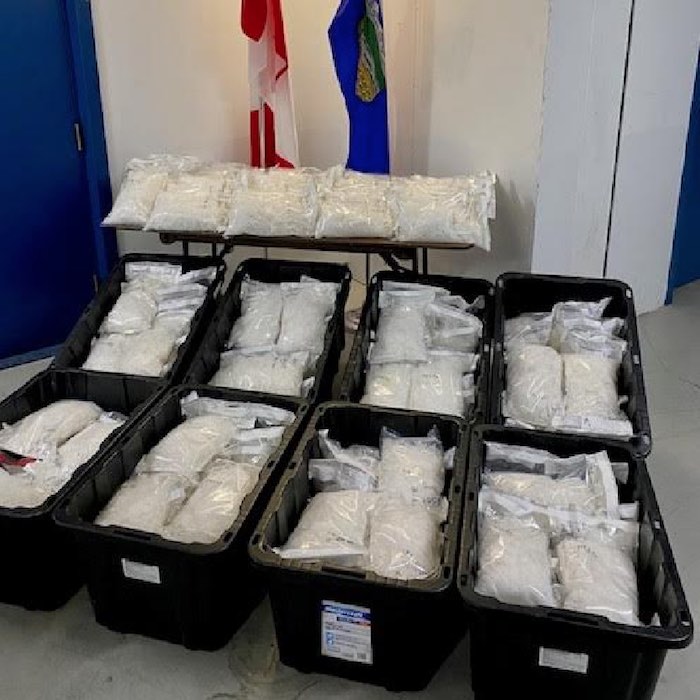 News release from Integrated Border Enforcement Team (IBET)
Integrated Border Enforcement Team lay charges for drug importation following $3.6 million seizure
The Integrated Border Enforcement Team (IBET), a joint force operation between the RCMP, Canada Border Services Agency (CBSA) and Calgary Police Service (CPS), has charged a Calgary resident for drug importation and trafficking.
On Feb. 19, 2023, CBSA officers discovered and seized approximately 300 kg of methamphetamine following a secondary examination of a commercial transport vehicle at the Coutts border crossing. The drugs, which have an approximate wholesale value of $3.6 million, were hidden in several boxes in the rear of the vehicle.
On Feb. 20, 2023, Paramjit Laroyia, 49, a resident of Calgary, was charged with the following offences:
Possession of a Controlled Substance for the Purpose of Trafficking contrary to section 5(2) of the Controlled Drugs and Substances Act;
Importation of a Controlled Substance contrary to section 6(1) of the Controlled Drugs and Substances Act; and,
Smuggling into Canada contrary to section 159(1) of the Customs Act.
Laroyia is scheduled to appear in Lethbridge Provincial Court on March 23, 2023.
"This seizure serves as an important reminder of IBET's effectiveness in disrupting drug smuggling operations. By intercepting these drugs, we have diverted millions of dollars in illegal profits and prevented the distribution of methamphetamine to our communities."
Supt. Sean Boser, OIC of Federal Policing – Calgary
"CBSA officers are committed to detecting and intercepting illegal narcotics and other dangerous goods from entering Canada. This significant methamphetamine seizure, one of the Agency's largest in the last five years, is a great example of our officers' resolve in keeping dangerous drugs out of our communities.
Director Benjamin Tame, Southern Alberta and Saskatchewan District, CBSA
"The collaboration between the members of IBET has been effective in reducing the amount of drugs and crime in our communities. Seizures like this one highlight IBET's importance and its impact on the safety of Calgarians and Albertans."
Supt. Cory Dayley, Criminal Operations and Intelligence Division, CPS
IBET's mandate is to enhance border integrity and security along the shared border, between designated ports of entry, by identifying, investigating and interdicting persons, organizations and goods that are involved in criminal activities.
'All about the campfire': Campers adjust their plans with fire bans in place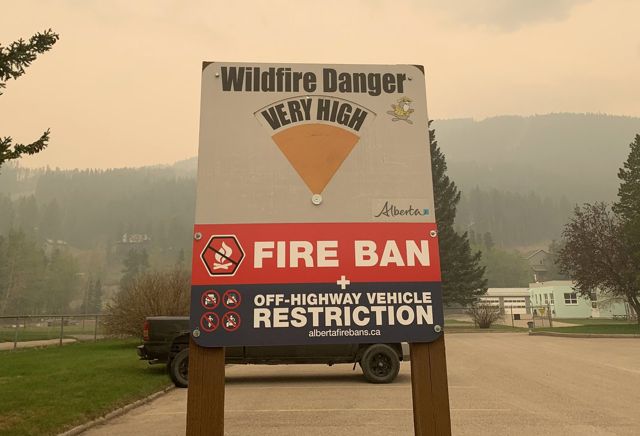 Blairmore area wildfire warning signage is shown in this handout image provided by the Government of Alberta Fire Service. As fire bans continue in many provinces, businesses selling camping gear and firewood are seeing a shift in demand. THE CANADIAN PRESS/HO-Government of Alberta Fire Service
By Ritika Dubey in Edmonton
Jade Najam was getting excited about camping during the May long weekend, sitting around the campfire late into the night with his family and sipping hot chocolate.
"Camping is all about the campfire. Just surfing the fire and sitting around the fire," said Najam. "Sitting around the campfire is the most important part of our evening."
But Alberta's fire ban, which was put in place in early May, still hadn't been lifted. Najam called off the plans to go camping in the wilderness, deciding it was better to stay home instead.
Fire bans began rolling in after hot, dry weather took over much of Canada early in the season — starting in Alberta, Saskatchewan and British Columbia, now expanding to the Maritimes. While Saskatchewan and Alberta have lifted the bans in some regions, people in the Prairies have been monitoring the wildfire season closely.
Companies that supply camping enthusiasts have been seeing trends change.
Najam, who is the managing director of Smart Firewood Products, based in Leduc, Alta., says demand usually picks up around mid-April and continues until mid-October.
"This May, I'm not even at five per cent of what I did last year in sales," he said.
Najam said his company provides "truckloads" of firewood to national parks in Alberta every year, while serving locals with retail firewood in his yard.
"My semi-truck full of firewood didn't even get out of the yard," he said of the current season.
One outdoor outfitter, meanwhile, is seeing a jump in sales for propane gas outdoor firepits.
"People have to look at things a bit differently when planning their camping trip due to fire bans," said Mike Eerkes, general manager at a Mountain Equipment Company store in Edmonton.
He said campers are opting for alternatives that don't get the classic smoky-wood campfire but still provide a warm glow.
For propane fires, Eerkes said, "All you need is a propane firepit, a propane tank and some gas in it."
The biggest advantage to propane fire is that "you can have it," he said. "They're fully compliant with the fire bans."
However, he acknowledges that propane fires are not fuel efficient, based on his experience. He suggested buying larger, refillable propane tanks for cost-effectiveness.
Overall, Eerkes said he hasn't seen a remarkable shift in the sales of camping gear overall.
"It's certain the fires are going to have some effect … but I'm not convinced we're seeing a massive downturn in people going camping this year."
A private campground about 100 kilometres southwest of Halifax has been getting cancellations since the fire ban and camping bans in wooded areas of Nova Scotia earlier this week.
"When fire bans are in place, it's the private campground's choice to follow the fire ban to not," said Minseo Kim, manager of the Little Lake Family Campground in Lunenburg, N.S. "But for this fire ban, private campgrounds have to listen as well.
"This has never happened before. We never faced this issue."
Kim said the cancellations will not have a huge effect in the coming weeks, partly because the peak season begins in July and the campground also has an open space outside of the wooded area.
He is hoping the fire ban lifts soon for overnight campers.
Nova Scotia imposed the fire ban on Monday, with Prince Edward Island following Tuesday.
Chris Nuttall-Smith, the author of the newly released book "Cook It Wild," said campers don't really need campfires to enjoy the outdoors or prepare meals.
A longtime backpacker and camper, Nuttall-Smith said fire bans are not a "huge limitation" for cooking outdoors with alternatives like backpack stoves available.
Nuttall-Smith, in his book, shares 75 recipes to cook in the wild, with up to 65 of them possible without a campfire, he said.
"Some of the best trips that I've ever taken are in places where you're never allowed to have a campfire," he said. "I don't think a lot of people miss it."
He recommends campers making due without fire this season bring pre-prepared food and enjoy the outdoors.
"You can find so much beauty out in the wild at dusk, after dark, like looking at the fireflies, looking at the stars. There is so much to do."
This report by The Canadian Press was first published June 2, 2023.
—-
RCMP chopper pilot pulls off amazing helicopter rescue of missing woman west of Innisfail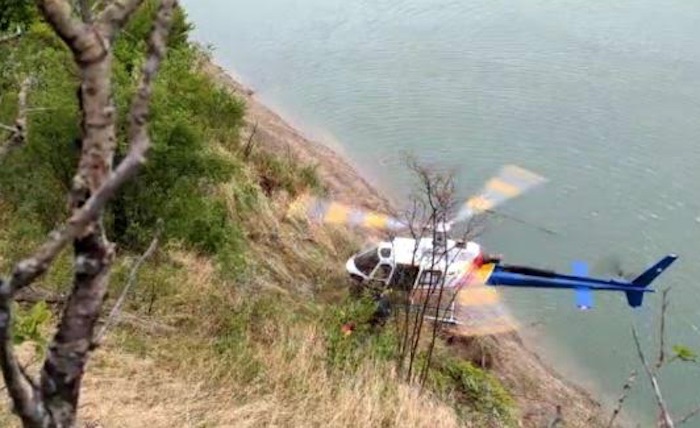 News release from Innisfail RCMP
Innisfail RCMP seek public assistance in locating missing elderly female – Update #3
Innisfail, Alta. – RCMP would like to provide additional details and clarify some information with regards the search efforts and the ultimate rescue of Lorraine Vandenbosch who went missing from Dickson Point Campground on May 29, 2023.
Upon locating Lorraine as she emerged from a heavily wooded area, rescue teams had difficulties transporting her due to a steep embankment. Alberta RCMP Air Services were again up to the task in supporting rescue efforts by landing in the difficult location and transporting Lorraine . She was taken for medical assessment and ultimately transported by STARS to hospital. Lorraine remains confused about her ordeal and RCMP have few details at this time.
Background
June 1, 2023
Innisfail RCMP seek public assistance in locating missing elderly female – Update #2
Innisfail, Alta. – RCMP are please to report that after 4 days of searching, Lorraine Vandenbosch has been located by rescue teams alive and in good spirits.
The RCMP helicopter located Lorainne this morning at approximately 9:30 a.m. walking out of a heavily wood area near the Dickson Trout Pond.
Lorainne is receiving precautionary medical attention and is with her family.
RCMP would like to thank the tireless effort of all involved in this search: Red Deer County SAR, Rocky Mountain House SAR, Sundre SAR, Wetaskiwin SAR, Red Deer County Patrol, Innisfail Fire Dept, Red Deer County Fire Dept, Spruceview Fire Dept, Alberta Conservation Officers, Raven Crime Watch and Mounted Horse volunteers.
RCMP would also like to thank the organizations that provided food to the teams, Spruceview Bakery and Red Deer Costco. This support allowed the rescue teams to continue working long hours.
Background
Innisfail RCMP seek public assistance in locating missing elderly female – Update
Innisfail, Alta. – Innisfail RCMP continue to search for Lorraine Vadenbosch who went missing from the Dickson Point Campground at Glennifer Lake yesterday. RCMP with assistance from Red Deer County, Sundre, and Rocky Mountain House Search and Rescue teams are actively searching the area.
While search teams continue to search, we are asking residents in the Glennifer Lake, Dickson, Spruce View, and nearby areas, to check your properties including treed outcroppings and outbuildings for Lorraine.
If you have any information regarding the whereabouts of Lorraine, please contact the Innisfail RCMP Detachment at 403-227-3342. If you want to remain anonymous, you can contact Crime Stoppers at 1-800-222-8477 (TIPS), online at www.P3Tips.com or by using the "P3 Tips" app available through the Apple App or Google Play Store.
May 29, 2023
Innisfail RCMP seek public assistance in locating missing elderly female
Innisfail. Alta. – Innisfail RCMP are seeking public assistance in locating a missing elderly female. Lorraine Vandenbosch (78), a resident of Didsbury, was last seen on May 29, 2023, at 10:30 a.m., at the Dickson Point Campground at Gleniffer Lake. Lorraine may be confused and there is great concern for her safety.
Lorraine is described as:
5 feet tall
Red hair
Light complexion
Last seen wearing white pants, white and black shirt, black runners and a cream colored hat
If you have any information regarding the whereabouts of Lorraine, please contact the Innisfail RCMP Detachment at 403-227-3342. If you want to remain anonymous, you can contact Crime Stoppers at 1-800-222-8477 (TIPS), online at www.P3Tips.com or by using the "P3 Tips" app available through the Apple App or Google Play Store.