$1,200 Covid payment for 76,500 more Albertans including truck drivers, janitors, taxi drivers, security guards, farm workers, etc
More Albertans to receive $1,200 Critical Worker Benefit
76,500 more workers to receive a one-time payment to recognize the risks they have taken to support Albertans and the economy.
The Critical Worker Benefit is a joint federal-provincial program with $465 million available to recognize the hard work of critical workers during the pandemic.
During the first round of the Critical Worker Benefit Alberta's government provided $1,200 payments to over 277,800 workers in the healthcare, social services, education and private sectors who deliver critical services to Albertans or support food and medical supply chains.
Workers in new job categories will be eligible for the same $1,200 payment. This includes workers in social services and the private sector who provided critical services to Albertans, were essential to the supply and movement of goods, and faced greater potential risk of exposure to COVID-19 through their work environments.
To be eligible for the benefit, employees must have worked a minimum of 300 hours during the period of Oct. 12, 2020 to Jan. 31, 2021. Support staff working in licensed child care must have worked a minimum of 243 hours during this period.
Eligible social services sector employers do not need to apply. Employers of support staff working in licensed child care programs, disability support workers providing independent living supports, respite, community access, and employment supports, and front-line workers in seniors-serving organizations and non-profit affordable housing providers will be contacted by the Government of Alberta to confirm details.
Eligible private sector workers making $25 per hour or less will also qualify for the benefit. These workers include: truck drivers, farmworkers, security guards, cleaners, funeral workers, employees at quick service and dine in restaurants and taxi drivers who can demonstrate they worked at least 300 hours during the eligibility period. The complete list of eligible workers for this phase of the program are available in the Application Guidelines for the private sector at alberta.ca/criticalworkerbenefit.
Private sector employers can apply on behalf of employees at alberta.ca/criticalworkerbenefit as of June 22. Employers have until July 23 to apply.
Employers will be responsible for distributing the $1,200 Critical Worker Benefit to their eligible employees.
Alberta's government is responding to the COVID-19 pandemic by protecting lives and livelihoods with precise measures to bend the curve, sustain small businesses, and protect Alberta's health care system.
Quick facts
Alberta's government contributed $118 million to the $465 million program.
A total of about $367 million has been spent on about 289,800 workers.
$355 million has been spent on about 277,800 workers in the phase one of the Critical Worker Benefit. This includes social services workers, health care workers, education workers and critical private sector workers, such as grocery cashiers, pharmacy assistants, and gas station attendants.
Announced in April 2020, Alberta also used $12 million of the one-time federal funding along with a provincial investment totalling $30 million to date to provide a $2 an hour wage top-up for about 12,000 health care aides working in long-term care and designated supportive living facilities.
About $99 million is available for about 76,500 workers in the social services and private sectors.
The break down of benefit recipient is:

Up to $18.5 million in the social services sector supporting 14,300 workers
Up to $80.3 million in the private sector supporting 62,200 workers
Workers in the following private sector occupations are eligible to receive the Critical Worker Benefit:
truck transportation, primarily engaged in the transportation of goods, in the following occupations:

­transport truck drivers
­light duty cleaners
­janitors, caretakers and building superintendents
­security guards and related security services
­material handlers
­dlivery and courier services drivers
­other trades helpers and labourers

crop production, animal production or aquaculture directly involved in the production of food for human consumption
funeral homes, cemeteries and crematoria

not eligible: municipally-run funeral homes, cemeteries and crematoria

security guards

not eligible: private investigators, armoured car guard, house detective, personal bodyguards and security

light duty cleaners, janitors and specialized cleaners working in commercial, institution and industrial locations

not eligible: private residence cleaners

taxi drivers

not eligible: chauffers and drivers of ride-share companies such as Uber and Lyft

workers in full-service restaurants and limited services eating places – workers must be primarily involved in the preparation, cooking or service delivery in an eligible establishment

not eligible: drinking places that do not serve food onsite
Read the application guidelines for the private sector for more information.
McDavid enters history books, Skinner shines as Oilers top Kings 2-0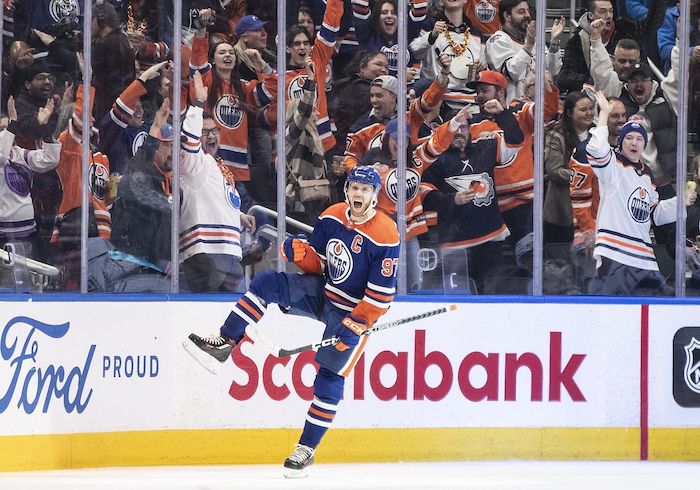 Edmonton Oilers' Connor McDavid (97) celebrates his 300th career goal, against the Los Angeles Kings during third period NHL action in Edmonton on Thursday March 30, 2023.THE CANADIAN PRESS/Jason Franson
By Shane Jones in Edmonton
Connor McDavid scored his 300th career goal, Stuart Skinner made 43 saves for Edmonton's first shutout of the season and the Oilers defeated the Los Angeles Kings 2-0 on Thursday.
McDavid became the first player in NHL history to have five different 10-game point streaks in a single season, breaking Wayne Gretzky's record of four in the 1986-87 season.
McDavid also became the fifth player in league history to reach 300 goals and 500 assists before playing 600 career games. Gretzky, Mario Lemieux, Peter Statsny and Bryan Trottier are the others.
Evander Kane scored the other for Edmonton (44-23-9), which has won three in a row and gone 12-2-1 in March.
The Oilers also moved ahead of the Kings for second place in the Pacific Division by one point.
Joonas Korpisalo made 35 saves for Los Angeles (43-22-10), which has lost two in a row on the heels on a franchise-high 12-game points streak.
Kane opened the scoring with just 52 seconds left in the first period. Leon Draisaitl made a beautiful behind-the-back spin pass to Kane, who was able to send a one-timer past Korpisalo for his 15th of the season.
Draisaitl picked up his 70th assist and extended his point scoring streak to 11 games on the play.
Skinner was later able to keep the Kings off the board midway through the second period, making a big glove save on Adrian Kempe's breakaway backhand shot.
Edmonton outshot Los Angeles 27-24 through 40 minutes after a scoreless second period.
McDavid made it 2-0 3:53 into the third period when he picked off a pass and sped away on a short-handed breakaway to score his 61st goal of the season. It was also his fourth short-handed goal of the campaign.
Skinner made huge saves on Vladislav Gavrikov and Viktor Arvidsson in the dying minutes and collected his 10th win in the month of March to set a franchise record for wins in a single month.
NOTES
The Kings entered the game with a 9-1-2 record in March and the league's best point percentage for the month, while Edmonton was second. Edmonton leads the NHL with 4.71 goals per game in March, while the Kings are fourth at 4.00. A major difference is that the Kings also had the lowest goals against per game at 2.08 during that span … Edmonton had also scored four or more goals in 11 of its 14 games this month and its power play has operated at 42.3 per cent during their 7-0-1 run coming into the contest. … Edmonton became the first team to have two players record 70 assists in the same season since the 2008-2009 Pittsburgh Penguins and just the 21st team in NHL history to do so … The Kings were without Gabriel Vilardi (upper body), while the Oilers were missing Ryan Murray (back), and Ryan McLeod (upper body).
UP NEXT
The Oilers play host to the Anaheim Ducks on Saturday.
The Kings play the third game of a four-game road trip in Seattle against the Kraken on Saturday.
This report by The Canadian Press was first published March 30, 2023.
Appropriate for Alberta premier to discuss COVID case with accused, deputy says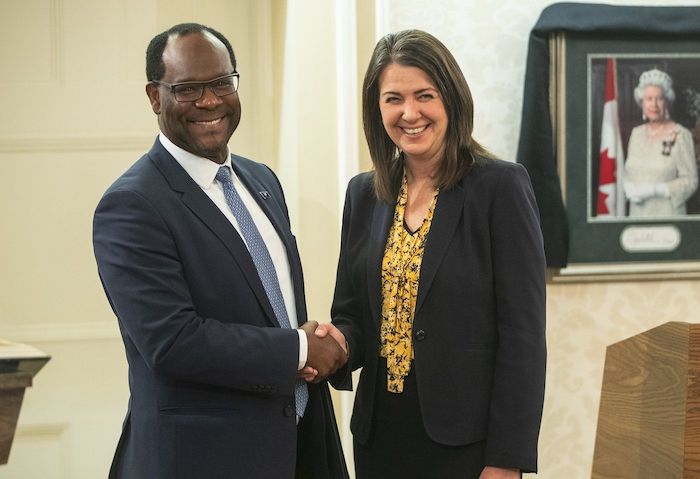 Kaycee Madu shakes hand with Alberta Premier Danielle Smith after he was sworn into cabinet in Edmonton, Monday, Oct. 24, 2022. Madu says it was appropriate for his boss to phone up a pastor charged over pandemic-rule protests and discuss the accused's upcoming criminal trial. THE CANADIAN PRESS/Jason Franson
By Dean Bennett in Edmonton
Alberta's deputy premier says it was appropriate for Premier Danielle Smith to phone up a pastor and discuss his upcoming criminal trial on charges stemming from protests over pandemic restrictions.
Kaycee Madu, who is also the province's former justice minister, said Thursday that Smith is working to make Alberta better, adding that she is free to contact whomever she wants in pursuing that mission.
Opposition NDP Leader Rachel Notley labelled Madu's comments a dangerous "la la land" rationale and the start of a slippery slope toward a "tinpot dictatorship."
Smith faces renewed criticism over a leaked phone conservation she had with Calgary pastor Artur Pawlowski in January about his looming criminal trial for his role at a protest over COVID-19 health measures that blocked the United States-Canada border-crossing at Coutts, Alta., in January 2022.
Audio of the call was obtained by the Opposition NDP and played for reporters Wednesday.
In it, Smith is heard commiserating with Pawlowski over her government's trial tactics, offering to make inquiries on his behalf and saying the Crown is pursuing politically motivated charges against him.
Legal and political observers say the call is a profound breach of the firewall separating politicians from those who decide who gets prosecuted.
Smith has long been critical of COVID-19 masking, gathering and vaccine mandate rules, questioning if they were needed to fight the pandemic. She has called them intolerable violations of personal freedoms.
Madu, when asked by reporters whether it was proper for Smith to have called Pawlowski, said: "COVID policies were divisive for the people of Alberta. I am looking to see us pass that particular era and focus on the people's priorities."
He said Smith's focus as premier has been on things that matter to Albertans, such as affordability, economic growth and taking care of the vulnerable.
"In the course of that particular work, the premier is free to speak with anyone that she wishes to speak with."
Notley said those remarks, coupled with Smith's words on the phone call, put Alberta on a slippery path to the politicization of its justice system. She called for an expedited independent inquiry into the matter before the writ is dropped next month for a scheduled provincial election.
"We're on the verge of a tinpot dictatorship," Notley said.
"You start ripping apart the fundamental tenets of democracy, you move into dictatorship. It's that simple."
Madu moved out of the justice portfolio under former premier Jason Kenney after a third-party report found he tried to interfere in the administration of justice by calling up Edmonton's police chief to complain about a traffic ticket.
Madu was given a new portfolio under Kenney, then promoted to deputy premier when Smith won the party leadership and became premier in October.
Smith has not spoken to reporters since the audio was released, but in a statement Wednesday reiterated she has acted strictly within the parameters of advice from justice officials and has not spoken directly to Crown prosecutors.
"There is no need for further investigation of this matter," Smith said in a statement Thursday.
Notley said the call is dramatic and disturbing proof of Smith breaching the judicial firewall.
"You cannot have unfettered power in the office of the premier. There are limits," Notley said. "Our Constitution for as long as we've been a country has said that those limits are defined by an independent judicial system."
Calgary-based pollster Janet Brown said the controversy will reanimate voter concerns with Smith.
"Why was she even taking a call from someone facing a criminal offence and talking about their criminal charges?" said Brown in an interview.
"This will give undecided voters pause. They will be wondering about her judgment, and her judgment is her Achilles heel."
Political scientist Duane Bratt said Smith is exerting pressure on the justice system by constantly questioning justice officials about why they are pursuing COVID-19 cases.
"Even if this isn't about talking to Crown prosecutors, this is clear pressure on (Justice Minister Tyler) Shandro," said Bratt, with Mount Royal University in Calgary.
Constitutional law professor Eric Adams, with the University of Alberta, said the call threatens public trust in the courts.
"You expose the administration of justice to the reasonable concern of the public that some people have access to the premier and preferential treatment and some people don't," said Adams.
"Our system can't function on that basis."
This report by The Canadian Press was first published March 30, 2023.