Peter Elzinga appointed Board Chair of Atlas Growers
Edmonton- AB -May 15, 2018
Atlas Growers TM appoints Peter Elzinga to the Chair of the Board of Directors. Peter Elzinga will be instrumental in providing guidance, governance and input in the corporation's goal of becoming a leading supplier of medical cannabis internationally.
Peter Elzinga was the Chief of Staff to the Office of the Premier of Alberta from February 1998 to March 2004. Elzinga was elected as Member of the Legislative Assembly of Alberta for Sherwood Park from 1986 to 1993. During that time, he served as Deputy Premier and as a Minister of many portfolios, including Federal and Intergovernmental Affairs, Economic Development and Trade and Agriculture. Before that he represented the Pembina constituency in the Parliament of Canada. He was also President of the Progressive Conservative Association of Canada from 1983 to 1986. Elzinga has extensive experience working on many boards, including Servus Credit Union and EPCOR.
Currently, Peter Elzinga is President of Elicia Holdings Ltd. and Chairman of the Goodfish Lake Business Corporation Board.
"We are pleased to welcome Mr. Elzinga to the Atlas Growers Board of Directors. His extensive political, management, and leadership experience will bring both value and accountability to our rapidly expanding organization," stated Sheldon Croome, President & CEO of Atlas Growers.
About Atlas Growers
Atlas Growers is an Edmonton, Alberta, Canada based late-stage applicant for an Access to Cannabis for Medical Purposes ("ACMPR") cultivation and sales license. Atlas Growers first facility will have the capacity to produce up to 5,000 kg of dried cannabis annually. Future expansion plans include up to 1,100,000 square feet of future production capacity on a 100% owned 160 acres land package. Atlas' partnerships include Hole's Greenhouses and Scott Builders. The company has recently signed a financing with ATB Financial for up to $6.25 million.
Funeral for two officers shot and killed in Edmonton scheduled for next week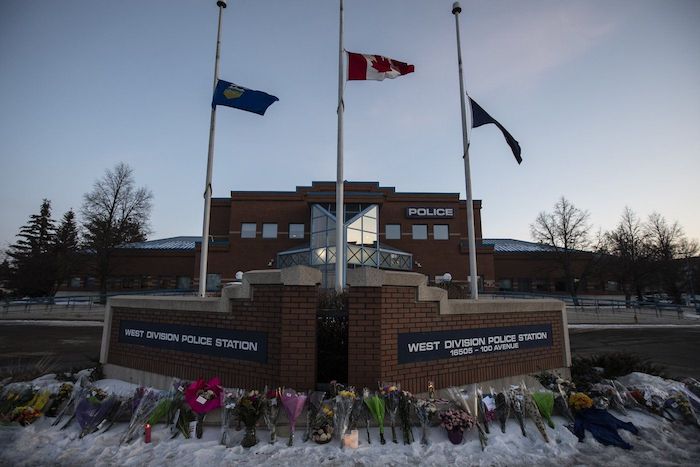 Flowers lay outside a police station for Constables Brett Ryan and Travis Jordan, who were shot and killed while on duty, in Edmonton on March 17, 2023. THE CANADIAN PRESS/Jason Franson
Edmonton (CP) – Police say a regimental funeral has been scheduled for two Edmonton officers who were shot and killed in the line of duty last week.
The funeral for Travis Jordan, who was 35, and Brett Ryan, 30, is to be held March 27 at Rogers Place, the home arena for the Edmonton Oilers of the National Hockey League.
Police say the constables were responding to a family dispute at a northwest apartment complex early Thursday when they were shot multiples times by a 16-year-old boy.
Police say the boy shot and wounded his mother during a struggle for the gun and then shot and killed himself.
The officers' bodies are set to be transported Tuesday from the medical examiner's office to a funeral home.
Police say the public is encouraged to show their support by lining the route.
Investigators said last week the boy's 55-year-old mother had called 911 because she was having trouble with the teen, but there was no indication of a threat of violence or that he had a gun.
Jordan and Ryan didn't have a chance to reach for their guns before the shooting, which was "consistent with an ambush," Deputy Chief Devin Laforce said Friday.
He said the boy's 73-year-old father was in another room in the apartment at the time and was not injured.
Police had previously responded to a mental health call at the home, Laforce said, and the boy had no criminal record or outstanding warrants.
This report by The Canadian Press was first published March 20, 2023.
Slain officers' families will get $100,000 from Heroes' Fund, Alberta premier says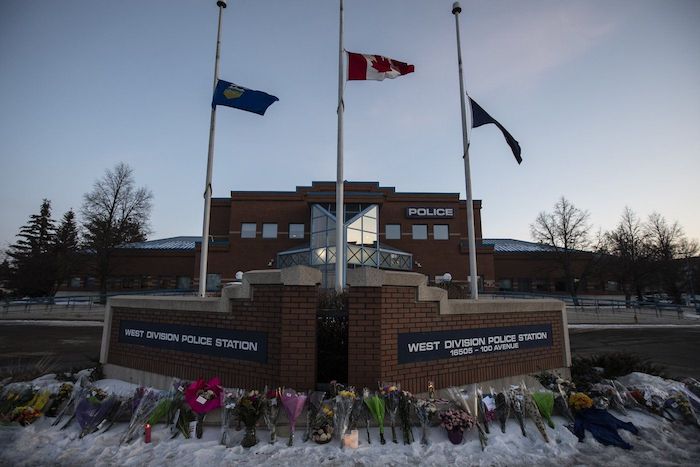 Flowers lie outside a police station for Const. Brett Ryan and Const. Travis Jordan, who were shot and killed while on duty, in Edmonton on March 17, 2023. Alberta Premier Danielle Smith says the officers' families are each to receive $100,000 from the province's Heroes' Fund. THE CANADIAN PRESS/Jason Franson
Edmonton (CP) – Alberta Premier Danielle Smith says the families of two Edmonton police officers who were fatally shot this week will each receive $100,000 from the province's Heroes' Fund.
Smith made the announcement Saturday during her weekly provincewide radio program while addressing the deaths of Const. Brett Ryan and Const. Travis Jordan.
The officers were gunned down Thursday by a teen who later killed himself while they were responding to a non-violent domestic dispute at an apartment building.
"One of the things that we have to support families is our Heroes' Fund — we brought that in in 2020 — so the families will get $100,000 each to be able to help with the costs associated with having to deal with this horrible tragedy," Smith said Saturday.
The fund was established as part of the Ensuring Safety and Cutting Red Tape Act, 2020, and the government's website says it is intended to recognize the sacrifices of first responders who die as a result of performing their duties.
Smith also encouraged people to donate to a GoFundMe for the families of the officers, which has been set up by the Edmonton Police Foundation in partnership with the Edmonton Police Association.
"If people want to provide some support to these grieving widows and their kids, you can go online to GoFundMe and just type in 'Edmonton Police Foundation.' It was already up to, I think, $218,000 before I came on air," she said.
"It's very rare when we lose an officer. It was a really rough week for everybody as we watched this tragedy unfold and got a few more details."
Ryan, 30, a former paramedic, lived just west of Edmonton in Spruce Grove, Alta. A friend said Ryan was married and his wife is expecting their first child.
Jordan, 35, who grew up in Nova Scotia, was remembered as a kind officer who went above and beyond in his job.
Smith also said during the broadcast that a regimental funeral would be held for the officers on March 26. But later in the afternoon, she tweeted the funeral details were "not fully confirmed and finalized at the moment" and asked the public to wait for Edmonton police to provide the date and full details when they become available.
The province's website says the Heroes' Fund is open to the families of police officers, firefighters, paramedics, sheriffs and provincial correction officers. It says eligibility is determined by the Workers' Compensation Board, which it says will identify eligible families using its fatality claim process and administer the funds accordingly.
It notes that between 2010 and 2019, there were 106 first responder deaths in Alberta. It also says the federal Memorial Grant Program for First Responders provides a one-time payment of up to $300,000 to families of first responders who die while on duty.
Edmonton police Deputy Chief Devin Laforce said Friday that police got a call about a non-violent domestic dispute where a mother was having trouble with her son. Ryan and Jordan were gunned down by the teen shortly after they arrived.
The shooter — a 16-year-old boy — briefly struggled for the gun with his 55-year-old mother, before wounding her and then taking his own life.
Laforce said nothing suggested the call would be dangerous or require a high-threat response, but says police had previously visited the apartment for what was categorized as a mental health complaint.
This report by The Canadian Press was first published March 18, 2023.