1 Million March 4 Children announces second event Saturday, Oct 21 – How should we feel about this?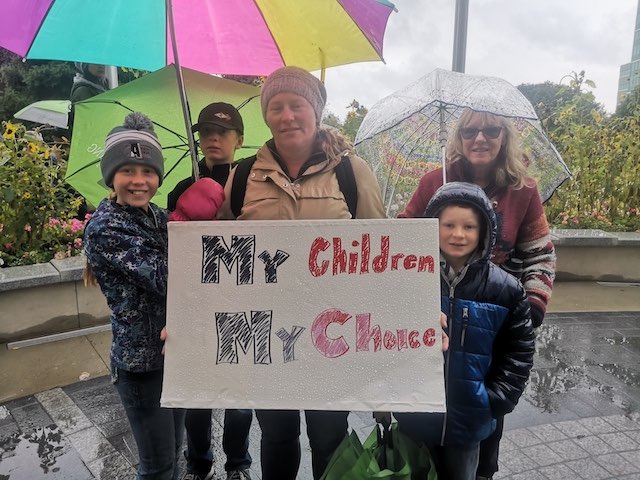 Emboldened by their first Canada-wide protest, the people behind 1 Million March 4 Children are planning a second event on Saturday, October 21. That means Canadians will have another opportunity to decide how they feel about this protest and these protestors.
This might be a good time to take a look back on the 1 Million March 4 Children event held September 20 in towns and cities from coast to coast. Here's what it looked like in Red Deer.
Protests can be prickly and sometimes even violent. Surely that's what a lot of Canadians were expecting from the 1 Million March 4 Children. In the days leading up to September 20, there were no shortage of 'warnings' about the protestors. This was the warning put out by "AntiHate.ca"
These protests are supported by a big tent of far-right and conspiratorial groups, including Christian Nationalists, COVID-19 conspiracy theorists, sovereign citizens, and anti-public education activists.
Sounds dangerous. Far-right and conspiratorial groups, Christian Nationalists, COVID-19 conspiracy theorists, sovereign citizens, all mixing it up with anti-public education activists. No wonder I was afraid to go at first! Good thing I don't depend on the AntiHate.ca website to plan my outings.
Come to think of it I've got a couple of questions for AntiHate.ca.
1) Are Christian Nationalists 'far-right' or 'conspiratorial'? Can they be just Christians who like their country a lot? If not, what do we call Christians who like Canada? Just wondering.
2) Are the COVID-19 'conspiracy theorists' the ones who correctly (if annoyingly) warned the lock downs / masks / 1, 2, 3, 4 doses of vaccine would not stop the pandemic? or were they the ones who incorrectly believed all those things would bring that pandemic to an end? Can you see how that could be confusing in 2o23?
3) I didn't know I had to be afraid of sovereign citizens and anti-public education activists. Can I let my children out of the house while they still exist in Canada?
It's important there are groups like AntiHate.ca. It's important Canadians always remember that no matter how much we disagree, almost every single person wants to live their lives in freedom and simply enjoy opportunities. When we descend into hatred, we take society down with us. So thank you AntiHate.ca for watching out for us.
Were there incidents at hate at the 1 Million March 4 Children? AntiHate.ca found some examples. I did not see or hear of any incidents at the Red Deer event. Part of the credit goes to the police. They did a wonderful job of patrolling between the opposing sides in a very relaxed and friendly manner that certainly calmed the tension people would otherwise have felt.
Standing on the sidewalk as protestors streamed past me, I was struck by how different the 1 Million March 4 Children felt compared to other protests I've attended.
This was a protest of families. There were pregnant women, new mothers and fathers with their young children, and lots of grandparents. It also featured an intriguing and beautiful mixture of cultures. As protestors strolled past I was reminded of that feeling you get from the multi-cultural festivals that mark so many Canada Day Celebrations.
Fact: On September 20, 2023 a vast array of Canadians representing many cultures and beliefs united at Red Deer's City Hall Park for the 1 Million March 4 Children.
But: Unlike Canada Day, it felt a little bit like we were going to get in trouble just for being here. Maybe that's why very few politicians dared to come out in support of this group. I did see Red Deer South MLA Jason Stephan and Red Deer Catholic School Board Member Monique LaGrange. Jason has never been frightened of zagging where other politicians are zigging. As for Monique, she's been disciplined for expressing her opinion recently and probably felt she had nothing more to lose by being associated with the people AntiHate.ca is warning us about.
Canada's Prime Minister is convinced the people streaming past me were "phobs"… Transphobs, homophobs, and biphobs (I think he may have invented the last one just as he was writing the post below). According to our Prime Minister hundreds of Central Albertans and the tens or hundreds of thousands of Canadians who gathered on September 20 were there to 'manifest their hatred' of 2SLGBTQI+ people. Here's Trudeau's post on X.
The Muslim Association of Canada strongly condemned Trudeau's remarks and called for an apology that has yet to make it's way into the line up of apologies PM Trudeau seems to make on a daily basis. Here's part of their statement.
By characterizing the peaceful protests of thousands of concerned parents as hateful, Canadian leaders and school boards are setting a dangerous precedent of using their position of influence to unjustly demonize families, and alienate countless students.
On Wednesday September 20th, thousands of Muslims, joined by other faith-based groups, protested to raise their concerns, calling for their rights as parents in relation to their children's education. Their intent was to be heard, not to sow division. Parents should have the absolute right to advocate for the wellbeing of their children.
As I streamed through my social media feeds last week I could see some of my friends (who I did not see at the protest or counter protest) apparently agree with Trudeau. The most common post was the "no space for hate" meme which is really a beautiful message even if it might be a bit too sarcastic when aimed at the vast majority of those who marched. (I'm OK with sarcasm. I think my family may have invented it.)
By using the word 'hate' they seem to be implying the protestors are hateful. Maybe they can come to the next march in October to see for themselves. I did not see messages of hate from the protestors OR from the counter protestors in Red Deer. You can see excellent examples of the signage from both sides in the photos below which show the signs on opposite sides of the street (and the debate).
On top of the signs there were also competing slogans. Chants of "Leave our kids alone" from the protestors were so loud it was a bit difficult to hear the opposing chant. I thought I heard "I was born like this" from the counter protestors.
I heard another chant from the protest organizer on his megaphone. "Don't interact with the counter protestors. They have a right to be here too." All in all the Red Deer protest was a bit loud, but far more civilized than advertised. I guess it felt a little bit like democracy is supposed to feel like.
As the protest ended I even witnessed one protestor walk up to a group of 5 or 6 counter protestors. He said (I'm paraphrasing) "I may not agree with you about much, but I respect your right to be here and I just wanted to say thank you for expressing your opinions peacefully." That was quite a moment for the counter protestors who all looked relieved as they were likely expecting a confrontation. I admit I was stunned. It caught me by surprise and I was unable to get a photo or video in time.
As I looked through the protest signs and briefly chatted with people streaming past me it was clear there was one overwhelming message. The protestors clearly want to be the ones to teach their children about gender ideology. Others are far more concerned about the idea that schools would be keeping secrets with students from their parents who pay the taxes that support the whole system.
I leave the final words to Tim Hoven. Tim is a politically active Central Albertan who tried to take on his local UCP MLA Jason Nixon in a nomination and then ran unsuccessfully as an Independent candidate against him when his nomination was disqualified. Hoven was the local organizer and the main speaker at the Red Deer version of 1 Million March 4 Children.
Political Football: The Always-Barking Dog of Bilingualism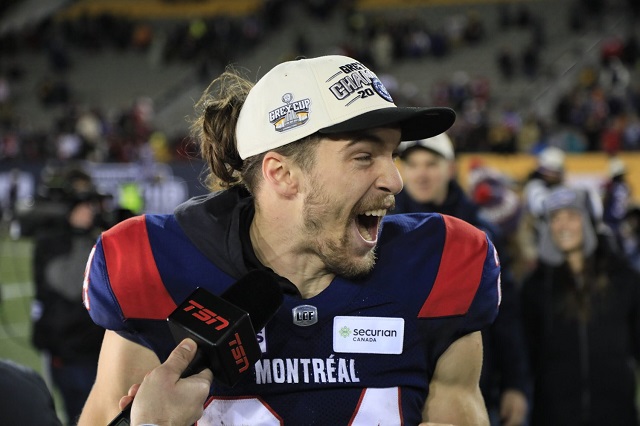 "But you know what, man, keep your English, because we're grabbing the Cup, and we're bringing it to Montreal, and we're bringing it to Quebec, and we're bringing it home!"— from the French rant by Montreal Alouette Marc-Antoine Dequoy
While the 110th Grey Cup win by Montreal over favoured Winnipeg was a classic comeback, it's now being tainted by an issue that's much older than 110 years. Canada's bilingualism/ biculturalism debate. Having already relegated the game to cable-only TSN/ RDS the CFL must have decided that— who cares— we are in Hamilton, Ontario. Why bother with all that annoying bilingual signage?
After all, no one cares that the American band Green Day is playing at halftime of the game when any number of Canadian acts are available for the gig. Who's going to bitch about a few advertisements? Reality check, aisle three. Language grievance is always in season in Québec.
As the French media covering the game noted in the days before the game the signage around the stadium was exclusively English-only. Didier Orméjuste of RDS observed en français, "The CFL is supposed to be a bilingual league but there is not one Coupe Grey sign in the stadium. Can't say I'm surprised."
The league crest at centre field read CFL only. Not LFC. Considering the efforts the CFL has made prostrating itself before the federal policy of bilingualism (for which it receives public money) it was inexcusable. It was a firing offence. Caught with their pants down the CFL rustled up a few signs around Tim Horton's Field and led PA announcements with French. But the damage was done.
Which led to the impassioned rant by Als player Marc-Antoine Duquoy in the moments after the Als' dramatic comeback win. He has since backed off a bit on his comments, saying "I just felt disrespected for me and for my province and for my heritage." Since then Québec media has pummelled the league for its obtuse behaviour.
Anglo Quebecker Andrew Potter wrote, "The message it sends to Quebecers is this: If the rest of Canada can't be bothered, why should they?" Memo to Potter: Not sure where you have been, but the rest of Canada dropped cultural football a while ago as a remnant of another time. They don't care.
Let's be honest, the official bilingual policy we've had was a dry run for the Carbon Tax. It has been a multi-billion dollar sinkhole foisted on the country by Justin Trudeau's daddy. Like all top-down policies it is permanent and immutable. And useless at its stated goal. Quebec clearly doesn't need it. The ROC resents it.
In cloistered Ottawa it still has a political status that far outstrips its usefulness to the nation. While the Trudeau/ Singh cabal are slashing defence spending, no one dares divert a dime from chasing a failed dream of cultural harmony. At these prices, who needs bilingual postal workers in Moose Jaw? Or Anglo bureaucrats in Granby?
It currently serves as a fig leaf to protect the Liberal strongholds of Anglo Quebeckers and Francophone minorities in the Maritimes and Manitoba. In Québec at least, the majority francophones have steadily eroded any sense of language fairness in the province's education, business or cultural sectors. The latest is a crushing tuition hike for out-of-province (read: Anglo) students.
The harried Anglos remaining in the province after decades of diaspora are like the white Rhodesians, voting against their best interests in the faint hope that the Liberals will save their dwindling numbers and make it Expo 67 again.
Living in Quebec, Duquoy can be forgiven for thinking that ROC is as obsessed with B&B as are the hyper-vigilant tongue troopers in Québec, who turn every slight into an excuse for more cultural purity. In fact, the ROC is far more concerned with Québec's permanent dependency on equalization money at the expense of the energy industry it works so fervently to destroy.
The quid pro quo that underpinned the 1960s dreams of B&B— that acceptance of French everywhere would still Québec's drive for sovereignty— is now Alberta and Saskatchewan pointing out the double standards in the current federation while asking, "Why can't we make like Québec with a pension plan, police force and control over immigration?"
Hate to break it to Potter and Duquoy, but most in the West would gladly negotiate a new deal with Québec to re-shape the hollow dream that is Trudeau's Canada. Keep hockey, but work out a deal the way Czechia and Slovakia did to live peaceably in their own way. Make Québec pay for its vanities while ROC hashes out a new working arrangement that reflects the current zeitgeist.
Yes, the CFL booted their Grey Cup presentation. From a business point of view insulting a significant part of your base was capotée. But in its ineptitude the league held up a mirror to the country that thinks you can make this potage of Canadian denial and American cultural pre-eminence still work.
Now, if we can just get Randy Ambrosie and his pals to drop Trudeau's Diversity delusion from its values we might be onto something really valuable.
Sign up today for Not The Public Broadcaster newsletters. Hot takes/ cool slants on sports and current affairs. Have the latest columns delivered to your mail box. Tell your friends to join, too. Always provocative, always independent. https://share.hsforms.com/16edbhhC3TTKg6jAaRyP7rActsj5
Bruce Dowbiggin @dowbboy is the editor of Not The Public Broadcaster A two-time winner of the Gemini Award as Canada's top television sports broadcaster, he's a regular contributor to Sirius XM Canada Talks Ch. 167. Inexact Science: The Six Most Compelling Draft Years In NHL History, his new book with his son Evan, was voted the seventh-best professional hockey book of all time by bookauthority.org . His 2004 book Money Players was voted sixth best on the same list, and is available via http://brucedowbigginbooks.ca/book-personalaccount.aspx
Canadian Human Rights Commission mocked for attacking Christmas as form of 'colonialism'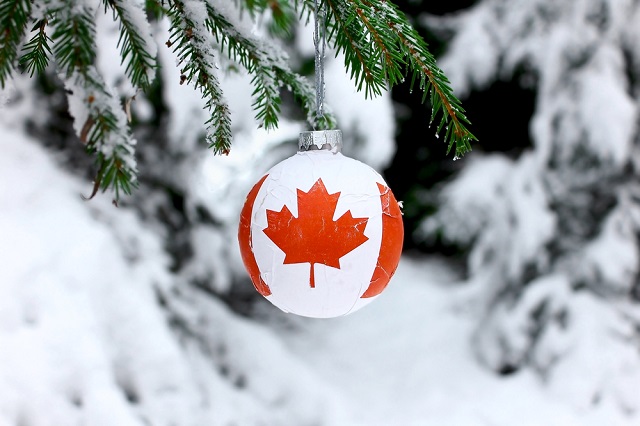 Citing Christmas as an 'obvious example,' the Canadian Human Rights Commission characterized celebrating the birth of Jesus Christ as 'discrimination' rooted 'in Canada's history of colonialism.'
The Canadian Human Rights Commission (CHRC) is being slammed for suggesting that those who celebrate Christian holidays, including Christmas, are exhibiting intolerance and perpetuating so-called "settler colonialism."
According to a recent document the CHRC published on October 23, 2023, titled "Discussion Paper On Religious Intolerance," holidays such as Christmas and Easter are forms of discrimination and religious intolerance.
The CHRC said that observing the birth of Jesus Christ is "an obvious example" of a type of religious bias that is rooted in colonialism.
"Discrimination against religious minorities in Canada is grounded in Canada's history of colonialism," reads the Commission's paper.
The CHRC was immediately blasted by Conservative Party of Canada (CPC) MPs and others for being "ridiculous" and "woke."
"This is ridiculous," wrote CPC MP Jeremy Patzer on X (formerly Twitter) yesterday in response to the Commission's paper.
This is ridiculous. Christmas is celebrated all around the world by people of different ethnic and religious backgrounds. This is another example of woke ideology fomenting within the federal government. I for one will be celebrating Christmas whole heartedly. Merry Christmas!🎄 https://t.co/9EtpLuWvRG

— Jeremy Patzer (@JeremyPatzerMP) November 21, 2023
"Christmas is celebrated all around the world by people of different ethnic and religious backgrounds. This is another example of woke ideology fomenting within the federal government. I for one will be celebrating Christmas whole heartedly. Merry Christmas!"
One concerned Canadian said that the CHRC itself is engaging in discrimination for "attacking" Christians' right to celebrate the birth of Christ, a right Canada has upheld since its founding.
This is a direct attack on the founding beliefs of this country. Western countries, which are thriving democracies, were built by people grounded in Judeo-Christian values. The degradation of the faith, is in and of itself, is intolerant.

— Kerry Ozard (@OzardKerry67475) November 21, 2023
Despite the mainstream push to switch to the term "Happy holidays" in lieu of "Merry Christmas," a Leger poll from December 2022 found that the overwhelming majority of non-Christian Canadians are content with being greeted by the words "Merry Christmas" during the season of Advent.
When the non-Christians were asked if they were "Offended when people greet me with 'Merry Christmas'," 92 said they disagreed with only 8 percent agreeing.
The CHRC is an independent federal institution created in 1977 that oversees holding up Canada's human rights laws.
The CHRC claims that the history of holidays "manifests itself in present day systemic religious discrimination. An obvious example is statutory holidays in Canada."
"Statutory holidays related to Christianity including Christmas and Easter are the only Canadian statutory holidays linked to religious holy days," it said.
"As a result non-Christians may need to request special accommodation to observe their holy days."
The European settlers that came to Canada, from France and then later from what is the modern-day United Kingdom, were Christian and included missionaries who came to try and spread the faith to the local indigenous populations.
Canada has observed Christmas since 1641, well before its official founding, according to some historical records. Despite this, the CHRC said that the nation's "history with religious intolerance is deeply rooted in our identity as a settler colonial state."
In 2021, a federal court directive mandated that all references to Christmas holidays be removed from all court calendars, however, this directive did not come from a complaint but instead was an internal decision.