Who loves COVID19? Here are the top 3 COVID lovers.
No I'm not kidding, nor is the headline intended to be click-bait. There really are raving fans of COVID19, who have their fingers crossed for this pandemic to keep going for as long as possible. Members of the COVID cult are secretly flailing about in crazed glee that all of their dreams and aspirations are finally… magnificently coming true. None of the pain, suffering, or even the deaths of the rest of us bothers the cultists even slightly. In fact, quite the opposite; they think we had it coming.
When small businesses shut down, they roll their eyes and moan, "ugh, who cares? They are just a bunch of greedy, Scrooge McDucks anyway!". When seniors die they shrug their shoulders and quip, "meh, they were old anyway…you can't live forever". As the spine of the energy sector fractures they roar with cheers, "WOOOOOO HOOOOO! Ding dong the witch is dead! The evil, anti-environmental oil companies are finally dethroned!!!" The ideologically rabid cultists don't have even a microscopic iota of empathy for the increase in bankruptcies, foreclosures, or even the suicides which are all a direct result of the economic armageddon of which we are now merely at the inception of. To justify their sociopathic Machiavellian perspectives they simply recite a terrible cliche, "You can't make an omelet without breaking a few eggs."
So, who are the proverbial "they" of which I speak? Here are a few:
1 – Environmental Extremists
The world truly does face serious environmental issues, and I'm not trivializing this fact in any way. This being said, there is no denying that the extreme fringe of environmental activism has been becoming more and more mainstream every year. The frantic chicken little screams of "we're all going to die!" has been getting louder every year, yet the actual actions toward climate change mitigation have been nominal at best. Although most of the climate change fear mongers have had their sights set firmly on the oil producers, more rational minds admit that the only way to reduce carbon emissions, is by reducing the demand for fossil fuels…not the production. Reducing the demand requires humans to make severe changes to their lifestyle, which of course very few would do voluntarily. Some of these changes would include:
Only go out for Groceries once a week at the most

Stop recreational travel such as Sunday drives, Camping, and Holidays.

Stop all recreational air travel, and all Cruises.

Drastically reduce commuting to work by working from home instead

Eat less meat (The Cargil plant just shut down, which supplies at least ⅓ of all Canadian meat processing)

Kill the Oil industry by killing the demand for oil with the above measures. (price per barrel is now negative for the first time in history)
Just imagine how pleased the environmental activists must be now that their impossible demands have now been met! How else would they have achieved their goals? Truly, this pandemic is a dream come true for David Suzuki, Justin Trudeau, and so many others. How likely do you think it is that Justin Trudeau would feel motivated to put an end to the lockdown as soon as possible? My guess is…not very.
2 – Extreme left-wingers, including Pro-Communist groups
It's been seventy years since the terrifying rise and fall of McCarthyism, but what if Senator Joseph McCarthy was correct in his vehement opposition to Communism? Is he looking down on us now with his hands thrown in the air yelling "I told you so!"? On paper, Communism seems to be a fair and just system of government, where gluttony is outlawed, and extreme poverty is eliminated. And, microcosms of Communism seem to work quite well in the case of small agrarian communities such as Hutterites, Amish, and Mennonites. By definition, even the Military is a communist organization, though most would argue the obvious parallel.
With every passing year, more and more college and University students can be seen wearing Che (Ernesto) Guevara shirts. Many students and faculty members even laud Chairman Mao Tse-Tung as a folk hero. Che was a psychopathic murderer, but Mao Tse-Tung was the most murderous dictator in all of human history. Mao killed so many of his own people, that nobody knows for sure just how many fell victim to his unbridled rage. Some current estimates put the death toll between 35 and 45 million, though other estimates are far higher, exceeding 60 million deaths. Only Stalin stands in direct competition with Mao for the prize of being the most hideous communist dictator of all time, yet the leftists continually cite Hitler as the one and only homicidal maniac in modern history. How horrific is it that not only the aforementioned, but other hideous figures from recent history like Pol Pot are forgotten altogether by our post-secondary educators? Why is it that hard-left extremists not only forgive the horrific crimes of the left…they applaud them?
This begs the question, "If leftist extremists can applaud genocide, what else could they endorse as long as it was in line with their ambitions"? Is supporting a pandemic really that much of a stretch given the last 200 years of history?
3 – Never Trumpers
For all who believe that Capitalism is the root of all evil, Trump is their Satan. Prior to 2015, Trump was lauded as the King of Capitalism, and the epitome of the American dream. Reporters fawned over him, and television networks begged for his attention, until finally, NBC landed a deal with D.J. Trump which resulted in the top-rated show of their entire lineup.
Advertisers paid for ad space which rivaled the Super Bowls price per second and has-been celebrities clambered to be on the second generation of the show in hopes that the exposure might reignite their careers. The same giddy sycophants who yearned for Trump's approval were quick to turn on him the moment he announced his run for President. Even Omarosa Manigault, (who was given both a second and a third chance for redemption by Trump) turned on Trump the moment she no longer benefitted from standing in the President's spotlight. "Oh how fickle love can be when power and fame tempt thee."
Desperate to dethrone President Trump, his political opponents, supported by the majority of media outlets, have fired every possible accusation and conspiracy theory they could think of at him. First, they attacked the legitimacy of the election, then when that failed they screamed "RUSSIA, RUSSIA, RUSSIA!" until their lungs burst. After the most exhaustive investigation in modern history, the Russian collusion hoax was debunked. Still undeterred, the extreme faction of the Democrats squeaked loud enough to convince the DMC to hold a meaningless impeachment vote, knowing full well that it would never come to fruition. The damage which was done to both the country and democracy was considered to be…" worth it". Again, this begs the question, "Just how far would the Dems go to dethrone Trump?" Being that Trump's #1 accomplishment has been a record-breaking robust economy, wouldn't it be wonderful if that economy was destroyed? What if, you could destroy Trump's best argument for re-election, AND reconfigure society into an environmentalist utopia? Just how far would one go, if only there were a way to make all of this happen?
I'm not claiming that the American Democrats colluded with Justin Trudeau and other hysterical environmentalists to release the COVID19 virus on the world. I am however asking the question, "If they could, …wouldn't they?" I wouldn't put it past them for a second, and no rationally minded person would argue this point. Do I have enough prima facie evidence to make a credible accusation? No. No I do not, however, there is in fact more than enough evidence to at least be suspicious.
Justin Trudeau's government gave nearly one million dollars to the exact SAME laboratory in Wuhan from which the COVID19 virus is very likely to have originated. To say this is a strange coincidence is a significant understatement.

The W.H.O. which is largely funded by the Chinese Communist Regime, shielded China from culpability for as long as possible, which put the entire globe at greater risk. Being pro-china can not be detached from being pro-communist.

Both criticism of the Chinese regime, and/or demands for Chinese culpability results in accusations of racism and/or xenophobia by Liberal Governments.

Trump was an early adopter of mitigation efforts by being among the first to impose travel restrictions. The media loudly criticized him for this, then when the entire globe followed suit, they criticized him for not imposing the restrictions even earlier. No matter what Trump does, the media tells the public that his policies are killing Americans. If the media's agenda is to dethrone Trump at any cost, then their spectacular flip-flops are not a surprise.

Dissent is being squelched by both social shaming, and soon by law. EG: Social media deleting all content that questions the official government narrative of COVID19, and Trudeau's Liberals are now proposing a restriction to free speech for the same end.
None of the above five points constitute a smoking gun, however, all of them constitute smoke. Where there is smoke, there is usually fire and combined, that's a lot of smoke.
Just remember that throughout all of human history, wherever power could expand, it did expand. Zealots have always been willing to allow the suffering of others for what they believe to be the greater good; and no, no we have not evolved beyond this terrible flaw in the human psyche.
For more stories, visit Todayville Calgary
Kane, McDavid, Draisaitl lead Oilers over Flames 4-1 to take 2-1 series lead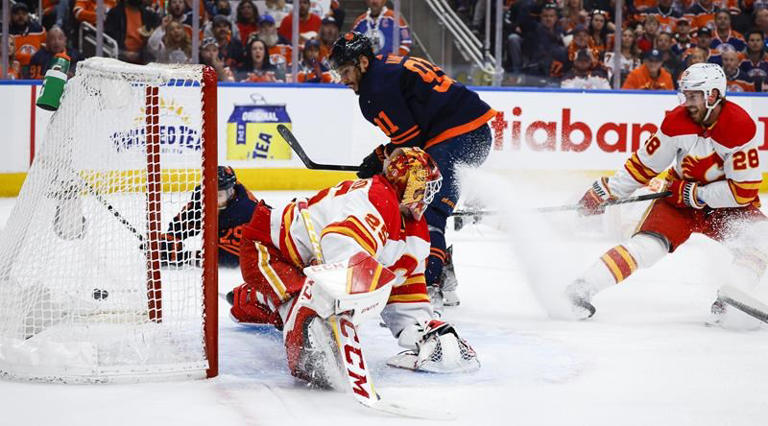 EDMONTON — Evander Kane didn't have a team four months ago.
The controversial winger lugging around plenty of off-ice baggage was confident of an NHL return at some point. He just didn't know when or where.
Now he's filling the net alongside two of hockey's best.
Kane scored a natural hat trick during an electric six-minute span and Connor McDavid provided more magic with three assists in another dominant performance as the Edmonton Oilers downed the Calgary Flames 4-1 on Sunday to take a 2-1 lead in their second-round playoff series.
I'm just happy to be part of this group," said Kane, who had his contract terminated by the San Jose Sharks in January before signing on in the Alberta capital. "Just trying to do my part."
McDavid, meanwhile, now has 23 points (six goals, 17 assists) through 10 playoff games this spring. The only players in post-season history with more over the same span are Wayne Gretzky (29 in 1983 and 25 in 1985), Mario Lemieux (25 in 1992) and Rick Middleton (23 in 1983).
"He's been on fire in the playoffs and has taken his game to the next level," Kane said. "He's not just doing it on the scoresheet. That's what's allowing him to really showcase his skill. He's physical, he's involved. A dominant force."
Leon Draisaitl, meanwhile, became the first player in league history to register four assists in a playoff period by setting up each of the home side's goals in a frantic second as the Oilers' top line combined for 10 points. Zach Hyman had the other goal for Edmonton.
"(Draisaitl) has been really good for our group," Kane said of a teammate sitting second behind McDavid in the overall playoff scoring race with 19 points despite battling through a suspected injury.
"Seems to find another level each and every night."
Mike Smith, who was briefly pulled from the action by the league's independent concussion spotter midway through the third after getting clobbered into the boards by Milan Lucic, made 32 saves for the victory.
Oliver Kylington replied for Calgary, while Jacob Markstrom allowed four goals on 34 shots before getting the hook behind a Flames group that has been outscored 8-1 since taking a 3-1 lead in the second period of Game 2. Dan Vladar made seven saves in relief.
"We lose the second period 4-0," Calgary defenceman Rasmus Andersson said. "We let one guy (McDavid) dominate."
The Oilers will look to take a 3-1 stranglehold on the best-of-seven Battle of Alberta — the first post-season meeting between the provincial rivals in 31 years — Tuesday night back at Rogers Place.
The first playoff contest in Edmonton to feature the Oilers and Flames since April 14, 1991, when Theo Fleury scored in overtime of Game 6 to spark a wild and memorable celebration, the Oilers exploded for those four goals in just over 12 minutes in the middle period, including Kane's second hat trick of the month.
Hyman opened the scoring with his sixth of the post-season 52 seconds after the restart following a 21-shot Edmonton first off a setup from Draisaitl and McDavid to ignite the crowd inside and outside the raucous, packed-to-the rafters arena.
"I think we had a lot of our younger guys that haven't been in this situation before (and) were a little bit intimidated by the atmosphere," Calgary head coach Darryl Sutter said.
Kane scored his first of the night at 6:58 off a feed from Draisaitl after the Flames turned the puck over at the offensive blue line.
He then pushed the lead to 3-0 on an outrageous McDavid rush after stepping past Calgary defenceman Noah Hanifin like he wasn't even there just 53 seconds later.
"We've let one guy beat us a few nights now," Flames forward Matthew Tkachuk said of McDavid's mastery.
"Back to the drawing board and figure out a way to stop him."
Smith made a great stop on a Johnny Gaudreau breakaway later in the period before also denying Tkachuk.
"Just trying to make saves for our group," said the 40-year-old goaltender, who spent a big chunk of the season out injured. "Trying to stay as poised as possible."
Kane completed his hat trick — the seventh-fastest in post-season history — with his 10th goal of the 2021-22 playoffs at 12:58 on a 2-on-1 with McDavid before fans littered the ice with headgear.
The 30-year-old Vancouver native is just the third Edmonton player to score three straight goals in a post-season game, joining Gretzky (1983) and Petr Kilma (1991).
After his contract was voided by San Jose, Kane signed on with his fourth NHL team despite plenty of questions about his past — from suspensions due to COVID-19 protocol violations, a bankruptcy and self-confessed gambling problems.
The biggest headlines from his personal life, however, were related to allegations of abuse lodged by his former wife, which were not proven in court. Kane has custody of the former couple's daughter.
"I didn't know Evander Kane at all," said Edmonton interim head coach Jay Woodcroft, who replaced the fired Dave Tippett in February. "What I've learned is he is a hockey player with really, really good habits.
"There's a reason why he finds success."
Markstrom, who allowed 11 combined goals in Games 1 and 2 after posting a .941 save percentage in the opening round against the Dallas Stars, got the hook in favour of Vladar to start the third with the Flames turning their attention to Game 4.
Seven points clear of Edmonton in the standings to top the Pacific Division and minus injured defenceman Chris Tanev (undisclosed) for a fourth straight contest, Calgary got a power play early in the final period looking for a spark, but Smith was sharp at every turn.
Lucic subsequently ran over the veteran netminder behind the Oilers' net midway through the third to ignite a melee involving all 10 skaters.
"When you're getting run through the end wall and you're not expecting it … it's not an ideal situation," Smith said.
"A play out of frustration, running our goalie," added Kane.
Smith was removed by the spotter in favour of Koskinen, who didn't have to make a save in just over four minutes of action, before Edmonton's starter returned to a huge ovation after re-emerging from the locker room.
Kylington got a consolation goal for the visitors — his first of the playoffs — with under five minutes to go in regulation.
The Oilers fell behind early in both games at Calgary's Scotiabank Saddledome, but following a wild 9-6 loss in the opener, rebounded with a 5-3 comeback victory two nights later to even the series.
Edmonton had a much better start Sunday, including Brett Kulak's point shot that leaked through Markstrom and hit post before being cleared.
The Flames had hoped to keep the action at 5-on-5 as much as possible after McDavid, Draisaitl and the Oilers took advantage of power play, short-handed and four-on-four situations in Game 3, but took two penalties to Edmonton's one in the first.
McDavid, who seemed to have the puck all night, went on one of his jaw-dropping rushes during his team's second man advantage, but Markstrom was there to deny the Oilers captain in what was a sign of things to come.
"Good to come back home and play these guys on our home ice," Kane said. "A good win for our group."
And one he probably didn't envision being part of not that long ago.
This report by The Canadian Press was first published May 22, 2022.
___
Follow @JClipperton_CP on Twitter.
Joshua Clipperton, The Canadian Press
Hidden Valley School Parents Rally for a New Playground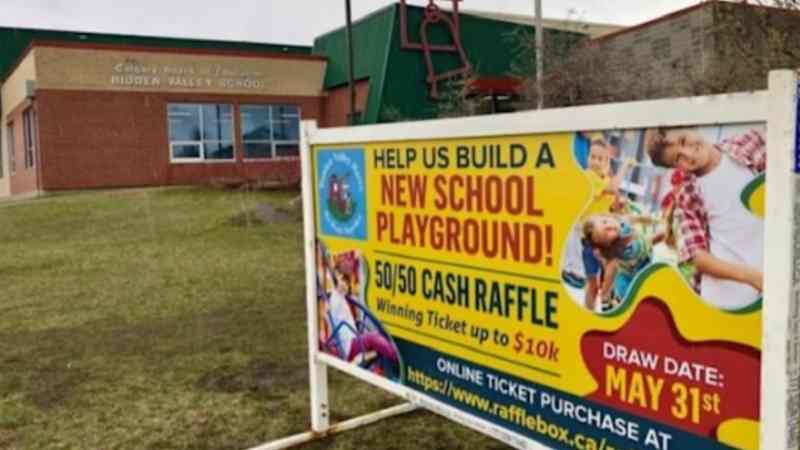 Hidden Valley School Parents Rally for a New Playground
Contributed by Friends of the Hidden Valley School Society
The Friends of Hidden Valley School Society is looking to replace the 17-year-old outdoor playground directly behind the school as soon as possible, as the existing play equipment is soon to be at the end of its lifecycle. The society has been proactively raising funds for several years but they have a long way to go.
Now that they have a conceptual design and an estimated cost for the project, the hardest part is fundraising. The parent society has raised 32% of the $370K project to date. They will need to raise at least half of the project costs on their own in order to be eligible to qualify for any kind of grant funding support.
"Our non-profit parent society financially supports our students and their learning annually by supplementing initiatives such as math and reading literacy kits for classrooms, providing buses for field trips like swimming lessons and paying for residency programs so that all our students get an equal opportunity for enhanced learning opportunities" states Sarah P, Chairperson. Figuring out now how to financially support the school on an annual basis in addition to building a new playground takes an enormous amount of time and effort from a volunteer perspective. "There are a lot of moving parts to a project this size, and collaboration with stakeholders is key. We've done our due diligence by hosting community engagement with students, staff and parents to decide on what types of play equipment should be included in an inclusive playground. Students, staff and external stakeholders have written letters of support in hopes of helping with seeking out external funding support."
Friends of Hidden Valley School Society has teamed up with Parks Foundation Calgary for money management of the project. Through its Project Support Program (PSP), the Parks Foundation can issue tax receipts for donations made to the project.
Hidden Valley School is a K-3 French Immersion public school located in the heart of the community of Hidden Valley in NW Calgary. The school's inclusive playground will have a direct impact on the 400+ staff and students at the school and 700+ children who live within the surrounding community neighbourhoods and utilize the playground outside of school hours. "Figuring out how to reach the greater community to support this project is the challenge. We're currently hosting a raffle that anyone in Alberta can enter in hopes of raising $20K in support of the project. This fall we will host a silent auction and if everything works out, we are hoping to reach 50% of our fundraising goal by 2023".
Replacing the school playground will allow students safe, continued use year-round. As mandated by Alberta Education's Daily Physical Activity (DPA) Initiative, the parent society will be supporting students in developing healthy, active lifestyles; increasing students' ability to learn. For more information about the Friends of Hidden Valley School Society's playground project visit the "Get Involved" section of the school's website or check out their Facebook Page at @Hiddenvalleyschoolcalgary.