Who loves COVID19? Here are the top 3 COVID lovers.
No I'm not kidding, nor is the headline intended to be click-bait. There really are raving fans of COVID19, who have their fingers crossed for this pandemic to keep going for as long as possible. Members of the COVID cult are secretly flailing about in crazed glee that all of their dreams and aspirations are finally… magnificently coming true. None of the pain, suffering, or even the deaths of the rest of us bothers the cultists even slightly. In fact, quite the opposite; they think we had it coming.
When small businesses shut down, they roll their eyes and moan, "ugh, who cares? They are just a bunch of greedy, Scrooge McDucks anyway!". When seniors die they shrug their shoulders and quip, "meh, they were old anyway…you can't live forever". As the spine of the energy sector fractures they roar with cheers, "WOOOOOO HOOOOO! Ding dong the witch is dead! The evil, anti-environmental oil companies are finally dethroned!!!" The ideologically rabid cultists don't have even a microscopic iota of empathy for the increase in bankruptcies, foreclosures, or even the suicides which are all a direct result of the economic armageddon of which we are now merely at the inception of. To justify their sociopathic Machiavellian perspectives they simply recite a terrible cliche, "You can't make an omelet without breaking a few eggs."
So, who are the proverbial "they" of which I speak? Here are a few:
1 – Environmental Extremists
The world truly does face serious environmental issues, and I'm not trivializing this fact in any way. This being said, there is no denying that the extreme fringe of environmental activism has been becoming more and more mainstream every year. The frantic chicken little screams of "we're all going to die!" has been getting louder every year, yet the actual actions toward climate change mitigation have been nominal at best. Although most of the climate change fear mongers have had their sights set firmly on the oil producers, more rational minds admit that the only way to reduce carbon emissions, is by reducing the demand for fossil fuels…not the production. Reducing the demand requires humans to make severe changes to their lifestyle, which of course very few would do voluntarily. Some of these changes would include:
Only go out for Groceries once a week at the most

Stop recreational travel such as Sunday drives, Camping, and Holidays.

Stop all recreational air travel, and all Cruises.

Drastically reduce commuting to work by working from home instead

Eat less meat (The Cargil plant just shut down, which supplies at least ⅓ of all Canadian meat processing)

Kill the Oil industry by killing the demand for oil with the above measures. (price per barrel is now negative for the first time in history)
Just imagine how pleased the environmental activists must be now that their impossible demands have now been met! How else would they have achieved their goals? Truly, this pandemic is a dream come true for David Suzuki, Justin Trudeau, and so many others. How likely do you think it is that Justin Trudeau would feel motivated to put an end to the lockdown as soon as possible? My guess is…not very.
2 – Extreme left-wingers, including Pro-Communist groups
It's been seventy years since the terrifying rise and fall of McCarthyism, but what if Senator Joseph McCarthy was correct in his vehement opposition to Communism? Is he looking down on us now with his hands thrown in the air yelling "I told you so!"? On paper, Communism seems to be a fair and just system of government, where gluttony is outlawed, and extreme poverty is eliminated. And, microcosms of Communism seem to work quite well in the case of small agrarian communities such as Hutterites, Amish, and Mennonites. By definition, even the Military is a communist organization, though most would argue the obvious parallel.
With every passing year, more and more college and University students can be seen wearing Che (Ernesto) Guevara shirts. Many students and faculty members even laud Chairman Mao Tse-Tung as a folk hero. Che was a psychopathic murderer, but Mao Tse-Tung was the most murderous dictator in all of human history. Mao killed so many of his own people, that nobody knows for sure just how many fell victim to his unbridled rage. Some current estimates put the death toll between 35 and 45 million, though other estimates are far higher, exceeding 60 million deaths. Only Stalin stands in direct competition with Mao for the prize of being the most hideous communist dictator of all time, yet the leftists continually cite Hitler as the one and only homicidal maniac in modern history. How horrific is it that not only the aforementioned, but other hideous figures from recent history like Pol Pot are forgotten altogether by our post-secondary educators? Why is it that hard-left extremists not only forgive the horrific crimes of the left…they applaud them?
This begs the question, "If leftist extremists can applaud genocide, what else could they endorse as long as it was in line with their ambitions"? Is supporting a pandemic really that much of a stretch given the last 200 years of history?
3 – Never Trumpers
For all who believe that Capitalism is the root of all evil, Trump is their Satan. Prior to 2015, Trump was lauded as the King of Capitalism, and the epitome of the American dream. Reporters fawned over him, and television networks begged for his attention, until finally, NBC landed a deal with D.J. Trump which resulted in the top-rated show of their entire lineup.
Advertisers paid for ad space which rivaled the Super Bowls price per second and has-been celebrities clambered to be on the second generation of the show in hopes that the exposure might reignite their careers. The same giddy sycophants who yearned for Trump's approval were quick to turn on him the moment he announced his run for President. Even Omarosa Manigault, (who was given both a second and a third chance for redemption by Trump) turned on Trump the moment she no longer benefitted from standing in the President's spotlight. "Oh how fickle love can be when power and fame tempt thee."
Desperate to dethrone President Trump, his political opponents, supported by the majority of media outlets, have fired every possible accusation and conspiracy theory they could think of at him. First, they attacked the legitimacy of the election, then when that failed they screamed "RUSSIA, RUSSIA, RUSSIA!" until their lungs burst. After the most exhaustive investigation in modern history, the Russian collusion hoax was debunked. Still undeterred, the extreme faction of the Democrats squeaked loud enough to convince the DMC to hold a meaningless impeachment vote, knowing full well that it would never come to fruition. The damage which was done to both the country and democracy was considered to be…" worth it". Again, this begs the question, "Just how far would the Dems go to dethrone Trump?" Being that Trump's #1 accomplishment has been a record-breaking robust economy, wouldn't it be wonderful if that economy was destroyed? What if, you could destroy Trump's best argument for re-election, AND reconfigure society into an environmentalist utopia? Just how far would one go, if only there were a way to make all of this happen?
I'm not claiming that the American Democrats colluded with Justin Trudeau and other hysterical environmentalists to release the COVID19 virus on the world. I am however asking the question, "If they could, …wouldn't they?" I wouldn't put it past them for a second, and no rationally minded person would argue this point. Do I have enough prima facie evidence to make a credible accusation? No. No I do not, however, there is in fact more than enough evidence to at least be suspicious.
Justin Trudeau's government gave nearly one million dollars to the exact SAME laboratory in Wuhan from which the COVID19 virus is very likely to have originated. To say this is a strange coincidence is a significant understatement.

The W.H.O. which is largely funded by the Chinese Communist Regime, shielded China from culpability for as long as possible, which put the entire globe at greater risk. Being pro-china can not be detached from being pro-communist.

Both criticism of the Chinese regime, and/or demands for Chinese culpability results in accusations of racism and/or xenophobia by Liberal Governments.

Trump was an early adopter of mitigation efforts by being among the first to impose travel restrictions. The media loudly criticized him for this, then when the entire globe followed suit, they criticized him for not imposing the restrictions even earlier. No matter what Trump does, the media tells the public that his policies are killing Americans. If the media's agenda is to dethrone Trump at any cost, then their spectacular flip-flops are not a surprise.

Dissent is being squelched by both social shaming, and soon by law. EG: Social media deleting all content that questions the official government narrative of COVID19, and Trudeau's Liberals are now proposing a restriction to free speech for the same end.
None of the above five points constitute a smoking gun, however, all of them constitute smoke. Where there is smoke, there is usually fire and combined, that's a lot of smoke.
Just remember that throughout all of human history, wherever power could expand, it did expand. Zealots have always been willing to allow the suffering of others for what they believe to be the greater good; and no, no we have not evolved beyond this terrible flaw in the human psyche.
For more stories, visit Todayville Calgary
Join us for our 2023 Induction Ceremony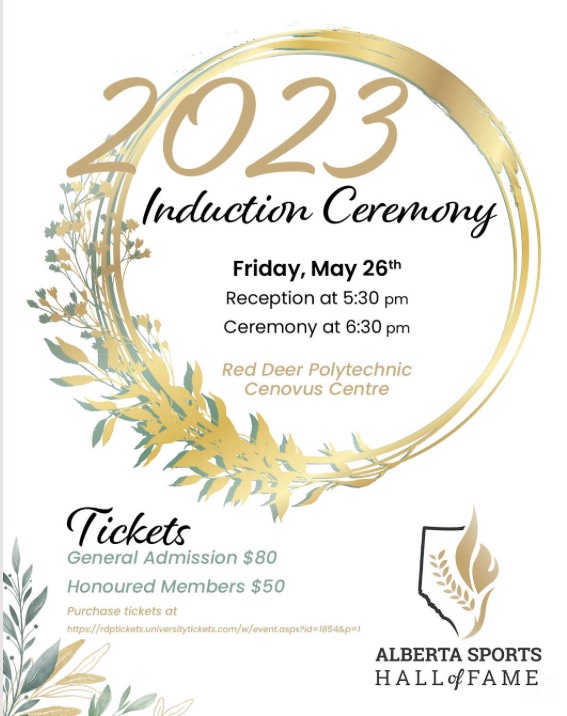 Our 2023 Induction Ceremony will be on Friday, May 26th at the Red Deer Polytechnic Cenovus Centre. Cocktails and appetizers will begin at 5:30 pm, with the ceremony starting at 6:30 pm. The class of 2023 is as follows:
Athletes
Andrew Buckley-Football
Mike Johnson-Baseball
Helen Upperton-Bobsleigh
Builders
Cara Currie Hall-Multisport
Allan Ferchuk-Multisport
Greg Peterson-Football
Lyn Radford-Multisport
Teams
Old Grizzlys 1991-1994-Hockey
Awards
Wilf Brooks-Achievement –Hockey
Mark Stephen-Bell Memorial – Radio Broadcaster
Dr. Marcus Dunsworth-Pioneer- Multisport
Tickets are $80 or $50 for Honoured Members. You can purchase your tickets by clicking here.
If you have any questions or need help purchasing tickets, please call 403-341-8614.
Honoured Member Cody Snyder to be Inducted into the Bull Riding Hall of Fame
Honoured Member Cody Snyder will be the first Canadian inducted into the Bull Riding Hall of Fame.
Cody started riding junior steers in rodeo competitions when he was eight years old, and at twelve, he finally rode his first bull. By the age of fifteen, Cody was the Canadian Amateur Bull Riding Champion. Through 1980 and 1981, Cody gained the experience he needed to lead the Canadian Professional Rodeo Bull Riding standings in 1982. He was nineteen years old. He was inducted into our Hall in 2002 as a Rodeo Athlete.
Learn more about this story by following the link below.
This newsletter is sponsored by the RBC Foundation.
Honoured Member Highlight – Allan Coulter
Volleyball Athlete – Inducted in 1997
Allan Coulter was a member of Canada's National Men's Volleyball Team from 1979 to 1992. He competed in over 700 international volleyball matches and was selected as Team Captain from 1988 – 1992. He competed in both the 1984 Summer Olympics and the 1992 Summer Olympics. He was described as the 'quickest hitting middle blocker' Canada has ever had. Allan continued to compete with the Calgary 'Canuck Volleyball Stuff' and became the spokesman, leader and role model for Canada's National Team Program.
Provincial Sport Organization: Volleyball Alberta
Their primary goal is to promote and develop volleyball at all levels throughout Alberta. Volleyball Alberta services the needs of its membership which consists of athletes, coaches, officials, and anyone interested in the sport of volleyball in the province.
Artifact in Focus!
F. E. Osborne Memorial Trophy: Tuxis Junior League Champions, Operated by Calgary Tuxis Coucil, Annual Competition. 1949-1957.
Honoured Member Dr. David Legg Teaches Adaptive Sports to Elementary Students
The Alberta Sports Hall of Fame partnered with Calgary Adaptive Hub and Honoured Member Dr. David Legg to teach students about adaptive sports.
Professor at the Mount Royal University department of Health and Physical Education, David is an engaging lecturer and supports his students in finding practical experience working with individuals with disabilities in adapted sport. He has devoted his life as a volunteer in sport for athletes with a disability at the provincial, national and international level. He was inducted in 2022 as a Paralympic/Multisport Builder.
Thank You Northern Alberta Curling Championship Society!
We want to give a huge shout-out to the Northern Alberta Curling Championship Society for sponsoring a new interactive for the Hall. The new curling rink is a great addition to our space.
If you or your organization would like to sponsor a new interactive for the Hall, please email us at [email protected] or call 403-341-8614.
Donate Now​
The Alberta Sports Hall of Fame needs your support to continue the ongoing preservation of Alberta's sports history and the development of museum exhibits. We are grateful and appreciative of the generosity of our supporters and friends. We would be happy to assist you in choosing how your personal legacy will be fulfilled and the many options available. Here is some information on donating shares to ASHFM and the benefits to you as a donor.
Alberta top court downgrades murder convictions in quadruple homicide case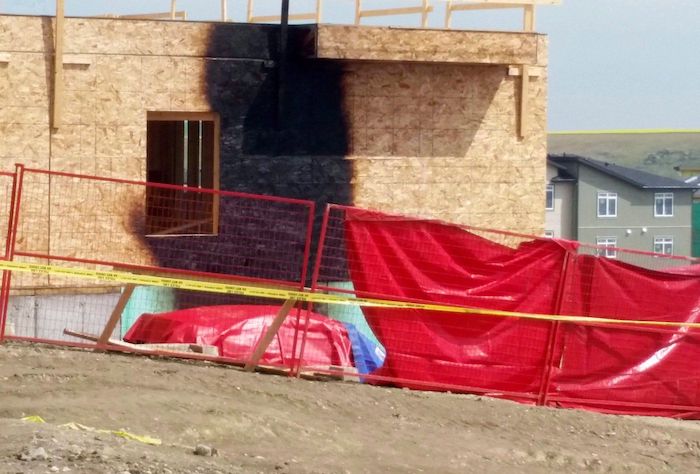 Calgary – Alberta's top court has downgraded two convictions in a high-profile case involving the torture and killing of a man and the deaths of three others from first-degree to second-degree murder.
The Alberta Court of Appeal released the decision Friday in the cases of Tewodros Kebede and Yu Chieh Liao over the killing of Hanock Afowerk.
Afowerk's body was found in a ditch outside Calgary in July 2017. He had been bound, beaten, strangled and shot.
Three other bodies were found in Afowerk's burnt-out car at a suburban construction site. No murder charges have been laid in those deaths.
Court heard that Afowerk's death was the culmination of a plot to kidnap him and extort him for money. The jury agreed with the Crown that Afowerk's killing had been part of the plan from the start.
But the Appeal Court said the trial judge failed to explain that while the kidnapping and beating had clearly been planned, Afowerk's killing may not have been. It suggested the defendants may have not have been recruited to kill him.
The Crown relied heavily on a text message sent by Kebede before the killing, which read: "U up for the job tonight?", as evidence of planning. But because the recipient of that message didn't testify to it, the Appeal Court concluded its meaning was unclear.
The court gave the Crown the choice of retrying the case or substituting second-degree verdicts. It chose the latter.
The court dismissed the defendants' application for a new trial
"Following the trial judge's instructions, the jury must have found by their verdict that both appellants actively participated in the murder of Mr. Afrowerk," the Appeal Court said in its written judgment.
"Both would therefore be properly convicted of second-degree murder. Accordingly, there will be no prejudice to the appellants if we substitute the verdicts to reflect that fact."
Kebede and Liao must now reappear before the trial judge for sentencing.
The change does not affect Kebede's and Liao's convictions involving the deaths of the other three victims.
Liao was found guilty of being an accessory in the murders of Cody Pfeiffer, Glynnis Fox and Tiffany Ear, whose remains were found in Afowerk's charred car.
Kebede was convicted of being an accessory in Pfeiffer's murder.
This report by The Canadian Press was first published Dec. 23, 2022.
— By Bob Weber in Edmonton