What the World Needs Now is More Pro Bono
July 14, 2020
What the World Needs Now is More Pro Bono
Lawyers and the legal community use their performance skills to bring awareness and raise funds to support access to justice for our vulnerable population during the Covid-19 pandemic.
The Alberta Civil Trial Lawyers Association (ACTLA) is staging a virtual Public Awareness Campaign partnered with United Way. Major supporters include the Canadian Bar Association – Alberta Branch and the Legal Archives Society of Alberta. The show is called Laywers Vs Talent: A2J – Virtual Edition. Here's a link to the lineup. You can watch by simply making a donation. The United Way is helping out so it's a very secure and safe procedure. Click here to get your exclusive link. (You will receive an email with the link prior to showtime.)
COVID-19 caused cancellation of fundraising events (e.g. Battle of the Bar Bands-Calgary) within the profession where proceeds went to Pro Bono legal advice clinics. The Alberta Bar decided to innovate and create the virtual event for this Thursday, July 16th, from 6:00 PM to 8 PM (MDT) to raise a "behind the scenes" Awareness. Due to the Pandemic, Pro Bono clinics require technology for remote meetings or remote court attendance or require supplies for their clients such as masks and shields to attend meetings or attend court if people are forced by subpoena or otherwise need to attend.
Donna Purcell, member of the ACTLA COVID-19 Emergency Response Team said "We were going to call our event 'lawyers got talent' but one lawyer objected saying Simon Cowell would complain. Well what about 'lawyers got no talent'? No, he might still complain, maybe try Lawyers vs Talent" and the seed was sown to invite professional talent, with entertainers from the United States, Mexico, Europe, Asia and South America under the Global A2J Alliance banner. The campaign is meant to highlight the need for everyone to protect the Rule of Law for vulnerable populations.
Forecasts for Alberta include 25% unemployment. The profession is concerned about providing Pro Bono services given the anticipated domestic situations, personal bankruptcies, foreclosures and evictions flooding antiquated justice systems.
"The legal profession and our judiciary have decided to lead the way in ensuring innovative access to justice for our growing vulnerable populations and all Albertans", notes Purcell, "And we can't only work for free, that is called being unemployed. And no lawyer jokes please, we might not get them. Grab a Shaq-a-roni, set up a Zoom after party, and come enjoy the entertainment, including some pros who know what they are doing and learn from our feature presenters and feature reporting."
The show has many serious moments as well. You will hear from Rumana Monzur, Counsel at Department of Justice, Canada. In June 2011, she was brutally attacked and blinded by her husband at the time, Hasan Sayeed Sumon, while visiting in her home country of Bangladesh. As well, you will meet Maria Mitousis, Principal, Mitousis, Lemieux, Howard Law Corporation. Maria became national news when in the summer of 2015, she dropped into her office and opened a package that was on her desk. In the package was a bomb, and in the ensuing explosion, Maria lost a hand. Hers is a tragic but inspiring story.
A committee will decide where funds that are raised will have the most impact and includes consulting the United Way's The Social Impact Lab, a platform to research, create, and test new services and business models. The goal is toensure the impact on organizations who support vulnerable populations through the legal sector is maximized. It is also hoped that public awareness of the out-of-date state of the justice system will encourage a provincial and national discussion.
A minimum $50 donation to United Way receives the Premiere Access link; donate any amount for an after the event link.
For more information and to donate, sponsor or to purchase tickets to the event, visit www.lawyersvstalent.com.
Disclosure: Todayville is a proud partner in the production of this innovative program.
Read more on Todayville.com.
Calgary police identify 15-year-old girl killed in shooting, investigation continues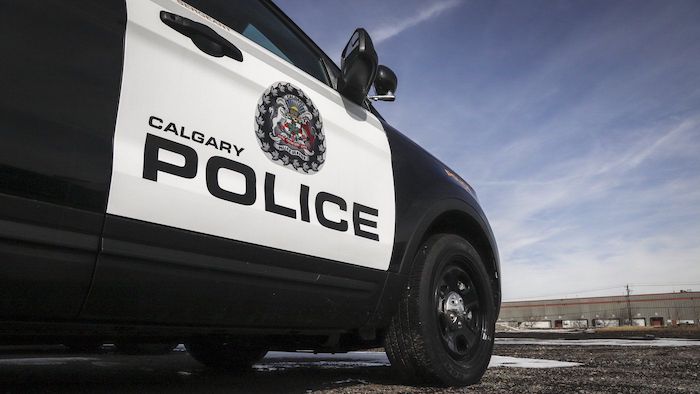 Calgary (CP) – Calgary police have identified a 15-year-old girl who was fatally shot this week as investigators try to determine whether she was the intended target or if it was a case of mistaken identity.
Officers responded to reports of a shooting in an alley in the Martindale neighbourhood early Tuesday morning.
They say the teenager was a passenger in a vehicle when she was shot and that the driver, who was not injured, immediately fled the scene before pulling over to call police.
Police say investigators have received several tips from the public.
They say evidence from the scene leads police to believe it was targeted, but investigators haven't determined whether the occupants of the vehicle were the intended targets.
The girl has been identified as Sarah Alexis Jorquera of Calgary.
"This was a senseless act of violence that took the life of a young girl," Staff Sgt. Martin Schiavetta of the homicide unit said in a statement Wednesday.
"At this point, we have more questions than answers and are working around the clock to hold those responsible accountable. Losing a 15-year-old is a tragic loss for our community, her school, her friends and, most importantly, her family."
Police ask anyone with any information about the shooting to call investigators.
This report by The Canadian Press was first published March 29, 2023.
'A crisis': Calgary charity seeks one-month homes for Ukrainian refugees after influx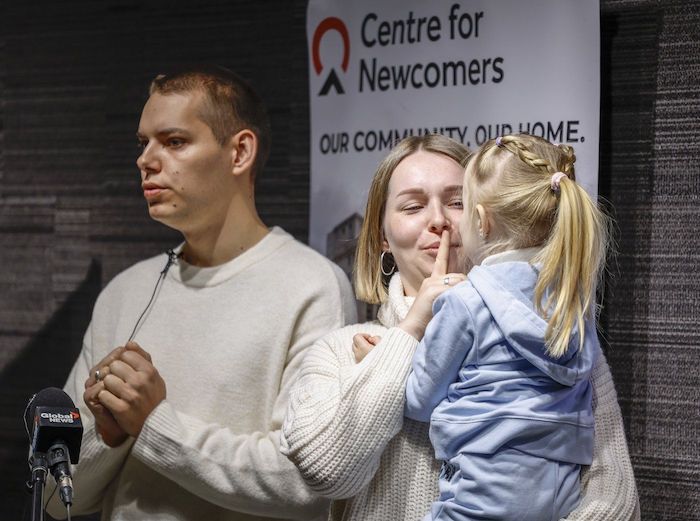 Ukrainian evacuees Dmytro Syrman, left, his wife, Anastasiia, centre, and their four-year-old daughter Varvara attend a news conference highlighting the need for temporary housing in Calgary on Wednesday, March 29, 2023. THE CANADIAN PRESS/Jeff McIntosh
By Bill Graveland in Calgary
After six months under Russian occupation, Dmytro Syrman and his family decided to flee Ukraine for a safer life abroad and are now in Calgary.
The family lived in Dniprorudne, a mining city of 17,000 in southern Ukraine. Syrman worked as a human resources manager at an iron factory.
In August, Syrman, his wife, Anastasiia, and four-year-old daughter Varvara embarked on a six-day, 3,000-kilometre drive to Poland.
"On the 24 of February, when the Russian army attacked Ukraine and occupied our city in March 2022, we lost everything," Syrman said Wednesday.
He said they began planning their escape when they realized Russian soldiers weren't leaving their city.
"We started all of this because we were scared for Varvara," he said. "When Russian bombs were falling near our city it was really scary."
Their home is still under Russian occupation.
For the past year the family stayed in Poland, sent in their paperwork to come to Canada, and two weeks ago arrived in Calgary.
They're now staying with a host family for a month while they look for long-term accommodation and to find jobs.
"We are here and starting a new life. We can't believe about people who don't know us and many helped us. We're really shocked," Syrman said.
The Syrmans were helped by Calgary's Centre for Newcomers, which started a campaign to find 100 hosts for Ukrainian families or individuals for a month while they find housing of their own.
Kelly Ernst, chief program officer with the centre, said there has been a flood of Ukrainians trying to take advantage of a federal program that allows them to temporarily resettle in Canada.
The Canada-Ukraine Authorization for Emergency Travel program has been extended until July and Ernst said he expects people will continue to flee the war-torn country.
"We're in a desperate, dire need at the moment for host homes to try to accommodate the evacuees coming from Ukraine. It's reaching the proportions of being a crisis moment," said Ernst.
He said people arriving elsewhere in Canada are migrating to Calgary because the rents are lower than in larger cities such as Toronto and Vancouver.
Ernst said approximately 450 people have been arriving in Calgary every week from Ukraine and his organization has helped people staying nights in the airport, off the street and at homeless shelters.
Natalia Shem, who is the manager of housing for the Ukrainian evacuees, said it's difficult for the newcomers to find somewhere to live before arriving.
"It's almost impossible to find long-term rent being outside of Canada and people who come here need one month of stay," Shem said. "It's an average time a family can find long-term rent, job and settle down here in Canada."
This report by The Canadian Press was first published March 29, 2023.