"We're doing our best to be prepared for anything"
Little more than a month ago, members of the Alberta Colleges Athletic Conference – and the fans and parents who care about this under-valued level of college sport — were seriously focused on next week – specifically a Monday morning meeting in Medicine Hat.
For many years, interest and intensity have grown at this time of year. The month of May marks the formal start of preparation for the coming season, primarily soccer and golf and cross-country. A lot of details are needed to have everything ready when the first flag flies.
This year is bound to be different. Possible change, everywhere, is set for debate during the five-day annual general meeting.
Mark Kosak, the ACAC's chief executive officer, made clear his belief that the major issues, time and money, must be faced head-on. Several outlines will be considered in a virtual meeting – "lots of protocols and requirements in place." All participants have some insight to his combination of caution and aggression.
"So many complexities, so many variables," Kosak said. "We're doing our best to be prepared for anything." He specified the pressure of dealing with COVID-19, of course, but also dealt with an ongoing issue in minor and amateur sports at all levels: "Everybody has financial troubles" that existed long before the pandemic arrived.
Front and centre is the need for the Augustana Vikings to complete the elimination of men's soccer (the women's program will survive) and to continue the community- and alumni-led bid to keep men's hockey alive despite intense financial pressures. An interesting conundrum presented by Kosak: the backlash faced by Keyano College officials when they eliminated their Huskies hockey team a few years back and resulted in an about-face. "We have a proposal from Keyano to enter both men's and women's hockey; now, Keyano has agreed to wait until next year for a decision."
"Honestly, there's no real chance to tell what's going to happen," Jason Richey, head of the NAIT Ooks athlete program, said in a brief recent discussion. "As far as I can tell, the only way to avoid cutting some of our early sports is if, somehow, the distancing regulations are changed in time, but it's too early to count on that, I think."
Three options – all tied to the paced of reopening the economy — will be discussed in Medicine Hat. One Saskatchewan team, the Briercrest Clippers, may face regulations different from the bulk of ACAC members.
Kosak's proposals:
* Start on schedule, Sept. 15 or thereabouts, with first-term sports such as soccer, cross-country and golf;
* Prepare for a potential Oct. 1 start, requiring less play in those three sports but maintaining full activity in the others.
* Eliminate the early events if necessary and prepare to begin remaining sports after Christmas. keeping them at the busiest possible level: futsal indoors rather than the outdoor game; maybe one full golf tournament in the fall; possibly a series of indoor track meets.
Kosak and others have been somewhat successful, in building fan interest in the ACAC, whose sports have been attended for years by mostly small crowds. Some growth in regional and national interest has shown in college-level championships, although crowds still remain far below the level of attendance for Canada's national university playoffs.
'Flared back up': Alberta town of 8,400 evacuated for second time due to fire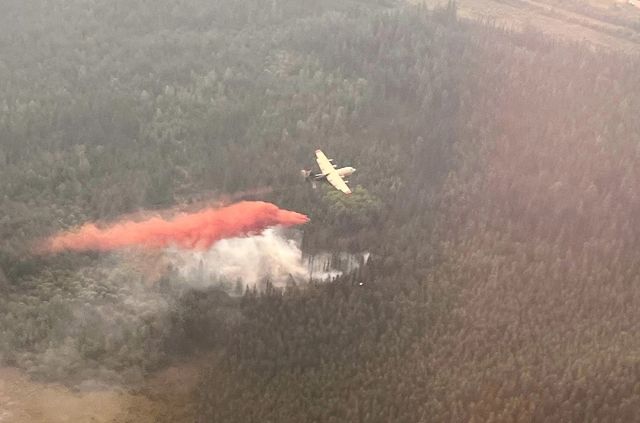 Airtankers work on a wildfire near Edson, Alta., in a Friday, June 9, 2023, handout photo. The town was evacuated Friday night due to an out-of-control wildfire. THE CANADIAN PRESS/HO-Government of Alberta Fire Service
Edson
A town in western Alberta was under an evacuation order late Friday due to an out-of-control wildfire — its second such order this spring.
Local officials issued the evacuation for Edson and parts of Yellowhead County.
"We're still evacuating the community and evacuating the hospital," said Edson mayor Kevin Zahara.
"All things considered, so far so good — but the next 72 hours are going to be critical for us. We have a lot of warm temperatures in the forecast and it's windy here right now.
"It's going to be dependent on those winds and the weather on how this fire behaves."
Alberta government officials said the fire burning near the community of about 8,400 jumped fire guards and moved closer to populated areas, including the town. They warned that there could be impacts to roads and highways if the fire crossed the guards and blocks evacuation routes.
"Because that fire is so out of control, some of the forestry crews have had to back off," said Luc Mercier, chief administrative officer for Yellowhead County, in a video statement on one of the town's Facebook pages. "They can't fight that fire."
Mercier said the fire could threaten Highway 16, the main east-west route in the area.
"We have significant concerns with egress along Highway 16 in the coming days," he said. "The next 36 hours will be paramount with the winds coming forward."
An update issued at 11 p.m. said live embers and flames were seen in Willmore Park, meaning the fire had crossed the river. The notice said if people had not left the area yet, "now is the time." Officials said emergency crews were busy with fire operations and would not be able to respond if people needed help.
The Edson area, about 190 kilometres west of Edmonton, saw four new fire starts on Friday, said Mercier.
An unprecedented start to the wildfire season led Alberta to bring in a provincewide state of emergency on May 6. At one point, about 29,000 people were out of their homes in various communities.
The state of emergency was lifted last week.
On Friday afternoon, before the evacuation order was issued for Edson and the surrounding area, about 3,500 Albertans remained out of their homes.
Evacuation buses were leaving from three points in Yellowhead County and five in Edson. An evacuation centre was being set up in Edmonton's Expo Centre.
Zahara said there had been little threat in the area as recently as four days ago. Hot weather and high winds put a stop to that.
"This fire has flared back up," Zahara said.
"It's really important people adhere to the evacuation order."
He said no services, including fire and medical, would be available in Edson until further notice.
Edson was evacuated for three days in early May by another wildfire.
Zahara said at the time that he thought there was a good chance the town would be lost to the flames.
That evacuation took a heavy financial toll on townspeople through loss of income and unexpected expenses such as hotel rooms, he said.
— By Bob Weber in Edmonton
This report by The Canadian Press was first published June 9, 2023.
A look at Alberta Premier Danielle Smith's new cabinet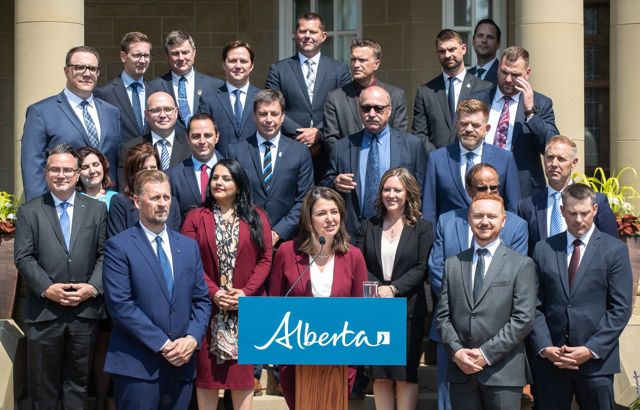 Premier Danielle Smith introduced her cabinet Friday, the second one since taking over as United Conservative Party leader in October. Here are the changes at a glance:
Second in command: Mike Ellis retains his Public Safety and Emergency Services portfolio but is also now deputy premier.
Big promotions: Mickey Amery moves from Children's Services to Justice; Nate Horner moves from Agriculture and Irrigation to Finance; Adriana LaGrange already had a heavyweight title in Education but now takes on enormous responsibilities in Health.
New faces: RJ Sigurdson joins cabinet for the first time in Agriculture and Irrigation; Searle Turton is new in Children and Family Services; Dan Williams gets his first cabinet seat in Mental Health and Addiction.
Returning vets: Jason Nixon, the environment minister and government house leader under former premier Jason Kenney, is back in cabinet handling the Seniors, Community and Social Services post. Ric McIver, dropped from Smith's first cabinet, returns in his old job of Municipal Affairs. Muhammad Yaseen, a former associate minister of immigration, now has full cabinet rank as minister of Immigration and Multiculturalism; Tanya Fir, former economic development minster under Kenney, is back in Arts, Culture and Status of Women portfolio.
Same faces, new jobs: Rebecca Schulz (Environment and Protected Areas), Brian Jean (Energy and Minerals), Nathan Neudorf (Affordability and Utilities), Joseph Schow (Tourism and Sport), Demetrios Nicolaides (Education), Rajan Sawhney (Advanced Education), Matt Jones (Jobs, Economy and Trade), Peter Guthrie (Infrastructure).
Same faces, same jobs: Nate Glubish (Technology and Innovation), Dale Nally (Service Alberta and Red Tape Reduction), Devin Dreeshen (Transportation and Economic Corridors), Todd Loewen (Forestry and Parks).
This report by The Canadian Press was first published June 9, 2023.