Watch: Alberta surging toward 100 cases of COVID-19 and shuts down non-essential gatherings of over 50 people
From the Province of Alberta
Aggressive public health measures, including additional limits to mass gatherings, are being implemented provincewide to limit the spread of COVID-19 and protect Albertans.
Latest updates
Government will declare a state of public health emergency.
23 additional cases of COVID-19 have been confirmed in Alberta, bringing the total number of cases in the province to 97. Cases have now been identified in all zones across the province.

70 cases in the Calgary zone
20 cases in the Edmonton zone
three cases in the Central zone
three cases in the South zone
one case in the North zone

Mass gatherings are now limited to no more than 50 attendees. This includes worship gatherings and family events such as weddings. Grocery stores, shopping centres, health-care facilities, airports, and other essential services are not included.
To limit the amount of time Albertans are spending in large crowds and crowded spaces, all Albertans are prohibited from attending public recreational facilities and private entertainment facilities, including gyms, swimming pools, arenas, science centres, museums, art galleries, community centres, libraries, children's play centres, casinos, racing entertainment centres, and bingo halls.
Sit-down restaurants, cafés, coffee shops, food courts and other food-serving facilities, including those with a minors-allowed liquor license, are limited to 50 per cent capacity to a maximum of 50 people. Take-out, delivery or drive-through service is permitted.
Licensed restaurants and bars can now sell liquor without selling food as part of their take-out – with the exception of drive-thru windows – and delivery services to help keep businesses open, staff employed and additional options for Albertans who are self-isolating.
Changes to the Employment Standards Code have been made to provide job protection for Albertans.
Albertans are prohibited from attending buffet-style restaurants. At this time, not-for-profit community kitchens, soup kitchens and religious kitchens are exempt, but sanitization practices are expected to be in place and support will be in place for this practice.
Food services in work camps are also exempt, but in addition to appropriate sanitization practices, arrangements should be made to provide for workers if they are self-isolated.
$60 million is being provided to help social services organizations respond to critical front-line services.
Until further notice, all Albertans are restricted from attending bars and nightclubs, where minors are prohibited by law.
Ski hills across the province are strongly encouraged to close by the end of day March 17, to prevent the spread of COVID-19.
Effective March 18, all passenger ropeways, like gondolas and chairlifts, will be closed until further notice under the Safety Codes Act.
All provincial historic sites and the Provincial Archives will be closing March 17. Information regarding facility bookings and passes will be available on the facilities' websites.
Upcoming expiry dates for Alberta drivers' licences, vehicle registrations, other permits and certificates are being extended until May 15.
Effective immediately, the Seniors Information Office, located on Jasper Avenue in Edmonton, will be closed to protect the health of clients and staff. Seniors in need of information on seniors financial assistance programs should contact Alberta Supports at 1-877-644-9992.
Alberta Court of Appeal is limiting attendance to necessary parties. Matters continue either electronically or with social distancing directives in effect.
In-person post-secondary classes remain cancelled as institutions move to alternate delivery formats. Campuses remain open.
Access to justice services
The Office of the Public Guardian and Trustee will be suspending in-person visits with clients or service providers.
Alternative arrangements will include phone, email, Skype, texting and videoconferencing. Contact information can be found at https://www.alberta.ca/contact-office-public-guardian-trustee.aspx.
Traffic Courts: www.albertacourts.ca/pc/resources/announcements//traffic-court-pandemic-scheduling-updated
Alberta Court of Appeal: https://albertacourts.ca/ca/publications/announcements/notice—covid-19
Job-protected leave
Full and part-time employees can access 14 days of job-protected leave for the purpose of self-isolation related to COVID-19, retroactive to March 5.
The leave does not apply to self-employed individuals or contractors.
The requirement to have worked for an employer for 90 days to access COVID-19 specific leave is no longer required.
Employees self-isolating due to COVID-19 do not require a medical note to access leave.
Indigenous community response
First Nations are encouraged to develop community response plans with Indigenous Services Canada and their Directors of Emergency Management and First Nations Field Officer. Indigenous Services Canada can be reached at [email protected].
Metis Settlements are encouraged to develop response plans with their Directors of Emergency Management and Field Officer.
Social services organizations
Funding support is being provided through Family and Community Support Services for adult homeless shelters, women's emergency shelters and civil society organizations to help keep front-line critical services operating and provide support for vulnerable populations.
Information for travellers
Travel outside the country is strongly discouraged. Given the rapid global spread of the virus, it is no longer possible to assess health risks for the duration of the trip.
Any traveller returning from outside of the country should self-isolate for 14 days, even if they are feeling well, and monitor for symptoms.
Any traveller who has returned before March 12 should closely monitor themselves for symptoms. If they experience symptoms, they should self-isolate immediately and call Health Link 811 for follow-up assessment and testing.
The Alberta government is working with Travel Alberta on a strategy to inform Canadians returning from travel outside the province about the need to self-isolate, and how to access medical care, if needed.
COVID-19-related information is now being provided for returning passengers at the international airports in both Edmonton and Calgary. This information has also been shared with the Fort McMurray International Airport and several airlines.
Quick facts
The most important measures that Albertans can take to prevent respiratory illnesses, including COVID-19, is to practise good hygiene.

This includes cleaning your hands regularly for at least 20 seconds, avoiding touching your face, coughing or sneezing into your elbow or sleeve, disposing of tissues appropriately, and staying home and away from others if you are sick.

Anyone who has health concerns or is experiencing symptoms of COVID-19 should complete an online COVID-19 self-assessment.
For recommendations on protecting yourself and your community, visit alberta.ca/COVID19.
'Short-term pain': Group of Alberta lawyers escalate job action over legal aid cases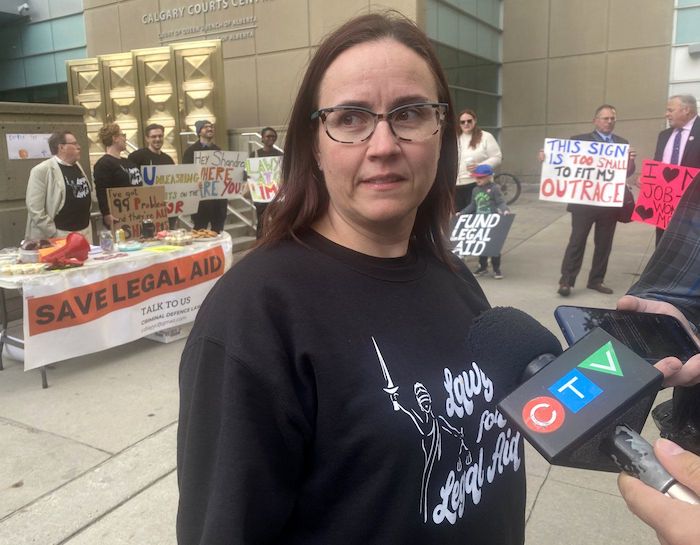 By Bill Graveland in Calgary
Alberta criminal defence lawyers are taking another step in their dispute with the provincial government over the amount of compensation paid by Legal Aid Alberta.
Organizations representing lawyers in Edmonton, Calgary, Red Deer and southern Alberta began job action Aug. 8 by refusing to accept certain bail and duty counsel files from legal aid.
The lawyers also began refusing certificates for new cases for the most serious criminal charges, including sexual offences, firearms-related crimes and homicides.
Beginning Monday, they say all services will be withdrawn.
"We're going to stop taking all certificates. That will include some our prior job actions still allowed us to take certificates for people who are already existing clients and there will be a very, very limited set of circumstances now where our members will do that," said Kelsey Sitar, vice-president of the Criminal Defence Lawyers Association in Calgary.
"The default will be: 'We are just not taking any new work from legal aid until the problem is fixed.'"
Sitar made her comments at a rally in front of the Calgary Courts Centre on Friday that drew about 50 criminal defence lawyers.
A table with a sign reading "Save Legal Aid" offered bake goods for sale. Lawyers carried signs reading "Access 2 Justice Must be Equal." Another read: "This sign is too small to fit my outrage."
"This is drastic. I mean, what we were doing up until now is something I know has happened in Ontario before, it did not last long, frankly," Sitar said.
"I can tell you that none of us want to be out here. We all want to be in there doing our jobs."
Justice Minister Tyler Shandro has said nothing is going to be done until a review of the Legal Aid Alberta administrative system is complete, which is scheduled for next month.
He said any budget changes for legal aid wouldn't happen until next year.
Sitar said the ministry chose to undertake "an incomplete and, frankly, useless review" at a time when the governing United Conservative Party is about to go through a leadership change.
"So we have to act now and they need to respond now," she said.
Sitar said she understands the people being affected the most by the job action will be people with lower incomes who need the services to afford legal representation.
"It's short-term pain right now," she said. "It's really unfortunate, but I can tell you that most of the people I've talked to on the street who are finding themselves caught up in this understand and are grateful that we're doing it."
Alberta Opposition NDP Leader Rachel Notley said the problem has been growing over the last three years. She said when her party was in power, it committed to additional funding for Legal Aid, but the UCP government backtracked.
"We simply cannot be asking the Legal Aid bar to be doing what we are asking them to do at the rate that we are asking them to do it," she told reporters.
"We have the lowest funding for Legal Aid in the country. What that means is that we don't have equal access to justice. It undermines the integrity of our justice system and, overall, it undermines our ability to build a sense of community safety, community security and an overall respect for the rule of law — all of which are important to community health and economic growth.
"It sounds like a niche issue, but it's not. It actually has knock-off effects to very, very important issues that affect all of us. So, the government needs to come to the table and negotiate decently with these lawyers."
This report by The Canadian Press was first published Sept. 23, 2022.
— With files from Colette Derworiz in Calgary.
'Kind of like carnies': International balloon festival returns to High River, Alta.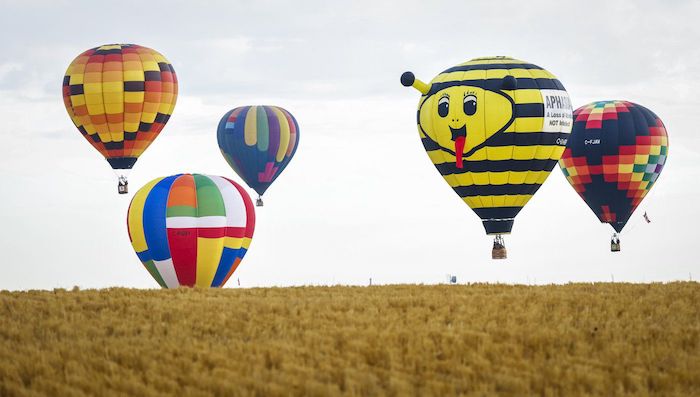 By Bill Graveland in High River, Alberta
The windswept prairie east of the Rocky Mountains seems an unlikely spot for a hot-air balloon festival, but the town of High River, Alta., is celebrating the event's 10th year.
More than 20 brightly coloured balloons — including a pink elephant, a black and yellow bee and the purple and yellow Eye of Ra, named after the Egyptian sun god — took advantage of a lull in the prevailing wind this week to get some up-in-the-air time to mark the opening of the Heritage Inn International Balloon Festival.
"We get about 50 per cent of our flights off. Weather impacts us everywhere," said event director Jamie Kinghorn, who is also a town councillor.
"This is our 10th. We started in 2013 partly because of the flood that happened. I'd been to a number of balloon events and thought this might lift the spirits of the folks in town."
The town of 12,000 just south of Calgary gained an international profile in 2013 when flooding in parts of southern Alberta caused billions of dollars in damage.
High River was one of the hardest-hit communities. Entire neighbourhoods were under water for weeks.
"I called in a bunch of friends from the balloon community and they knew what happened, so 20 of them came into High River and we put on a balloon festival that was actually amazing for the community," Kinghorn said.
"That was sort of the first major thing toward recovery after the flood and we've been doing it every year since at the end of September."
Kinghorn said the festival is a boon to local tourism and there's not a hotel room to be had in town.
He had his first hot air balloon over the city of Calgary in 1988. A year later he was a balloon pilot.
There are 23 balloons participating this year, including some from the United States, Belgium and the United Kingdom.
Kinghorn said it's a pretty small community.
"We tend to meet at various events. We tend to travel. We're kind of like carnies to some extent," he said with a laugh.
"We travel around to different cities to different balloon events."
Alan Davidson, who has been involved in the sport since 1977, is one of the volunteers.
He said those who get involved tend to stick with it.
"The amazing thing is that there are still seven or eight of the people I was ballooning with in the '70s and early '80s who are still here at this event," said Davidson. "They've been working with balloons for over 40 years."
Kinghorn, who is the owner and pilot of the Eye of Ra, was the first balloon in the air Thursday morning after a Wednesday evening flight was cancelled due to the wind.
"My God am I glad we got this off," he said as the flight came to an end.
The festival runs through Sunday.
This report by The Canadian Press was first published Sept. 23, 2022.