Two Million Dollar Drug Bust in Edmonton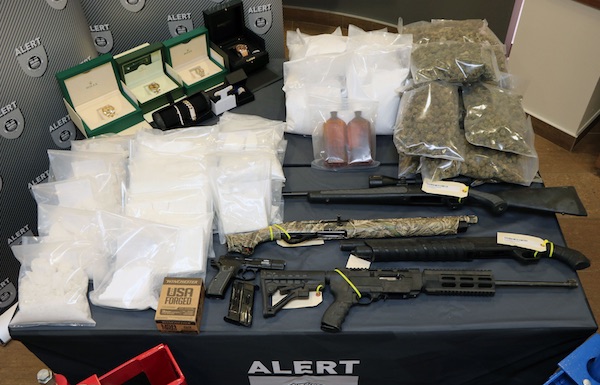 News Release from ALERT (Alberta Law Enforcement Response Team)
Project Elk concludes with eight arrests, millions in drugs and assets seized
A two-year cross-Canada drug trafficking investigation has concluded with eight Edmonton suspects facing charges. ALERT seized roughly $2 million in drugs, cash, and proceeds of crime.
Project Elk was a lengthy investigation into an Edmonton-based drug trafficking network that was involved in drug importation. Eight suspects were arrested and charged in October 2021 with offences ranging from drug and firearms related, to conspiracy to commit an indictable offence, to commission of an offence for a criminal organization.
The suspects are scheduled to make their initial court appearances on November 25, 2021.
"Project Elk will prove to be significant disruption to drug markets in Edmonton and other communities in northern Alberta. The negative impacts of drug trafficking are multi-faceted and connect back to societal harms such as gang-related violence, theft, property crimes, and healthcare implications," said Inspector Kevin Berge, ALERT Edmonton.
ALERT Edmonton's organized crime team spearheaded the investigation in November 2019, and Project Elk also involved the assistance of the Edmonton Police Service, and specialized RCMP units from Alberta, Saskatchewan, and Ontario.
In August 2020, ALERT intercepted a six-kilogram cocaine shipment that originated in Toronto. The seizure precipitated a series of search warrant executions in which six homes in the Edmonton were searched and one home in Strathcona County.
Project Elk resulted in the seizure of:
Five firearms;
10 kilograms of cocaine;
17 kilograms of a cocaine buffing agent;
4.7 kilograms of meth;
2.9 kilograms of cannabis; and
$135,000 cash.
In addition, ALERT seized roughly $200,000 in offence related property, including three vehicles, jewelry, diamond rings, and Rolex watches.
"The drug trade doesn't pay in the end. If you're not shot, you're ending up in jail, and you're only hurting the people around you. It's not the glamourous lifestyle that is fictionalized for the sake of TV and movies," said Berge.
A total of 35 criminal charges have been laid against:
Tyshawn Walters, 29-year-old man from Edmonton;
Kashane Walters, 34-year-old man from Edmonton;
Kariyawasam Kariyawasam, 39-year-old man from Edmonton;
Tyree Malcolm, 28-year-old man from Edmonton;
Levi Collinge, a 39-year-old man from Edmonton;
Boris Derpich, 43-year-old man from Edmonton;
Stacey Sharpe, 35-year-old woman from Edmonton; and
Trevor Bellows, 31-year-old man from Edmonton.
Members of the public who suspect drug or gang activity in their community can call local police, or contact Crime Stoppers at 1-800-222-TIPS (8477). Crime Stoppers is always anonymous.
ALERT was established and is funded by the Alberta Government and is a compilation of the province's most sophisticated law enforcement resources committed to tackling serious and organized crime.
Canadian Food Inspection Agency confirms another case of 'bird flu' in B.C.
RICHMOND, B.C. — The Canadian Food Inspection Agency has confirmed the presence of highly pathogenic avian influenza in a small flock of poultry in Richmond, B.C.
The agency did not provide information on the number of birds infected by H1N1, or the type of poultry.
It says while the so-called bird flu is not a food safety concern, it is spreading across the globe and anyone with birds must use preventive measures like securing their property by a fence.
It says small flocks are at risk of contracting viruses like avian influenza, especially if they have access to ponds or bodies of water known to be used by wild birds.
H1N1 can also be spread on the clothing and shoes of visitors and employees moving from flock to flock, through contaminated feed, water, bedding and farm equipment as well as via airborne particles and dust blown by the wind.
B.C.'s Agriculture Ministry said this week that avian flu had been found in a commercial flock in the Fraser Valley, home to 80 per cent of the province's poultry farms.
Avian flu cases have been confirmed in several other provinces, but no infections have been detected in humans.
This report by The Canadian Press was first published May 20, 2022.
The Canadian Press
A brief history of the Stanley Cup Playoffs' Battle of Alberta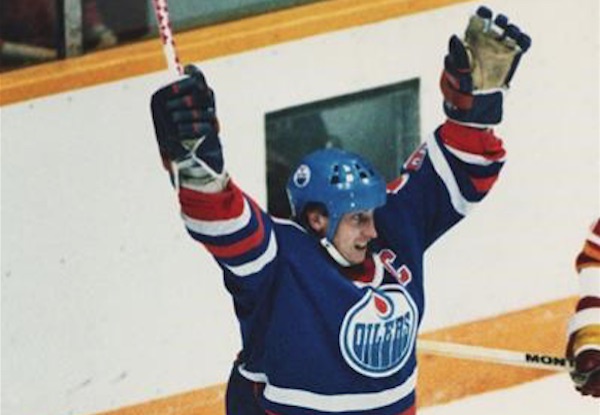 The Calgary Flames and Edmonton Oilers are fighting the Battle of Alberta in the playoffs for the sixth time in the rivalry's history.
Here's a brief look back at the five previous encounters between the two:
1983: OILERS WON 4-1
In the first meeting between the two sides in the playoffs, the Oilers began a trend of dominance against Calgary, taking the series in five games.
Wayne Gretzky finished with 14 points (six goals, eight assists) in the series as Edmonton took the Smythe Division final with ease.
The series was among the least competitively played of the five encounters between the two in the post-season, with Edmonton outscoring Calgary 35-13.
However, it did begin the trend of the Oilers, more often than not, getting the better of the Flames in playoff play.
1984: OILERS WON 4-3
Case in point: Just a year after getting bounced by the Oilers in the Smyth Division final, the Flames got eliminated again.
This was a far more competitive series, going the full seven games and featuring two overtime contests — both Calgary win.
Ultimately, though, the star power the Oilers boasted — in particular, Gretzky and Jari Kurri — proved too much for Calgary to overcome.
The seven-game victory helped propel the Oilers to their first Stanley Cup championship.
1986: FLAMES WON 4-3
Another seven-game series, two years after the first one.
Taking place again in the Smyth Division final, Calgary finally got the better of Edmonton.
The series was decided by a goal scored a little over five minutes into the third period that broke a 2-2 tie in Game 7.
Oilers defenceman Steve Smith attempted a cross-ice pass but it ended up striking Flames goalie Grant Fuhr's leg and trickled into Edmonton's goal.
This series win still remains the only time the Flames have defeated the Oilers in the post-season.
It also helped catapult Calgary to its first Stanley Cup final appearance, where it fell to the Montreal Canadiens in five games.
1988: OILERS WON 4-0
The most dominant Oilers victory of the four they've earned, Edmonton swept Calgary and, outside of an overtime win in Game 2, had no issues handling the Flames.
Edmonton dominated despite not having home-ice advantage for the first time in their playoff series with each other.
1991: OILERS WON 4-3
The only series outside of the one happening now that didn't see the two teams meet in the Smyth Division final, this one took place in the Smyth Division semifinal and, for the second encounter in a row, saw the Flames with home-ice advantage.
Unfortunately for Calgary, even with Gretzky no longer around in Edmonton, it was the Oilers coming out on top, this time breaking the hearts of Southern Alberta again as Esa Tikkanen scored 6:58 into overtime of Game 7.
This report by The Canadian Press was first published May 20, 2022.
The Canadian Press