Todayville Travel: I survived the Road to Hana
"…I've done enough beach holidays to fill a leaky bucket. Watching overweight tourists in undersized beach wear (throngs in thongs) has long since lost its lustre…"
The village of Hana is located on the quiet 'windward' side of Maui. Windward is a euphemism for rainy. Precipitation here averages three hundred inches a year. No person of sound judgment would live in a place where an inch of rain in an afternoon is considered a light drizzle.
Most tourists endure the gruelling drive to Hana as a day trip, rising early to negotiate the eighty-five kilometer journey with its six-hundred-plus curves, 54 narrow bridges and frustratingly slow traffic. They choke down a fish taco and lemon bar at a roadside food stand then snake back at a snail's pace in darkness to the dry leeward side of the island, collapsing into bed at a fancy seaside resort in Kaanapali or Wailea, a checkmark on their Hawaiian holiday agenda firmly ticked off.
"… But as is often the case when one ventures off the beaten track, our choice was serendipitous…"
Some time ago a clever marketer began selling T-shirts with the caption: "I survived the road to Hana!" It really is a challenging drive, so that intrepid shirt salesman is probably now quite wealthy.
I've done enough beach holidays to fill a leaky bucket. Watching overweight tourists in undersized beach wear (throngs in thongs) has long since lost its lustre. We were looking for a change, an out-of-the-way Hawaiian adventure. There's hardly a soul living out Hana way. So we decided to spend a week with the free spirits and addled Vietnam vets.
My search for accommodation in Hana was careful and meticulous. Not. I booked the first place I found on the net: Entabeni Cottage. Click here for their website.  But as is often the case when one ventures off the beaten track, our choice was serendipitous.
We had absolute privacy, from the gorgeous ocean view to the solar-heated outdoor shower. The north wall of the cottage consists entirely of glass doors. Each morning we awoke to a 180-degree view of the ocean and the barely discernible sound of waves crashing on the rocky shore hundreds of meters below.
"Entabeni means the place on the hill in Zulu," explained owner Terry Kristiansen as she toured us in morning sunshine through the horticultural wonder of her amazing garden. We meandered amongst gigantic Cook pine, African tulip and mango trees. She and her husband Michael maintain a tropical nursery. I tried not to blush when she mentioned that some of the flowering plants were viviparous.
Two dogs, a cat, a goat, a multitude of chickens and a raucous gaggle of guinea fowl followed our progress. Terry's hens lay green eggs – organically of course. Each morning our doorstep was laden with a fresh coop-full of Entabeni's emerald bounty.
Our Hana booking was for seven days. Perhaps a mistake? There's purportedly nothing to do there. (A renowned friend of mine, Dr. D, who is intimately familiar with Maui, asked bluntly, "You're going to Hana? For a week?") So, soon after arrival, we decided to scout out some adventure. We meandered into town and chatted up some locals:
"What do you do out here in Hana?" I asked Tyler, a mixed-blood Hawaiian of Portuguese pedigree.
"Not much" he replied, "sometimes we fish… when it's not rough." He looked ruefully out to sea, as whitecaps roiled in a sub-tropical winter storm. A lone humpback whale breached in the distance. I concluded that there'd be no fishing on this trip.
"Sometimes we drive into town and pick up mail," offered his cousin, who was high on friendliness but low on wisdom teeth. "And of course there's the big meetin' tonight at the church to vote on the offal plebiscite."
I'm not sure what offal is but it sounds terrible. I was about to excuse myself, vacate the cottage and head for dry, civilized parts of Maui when Tyler added: "What we really like is hunting wild boar. We're going out tomorrow morning. You're welcome to come along if you don't mind getting a little muddy."
My expertise as a hunter is renowned. I once shot a gopher – grazing it only slightly but deeply wounding its pride; and I've caught two fish – three if you include the goldfish I netted in my backyard pond. Still I figured 'when in Rome' and agreed to meet them in the morning at mile marker 26, near an abandoned, burnt-out pickup truck.
"It's blue," offered my newfound toothless friend, perhaps to ensure I didn't wait by a red, abandoned burnt-out pickup truck at mile marker 26.
Terry drove me down at 7am sharp. We hadn't waited more than a minute when up rolled a pineapple-yellow Ford crew-cab, loaded to exploding with Hawaiians, hunting dogs and guns. The truck, high on its suspension, teetered on two wheels before finally rocking to a stop. The occupants piled out and cracked a Budweiser. The humans that is. The dogs were content to slurp at the slough that had formed around the old blue pickup during the previous evening's downpour.
Like most flora and fauna in the Hawaiian Islands, the wild pigs are alien. These invasive, destructive critters are a cross between the small Polynesian variety brought to the islands by the first human inhabitants a thousand years ago and larger European pigs imported in the 1800's; the result is the large, black, elusive, ornery beasts that Hawaiians love to hunt.
By 7:30 a.m. we were a kilometre deep in the rainforest, up to our knees in muck. The dogs had sniffed out a promising dig. Fresh tracks confirmed that a large sow was nearby. Three hours later we were still zigzagging back and forth over, around and through jungle streams laced with invasive strangler figs and giant eucalyptus trees. The pigs were clever. On a couple of occasions the dogs bolted excitedly into the impenetrable jungle on a promising scent but near noon, with the tropical sun beating down and steam rising in the heated rainforest, we admitted defeat and called it a day.
"What happens if you get injured in here?" I asked Tyler as we began the slow hour-long crawl back to the pickup.
"Hurt is not a' option," he answered, tugging at a rubber boot sunk deep in a wallow of mud.
Back at the truck, with the last of the morning Budweiser, we conceded the feral pig's victory over man.
"Why don't you and your bride come down to our place tomorrow for Super Bowl," offered Tyler, "there'll be plenty of grind and bevvies."
I assumed he meant food and drink.
We arrived fashionably late with a plate full of devilled (green) eggs and a cooler full of cold ones. After the game (quite exciting – not a Superbore) I asked if it would be okay were I to bring out my ever-present ukulele from its coincidental resting place in the trunk of the rental car.
"That'd be great bra'," said Tyler, using the term of endearment that forms every second word of Hawaiian pidgin vocabulary.
When I returned, a slack guitar and four ukuleles were jamming on the lanai. Uncle Bobby (whose relationship with our hosts I never did quite grasp) was pouring himself a stiff concoction, lighting a smoke and settling into an over-worn armchair for what turned out to be a long night of music and laughter.
Later in the week, as we strolled Hana's streets locals were honking, waving "hey bra''" and inviting us for grind. Apparently we 'haole' (white people from another place) were a hit.
In closing I offer seven recommendations on how to pass a week in Hana:
Walk awestruck as Terry Kristiansen guides you through the horticultural wonder that is Entabeni Cottage (whilst chickens peck at your progress);
Shower outdoor at night in the Entabeni rain;
Crawl on all fours for hours through steep, muddy rainforest with a pack of men, dogs and Budweiser on the hunt for wild boar;
Enjoy a candle-lit repast of raw sashimi-grade ahi tuna, followed by lightly seared opaka-paka, served with a glass of white wine by your favorite fellow hominid;
Get lit up with Hawaiian locals at a ukulele jam;
Waste a day by shooting close-up photographs of the incredible rainbow eucalyptus trees;
Snorkel at a 'clothing optional' black sand beach, oblivious to the nudity of those around you;
Hike the seven sacred pools to Waimoku Falls or traverse the jagged lava cliffs of Waianapanapa State Park.
Did I say seven things? I guess there's more to do in Hana than first meets the eye. So get off the beaten track, out of the th(r)ong and seek some adventure.
Gerry Feehan QC practised law in Red Deer for 27 years before starting his second life as a freelance travel writer and photographer. He says that, while being a lawyer is more remunerative than travel writing, it isn't nearly as much fun. When not on the road, Gerry and his wife Florence live in Red Deer and Kimberley, BC. Todayville is proud to work with Gerry to re-publish some of his most compelling stories from his vast catalogue developed over more than a decade of travel.
THANKS to these great partners for making this series possible.
Click to read an excellent story about the Turks and Caicos.
Revisiting the "All-inclusive" in Cozumel – by Gerry Feehan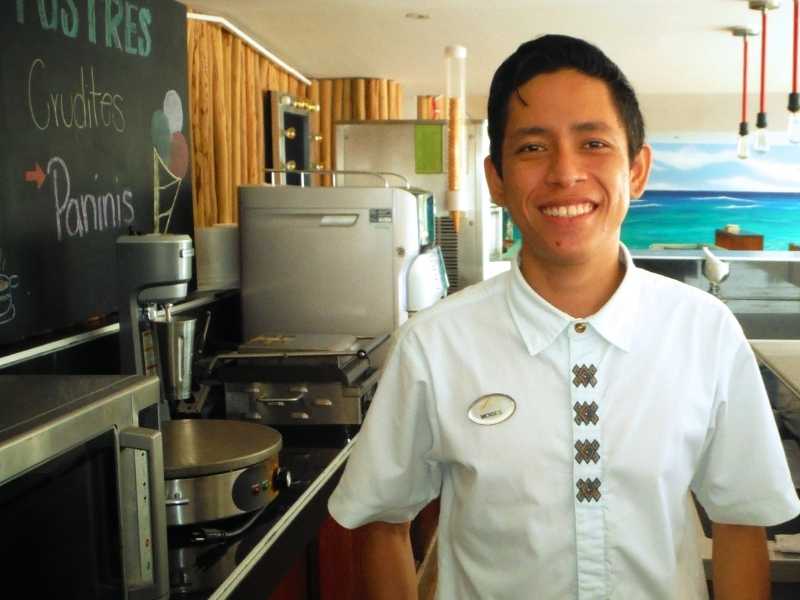 What could be finer than swimming in a warm ocean, peacefully drifting over a colourful coral reef, snorkeling amidst a myriad of tropical fish? In my estimation, not much. And one of earth's finest snorkel sites is the Island of Cozumel, in Mexico's Yucatan Peninsula.
Or at least it was until Hurricane Wilma hit in 2005. The most intense tropical cyclone ever to strike the Atlantic, Wilma pummeled the Yucatan, flattening buildings and killing scores of people. But the death and destruction was not limited to land. The churning storm surge also destroyed life under water.
Cozumel is situated along the world's second largest barrier reef. The Great Mayan Reef stretches from Mexico's Yucatan 1000km south to Belize in Central America.
When Wilma finally passed, resorts that formerly advertised "walk-in" snorkeling were suddenly left with ocean desert—broken chunks of dead coral lying in a watery grave. Until then Cozumel had been high on our bucket list. Wilma moved it down a few notches.
There was a time when a Mexican all-inclusive was our go-to vacation; a cheap week on the Mayan Riviera where food was plentiful (if not particularly appetizing) entertainment was non-stop—and best of all, the Corona flowed freely. But those days passed and we gradually moved on to more exotic—and expensive—vacations. So my expectations were not high when we decided to go retro and check out the Fiesta Americana all-inclusive on Isla de Cozumel's leeward coast. Would the snorkeling be good? Would the resort be serving up Montezuma's Revenge for lunch?
It didn't take long for all-inclusive nostalgia to kick in.  The first day at the pool we watched a couple of hefty strangers drink themselves into a stupor and pass out before noon in the searing tropical sun. While I am as big a fan of the swim-up bar as the next guy, we were here primarily for the ocean experience.
Cozumel's currents are notoriously powerful, so that afternoon we walked up the beach half a kilometer, donned our gear and enjoyed a frighteningly quick drift back to the resort. Happily, a decade-and-a-half after Wilma, the reef is showing signs of recovery—tiny colourful fish darted in and out of small but healthy new coral formations.
The following morning I booked a drift dive with a local scuba operator. We motored out to Palancar Reef in Arrecifes de Cozumel National Park, jumped overboard, descended 20 meters and floated through the famed Coral Gardens. It was magical. This deeper reef was unaffected, with pristine red, green, purple and orange coral heads glowing brightly in crystal-clear water. And the sea creatures—sea stars, lobsters, small crustaceans and a multitude of reef fish—were everywhere.
The next day we rented a jeep convertible for the obligatory circumnavigation of the island. We peeked in at some of the fancy resorts on the protected west shore before driving up Cozumel's rugged windward side where rough seas wave in from the open Caribbean, pounding the unpopulated eastern coastline. En route we stopped for a swim at Punta Sur on Cozumel's southern tip. Warm calm waters greeted us. We snorkeled over a shallow sandy bottom, admiring large coral heads and schools of damselfish and wrasses. A puffer fish inflated itself defensively, comically. Then we drifted into a garden of sea fans. Acres of purple, pink and mauve giants swayed softly just below the surface. Miraculously, this tip of Cozumel had avoided Wilma's random fury.
The ocean is not Cozumel's only attraction. When a new ring road was built around the island, local leaders had the wisdom to leave the old highway in place, close it to motorized traffic and convert the road to pedestrian and bicycle use. Now cyclists from around the globe come every November to participate in the annual Cozumel Gran Fondo, nicknamed "the world's most beautiful bike ride."
The Fiesta Americana had a few rusty bicycles available for patron use and, although these old contraptions had been exposed to the briny sea air for years, still it was fun to pedal around the island. We engaged in our own Petit Fondo, from the Fiesta down the coast to Playa Palancar. Our clocking for the twenty-one kilometer return trip was a respectable 60 minutes—excluding the three and a half hours we spent at the Palancar Beach Bar.
The staff at Fiesta Americana was embarrassingly polite and helpful. Early on we became attached to young Moises who manned the coffee and pastry bar in the open-air lobby. By the third morning I had no need to order. While we made poquito talk en Español, he'd whip me up a double café con leche. Moises, eighteen, worked 10 hours a day, six days a week at the resort—for about $20 a day. He didn't live on the island—too expensive. Every day he endured a ferry commute from the mainland. And yet I'm not sure when I last met a happier, more positive person.
One morning I was feeling self-pity over some trivial e-mail I had received. As Moises handed me my coffee, he asked if everything was okay. I felt like going back to our lovely ocean-view suite and giving myself a very hard look in the mirror—but instead I just ordered an extra helping of bacon with my scrambled eggs. The food at the Fiesta was really good—more than palatable.
So our nostalgic all-inclusive experience was a success—and a heck of a lot simpler and cheaper than organizing one's own tropical tour. And the entertainment? Awesome—particularly when the two chubby drunken fellows reappeared bashfully on day two, pale as ivory on one side, red as a Caribbean lobster on the other.
Our visit to Cozumel was pre-Covid—but Mexico is open for business again!
Gerry Feehan is an award-winning travel writer and photographer. He lives in Kimberley, BC.
Thanks to Kennedy Wealth Management for sponsoring this series.  Click on the ads and learn more about this long-term local business.
Cuba's famed Varadero beach getting ready for tourists again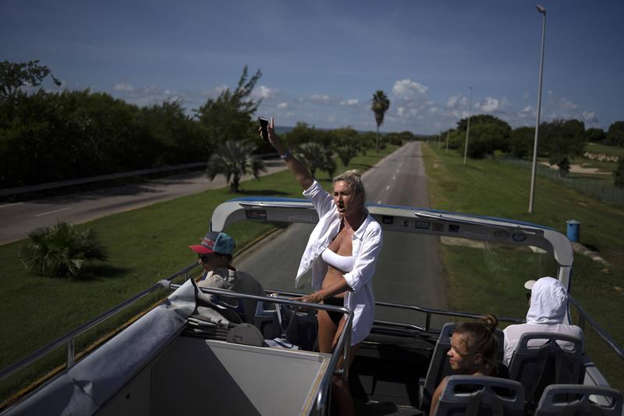 VARADERO, Cuba (AP) — Little by little, vacationers are returning to one of the Caribbean's most iconic beaches, which has been a nearly abandoned strip of glittering sand and turquoise seas for more than a year.
Varadero, the surfside star of Cuba's crucial tourism industry, is slowly getting ready for Cuba's planned Nov. 15 formal reopening to global visitors.
A handful of tourists, largely from Russia or Canada, have strolled across the 22-kilometer (13-mile) swath of sand in recent days, hunting out the scattering of restaurants that have reopened, dawdling over handicrafts at the few stands that have reappeared.
Medical personnel scan hotel visitors for signs of fever. Waiters, desk clerks and sellers of trinkets wear doubled masks as they cater to unmasked visitors in bathing suits. Largely empty tour buses run down the main boulevard.
At least some of the 60 or so hotels in Varadero remain closed, or pressed into service as quarantine centers. But others are already running.
About 100 people were staying at the 386-room Iberostar Selection Varadero on one day last week.
Juan Carlos Pujol, Cuba operations manager for the Spanish hotel chain, said the company had taken advantage of the pandemic closure to update restaurants or make adjustments for health measures, such as moving tables further apart or extending the reach of wi-fi to broader open expanses.
"We are very content and hopeful because now you can see the light at the end of the tunnel and we want to resume operations how and begin to recover what we had always had," he said.
The pandemic was a terrible blow to tourism in Cuba, which depends heavily on the industry, especially after a series of ever-tighter embargo measures imposed by former U.S. President Donald Trump — and that have not been significantly relaxed under his successor, Joe Biden.
"I've had many months without work, feeling horrible," said Lizet Aguilera, a 55-year-old weaver who recently reopened a souvenir stand that had been closed for 16 months.
Even so, she said she worries that she could be infected with COVID-19 while at work and bring it home.
"When I reach my house, before greeting anybody I take a bath," she said.
Another vender, Richard Martin, estimated that only about 50 of the resort's 5,000 artisans so far have returned to sell after months of hardship.
"It was very difficult," he said. "The need, the fear, the scarcity. We have confidence in the vaccine. What remains is to open, to show that it functions."
Cuba says it plans to have vaccinated 90% of its eligible population by the end of November— taking advantage of its unusually advanced biomedical industry to create the only locally developed COVID-19 vaccines in Latin America.
That has allowed officials to plan a gradual reopening to visitors, particularly in Varadero, some 150 kilometers (95 miles) east of Havana.
The town itself has only about 6,000 residents, but it provides thousands of jobs for people in nearby Cardenas, Boca de Camarioca and Matanzas and has some 20,000 hotel rooms — as well as a number of private residences that host visitors.
In 2019, Varadero received about 1.5 million of the 4.3 million tourists who came to Cuba— a number that collapsed when the pandemic hit and Cuba largely closed itself off to visitors.
The reopening will pose challenges: Cuba's weak economy and U.S. sanctions complicate obtaining products to sell to tourists. A new monetary policy means many services must be paid for using foreign bank cards — though none that depend on U.S. banking institutions.
Andrea Rodríguez, The Associated Press