Todayville Travel: A 'soft egg' in the Nahanni Pt. 1
This is the first in a three-part Yukon road trip series.
In German weichei means soft egg. It defines a person's character. In Canada we call them wimps. Charly Kudlacek is from Frankfurt, Germany and, as eggs go, is hard-boiled. We met Charly and his wife Marion in a remote campground at Summit Lake on the British Columbia portion of the Alaska Highway. The place is so-named because of its location on
the highest point of this international byway.
The "Alcan" starts in Dawson Creek, BC and ends 2237 kilometers later in Delta Junction, Alaska. Remarkably the highway was built in just eight months during 1942, designed to stave off a possible World War II Japanese invasion. Although June was nigh, Summit Lake was still covered in ice. We arrived late evening and set up camp. A solitary beaver, freshly emerged from winter lodging, coolly went about its business. Canadian summers are brief. We Albertans tend to enjoy them near home, with perhaps a visit to the mountains or a couple of weeks sunning and boating on a warm lake
in the Okanagan. I'd never been north of Grande Prairie, so we decided it was time to see more of Canada in its season of warmth; the great white north converted green by boreal springtime.
My trip planning is poor: peruse a map, devise a vague strategy, perhaps talk to a couple of friends who have been to the parts unknown. I've attempted advance planning – reading about the sights, the flora, the fauna – but somehow it just doesn't sink in for me until the experience actually happens. I learn as I go, waiting to see what's around the next corner.
Charly was apologetic. "In former times I was not so slow and the distance would be much greater."
A stranger at a campground in Fort Nelson told us about a bush pilot who flew floatplane charters from Muncho Lake, B.C. to remote Virginia Falls in Nahanni National Park, in the Northwest Territories. I had no idea where Muncho Lake was. I checked the map and found it was two days up the road, directly on our path to the Yukon. I phoned and spoke to Marianne of Northern Rockies Lodge. She and her husband, Urs the bush pilot, own this beautiful spot on Muncho Lake. "Urs is in Vancouver getting the
floatplane ready for the season," said Marianne in a thick Swiss accent. "The lake still has ice and he can't land until it clears. Perhaps call again in a day or two."
That was the night we camped at Summit Lake and met Charly and Marion. I asked them if they'd like to join us on a trip to Virginia Falls – if the ice cleared and Urs could fly in. I waxed eloquently, inflating my meager knowledge of the Nahanni (which I had gleaned from a guide book fifteen minutes earlier). The floatplane seats nine and Marianne had told me Urs wouldn't fly with less than four paying customers. Germans have a propensity for austerity exceeded only by Scots, so I was not optimistic that our Alaska Highway adventure would include a spur-of-the-moment side trip to the Northwest Territories.
"We shall sleep on this," announced Charly. In the morning crispness Charly informed me in a precise clip that, "Marion and I have slept on this and agree that we shall join you if the conditions permit." We spent the next two days in the company of our newfound German friends, enjoying wonderful hiking in this remote corner of northeastern BC, enchanted by the sight of moose, grizzly bear, stone sheep, caribou, wood bison, and a countless variety of flying creatures.
Charly and Marion have made five trips to Canada. They have seen more of our home and native land than have I – an embarrassing admission. They never arrive unprepared. Their well-appointed rental camper van was fully equipped, except for an axe. Charly brought his own finely-edged Fiskar from Germany. After a particularly tiring day-hike up a melting mountain creek, Charly asked if I would like to join him for a short run down the highway. Naturally, I was stupid enough to acquiesce. 10 kilometers and an hour later I stumbled back to camp, lamely following his tireless legs.
Charly was apologetic. "In former times I was not so slow and the distance would be much greater." When I collapsed into bed that night Charly was alternating between calisthenics and wood chopping. In the morning I stumbled out into the bright sun and found him washing in the cold creek. He'd been up for hours, eaten his morning repast of eggs, meat, cheese,
tea, fruit and five pieces of bread and had completed 50 pushups and 100 sit-ups. Then he buckled down to real breakfast: a hearty bowl of Muesli.
Did I mention that Charly is older than I? He is no weichei. They say the Irish (my heritage) would rule the world were it not for Guinness. After
observing Charly for a few days I have concluded that there is somewhat more to the equation. When we arrived at Muncho the lake was still half frozen and, crucially, ice still surrounded the lodge where the plane was to land. But Marianne told us Urs was en route from Vancouver and would be arriving soon. Sure enough, as we set up camp, a canary-yellow de Havilland floatplane droned overhead.
In the morning Urs told us that the landing had been dicey. He had spent a good portion of the night breaking a slushy path to get the plane ashore. "Night" doesn't mean dark here in late May. The sun sets after 11 pm and is up again by 4 am. The interval is simply dusky. "What about tomorrow?" I asked Urs. "Can we fly to the Nahanni?" Urs is a big man, clad always in blue jeans and red suspenders. His name means "bear" in Swiss German. He looked at me, then warily at the lake. A wind had come up. We could
see a wide river of rotten ice moving northward. Open water was within 300 meters of the Lodge. "Perhaps… if the wind continues and does not reverse direction." I crossed my fingers. Our window of opportunity was closing. Charly and Marion had only one day to spare before continuing on to Whitehorse, Yukon. Our schedule was more relaxed, but without them we couldn't do the charter.
In the morning the ice had moved. It was a bluebird day. But still Urs was worried. He would decide at noon. I'm not renowned for my patience; but I am a biblical Job next to Charly who paced the morning away, unable to control the situation, awaiting word from Urs. "Impatience. This is a minus point for me," Charly admitted.
In the past I've mentioned a phenomenon known as "the Feehan thing". This entails arriving at the last possible moment, uninformed, ill-prepared, sans reservation, but expecting top-notch service. Invariably it works like a charm. At noon Urs announced the flight was a go.

He gently lifted the retrofitted 1959 de Havilland off the emerald waters of Muncho Lake and banked over the Lodge. Our hour and a half flight crossed the BC border at 60 degrees north, swiping a corner of the Yukon Territory before entering the NWT. Urs treated us to a spectacular 360-degree view of Virginia Falls before landing upstream of the cascade. He touched the plane down softly, wary of deadheads floating down the swollen Nahanni River. We were Nahanni's first visitors of the year, arriving even before Parks Canada set up camp for the season.
The Falls, a world-renowned UNESCO site, are twice the height of Niagara Falls. An icy spring pillar hung precariously down the center of the water's 102-meter descent. Downstream the torrent curved through ochre cliffs en route to its confluence with the Mackenzie River and the Arctic Ocean three thousand kilometers away. Our stay in the Nahanni was brief – after just a few hours aground we were skimming back up off the river. Urs offered us a last spectacular glance at the Falls. Then the old plane banked southward, skirting vast unexplored ridges of the Northwest Territories. In the early evening light, the northern-most tip of the Rocky Mountains appeared, signaling our return to British Columbia.
It was well past 8 pm when the de Havilland touched down perfectly on the calm waters of Muncho Lake. The sun was still high in the sky. We hopped from the plane's floats to the dock and bid goodbye to our German friends. Before heading down the road Charly offered a heart-felt hug – confirming that, inside, all good eggs are soft.
Next time: Dawson City and the Dempster Highway
Gerry Feehan QC practised law in Red Deer for 27 years before starting his second life as a freelance travel writer and photographer. He says that, while being a lawyer is more remunerative than travel writing, it isn't nearly as much fun. When not on the road, Gerry and his wife Florence live in Red Deer and Kimberley, BC. Todayville is proud to work with Gerry to re-publish some of his most compelling stories from his vast catalogue developed over more than a decade of travel.
Thanks to these great sponsors for making this series possible!
Click here for an adventure with Gerry in Texas.
Revisiting the "All-inclusive" in Cozumel – by Gerry Feehan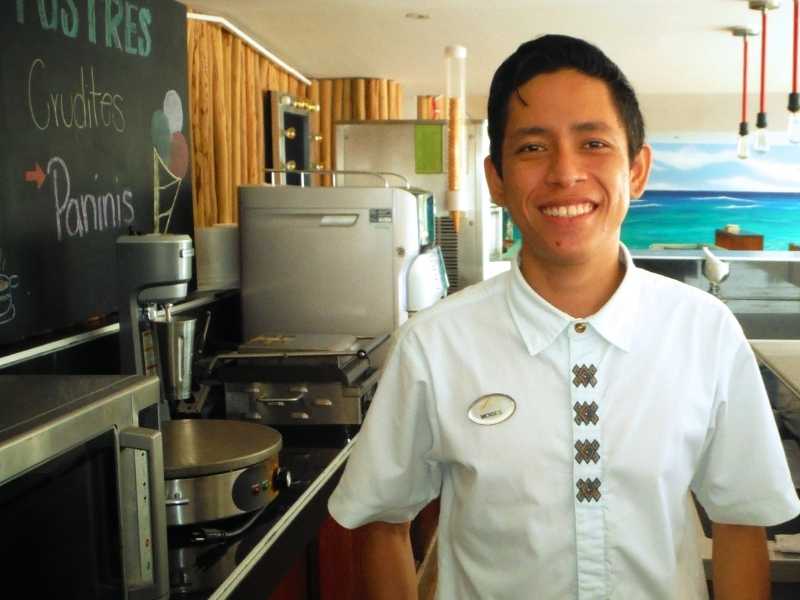 What could be finer than swimming in a warm ocean, peacefully drifting over a colourful coral reef, snorkeling amidst a myriad of tropical fish? In my estimation, not much. And one of earth's finest snorkel sites is the Island of Cozumel, in Mexico's Yucatan Peninsula.
Or at least it was until Hurricane Wilma hit in 2005. The most intense tropical cyclone ever to strike the Atlantic, Wilma pummeled the Yucatan, flattening buildings and killing scores of people. But the death and destruction was not limited to land. The churning storm surge also destroyed life under water.
Cozumel is situated along the world's second largest barrier reef. The Great Mayan Reef stretches from Mexico's Yucatan 1000km south to Belize in Central America.
When Wilma finally passed, resorts that formerly advertised "walk-in" snorkeling were suddenly left with ocean desert—broken chunks of dead coral lying in a watery grave. Until then Cozumel had been high on our bucket list. Wilma moved it down a few notches.
There was a time when a Mexican all-inclusive was our go-to vacation; a cheap week on the Mayan Riviera where food was plentiful (if not particularly appetizing) entertainment was non-stop—and best of all, the Corona flowed freely. But those days passed and we gradually moved on to more exotic—and expensive—vacations. So my expectations were not high when we decided to go retro and check out the Fiesta Americana all-inclusive on Isla de Cozumel's leeward coast. Would the snorkeling be good? Would the resort be serving up Montezuma's Revenge for lunch?
It didn't take long for all-inclusive nostalgia to kick in.  The first day at the pool we watched a couple of hefty strangers drink themselves into a stupor and pass out before noon in the searing tropical sun. While I am as big a fan of the swim-up bar as the next guy, we were here primarily for the ocean experience.
Cozumel's currents are notoriously powerful, so that afternoon we walked up the beach half a kilometer, donned our gear and enjoyed a frighteningly quick drift back to the resort. Happily, a decade-and-a-half after Wilma, the reef is showing signs of recovery—tiny colourful fish darted in and out of small but healthy new coral formations.
The following morning I booked a drift dive with a local scuba operator. We motored out to Palancar Reef in Arrecifes de Cozumel National Park, jumped overboard, descended 20 meters and floated through the famed Coral Gardens. It was magical. This deeper reef was unaffected, with pristine red, green, purple and orange coral heads glowing brightly in crystal-clear water. And the sea creatures—sea stars, lobsters, small crustaceans and a multitude of reef fish—were everywhere.
The next day we rented a jeep convertible for the obligatory circumnavigation of the island. We peeked in at some of the fancy resorts on the protected west shore before driving up Cozumel's rugged windward side where rough seas wave in from the open Caribbean, pounding the unpopulated eastern coastline. En route we stopped for a swim at Punta Sur on Cozumel's southern tip. Warm calm waters greeted us. We snorkeled over a shallow sandy bottom, admiring large coral heads and schools of damselfish and wrasses. A puffer fish inflated itself defensively, comically. Then we drifted into a garden of sea fans. Acres of purple, pink and mauve giants swayed softly just below the surface. Miraculously, this tip of Cozumel had avoided Wilma's random fury.
The ocean is not Cozumel's only attraction. When a new ring road was built around the island, local leaders had the wisdom to leave the old highway in place, close it to motorized traffic and convert the road to pedestrian and bicycle use. Now cyclists from around the globe come every November to participate in the annual Cozumel Gran Fondo, nicknamed "the world's most beautiful bike ride."
The Fiesta Americana had a few rusty bicycles available for patron use and, although these old contraptions had been exposed to the briny sea air for years, still it was fun to pedal around the island. We engaged in our own Petit Fondo, from the Fiesta down the coast to Playa Palancar. Our clocking for the twenty-one kilometer return trip was a respectable 60 minutes—excluding the three and a half hours we spent at the Palancar Beach Bar.
The staff at Fiesta Americana was embarrassingly polite and helpful. Early on we became attached to young Moises who manned the coffee and pastry bar in the open-air lobby. By the third morning I had no need to order. While we made poquito talk en Español, he'd whip me up a double café con leche. Moises, eighteen, worked 10 hours a day, six days a week at the resort—for about $20 a day. He didn't live on the island—too expensive. Every day he endured a ferry commute from the mainland. And yet I'm not sure when I last met a happier, more positive person.
One morning I was feeling self-pity over some trivial e-mail I had received. As Moises handed me my coffee, he asked if everything was okay. I felt like going back to our lovely ocean-view suite and giving myself a very hard look in the mirror—but instead I just ordered an extra helping of bacon with my scrambled eggs. The food at the Fiesta was really good—more than palatable.
So our nostalgic all-inclusive experience was a success—and a heck of a lot simpler and cheaper than organizing one's own tropical tour. And the entertainment? Awesome—particularly when the two chubby drunken fellows reappeared bashfully on day two, pale as ivory on one side, red as a Caribbean lobster on the other.
Our visit to Cozumel was pre-Covid—but Mexico is open for business again!
Gerry Feehan is an award-winning travel writer and photographer. He lives in Kimberley, BC.
Thanks to Kennedy Wealth Management for sponsoring this series.  Click on the ads and learn more about this long-term local business.
Cuba's famed Varadero beach getting ready for tourists again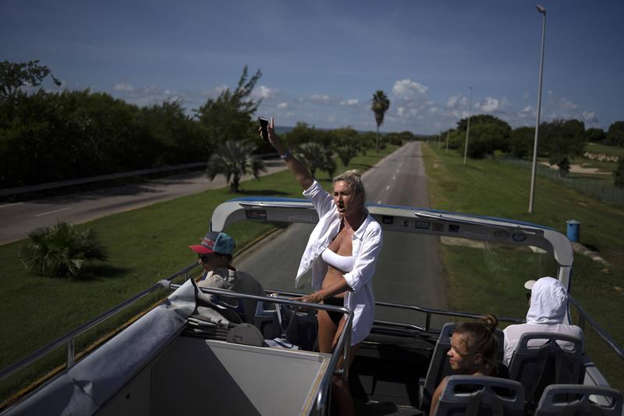 VARADERO, Cuba (AP) — Little by little, vacationers are returning to one of the Caribbean's most iconic beaches, which has been a nearly abandoned strip of glittering sand and turquoise seas for more than a year.
Varadero, the surfside star of Cuba's crucial tourism industry, is slowly getting ready for Cuba's planned Nov. 15 formal reopening to global visitors.
A handful of tourists, largely from Russia or Canada, have strolled across the 22-kilometer (13-mile) swath of sand in recent days, hunting out the scattering of restaurants that have reopened, dawdling over handicrafts at the few stands that have reappeared.
Medical personnel scan hotel visitors for signs of fever. Waiters, desk clerks and sellers of trinkets wear doubled masks as they cater to unmasked visitors in bathing suits. Largely empty tour buses run down the main boulevard.
At least some of the 60 or so hotels in Varadero remain closed, or pressed into service as quarantine centers. But others are already running.
About 100 people were staying at the 386-room Iberostar Selection Varadero on one day last week.
Juan Carlos Pujol, Cuba operations manager for the Spanish hotel chain, said the company had taken advantage of the pandemic closure to update restaurants or make adjustments for health measures, such as moving tables further apart or extending the reach of wi-fi to broader open expanses.
"We are very content and hopeful because now you can see the light at the end of the tunnel and we want to resume operations how and begin to recover what we had always had," he said.
The pandemic was a terrible blow to tourism in Cuba, which depends heavily on the industry, especially after a series of ever-tighter embargo measures imposed by former U.S. President Donald Trump — and that have not been significantly relaxed under his successor, Joe Biden.
"I've had many months without work, feeling horrible," said Lizet Aguilera, a 55-year-old weaver who recently reopened a souvenir stand that had been closed for 16 months.
Even so, she said she worries that she could be infected with COVID-19 while at work and bring it home.
"When I reach my house, before greeting anybody I take a bath," she said.
Another vender, Richard Martin, estimated that only about 50 of the resort's 5,000 artisans so far have returned to sell after months of hardship.
"It was very difficult," he said. "The need, the fear, the scarcity. We have confidence in the vaccine. What remains is to open, to show that it functions."
Cuba says it plans to have vaccinated 90% of its eligible population by the end of November— taking advantage of its unusually advanced biomedical industry to create the only locally developed COVID-19 vaccines in Latin America.
That has allowed officials to plan a gradual reopening to visitors, particularly in Varadero, some 150 kilometers (95 miles) east of Havana.
The town itself has only about 6,000 residents, but it provides thousands of jobs for people in nearby Cardenas, Boca de Camarioca and Matanzas and has some 20,000 hotel rooms — as well as a number of private residences that host visitors.
In 2019, Varadero received about 1.5 million of the 4.3 million tourists who came to Cuba— a number that collapsed when the pandemic hit and Cuba largely closed itself off to visitors.
The reopening will pose challenges: Cuba's weak economy and U.S. sanctions complicate obtaining products to sell to tourists. A new monetary policy means many services must be paid for using foreign bank cards — though none that depend on U.S. banking institutions.
Andrea Rodríguez, The Associated Press