THE HALFTIME REPORT News from the Alberta Sports Hall of Fame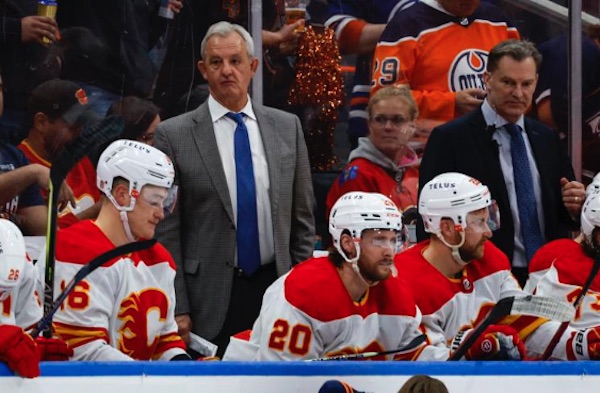 Honoured Member Darryl Sutter Wins Jack Adams Award
Calgary Flames head coach Darryl Sutter has won the 2021/22 Jack Adams Award, presented annually to the NHL's coach of the year.
Sutter was Inducted into the Alberta Sports Hall of Fame in 2000, with his brothers Brian, Duane, Brent, Rich, and Ron. All six brothers grew up and played minor hockey in Viking before moving to Red Deer to play with the Red Deer Rustlers of the AJHL.
The NHL announced the award winner on Sportsnet prior to Game 2 of the Western Conference Final on Thursday, with a video of Brian Sutter, a winner of the award in 1991, presenting the award to his younger brother Darryl.
The Flames missed the playoffs in the 2020/21 season when Sutter took over halfway through the year. In the following 2021/22 season, Sutter captured the 6th best record in the NHL for the largest season to season improvement, as well as winning the Pacific Division.
To learn more about Sutter's amazing coaching story, click the link below.
Honoured Member Dr. Willie Littlechild has been Awarded by the Governor General of Canada
On May 26th Honoured Member Dr. Willie Littlechild received the Meritorious Service Cross (Civil Division), a prestigious award by the Governor General of Canada. The award is given to a nominated individual in recognition of their contributions that bring honor to the country in various fields including advocacy, health care, research, humanitarian, and more.
For more information, please click on the article link below.
This newsletter is sponsored by Travel Alberta.
Honoured Member in Focus: Edmonton Grads
Basketball Team – Inducted 1974
The amazing record of the Edmonton Grads spans an era of 25 years. Under the expert coaching of the late Percy Page, the Grads played 522 official games in Canada, the United States, and in Europe, winning 502 and losing 20 for an average of 96.2%. The Grads won seven of the nine games they played against men's teams. In establishing their outstanding record, they had two consecutive winning streaks of 147 and 78 games respectively. They won the Provincial Championship during their first year of existence in 1915, and continued to win 23 of the 24 times they competed for it. In the Western Canadian Championship, the Grads won all 21 games they played from 1926 to 1940. In the Canadian Championships they never lost a series, from commencement of title play in 1922 to the team's disbandment in 1940. They were crowned World Champions from 1937 to 1940.
The Edmonton Grads received many honours over the years. They were inducted into the Edmonton Sports Hall of Fame in 1973 and the Canadian Basketball Hall of Fame in 1980. The Grads still have the record for best winning percentage of all time for North American teams. In 1976, the Edmonton Grads' achievements were declared a National Historic Event and Parks Canada dedicated a plaque in their honour, two years later, in 1978. The Edmonton Grads Youth Basketball Association was founded in 2002, in Edmonton, to honour the legacy of the famous women's basketball team.
Provincial Sport Organization: Alberta Basketball
Alberta Basketball is the governing body for the sport of basketball in Alberta. We believe that our amazing sport is more than just a game; it is – A Game for Life. The game of basketball assists all who participate by developing life skills and habits that will benefit and enrich their lives. ABA's mission is to champion the sport of basketball by inspiring unity, facilitating development, and delivering superior value.
Visit their website by clicking on the link below.
Artifact in Focus!

This large Silver Vase-like trophy that is engraved to read "Offert Par La Municipalite De Monaco 1936" was given to the Edmonton Commercial Graduates Basketball Team while they were in Europe playing exhibition games prior to the 1936 Olympics in Berlin.
Every person should have the ability to pursue their dreams without fear of discrimination or prejudice based on age, race, religion, gender, or sexual identity. Unfortunately, this is not always the case. Many athletes have faced, and many still do, discrimination from sports organizations, team management, coaches, and even fellow athletes for things they have no control over.

Four of our Honoured Members have come forward to share their journey through sports and coming out to help inspire the next generation of athletes to be true to who they are in all aspects of their lives. By sharing these heartfelt stories with you, we hope that we can start to see the changes needed to allow all athletes regardless of age, race, religion, gender, or sexual identity to feel safe to be their authentic selves in and out of the locker room. Our featured honoured members in this exhibit are Mark Tewksbury, Danielle Peers, Keely Brown and Kessie Stefanyk.
Soon we will be saying goodbye to our 'True to You in Sport' Exhibit which highlights these Honoured Members. Mark Tewksbury, for example, became Canada's first sports hero to openly declare his homosexuality in 1998. He helped start a national conversation on the taboo subject of gays in sport. Since that time, Mark has been an outspoken advocate for inclusive and safe sport spaces for all.

Come see it before it's gone!
Hall of Fame in the Community​
Our Hall of Fame summer students were out in the community attending events geared towards our youth. We were at the Central Alberta Family Expo on May 28 in Red Deer as well as the Central Alberta Children's Festival which showcases opportunities for the children of Central Alberta to learn, play and be active.
If you would like your Hall of Fame to visit your event please contact us at 403-341-8614 or [email protected]
Donate Now​
The Alberta Sports Hall of Fame needs your support to continue the ongoing preservation of Alberta's sports history and the development of museum exhibits. We are grateful and appreciative of the generosity of our supporters and friends. We would be happy to assist you in choosing how your personal legacy will be fulfilled and the many options available. Here is some information on donating shares to ASHFM and the benefits to you as a donor.
Alberta premier defends new rules on in-person learning, no mask mandates in schools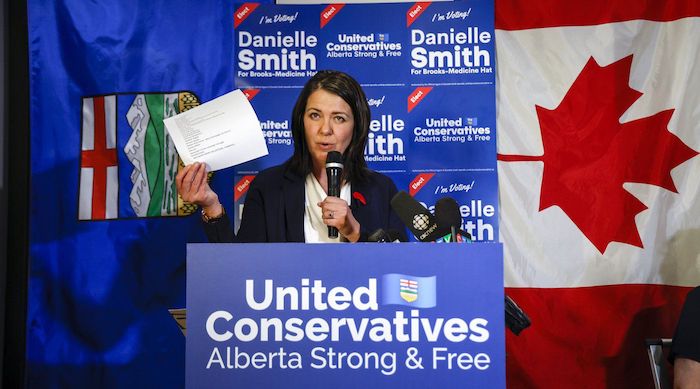 By Dean Bennett and Colette Derworiz
Alberta Premier Danielle Smith is defending new rules ordering schools to provide in-person learning during the current wave of viral illnesses, saying a clear, measured response is crucial for students and parents.
"We need a normal school environment for our children, and we need to make sure that the classrooms stay open to be able to support our parents," Smith said at a news conference in Medicine Hat on Friday.
"That's why we made the decision that we did — to give that clear direction."
Her comments came a day after she announced regulatory changes saying school boards must provide in-person learning. Schools also can't require students to wear masks in school or be forced to take classes online.
The changes take effect immediately.
"Anyone is welcome to wear a mask if they feel that that is the right choice for them, but we should not be forcing parents to mask their kids, and we shouldn't be denying education to kids who turn up without a mask," Smith said.
She has said mask rules and toggling from online to in-person learning adversely affected the mental health, development and education of students during the COVID-19 pandemic and strained parents scrambling to make child-care arrangements when schools shut down.
That's over, Smith said.
"We're just not going to normalize these kind of extreme measures every single respiratory virus season," she said.
School boards have been asking for more direction as a slew of seasonal respiratory and gastrointestinal illnesses, along with some COVID-19 cases, have led to high classroom absentee rates and have jammed children's hospitals.
In Edmonton, Trisha Estabrooks, board chair for Edmonton Public Schools, said the decision provided the clarity that the board was seeking.
"All Albertans now understand that it's not within the jurisdiction, and nor should it ever have been within the jurisdiction of individual school boards, to make decisions that belong to health officials," said Estabrooks.
She said the province has made it clear that any future public health order would supersede the new rules.
The in-person learning change applies to grades 1-12 in all school settings, including public, separate, francophone, public charter and independent schools.
The masking change applies to those same grades and schools, but also to early childhood services.
The Opposition NDP criticized the new rules, saying it's unrealistic to force schools to be all things to all students while also handling a wave of viral illnesses and not providing additional supports to do it.
Jason Schilling, head of the Alberta Teachers' Association, said the government needs to work with school boards to figure out how to make this work.
"You have schools that are struggling to staff the building, (they) can't get substitute teachers, teachers are sick, they're covering each other's classes, principals are covering the classes," Schilling said in an interview.
"And then to say if you go online, you are to still offer the same programming in person — we just don't have the people to do that."
Wing Li, communications director for public education advocacy organization, Support our Students, said it will be difficult for schools to offer hybrid learning without any additional resources.
"There are no teachers," Li said in an interview. "Pivoting online was mostly due to staffing shortages, which is worse now three years in."
Li said online learning is challenging for students but, when temporary and supported, can keep schools and communities safe from spreading illness.
"This is a quite aggressive use of the Education Act to enshrine an ideology," she said.
This report by The Canadian Press was first published Nov. 25, 2022
Don't have a cow: Senator's legen-dairy speech draws metaphor from bovine caper
OTTAWA — Haven't you herd? A dramatic tale of 20 escaped cows, nine cowboys and a drone recently unfolded in St-Sévère, Que., and it behooved a Canadian senator to milk it for all it was worth.
Prompting priceless reactions of surprise from her colleagues, Sen. Julie Miville-Dechêne recounted the story of the bovine fugitives in the Senate chamber this week — and attempted to make a moo-ving point about politics.
"Honourable senators, usually, when we do tributes here, it is to recognize the achievements of our fellow citizens," Miville-Dechêne began in French, having chosen to wear a white blouse with black spots for the occasion.
"However, today, I want to express my amused admiration for a remarkably determined herd of cows."
On a day when senators paid tribute to a late Alberta pastor, the crash of a luxury steamer off the coast of Newfoundland in 1918 and environmental negotiators at the recent climate talks in Egypt, senators seated near Miville-Dechêne seemed udderly taken aback by the lighter fare — but there are no reports that they had beef with what she was saying.
Miville-Dechêne's storytelling touched on the highlights of the cows' evasion of authorities after a summer jailbreak — from their wont to jump fences like deer to a local official's entreaty that she would not go running after cattle in a dress and high heels.
The climax of her narrative came as nine cowboys — eight on horseback, one with a drone — arrived from the western festival in nearby St-Tite, Que., north of Trois-Rivières, and nearly nabbed the vagabonds before they fled through a cornfield.
"They are still on the run, hiding in the woods by day and grazing by night," said Miville-Dechêne, with a note of pride and perhaps a hint of fromage.
She neglected to mention the reported costs of the twilight vandalism, which locals say has cost at least $20,000.
But Miville-Dechêne did save some of her praise for the humans in the story, congratulating the municipal general manager, Marie-Andrée Cadorette, for her "dogged determination," and commending the would-be wranglers for stepping up when every government department and police force in Quebec said there was nothing they could do.
"There is a political lesson in there somewhere," said the former journalist.
Miville-Dechêne ended on what could perhaps be interpreted as a butchered metaphor about non-partisanship: "Finally, I would like to confess my unbridled admiration for these cows that have found freedom and are still out there, frolicking about. While we overcomplicate things, these cows are learning to jump fences."
This report by The Canadian Press was first published Nov. 26, 2022.
Marie-Danielle Smith, The Canadian Press