Alberta's 2022 Lt. Governor Emerging Artists Named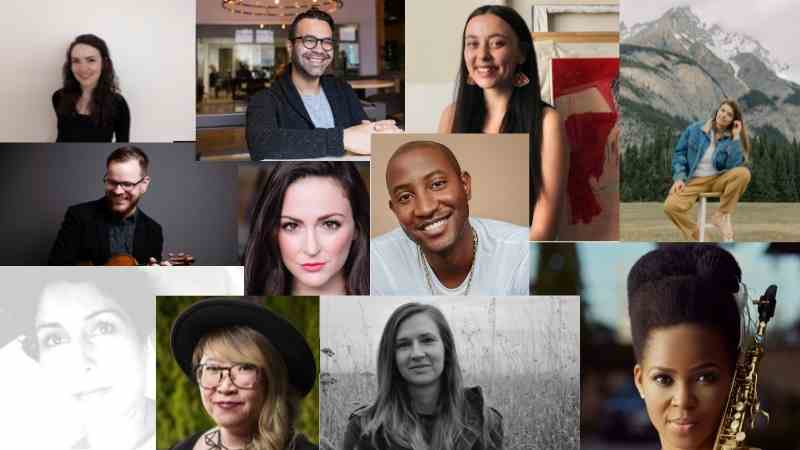 Alberta's 2022 Lt. Governor Emerging Artists Named
The Lieutenant Governor of Alberta Arts Awards Foundation announces awards totaling $110,000 to the 11 recipients of its 2022 Emerging Artist Award.
"When economic times are tough, our artists are particularly vulnerable," says Foundation Chair, Arlene Strom. "We are thrilled to invest $110,000 this year in advancing the careers of these outstanding artists at the early stages of their professional development."
2022 Emerging Artist Recipients:
Perpetual Atife Saxophone, Calgary
Vicki Chau Filmmaker, Calgary
Arlan Vriens Violin, Edmonton; Toronto
Eden Tremayne Soprano, Calgary
Omar Mouallem Writer, Edmonton
Trina Moyles Writer, Peace River
Kiona Ligtvoet Visual Arts, Edmonton
Tenaj Williams Actor, Calgary
Ally McIntyre Visual Arts, Edmonton
Moni Brar Writer/Poet, Calgary
Nahanni McKay Visual Arts, Banff
The Award's patron, Her Honour, the Honourable Salma Lakhani, Lieutenant Governor of Alberta AOE, B.Sc., LLD (hon) awarded the 2022 Emerging Artists at a celebration hosted by the County of Lac La Biche and Portage College on June 10, 2022. Each awardee receives a $10,000 cash award, a handcrafted medal and a certificate.
The 11 recipients were selected from 140 applications in an adjudication process overseen by The Banff Centre. The adjudication panel included: Darren Fung, renowned composer based out of Los Angeles, originally from Edmonton; Sean Caulfield, artist and Centennial Professor in the Department of Art & Design at the University of Alberta; Patricia Darbasie, Alberta actor, director and educator; Jenna Butler, 2014 LG Emerging Artist, award-winning author and educator; Derek Beaulieu, Jury Facilitator, Director of Literary Arts at the Banff Centre.
For more information on the awardees visit artsawards.ca
Who are the 2022 Emerging Artists?
Perpetual Atife Saxophonist, Calgary: Perpetual Atife is retelling African stories and music through her practice as a jazz saxophonist and songwriter. Her entrepreneurial spirit and energy are as impressive as her skills as a band leader and performer. The aural tapestry she creates combines her Nigerian roots and the realities she exists in today. Her debut album, a collection of her journey through instrumental music, spoken word and vocal music, is due to be released in the Fall of 2022.
Vicki Chau Filmmaker, Calgary: Vicki Chau is a filmmaker and media artist based in Calgary. Her two short films Pulled Strings and Hearth of the Lion capture a slice of her Chinese-Vietnamese heritage in a beautiful lyrical way. Her family and cultural identity have been a core inspiration in her artistic practice and help her to promote the appreciation of both Chinese and Vietnamese culture through a uniquely Canadian perspective. She was selected for the WarnerMedia Access Festivals Program at Toronto's Reelworld Film Festival in 2021.
Arlan Vriens, Violin, Edmonton/Toronto: Arlan Vriens is an Edmonton-born classical violinist noted for his ability to evoke strong, emotional performances with difficult, contemporary repertoire that pushes the boundaries of what the instrument was designed to do. Equally at home performing newly-written contemporary works or rediscovering long-lost violin techniques, Arlan is committed to nurturing and critiquing classical music as a living, evolving practice. His chamber music and solo violin projects have been supported by the Canada Council for the Arts and the arts councils of Alberta, Ontario, and Newfoundland.
Eden Tremayne Soprano, Calgary: Eden Tremayne delivers an authenticity and emotional strength that is impressive to see in an emerging opera singer. A soprano with both a strong technical facility and range, she is noted for her stirring performances. For the past three seasons, Ms. Tremayne has been a McPhee Artist with Calgary Opera. She had her Calgary Opera mainstage debut In the 2019-2020 season as Clotilde in Bellini's Norma and covered Musetta in Puccini's La bohème. Tremayne was previously featured as an Apprentice Artist with the San Diego Opera and a Yulanda M. Faris Young Artist with Vancouver Opera.
Omar Mouallem Writer, Edmonton: Omar Mouallem has established himself as a talented young journalist and filmmaker to watch. With the arrival of his important new book of non-fiction, Praying to the West: How Muslims Shaped the Americas, he's an important voice in Canadian literature with a long career ahead. A second-generation Canadian born and raised in Northern Alberta's Muslim Lebanese community, Mouallem has become known for his ability to intertwine human interest stories with world history and broad social issues. Omar co-authored the national bestseller Inside the Inferno: A Firefighter's Story of the Brotherhood that Saved Fort McMurray and co-directed Digging in the Dirt (with Dylan Rhys Howard), a raw look at the psychological toll of oil and gas labour.
Trina Moyles Writer, Peace River: Trina Moyles blends journalistic knowledge with literary expertise and a love for the land. She grew up in the northern community of Peace River, Alberta (Treaty 8), where she spent much of her childhood immersed in the boreal forest. Moyles's first book, Women Who Dig: Farming, Feminism, and the Fight to Feed the World was published in 2018 by the University of Regina Press. Her second book, a memoir and frontline reportage on the increasing prevalence of wildfire in North America, Lookout: Love, Solitude, and Searching for Wildfire in the Boreal Forest, was published in 2021 by Penguin Random House Canada. Lookout won a National Outdoors Book Award in 2021 and has recently been nominated as a finalist for the 2022 Robert Kroetsch City of Edmonton Book Prize and a finalist for the Memoir Award at the 2022 Alberta Literary Awards.
Kiona Ligtvoet Visual Arts, Edmonton: Kiona Ligtvoet looks to experiences with family and the land they live and work on to create paintings, prints and installations that function as both a personal archive, as well as non-linear storytelling. Kiona grew up west of Edmonton near the hamlet of Calahoo where she lived with her moshom and relatives on scrip land. Her family lines are Cree and Métis descending from Michel First Nation, as well as Dutch/ mixed European. Kiona works in painting, printmaking and drawing, recollecting personal stories of grief and tenderness. Most recent exhibitions have been sahkitok mistahi at Ociciwan Contemporary Art Centre (2021), and her solo show, These Are the Things at Latitude 53 (2021). She is currently writing her debut graphic novel We Were Younger Once (2022).
Tenaj Williams Actor, Calgary: Tenaj Williams has built on his community theatre experiences to create a provincial and national footprint as an actor, professionally performing on stages in Alberta and across the country. He has recently branched out into film and television landing roles on various TV series, most prominently the hit CTV comedy show, JANN. Tenaj hopes to further advance his work in the arts and be instrumental in helping to create and foster safe, and brave spaces for diverse and emerging artists. He plans to develop his skills as a director and learn more about theatre production and management.
Ally McIntyre Visual Arts, Edmonton: Ally McIntyre creates bold, powerful paintings that combine passages of abstraction with naturalistic imagery, and which contain moments of aggressive and expressive mark-making, alongside more introspective, sensitive passages of drawing. This blending of visual languages results in highly compelling imagery that fosters unexpected narratives and poetic associations for viewers. Bold and assertive, her works question the prevailing gendered association of large-scale art and expressionism. In 2015, McIntyre was awarded the HIX Award 2015 presented by Tracey Emin and the Jealous Prize 2015. Exhibits include various galleries in London, UK, The Original Print Fair at the Royal Academy, The London Art Fair, Start Art Fair and Art Toronto. She was a finalist in the RBC national painting competition (2018). Her solo exhibition 'Dog Day Circus' was featured at the Saatchi Gallery in London, UK (2022). Her work can be found in private collections in Australia, Asia, Europe, and North America.
Moni Brar Writer/Poet, Calgary: Moni Brar has published in many of the most respected journals in Canada and received a number of the top writing awards. A Punjabi Canadian writer exploring diasporan guilt and intergenerational trauma, she is poised to make major contributions to the literary arts in Canada. She has been nominated for the Pushcart Prize and multiple Best of the Net awards and was the winner of the SAAG Arts Writing Prize, runner-up in PRISM international's Grouse Grind Prize, honourable mention in Room magazine's Poetry Prize, and a finalist in the Alberta Magazine Awards and the Subnivean Awards. Her work can be found in Best Canadian Poetry 2022, the Literary Review of Canada, Passages North, Prairie Fire, Hobart, and the League of Canadian Poets' "Poem in Your Pocket" postcard series.
Nahanni McKay Visual Arts, Banff: McKay's creative practice utilizes photography, digital media, as well as performances in the landscape to explore pressing questions related to environmental change. The work often considers the ways landscape and animals have been depicted historically, particularly in the context of national parks, in order to investigate the complex interrelationship between colonial power structures, identity and ecological degradation and loss. Nahanni uses her photography to bring awareness of the need to coexist with wildlife to prevent further harm to the land we reside on. Exhibits include Personal Structures Exhibition, European Cultural Centre, Venice, Italy (2022), Loop 14, Alberta Foundation for the Arts Travelling Exhibition (2020), EXPOSURE Photography Festival Emerging Artists Showcase, Contemporary Calgary and more.
About The Awards
Founders Fil Fraser, Tommy Banks, John Poole and Jenny Belzberg established the Lieutenant Governor of Alberta Arts Awards Foundation in 2003 to celebrate and promote excellence in the arts. The endowments they established were created with philanthropic dollars and gifts from the Province of Alberta and the Government of Canada. Since its inception in 2003, the Foundation has awarded $1,430,000 to 23 Distinguished Artists and 74 Emerging Artists, all Alberta affiliated. The Foundation administers two awards programs: The Emerging Artist Awards program, established in 2008, gives up to 10 awards of $10,000 each to support and encourage promising artists early in their professional careers. Emerging Artist Awards are given out in even years. The Distinguished Artist Awards program, begun in 2005, gives up to three awards of $30,000 each in recognition of outstanding achievement in, or contribution to, the arts in Alberta. Distinguished Artist Awards are given in odd years.
Norad, Haiti, migration, critical minerals to top agenda for Trudeau and Biden
WASHINGTON — U.S. President Joe Biden is embarking on a 27-hour whirwind visit to Ottawa, where he will meet Friday with Prime Minister Justin Trudeau and speak to a joint session of Parliament — his first bilateral sojourn north as commander-in-chief.
Here are some of the issues the two leaders are likely to discuss:
Migration breakthrough: The two countries are already close to an agreement to expand the 2004 migration treaty known as the Safe Third County Agreement, which is designed to limit asylum claims in both countries but currently only applies to official entry points. As a result, critics say it encourages asylum seekers to enter Canada at unofficial border crossings, which allows them to make a claim. Sources familiar with the details say the two sides have been working on extending the agreement to cover the length of the Canada-U.S. border since the Summit of the Americas in Los Angeles last June. Such an agreement would help resolve a major political headache for Trudeau, while giving Biden the political cover he would need to devote more spending to northern border security.
Modernizing Norad: Until last month, the binational early-warning system known as the North American Aerospace Defence Command might have been best known for tracking Santa Claus on Christmas Eve. But a February flurry of unidentified flying objects drifting through North American airspace, most notably what U.S. officials insist was a Chinese surveillance balloon, exposed what Norad commander Gen. Glen VanHerck described as a "domain awareness gap": the archaic, Cold War-era system's ability to track small, high-flying, slow-moving objects. Coupled with the brazen ambitions of Russian President Vladimir Putin, the ongoing but largely opaque joint effort to upgrade Norad — rarely mentioned in past Trudeau-Biden readouts — is suddenly front and centre for both governments. Media reports suggest Canada could agree to an accelerated timeline.
Helping Haiti: The list of foreign-policy hotspots around the world that instantly bring Canada to mind is a short one, but Haiti is surely near the top. And as Haiti has descended ever deeper into lawlessness in the wake of the 2021 assassination of president Jovenel Moise, the need for military intervention has been growing — and some senior U.S. officials have expressly name-checked Canada as the perfect country to lead the effort. Trudeau's response has been diplomatic but firm: the crisis is best addressed from a distance. "Canada is elbows deep in terms of trying to help," he said last month. "But we know from difficult experience that the best thing we can do to help is enable the Haitian leadership … to be driving their pathway out of this crisis." Military experts in Canada say the Canadian Armed Forces are in no state to be able to lead any sort of intervention. U.S. officials said Wednesday they are pursuing a solution with urgency, but insist the discussions are multilateral in nature and will have to involve Haiti itself, and perhaps even the United Nations.
Mission-critical minerals: No high-level conversation between the U.S. and Canada these days would be complete without talking about critical minerals, the 21st-century rocket fuel for the electric-vehicle revolution that Trudeau calls the "building blocks for the clean economy." Canada has the minerals — cobalt, lithium, magnesium and rare earth elements, among others — and a strategy to develop them, but the industry is still in its infancy and the U.S. wants those minerals now. The issue has profound foreign-policy implications: China has long dominated the critical minerals supply chain, something the Biden administration is determined to change. "This really is one of the most transformative moments since the Industrial Revolution," said Helaina Matza, the State Department's deputy special co-ordinator for the G7's Partnership for Global Infrastructure and Investment. "We understand that we can't do it alone."
Water, water everywhere: Canada and the U.S. have been negotiating since 2018 to modernize the Columbia River Treaty, a 1961 agreement designed to protect a key cross-border watershed the size of Texas in the Pacific Northwest. Despite 15 separate rounds of talks, progress has been middling at best. Meanwhile, Canada is under U.S. pressure to allow the International Joint Commission — the investigative arm of a separate 1909 boundary waters agreement — to investigate toxic mining runoff in the B.C. Interior that Indigenous communities on both sides of the border say has been poisoning their lands and waters for years. Add to all of that the mounting pressure on Canada to supercharge efforts to extract and process critical minerals, and the plot promises to thicken.
Border blues: The flow of irregular migration isn't the only bilateral issue focused on the border. Critics on both sides say travel between the two countries hasn't been the same since the COVID-19 pandemic. The Nexus trusted-traveller program, a popular fast-tracking system in Canada, broke down last year amid a dispute over U.S. border agents working on Canadian soil; the fix is widely seen as less streamlined than the old system. Many of those same critical voices are taking issue with Canada's imposed new tax measures to discourage foreigners from owning real estate north of the border; some on Capitol Hill have been vociferous in pressing the Biden administration to demand an exemption.
A trade deal by any other name: Regardless of what the two leaders end up talking about, it will happen within the framework of the U.S.-Mexico-Canada Agreement, known in Canada as CUSMA. The USMCA era of continental trade, which began in earnest in 2020, has not been without its hiccups, including disputes over U.S. access to Canada's dairy market and the way the U.S. defines foreign automotive content. The Biden administration is also staunchly opposed to Canada's plans for a digital services tax, which it considers a violation. The agreement is due to be reviewed in 2026, and a lot could happen — especially on Capitol Hill and in the White House — between now and then. It's also worth noting that while it's not covered by the trade deal, the softwood lumber dispute remains a perennial irritant. International Trade Minister Mary Ng met earlier this month with industry leaders to discuss "unwarranted and illegal U.S. duties" on softwood lumber, vowing that a solution that protects Canadian jobs "is the only resolution that we will accept." In other words, don't hold your breath for a breakthrough on a dispute "that's been going on since Adam and Eve," said Tony Wayne, a former U.S. ambassador to Mexico and the former U.S. assistant secretary of state for economic and business affairs.
This report by The Canadian Press was first published March 23, 2023.
James McCarten, The Canadian Press
Thompson's 37-save effort leads Golden Knights to 3-2 win over Flames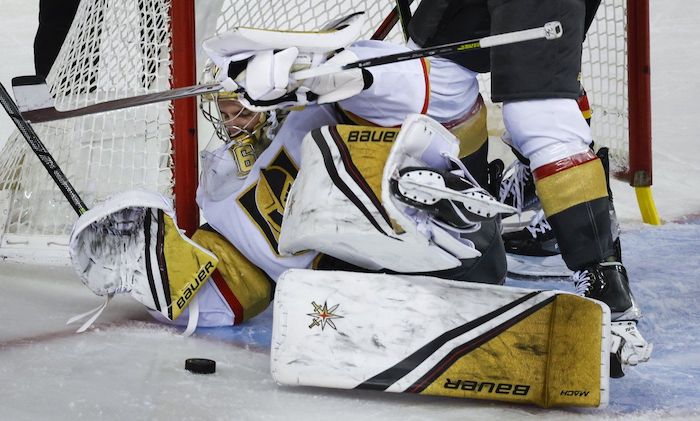 Vegas Golden Knights goalie Logan Thompson scrambles to block the net during third period NHL hockey action against the Calgary Flames in Calgary, Alta., Thursday, March 23, 2023. THE CANADIAN PRESS/Jeff McIntosh
By Darren Haynes in Calgary
Logan Thompson's triumphant return for Vegas after six weeks on the shelf was overshadowed by him exiting the game late in the third period with another injury.
Before he departed with just over six minutes to go, Thompson made 37 saves as the surging Golden Knights picked up a 3-2 win over the Calgary Flames on Thursday.
"Right now, obviously concerned about Logan," said Vegas coach Bruce Cassidy. " Obviously, Logan missing that much time, we'll have to look closely at that one."
It was unknown if the latest setback is related to the lower-body injury he suffered back on Feb. 9.
"I don't know what happened, to be honest. He just got up and left," Cassidy said. "He knows his body. I have no idea. At the end of the day, let's hope it's not related to the previous injury and it's something that will be short term."
Up 3-2 at the time, Jonathan Quick came in and turned aside all five shots he faced as Calgary poured on the pressure in search of the tying goal.
"It doesn't happen really often but when he got out there (Quick) made a couple really good saves to keep us in the game," said Vegas forward Ivan Barbashev.
The best chance to tie came off the stick of MacKenzie Weegar with a minute to go but he couldn't beat Quick from 30 feet out.
"I saw the net and I missed my shot," said the Flames defenceman. "If there was one chance I can get back all year, it would be that one."
Nicolas Roy scored in his return from an 18-game absence for Vegas (45-21-6). Jonathan Marchessault and Michael Amadio added the others.
Milan Lucic and Nazem Kadri replied for Calgary (32-26-15). Jacob Markstrom stopped 29-of-32 shots in his 11th start in the last 12 games.
In avenging their 7-2 home loss to the Flames on March 16, the Golden Knights earned their seventh win in eight games and are 16-3-2 in their last 21 contests.
Vegas opened up a four-point cushion on the Los Angeles Kings atop the Pacific Division.
Meanwhile, the Flames took a blow to their flickering playoff hopes, falling six points behind Winnipeg for the second wild-card spot in the Western Conference.
It's the Flames' 27th one-goal loss this year, which leads the NHL.
"We're in every game, and we have a chance to win every game we're playing, so it obviously makes it more frustrating that we lose and it feels like we're always losing by that one goal," said Flames defenceman Rasmus Andersson.
"I don't know how many games I've played back in my head thinking that 'Ah, I should have scored that' or 'How did we not score that' and we would have been in a different situation, but it's the reality."
Up 2-1 entering the third period, Vegas got some breathing room at 5:19 when pressure from Roy forced a defensive zone turnover from Rasmus Andersson. Roy then went to the net, received a pass from Phil Kessel and fired a shot over Markstrom.
The Flames crept back to within one at 12:33 when Kadri ended his 16-game goal drought with a power-play marker, but that's as close as they would get.
"When it's big games, we need guys to step up and be big players and we didn't have that tonight from everyone," said Lucic.
Calgary fell to 0-18-3 when trailing after two periods. The Flames are the only NHL team without a comeback victory this season.
Vegas, which entered the night having outscored teams 70-45 in the first period this year, jumped out to a 2-0 lead in the opening frame, with both goals coming less than four minutes apart.
Jack Eichel sprung Marchessault who whipped a shot past Markstrom on a 2-on-1 at 11:43.
Slipping behind the Flames defence and after being stopped on his first shot, Amadio rattled in his own rebound at 15:23.
Lucic cut the deficit in half with 58 seconds left in the frame off a slick cross-ice setup from rookie Walker Duehr.
SHOW OF SUPPORT
The Flames wore #SnowyStrong stickers on the back of their helmets in support of assistant general manager Chris Snow's ongoing battle with ALS. The stickers that feature a blue cornflower, the international symbol of hope for the fight against ALS, were created by a parent from the U9 hockey team in which Snow's daughter plays and were first worn by that team and its coaches.
STREAKS SNAPPED
Golden Knights forward Reilly Smith had his career-best point streak snapped at nine games (four goals, 11 assists). It equalled the franchise best, also held by Alex Tuch, Mark Stone and Max Pacioretty.
Four Flames also had their scoring streaks come to an end. Defenceman Noah Hanifin at six games, while Tyler Toffoli, Elias Lindholm and Blake Coleman each had their four-game streaks halted.
UP NEXT
Golden Knights: Wrap up their road trip in Edmonton on Saturday night.
Flames: Play host to San Jose in an afternoon game on Saturday.
This report by The Canadian Press was first published March 23, 2023.