"The Child Soldier" to be screened Saturday at Edmonton Short Film Festival
A short film by Eppo Eerkes
Two friends from a war ravaged North American village head out for school. Their journey is cut short when a band of child soldiers attack the school bus bringing their mothers greatest fears to reality. Based on true events.
"The Child Soldier" is a short film which follows the story of Samuel, a boy living in a small village, plagued by famine, war, and economic devastation. The film's setting mirrors the economic situation in northern Uganda. But this tale will not be told against the backdrop of the African plain. Our main character in fact, is a twelve year old Caucasian. He lives with his
mother and little sister in a run-down, ramshackle, western North American community.
The setting is a fictional, war-torn world, isolated at the frontier of a developing nation. It's set against the stark contrast and beauty of endless miles of forested mountains and wilderness. Samuel attends a communal school each and every day, boarding a military protected bus and studying under the watchful gaze of government troops. When his bus is ambushed by a group of rebels on horseback one day, his world is turned upside down.
Samuel's story plays out in a fictional world. But his experiences, hopes, dreams, fears and conflicts are an amalgamation of a vast number of factual, documented accounts from real Ugandan children who have experienced similar fates. Samuel's story is their story. It's spoken in a new and desperately needed voice. His story stands as a symbol to all children who are forced to fight in wars worldwide.
Director Statement
In 1997 I traveled to 7 countries in Africa including Uganda. It was an unforgettable 3 month journey where I was able to experience all the incredible offerings this continent had to offer including the wildlife, scenery and culture. In 2004 I discovered like much of the world that while i was in Southern Uganda in '97 a horrific atrocity was taking place only 2 hours away in Northern Uganda. The Lords Resistance Army had been raiding their own communities in defiance of the Southern ruling government. The terrifying facts revealed that children from these communities as young as 7 were being forced to fight for the LRA. I was sickened to discover that these atrocities were taking place while i was there in Uganda. So I had to do something about it. I decided to travel to the war zone and interview child soldiers who were recently repatriated back to their country. My goal ultimately was to create a film taking their stories and giving them an innovative twist showing the world that child soldiers anywhere no matter what colour of skin is a complete travesty.
This video below was produced using footage from that research trip.

ABOUT THE FILMMAKER

Let me introduce myself, I'm Eppo Eerkes… I also have another name, 'Yinagha K'izzaa', translated it means 'Half Moon'. Elder and Medicine Man 'Spotted Eagle' from the Tsuut'ina Nation gave me the First Nations' name 'Half Moon' due to my keen eye for directing films as well as searching for 'The Light' in others. I represent the seekers, the risk-takers, the creative, free-spirited adventurers out there; the ones who want more forests and freeways; outback and oceans in their lives; those who push their own, personal boundaries. I want to pursue films and story that represents this perspective and philosophy.

Biography:
Eppo is an Internationally award-winning Director, frontiersman and explorer of cultures, His relentless curiosity has found him filming from the high arctic to east Africa. It's taken him from the Ecuadorian Andes to the Congalese mountains; from the Alberta badlands to the Costa Rican jungle. If it's the magic and ruggedness of an experience you want to capture, then Eppo is the name you need to remember. Eppo has created, written and directed over 100 hours of network broadcast film and television. You can see his work on Discovery, History Channel USA, Animal Planet USA and National Geographic. Eppo is also an independent film director who has several upcoming and finished scripted shorts and features.
A passionate story-teller, much of Eppo's content has focused on the fragile relationships between man and animal/man and the environment. Eppo has a respect for the spirit that resides in all living things, the thrill of the new, the delight of the unexpected. Eppo continues to hone and develop his craft by working on projects which inspire and explore the human spirit. You can follow him here:
"The Child Soldier" will be screened at the Edmonton Short Film Festival this Saturday.
Alberta Premier Danielle Smith says conservatives must learn to win in 'big cities'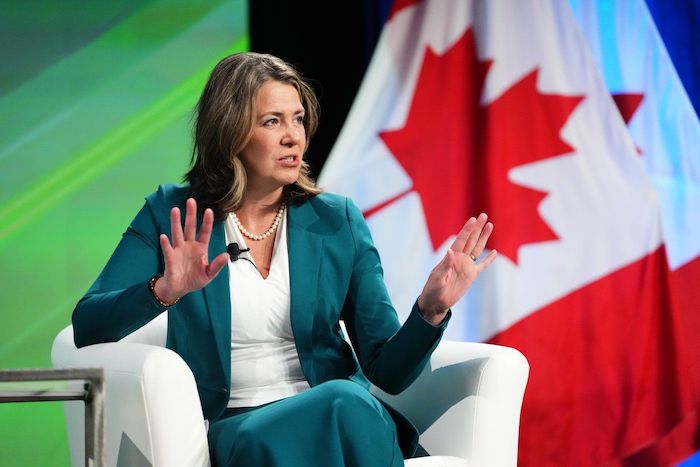 Alberta Premier Danielle Smith speaks at the Canada Strong and Free Network in Ottawa on Thursday, March 23, 2023. THE CANADIAN PRESS/Sean Kilpatrick
Ottawa (CP) – Alberta Premier Danielle Smith says conservatives must learn how to win in "big cities."
Smith made the comment to a room of conservatives gathered in Ottawa for the annual conference of the Canada Strong and Free Network, formerly called the Manning Centre.
With Albertans set to go the polls in a provincial election this year, Smith says the United Conservative Party has more ground to gain in the province's two largest cities: Calgary and Edmonton.
Smith replaced Jason Kenney as party leader and premier last fall, after he resigned following a leadership review where he received only 51 per cent support.
Kenney faced considerable backlash leading up to that vote for his handling of the COVID-19 pandemic, and Smith told today's crowd that the party had lost "a lot" of its base.
Smith's belief that conservatives must make inroads in large cities is shared by the federal Conservatives, with Leader Pierre Poilievre spending many of his weekends in Metro Vancouver and the Greater Toronto Area — areas where his party has struggled to gain ground in the past several elections.
This report by The Canadian Press was first published March 23, 2023.
Alberta Sheriffs receiving additional officers and more powers with new funding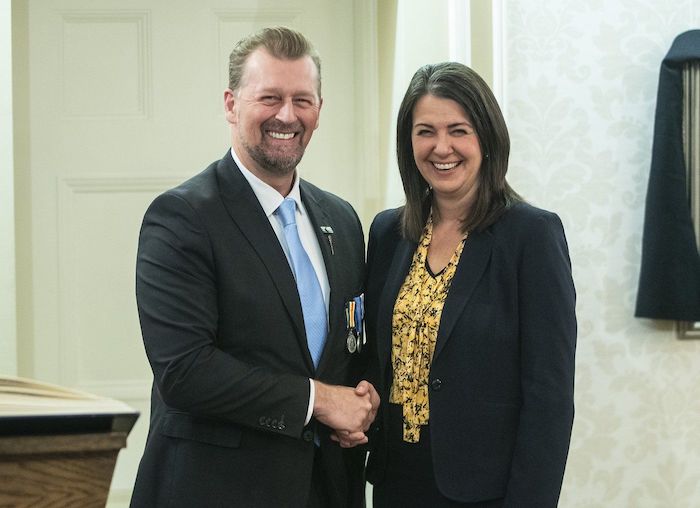 Mike Ellis shakes hands with Alberta Premier Danielle Smith after being sworn into cabinet as minister of public safety in Edmonton, Monday, Oct. 24, 2022. Alberta sheriffs will have expanded powers and play a bigger role in combating rural crime with new funding, the provincial government said Friday. THE CANADIAN PRESS/Jason Franson
St. Paul, Alberta
The Alberta Sheriffs Branch will have expanded powers and play a bigger role in combating rural crime with new funding, the provincial government said Friday.
Public Safety Minister Mike Ellis said $27.3 million will go to new positions and for rural crime initiatives, including two plain clothes teams that will help RCMP with criminal surveillance.
The announcement comes as Alberta continues to mull over whether to create a provincial police service to replace the RCMP.
"There has been some misleading commentary about this investment in the Alberta sheriffs, namely that it's the way of laying the groundwork for establishing a provincial police service by some other means," Ellis said Friday in St. Paul, Alta., 200 kilometres northeast of Edmonton.
"I'd like to remind people that the provincial government hasn't made any decision about an Alberta police service."
Ellis said although the RCMP has its own surveillance teams, most of the efforts are focused on major investigations. He said the new sheriff teams will fill a gap by helping the RCMP detachments with local investigations.
"I've heard countless stories about home invasions being committed by prolific offenders or thefts from farms. Every property owner has the right to feel safe in their home and the right not to wake up and find their equipment gone or fuel siphoned from vehicles," he said.
"These really are the type of cases that keep Albertans up at night."
The sheriffs will also get funding to add 20 investigators to the Safer Communities and Neighbourhood unit, which uses civil enforcement to target problem properties where illegal activities take place.
There is also money for the Sheriff Highway Patrol to train and equip its members to help RCMP with emergencies and high-priority calls.
"We will provide all members of the Alberta sheriffs with full powers to arrest under the Criminal Code," Ellis said.
"Some members of the sheriffs already have Criminal Code authorities, but we believe the public will be better served with consistency throughout this province."
The head of the Alberta RCMP said he welcomes the additional help from the sheriffs.
"These additional resources for the Alberta Sheriffs will improve our combined ability to suppress criminal activity in rural Alberta," said Deputy Commissioner Curtis Zablocki in a statement.
Farooq Sheikh, the chief of Alberta Sheriffs, called it a proud day.
"While our members have a visible presence in many functions they perform such as highway patrol, fish and wildlife enforcement, security in our provincial courts … the sheriffs perform a lot of important work to keep communities safe that's outside of the public eye."
This report by The Canadian Press was first published March 24, 2023.