The Challenge Of A Diversified Economy
The Challenge Of A Diversified Economy:
Harrie Vredenburg Professor U of C, Suncor Energy Chair
HARRIE VREDENBURG: "…Alberta and a diversified economy is always a question that comes up, and it's come up time and again throughout the history of Western Canada or the history of Alberta. And the challenge is, of course, that our oil and gas or natural resources here in Alberta are the biggest thing that we have going here.
And so the commodity industries that we're involved in here do have ups and downs; they are cyclical. And when things are on an up cycle, everything gets sucked over to the commodities industry, and that's where the wages are highest, that's where the returns are the best, and everything goes there, and it's hard to keep anything else going.
And governments over the years have said, oh, we have to diversify, we have to diversify, and attempts to diversify always fall on the rocks when we get an upswing in the commodities economy, so it's a challenge.
But having said that, it is important to now not only diversify, but to transition the Alberta economy and the Western Canadian economy to a lower carbon economy…"
Producer's note: What a beautiful shot around 30 seconds into that video of the oil derricks with the orange sunset. It's such a beautiful sight to see industry. At work, no people, just these solid No people just oil derricks and solidarity pumping away like one of those little toy cranes that you have on your desk that dips its beak in there in your glass of water is just such a beautiful thing to see.
See more stories from WeMaple.
CannTrust CEO was warned over illicit pot growing: former compliance worker
TORONTO — A former director of quality and compliance at CannTrust Holdings Inc. says he warned the company's chief executive that Health Canada could levy penalties if the firm grew pot in unlicensed rooms at its Niagara, Ont. facility.
In the months leading up to Health Canada finding pot growing in unlicensed rooms, Graham Lee said Tuesday that he told Peter Aceto he couldn't say what the exact consequences could be, but knew the government regulator had previously issued warning letters and handed out penalties.
For example, Lee said Health Canada reviewed CannTrust's inventory more extensively after it discovered the company using a storage facility at its Vaughan, Ont. location contrary to licensing.
"In general, Health Canada was there every day checking up on the inventory," Lee recalled.
His comments were made at the Old City Hall courthouse in Toronto in response to questioning from Dihim Emami, a lawyer representing the Ontario Securities Commission (OSC) in a case aiming to prove Aceto and other former CannTrust executives are guilty of several offences related to unlicensed growing at the Niagara facility.
Aceto, former CannTrust chairman Eric Paul and former vice-chairman Mark Litwin have pleaded not guilty to fraud and authorizing, permitting or acquiescing in the commission of an offence.
Litwin and Paul are also facing insider trading charges, and Litwin and Aceto are charged with making a false prospectus and false preliminary prospectus.
The OSC and Royal Canadian Mounted Police allege Litwin, Aceto and Paul did not disclose to investors that about 50 per cent of the growing space at CannTrust's Pelham, Ont. facility in the Niagara area was not licensed by Health Canada. They say the men used corporate disclosures to assert that they were compliant with regulatory approvals.
They also allege that Litwin and Aceto signed off on prospectuses used to raise money in the U.S., which stated that CannTrust was fully licensed and compliant with regulatory requirements, and that Litwin and Paul traded shares of CannTrust while in possession of material, undisclosed information regarding the unlicensed growing.
The men no longer work for CannTrust and their lawyers are arguing their clients are all innocent.
Frank Addario, Aceto's lawyer, previously told The Canadian Press his client was hired because of his financial acumen and track record. Before his time at CannTrust, Aceto was the president and chief executive of ING Direct Canada.
Addario also pointed out that CannTrust was subject to inspections and financial audits that uncovered no material issues.
"The evidence will show Peter Aceto behaved legally and with integrity during his time at CannTrust," Addario said in an email.
However, Lee testified Monday that the growth of cannabis in unlicensed rooms was "very openly discussed" at the pot company.
"There was no hiding this. There was no denial of this," he said.
On Tuesday, he reinforced those allegations, describing how he brought up his concerns about unlicensed activity during at least one meeting in winter 2019 that he recalled Aceto attended.
"I noticed that no one in the room was referring to or cognizant of the fact that these were unlicensed areas, so I reminded them," Lee said.
This report by The Canadian Press was first published Dec. 6, 2022.
Tara Deschamps, The Canadian Press
Kadri's winner halts Coyotes' comeback effort as Flames earn 3-2 victory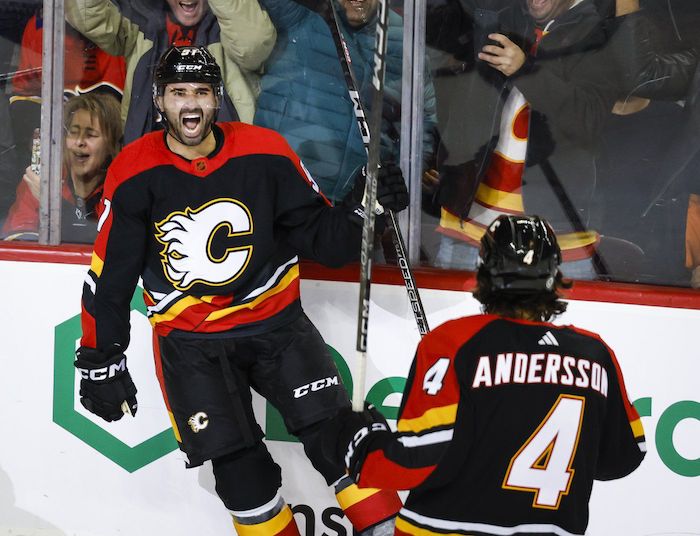 By Darren Haynes in Calgary
Nazem Kadri scored the game-winning goal at 15:42 of the third period and added two assists to lead the Calgary Flames to a 3-2 victory over the Arizona Coyotes on Monday.
Dillon Dube and Elias Lindholm also scored for Calgary (12-10-3), which has won five of its last six games at the Saddledome. Jonathan Huberdeau chipped in a pair of assists.
Shayne Gostisbehere and Jeff Chychrun each had a goal and an assist for Arizona (7-12-4), which has won just one of its last 10 (1-6-3).
Dan Vladar, starting for the fifth time in the last seven games, made 18 stops to even his record at 4-4-1.
Karel Vejmelka had 24 stops for the Coyotes in falling to 6-7-3.
Down 2-1 to start the third period, Arizona tied it at 5:50 when Chychrun snapped a shot over Vladar's shoulder. It was Chychrun's third goal in seven games since the defenceman returned from a wrist injury that sidelined him the first six weeks of the season.
But nine minutes later, Chychrun took a tripping penalty that proved to be costly.
Calgary regained the lead as Tyler Toffoli neatly set up Kadri, who notched his team-leading ninth goal of the season.
The Flames finished the night a perfect 2-for-3 on the power play, after having been in a slump, going 2-for-21 over the previous seven games.
Arizona went 0-for-2 on the man advantage.
Fuelled by back-to-back power plays early in the first period, Arizona held a 7-1 edge in shots at the 13-minute mark of the first period before Calgary started to tilt the ice in its favour.
After an extended stretch of pressure in the Coyotes' end, Dube opened the scoring deflecting a Chris Tanev point shot at 14:13 of the frame for his fifth goal of the season and fourth goal in his last eight games.
Just under three minutes later, Lindholm netted a power-play marker for his ninth of the campaign.
The Flames piled up 15 shots in a row before the Coyotes, having gone over 15 minutes without testing Vladar, finally directed a puck on the Calgary net seven minutes into the second.
With Vejmelka keeping the visitors within two, Arizona cut its deficit in half at 13:53 of the second. Rookie right-winger Matias Maccelli sent a drop pass to Gostisbehere whose shot found its way through a couple of screens and in off Vladar's arm.
HOMECOMING WEEK
Coyotes defenceman Juuso Valimaki, selected 16th overall in the 2017 draft, is the fourth Flames first-round pick to play against Calgary during its homestand. He follows Matthew Tkachuk (2016) and Sam Bennett (2014) with Florida on Tuesday and Sean Monahan (2013) with the Canadiens on Thursday.
ROOKIE RISING
Maccelli's assist extends the 22-year-old's point streak to four games (one goal, five assists). It's also his 15th helper on the season, which leads all rookies. Maccelli is second in rookie scoring behind Seattle's Matty Beniers.
UP NEXT
Coyotes: Having not played at home since Nov. 3, Arizona's stretch of 14 straight games on the road concludes on Wednesday in Edmonton.
Flames: Wrap up their five-game homestand on Wednesday against Minnesota.
This report by The Canadian Press was first published Dec. 5, 2022.