Red Deer College launches new Instrumentation Engineering Technology Diploma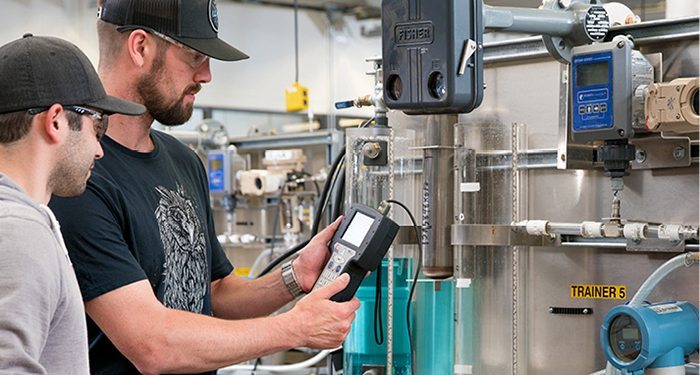 Red Deer College is proud to expand opportunities for learners in the region with the new Instrumentation Engineering Technology Diploma, which will be offered starting in September 2017.
"We're very excited to offer this new program, which has been developed in collaboration with local industry stakeholders," says Joel Gingrich, Dean, School of Trades and Technologies. "It will provide students with a solid foundation in design, installation and maintenance of industrial control systems for future employment in this sought-after industry."
The Instrumentation Engineering Technology program offers theoretical and hands-on applications in a wide range of fundamental courses, as well as courses tailored to help students develop skillsets employers require. "The program will provide direct connections between students and future employers through professional practice and capstone courses," Gingrich explains. "Plus, graduates will be eligible for recognition towards Instrument Technician Journeyperson certification with Apprenticeship and Industry Training."
"This new two-year diploma program is a great addition to the strong mix of programs already available at Red Deer College," says Dr. Paulette Hanna, Vice President Academic. "We're always committed to developing and delivering programs that are relevant and applicable to the needs of central Alberta, and the Instrumentation Engineering Technology Diploma is a wonderful example of this."
An official launch and information event for the Instrumentation Engineering Technology Diploma will take place on November 22. This event is open to the public and to the media, and it will begin with a short program followed by a drop-in format, giving attendees the chance to connect with faculty and staff to learn more about the new diploma program.
Instrumentation Engineering Technology Launch Event
Tuesday, November 22 | 5:30 to 7:30 p.m.
Red Deer Bottling Forum | RDC Main Campus (see map)
The diploma program will be offered starting in September 2017, and applications are currently being accepted.
For further details on the Instrumentation Engineering Technology Diploma, visit rdc.ab.ca.
Family math nights add up to success
In an effort to build an understanding of teaching math both at school and in the home, Red Deer Catholic Regional Schools is pleased to provide Family Math Nights.
These school-specific evenings first begin with an information session, and end with interactive stations for families to explore, all centred around developing understanding of concepts versus memorization skills. These sessions provide an opportunity to engage in math with a hands-on approach and ask questions to our numeracy experts.
Feedback from parents at other schools has shown that these Family Math Nights have a positive impact on student success.
Please note the upcoming Family Math Nights:
St. Teresa of Avila School (Grades 1-3) – January 18 from 6:00 – 7:30 p.m.
Holy Family School (Grades 1-5) – February 1 at 6:00 – 7:30 p.m.
Retro Radio Christmas Review – A Family Christmas Time Treat Courtesy of RDC
When you're tired of work and technology and a busy life, it can be hard to take a deep breath and slow down for a few hours.  That makes it all the more difficult to get into the "Christmas" spirit.
If that's your challenge, RDC's School of Creative Arts has some tonic for you.  This week, through to Saturday night, RDC presents "Retro Radio Christmas Review".
Student actors portray some of the biggest names in radio broadcast history from the heydays of radio programs.
Check out this video… and get your tickets for the whole family!
Here's all the information you need from RDC…
Let your imagination soar as the Theatre Performance and Creation students in the RDC School of Creative Arts bring their characters to life on stage. Our season would not be possible without the hard-working, professional Theatre and Entertainment Production students, providing behind-the-scenes support with costumes, props, weaponry, special effects, lighting, sound equipment, and stage management. 
Retro Radio Christmas Review
– live, on stage – by various authors
Age Group: Teens and Adults
Mainstage, Arts Centre
Evenings:  November 23 -25 & November 28 – December 2 | 7:30 pm
Weekend Public Matinees: November 25 & December 2 | 1:00 pm
School Matinees: November 24 & Dec 1 | 12:00 pm
Imagine yourself transported to the golden age of radio. Our actors will be portraying some of the biggest names in radio from some of the great Christmas classics. See how all those sound effects are created live on stage and what really happens between the performers when the broadcast goes live. A great evening for the whole family.