Planet Of The Humans: Exposing The Detrimental Truth Of Solar, Wind, & Bio Mass
To celebrate the fiftieth anniversary of Earth Day, the Michael Moore-backed environmental documentary Planet of the Humans was released for free on YouTube.
I've been waiting for months to see this film, although I wasn't overly optimistic that I would get the opportunity because it seemed to have difficulty getting mainstream distribution. A few minutes in and I could understand why – it was damaging to the once-untouchable renewables sector. I'm still in disbelief that the powerful leaders of the climate alarmism movement were not able to stop its release, but that's the power of the internet. In one day it has over 500,000 views on YouTube.
Even though Moore and Director Jeff Gibbs have reversed their position on renewable sources of energy and call into question the integrity of the climate change movement, the film is in no way pro-fossil fuels. Quite the opposite. They include footage of a Syncrude oil sands mine and periodically mention the "tar sands" with utter disdain. There's no love for natural gas either.
I'm not opposed to renewables under certain circumstances, but my heart hurt when I saw footage of the destruction caused by mining the base materials for solar panels and wind turbines and the deforestation for biomass. It hurt even more when I saw how easily the projects were discarded after gobbling up millions of dollars of government subsidies, vast tracts of land, and precious natural resources. Because few jurisdictions have strong abandonment regulations, the equipment is often left to rust once it reaches end-of-life in a few short years or is replaced by newer technology.
I learned a lot about the makeup of the renewables sector. I had no idea there were so many biomass power plants in operation in the United States. I also didn't appreciate what is considered 'biomass' or 'biofuel'. I still can't clear the image out of my head of the dead animals being pulverized for animal fat-based biofuel.
What I found most confounding was the lack of energy literacy by many of the interviewees, including representatives of green initiatives and leaders of protest movements. There's one segment where a representative from GM excitedly showcases the release of a new Chevy Volt electric car. When asked for the source of electricity charging it, the women confidently says, "The building" (that the car is plugged into). Pressed further, she admits she doesn't know, and it's clear she hasn't considered, the source. Spoiler alert: it's about 95% coal. Perhaps this is why there is so much inconsistency and backpedaling by environmental groups.
Although this documentary is grim, and it doesn't offer any solutions, I give Michael Moore credit for standing behind it because he's sure to face backlash from people who were once his peers. His courage to put his name behind it and expose another side of the issue will help create better dialogue and stronger public policy.
I encourage everyone to watch it. Seeing the greed of Bill McKibben and the "prophet" Al Gore, it's time for real environmentalists to lead the environmental movement.
For more stories, visit Todayville Calgary
Bail hearing set for Alberta man accused of sexually assaulting five women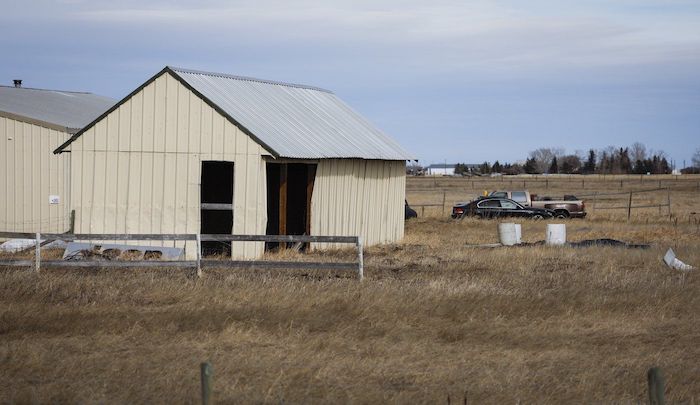 A rural property is seen near Langdon, Alta., Monday, April 10, 2023. A bail hearing for a man accused of kidnapping and sexually assaulting women in Calgary's sex trade will be held later this month. THE CANADIAN PRESS/Jeff McIntosh
Calgary
A bail hearing for a man accused of kidnapping and sexually assaulting women in Calgary's sex trade is to be held later this month after two more complainants came forward.
Richard Robert Mantha, who is 59, faces two new charges of sexual assault and two additional charges of administering a noxious substance.
They are in addition to 13 offences he faces in relation to three women, including sexual assault causing bodily harm.
Mantha appeared in court and a bail hearing was scheduled for May 26.
Police say the women allege they were approached by a man, then drugged and taken to a rural property, where they were physically and sexually assaulted.
Mantha was charged after officers cordoned off a property east of Calgary and brought in cadaver dogs, but police said at the time that no bodies were found.
This report by The Canadian Press was first published May 12, 2023.
'A man lost his life': Youth to receive adult sentence in officer's hit-and-run death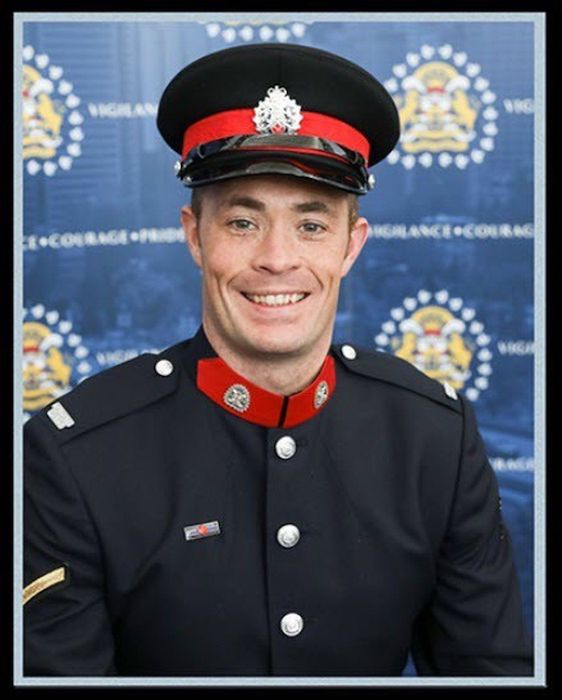 Sgt. Andrew Harnett of the Calgary Police Service is shown in an undated handout image provided by the police service. An Alberta judge ruled that a young man convicted of manslaughter in the hit-and-run death of Sgt. Harnett will face an adult sentence. THE CANADIAN PRESS/HO-Calgary Police Service
By Bill Graveland in Calgary
A young man convicted of manslaughter in the hit-and-run death of a Calgary police officer will face an adult sentence, an Alberta judge ruled Wednesday.
Sgt. Andrew Harnett died after being dragged by an SUV, then falling into the path of an oncoming car on Dec. 31, 2020.
The offender, who is now 20, was days away from turning 18 when Harnett died and was driving the vehicle when it took off from a routine traffic stop with the officer holding on to the wheel and trying to get him to stop.
He testified during his trial that he was scared when Harnett and another officer approached the vehicle during a traffic stop and he saw Harnett put his hand on his gun.
Court of King's Bench Justice Anna Loparco found the young man not guilty of first-degree murder but guilty of manslaughter last year.
The Crown wants the 20-year-old to serve between 11 and 13 years in prison.
Loparco said the offender had shown maturity, even when committing the offence, and was living on his own.
"I find that on the whole he demonstrated traits more aligned with an adult than a young person," Loparco said.
"He did not return to the family home following his flight from police. Rather, he went to his own suite and monitored the situation on social media. When he discovered Sgt. Harnett had died, he did not involve his family."
Loparco rejected defence arguments that the actions were largely impulsive and said the objective of the court is to hold the individual, who as the driver was taking a lead role, accountable.
"He reached speeds of 80 to 90 kilometres an hour. He also intentionally engaged in a variety of manoeuvres aimed at dislodging Sgt. Harnett from the car," Loparco told the court.
"The consequential harm done was immense. A man lost his life, a family lost a husband and soon-to-be father, brother and son. A wide circle lost a friend. Society lost a police officer who exemplified professional conduct."
Loparco said she doubted the genuineness of the young man's expressed remorse and added his recounting of the events "deflects blame and minimizes his role." She said he is also considered to be a high risk to reoffend.
The judge said although he may need counselling and support, that can't be offered with a three-year youth sentence.
"In my view, a maximum youth sentence, even without credit for any pretrial custody, would not be of sufficient length to hold (the offender) accountable for his offending behaviour," she said.
"This court shall, therefore, impose an adult sentence."
Loparco is to hear final arguments on sentencing from both lawyers May 31.
This report by The Canadian Press was first published May 10, 2023.