Pastor James Coates in jail for one more Sunday. Erin Coates releases statement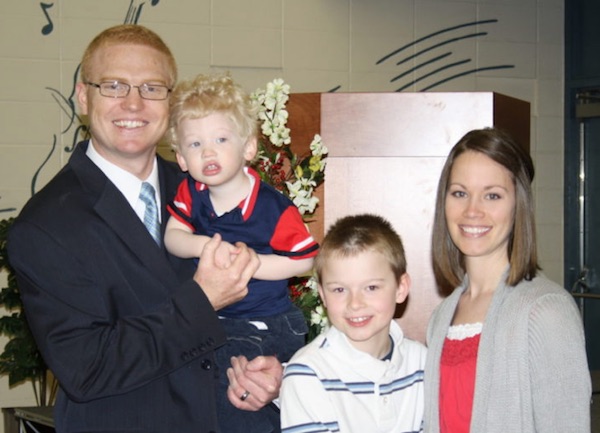 A week ago Edmonton Pastor James Coates marked a sobering anniversary.  March 16 was the one month anniversary of his incarceration.  Albertans weren't sure just how long Pastor James Coates would remain in prison.  Coates was taken into custody back on February 16 after the Pastor of Edmonton's GraceLife Church refused to sign a bail condition which would have required him to promise to stop holding services that violate public health rules on the size of gatherings.
Then on Wednesday Alberta Crown Prosecutors agreed to withdraw all but one of the Public Health Act offences Coates was charged with and it looked like the pastor might be released as early as Friday.  The Provincial Court of Alberta quickly sent out a press release stating there would be no proceedings on Friday.
Family and friends are now expecting Coates to be released following procedures on Monday at Stony Plain Provincial Court.  Pastor Coates' wife Erin Coates released a statement on her instagram feed recognizing the delay.
From the Instagram account of Erin Coates
Hi friends, so we weren't able to get the Friday hearing we hoped for. James' hearing is Monday morning. This breaks my heart that he has to wait and be away from our family and GLC when he was so excited to potentially get out. He is trusting the Lord with it. He said his work for the Lord must not be done yet. Please remember that even his release is not set in stone…the JCCF article stated they EXPECT the release of James in the upcoming days. The judge has to agree to the terms of the deal. We have high hopes but ultimately our hope is in the Lord. This has been an emotional roller coaster for my children. We have been praying for the last couple days that our hope would not be in the timing of James' release but in the perfect sovereign will of God. I'm not going to lie, every day without him is a little harder especially with the prospect of his release. I'm trying to subject my emotions to the Lord and trust in His timing alone. Please pray for James, this is the fifth Sunday without GLC, he misses the body. Please pray that he would use the most of his time and that God would continue to protect him. Please pray he would have the words to speak with his statement before the judge and that he will glorify the great name of Christ Jesus. Thank you everyone. I'm so thankful that you all pray so fervently for us, how we need it!
Last Sunday at GraceLife Church Associate Pastor JACOB SPENST read out this letter of encouragement to the congregation written by Pastor Coates from his jail cell.
CPL Roundup: Cavalry extends undefeated streak with 2-1 win over Pacific
CALGARY — Cavalry FC kept its spot atop the Canadian Premier League standings with a 2-1 win over Pacific FC on Thursday. 
Daan Klomp opened the scoring for Cavalry (12-5-8) in the 6th minute and David Norman Jr. doubled the lead with a goal in the 71st. 
Sean Young scored in the 89th for Pacific, who sit in second spot with a 12-7-6 record.
Pacific's Callum Irving stopped two of the four shots he faced while Cavalry 'keeper Marco Carducci conceded the lone on-target shot the visitors managed across 90 minutes of play. 
Cavalry is undefeated in six outings, with a 3-3-0 record across the stretch. 
Each side has three games to play in the regular-season schedule. 
This report by The Canadian Press was first published Oct. 21, 2021. 
The Canadian Press
Regulator lays charges against Tidewater Midstream for acidic water release
CALGARY — The Alberta Energy Regulator has laid charges against Tidewater Midstream and Infrastructure Ltd. for a release of acidic water in west-central Alberta.
The regulator says the release occurred in Oct. 2019 at Tidewater's Ram River sour gas processing plant near Rocky Mountain House. 
It says the acidic water flowed into a nearby creek.
Calgary-based Tidewater has been charged with 10 violations under the Environmental Protection and Enhancement Act, including releasing a substance to the environment that caused or may have caused an adverse effect. 
The regulator also alleges that Tidewater failed to report the release of the acidic water as soon as possible, and failed to take all reasonable measures to repair and remedy the spill.
Tidewater is scheduled to appear in court on Dec. 8 in Rocky Mountain House.
This report by The Canadian Press was first published October 21, 2021.
Companies in this story: (TSX:TWM)
The Canadian Press