Pastor James Coates in jail for one more Sunday. Erin Coates releases statement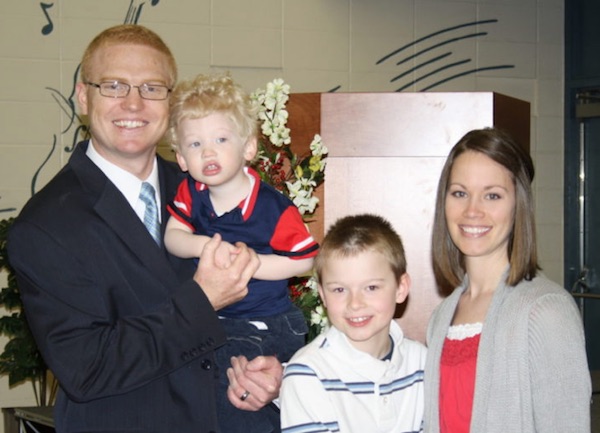 A week ago Edmonton Pastor James Coates marked a sobering anniversary.  March 16 was the one month anniversary of his incarceration.  Albertans weren't sure just how long Pastor James Coates would remain in prison.  Coates was taken into custody back on February 16 after the Pastor of Edmonton's GraceLife Church refused to sign a bail condition which would have required him to promise to stop holding services that violate public health rules on the size of gatherings.
Then on Wednesday Alberta Crown Prosecutors agreed to withdraw all but one of the Public Health Act offences Coates was charged with and it looked like the pastor might be released as early as Friday.  The Provincial Court of Alberta quickly sent out a press release stating there would be no proceedings on Friday.
Family and friends are now expecting Coates to be released following procedures on Monday at Stony Plain Provincial Court.  Pastor Coates' wife Erin Coates released a statement on her instagram feed recognizing the delay.
From the Instagram account of Erin Coates
Hi friends, so we weren't able to get the Friday hearing we hoped for. James' hearing is Monday morning. This breaks my heart that he has to wait and be away from our family and GLC when he was so excited to potentially get out. He is trusting the Lord with it. He said his work for the Lord must not be done yet. Please remember that even his release is not set in stone…the JCCF article stated they EXPECT the release of James in the upcoming days. The judge has to agree to the terms of the deal. We have high hopes but ultimately our hope is in the Lord. This has been an emotional roller coaster for my children. We have been praying for the last couple days that our hope would not be in the timing of James' release but in the perfect sovereign will of God. I'm not going to lie, every day without him is a little harder especially with the prospect of his release. I'm trying to subject my emotions to the Lord and trust in His timing alone. Please pray for James, this is the fifth Sunday without GLC, he misses the body. Please pray that he would use the most of his time and that God would continue to protect him. Please pray he would have the words to speak with his statement before the judge and that he will glorify the great name of Christ Jesus. Thank you everyone. I'm so thankful that you all pray so fervently for us, how we need it!
Last Sunday at GraceLife Church Associate Pastor JACOB SPENST read out this letter of encouragement to the congregation written by Pastor Coates from his jail cell.
Man linked to B.C. and Alberta charged after woman's body found in national park
LAKE COUNTRY, B.C. — A charge of second-degree murder has been laid against a 41-year-old man following the recent discovery of a woman's body in Kootenay National Park in southeastern B.C.
A statement from RCMP says Philip Toner was arrested Tuesday in the Okanagan and will be returned to Alberta to face the murder charge.
The body of 35-year-old Brenda Ware was found last Thursday near her vehicle along a B.C. highway through the park, but investigators say they believe the alleged killing happened in Alberta.
Police say Toner and Ware were known to each other, but the nature of their relationship has not been described.
The statement says the "complex, interprovincial investigation" is still very active and police want to speak to anyone who may have had contact with Toner between May 4 and May 11 in either Alberta or B.C.
Drivers who might have picked up a hitchhiker travelling between B.C.'s Columbia Valley and the central Okanagan district of Lake Country on those dates are also asked to contact RCMP major crime detectives.
Toner appeared in provincial court in Kelowna Wednesday and police say the BC Prosecution Service received a seven-day remand in order to return him to Alberta.
This report by The Canadian Press was first published May 12, 2021.
The Canadian Press
Flames' Sean Monahan done for season with hip injury requiring surgery
Calgary Flames centre Sean Monahan will not play the remaining four games of the regular season and will undergo hip surgery next week.
The 26-year-old had 10 goals and 18 assists and was minus-six in 50 games this season.
"He did battle through it. It wasn't just for two or three games. He's done it for the last 20 games," Flames head coach Darryl Sutter said.
"Sean tried to do everything that I asked him to do and he did it with pain, so I give him a lot of credit."
Calgary (23-26-3) has four games remaining in the regular season, all against Vancouver (21-27-3), starting Thursday. 
Both teams will finish out of the playoffs in the North Division.
This report by The Canadian Press was first published May 12, 2021.
The Canadian Press