New eastbound bridge for southeast Stoney Trail awarded to PCL Construction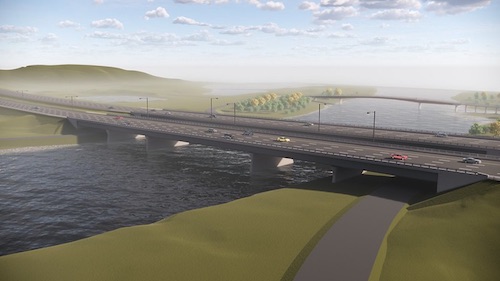 From the Province of Alberta
PCL Construction has won the contract to replace the eastbound bridge over the Bow River on southeast Stoney Trail in Calgary.
The contract was awarded for about $48 million and offers significant savings for taxpayers. The total project cost, which includes engineering and utility relocations, is estimated at $60 million – significantly less than the anticipated cost of $70 million.
"With the next step in this strategic project complete, we are creating hundreds of jobs to drive Alberta's recovery and saving taxpayer dollars at a time of fiscal restraint. Calgarians can look forward to safer and faster rides on an even more complete Calgary Ring Road."
"New and widened bridges are great news for south Calgary residents who have been waiting for safer ways to get to work and play. Alberta's government is focused on strategic projects that deliver value and jobs when they're needed most."
"PCL is excited to work with Alberta Transportation on this component of the Stoney Trail Calgary Ring Road, a key project to connect Calgarians. Once complete, this segment will be safer for vehicles, cyclists and pedestrians."
The South Bow River Bridge project also includes widening the westbound bridge and building a new, stand-alone pedestrian bridge.
Construction on the new bridge is anticipated to get underway in spring 2021 and be completed in late 2023.
Alberta's Recovery Plan is a bold, ambitious long-term strategy to build, diversify, and create tens of thousands of jobs now. By building schools, roads and other core infrastructure we are benefiting our communities. By diversifying our economy and attracting investment with Canada's most competitive tax environment, we are putting Alberta on a path for a generation of growth. Alberta came together to save lives by flattening the curve and now we must do the same to save livelihoods, grow and thrive.
Quick facts
More than 53,000 vehicles travel over the bridge daily.
This number is expected to increase when the Calgary Ring Road is completed.
The South Bow Bridge project will support about 244 jobs.
The project includes:

Widening the existing westbound bridge to add a fourth lane.
Replacing the existing eastbound Stoney Trail bridge with a new, wider bridge over the Bow River.
A new pedestrian bridge south of the existing bridge that will connect to the existing pathway networks.
Improvements to interchanges between Sun Valley Boulevard/Chaparral Boulevard and Cranston Boulevard /Mckenzie Lake Boulevard.

This project is part of the more than $10 billion infrastructure spending announced as part of Alberta's Recovery Plan. This spending includes:

$6.9 billion Budget 2020 capital spending
$900 million accelerated for Capital Maintenance and Renewal
$200 million for Strategic Transportation Infrastructure Program and water infrastructure projects
$700 million in strategic infrastructure projects, $500 million in municipal infrastructure,
$1.5 billion for Keystone XL
'Sacred country': Singer-songwriter Corb Lund holds coal mining protest concert
LIVINGSTONE RANGE, ALBERTA — Two mountain goats stubbornly refused to get up from their resting spot Wednesday in the middle of a gravel road heading into the eastern slopes of Alberta's Rocky Mountains.
Like the two goats, many rural landowners in the region aren't budging from their opposition to the province's plan to allow open-pit coal mines.
About 30 landowners wearing cowboy hats, boots and on horseback rode onto a private property for what was billed as a "Tribute to the Mountains Concert" with musicians, including country star Corb Lund.
Lund, a sixth-generation southern Albertan, has been an outspoken opponent of the Alberta government's plan to allow open-pit coal mines in the region and the concert took on more of the feel of a rally.
"We're a couple of hours south of here in the foothills, but it's the same story … many generations on the land," he said.
"I don't speak out publicly about a lot of issues, but this is so big and so egregious that I just didn't think it could be left alone."
Lund turned and pointed to a flat mountaintop behind him.
"That ridge up there is called Cabin Ridge and that's where the coal mine's going to be if it goes through. They're going to take that top off the whole ridge and probably ruin these rivers. This whole area will be a disaster," he said.
Lund choked back tears as he recalled the emotion he feels every time he drives home after being on tour.
"Everything changes for me and it gets real magical," he said.
"This is sacred country and that's why I'm doing it … I don't like doing it, but the government and the coal companies have forced me to."
Peggy Lund, who still lives on the family ranch, shares her son's concerns about the proposed mines.
"I just think what's proposed and what's going on here is just a decimation and just a horrible thing," she said. "This will make a huge footprint, a negative footprint on the area. It comes with a lot of baggage."
Mac Blades's family has owned the property where the Wednesday event was held for 100 years. He remains hopeful that public pressure will put an end to any plan of coal mines on the eastern slopes.
Blades said it's already painful imagining how the view would change.
"I don't think I could come back and look at it. It would be devastating. I can't imagine it really. It would just destroy everything."
Coal mining in Alberta's foothills and mountains has been controversial ever since the United Conservative government revoked a policy in May 2020 that had protected the land since 1976.
Tens of thousands of hectares have been leased for exploration, drawing protests from First Nations, municipalities and many thousands of Albertans.
That outcry caused the government to restore the policy, pause new sales and suspend exploration work on the most sensitive land — although work continues elsewhere.
It also struck a panel to gather input on how Albertans feel about coal mining in the postcard-perfect landscape. It is expected to report in November.
The federal government on Wednesday announced it will step in to do an environmental review of any new coal project that could possibly release the contaminant selenium. The decision will affect any proposals that emerge from eight steelmaking coal exploration projects in the foothills.
Lund had been waiting for the announcement.
"It sounds like excellent news. It feels like the tide's turning a little bit, which is good because it's been a battle," he said.
"If it makes it harder and more stringent for the mines to get started … that's a great thing."
This report by The Canadian Press was first published June 16, 2021.
— Follow @BillGraveland on Twitter
Bill Graveland, The Canadian Press
Major drug haul; ALERT seizes $3 million in drugs and cash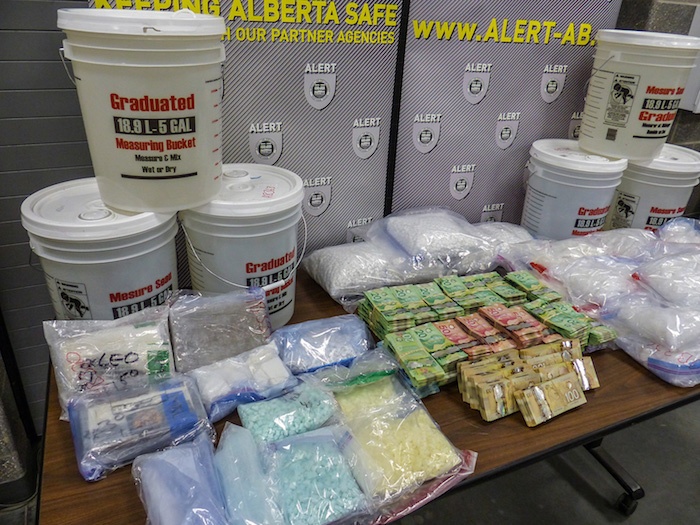 Post submitted by Alberta Law Enforcement Response Team (ALERT)
Three million dollars' worth of drugs and cash was seized from two Calgary homes, including what is believed to be the province's largest seizure of gamma-hydroxybutyrate (GHB).
On April 27, 2021 ALERT Calgary's organized crime and gang team concluded a short-term investigation with a record drug haul. ALERT seized enough methamphetamine, fentanyl, cocaine, and GHB to equal an estimated 100,000 doses.
The GHB seizure of 113.5 litres is believed to be the largest seizure of its kind in Alberta.
Meanwhile, the amount of methamphetamine and fentanyl pills seized ranks amongst ALERT Calgary's biggest busts.
"The totality of what was seized is staggering, and represents a high degree of community harm. Behind so many doses are crimes committed to feed that addiction; be it property crimes, thefts, frauds, and robberies, and all feeding into social disorder," said Supt. Dwayne Lakusta, ALERT CEO.
In total, ALERT seized roughly $3 million worth of drugs and cash:
113.5 litres of GHB;
22.3 kilograms of methamphetamine;
18,000 fentanyl pills;
1.5 kilograms of fentanyl;
4.1 kilograms of cocaine; and
$386,220 cash.
GHB is colourless and odourless, and is commonly referred to as the "date-rape drug" but is usually abused as a club drug. In July 2013 Edmonton Police Service seized 106 litres of GHB, which at the time, was believed to be Alberta's largest seizure.
ALERT's investigation is ongoing and additional charges are being contemplated. To date, 14 drug-related charges have been laid against three suspects:
Ashley Stanway, 30-year old from Calgary;
Rayann Blackmore, 22-year old from Calgary; and
Harmandeep Tiwana, 28-year old from Calgary.
ALERT began its investigation just a month prior after receiving information about suspected drug trafficking activity in the Calgary region.
Members of the public who suspect drug or gang activity in their community can call local police, or contact Crime Stoppers at 1-800-222-TIPS (8477). Crime Stoppers is always anonymous.
ALERT was established and is funded by the Alberta Government and is a compilation of the province's most sophisticated law enforcement resources committed to tackling serious and organized crime.