New eastbound bridge for southeast Stoney Trail awarded to PCL Construction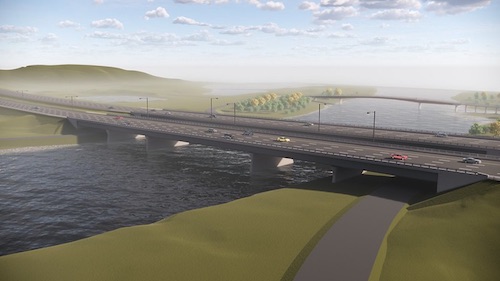 From the Province of Alberta
PCL Construction has won the contract to replace the eastbound bridge over the Bow River on southeast Stoney Trail in Calgary.
The contract was awarded for about $48 million and offers significant savings for taxpayers. The total project cost, which includes engineering and utility relocations, is estimated at $60 million – significantly less than the anticipated cost of $70 million.
"With the next step in this strategic project complete, we are creating hundreds of jobs to drive Alberta's recovery and saving taxpayer dollars at a time of fiscal restraint. Calgarians can look forward to safer and faster rides on an even more complete Calgary Ring Road."
"New and widened bridges are great news for south Calgary residents who have been waiting for safer ways to get to work and play. Alberta's government is focused on strategic projects that deliver value and jobs when they're needed most."
"PCL is excited to work with Alberta Transportation on this component of the Stoney Trail Calgary Ring Road, a key project to connect Calgarians. Once complete, this segment will be safer for vehicles, cyclists and pedestrians."
The South Bow River Bridge project also includes widening the westbound bridge and building a new, stand-alone pedestrian bridge.
Construction on the new bridge is anticipated to get underway in spring 2021 and be completed in late 2023.
Alberta's Recovery Plan is a bold, ambitious long-term strategy to build, diversify, and create tens of thousands of jobs now. By building schools, roads and other core infrastructure we are benefiting our communities. By diversifying our economy and attracting investment with Canada's most competitive tax environment, we are putting Alberta on a path for a generation of growth. Alberta came together to save lives by flattening the curve and now we must do the same to save livelihoods, grow and thrive.
Quick facts
More than 53,000 vehicles travel over the bridge daily.
This number is expected to increase when the Calgary Ring Road is completed.
The South Bow Bridge project will support about 244 jobs.
The project includes:

Widening the existing westbound bridge to add a fourth lane.
Replacing the existing eastbound Stoney Trail bridge with a new, wider bridge over the Bow River.
A new pedestrian bridge south of the existing bridge that will connect to the existing pathway networks.
Improvements to interchanges between Sun Valley Boulevard/Chaparral Boulevard and Cranston Boulevard /Mckenzie Lake Boulevard.

This project is part of the more than $10 billion infrastructure spending announced as part of Alberta's Recovery Plan. This spending includes:

$6.9 billion Budget 2020 capital spending
$900 million accelerated for Capital Maintenance and Renewal
$200 million for Strategic Transportation Infrastructure Program and water infrastructure projects
$700 million in strategic infrastructure projects, $500 million in municipal infrastructure,
$1.5 billion for Keystone XL
Alberta Energy Regulator suspends licences of oil and gas producer that owes $67M
CALGARY — The Alberta Energy Regulator says it is suspending licences for thousands of wells and pipelines after an oil and gas producer failed to bring its operations into regulatory compliance.
The regulator says it has ordered private SanLing Energy Ltd. to suspend its 2,266 wells, 227 facilities and 2,170 pipelines and ensure they are left in a state that's safe for the public and the environment.
It adds the company currently owes $67 million in security to the AER for its assets' end-of-life obligations.
The company has been producing about 4,200 barrels of oil equivalent per day, primarily dry natural gas, said AER spokeswoman Cara Tobin.
It is being asked by the AER to comply with past orders to clean up historic spills and contamination, ensure its emergency response number is working and provide a detailed plan to maintain its assets while they are suspended.
The AER says it issued an order to SanLing in September because of a poor compliance record and its outstanding security issues.
It says it met with the company several times over the past five months to request a plan to come back into compliance but the company's responses proved to be inadequate.
"If SanLing, or any company, wants to do business in Alberta, they must follow our rules," said Blair Reilly, AEB director of enforcement and emergency management, in a news release.
"We cannot allow a company that has ignored the rules continue to operate — that's not in Alberta's interest."
This report by The Canadian Press was first published March 5, 2021.
The Canadian Press
Darryl Sutter has 'unfinished business' in return to Calgary Flames
CALGARY — Darryl Sutter says he has "unfinished business" as he returns to coach the Calgary Flames.
The Flames announced late Thursday night that they had fired head coach Geoff Ward and hired Sutter to replace him.
Calgary's general manager Brad Treliving says he feels the move was necessary because the team had been inconsistent and was under performing this season.
Treliving says Sutter's clarity and ability to maximize player performance will help the team that has gone 11-11-2 so far this year.
The move marks Sutter's return to the team he coached from 2002 to 2006, and served as general manager for from 2003 to 2010. Under his guidance, Calgary went to the Stanley Cup final in 2004, losing to the Tampa Bay Lightning in a seven-game series, and Sutter says he is intent on winning the Cup now that he has returned to the Flames.
Sutter is expected to join the team Monday after going through the league's COVID-19 protocols. Assistant coach Ryan Huska will run the bench when the Flames face the Oilers in Edmonton on Saturday and host the Ottawa Senators on Sunday.
This report by The Canadian Press was first published March 5, 2021.
The Canadian Press