Last day for fans at the Player's Championship
PGA Commissioner Jay Monahan has just held a news conference to announce the PGA's plans moving forward this weekend and beyond.
The Player's Championship will continue this weekend without fans after today. The thoughts are that the players can continue because they play outside, the players distance themselves anyway, and there is little to no need for any physical contact.
Here's the statement from their Website.
The PGA TOUR is aware of rapidly changing developments regarding COVID-19. With the information currently available, THE PLAYERS Championship will continue as scheduled, although we will absolutely continue to review recommendations from the Centers for Disease Control, World Health Organization and local health administrations. This is obviously a very fluid situation that requires constant review, communication and transparency, and we are dedicated to all three aspects. The PGA TOUR will provide an additional update by 12 p.m. ET on Thursday.
In the meantime, players in the field have been notified to be prepared to play Round 1, as scheduled.
Fans who no longer wish to attend THE PLAYERS Championship may request a refund or exchange; details on how to do so will be announced shortly. Please visit PGATOUR.COM/THEPLAYERS for more information.
LISTEN: My date with self-isolation amid the Covid 19 scare – J'Lyn Nye Interview
Budget 2023: Key highlights from the federal Liberals' spending plan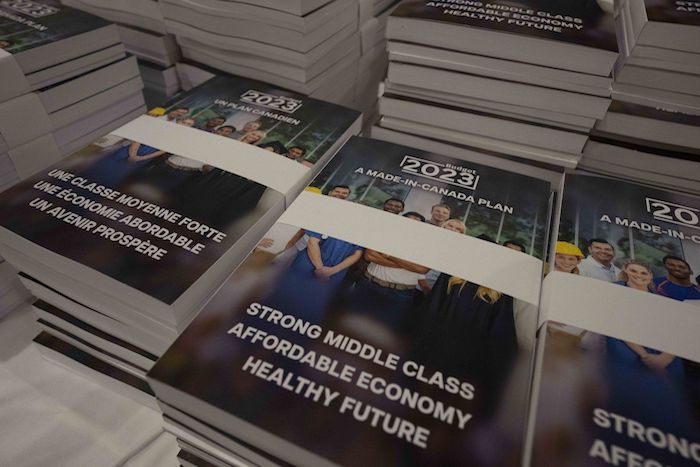 Copies of the Federal budget are seen on a table Tuesday, March 28, 2023 in Ottawa. THE CANADIAN PRESS/Adrian Wyld
By Stephanie Taylor in Ottawa
The federal Liberal government has released a 2023-24 spending plan that prioritizes spending on health care, transitioning Canadian businesses to a clean economy and offering affordability measures to help Canadians dealing with high prices from inflation.
Here are the key highlights from this year's federal budget:
– $40.1 billion: Projected federal deficit for the coming fiscal year.
– $59.5 billion: New spending over the next five years, with $8.3 billion to be spent over the coming fiscal year.
– $83 billion: The expected cost of tax credits for clean energy and electricity through to the 2034-35 fiscal year. The credits are part of Ottawa's stated goal to rapidly develop Canada's green economy.
– $13 billion: Expected cost of the Canada dental benefit over the next five years, or $7.3 billion more than the government initially projected.
– $49.4 billion: The amount of health-care cash flowing to provinces and territories in the 2023-24 year.
– $4.5 billion: Expected cost of a clean technology manufacturing investment tax credit over five years.
– $2.5 billion: The cost of another one-time doubling of GST rebates this financial year to help low-income Canadians who are struggling with high prices and inflation. The government has dubbed this measure a "grocery rebate," a nod to high food prices.
– $4 billion: How much the federal government says it plans to spend over seven years on an urban, rural and northern Indigenous housing strategy, beginning in 2024-25. But only $1.9 billion is expected to be spent in the next five years.
– An unknown amount: Finance officials would not specify how much Ottawa spent in an agreement with Volkswagen that will see the company build a battery manufacturing plant, called a "gigafactory," in St. Thomas, Ont. They said more details will be revealed in the weeks to come. The budget document stipulates that the expected costs are accounted for in this year's spending tables. Measures not yet announced have a line item in the budget that accounts for decisions related to commercial sensitivity, but the number is presented as an aggregate.
– $158 million: Funding over three years, starting this year, to create and operate a new 9-8-8 suicide prevention phone line.
– $14 per $100: What the federal government says will be the new maximum amount that payday lenders can charge people for the amount they borrow. The budget says a Criminal Code amendment will be made to that effect, while the government also intends to lower the maximum interest rates payday lenders can charge to an annual percentage rate of 35 per cent.
– "Reciprocal treatment": What Ottawa is announcing consultations about in response to the U.S. Inflation Reduction Act, which threatens to freeze out Canadian businesses, including green technology firms, from tax credits offered south of the border.
– $56 million: Spending allocated for "protecting diaspora communities and all Canadians from foreign interference, threats and covert activities." The budget announces funding for the RCMP to investigate foreign interference allegations, and says Public Safety Canada will stand up a new National Counter-Foreign Interference Office to respond to any attempted meddling by Russia, China and Iran.
– $200 million: The amount the government aims to provide to the Department of National Defence so the Canadian military can donate equipment to assist Ukraine, including the eight Leopard 2 battle tanks that the government previously announced it would deliver.
– Anti-scab legislation: The government is proposing to amend the Canada Labour Code to prohibit the use of replacement workers during a strike or lockout, fulling a commitment the Liberals made to the federal NDP in their supply-and-confidence agreement.
This report by The Canadian Press was first published March 28, 2023.
What to know about new research on coffee and heart risks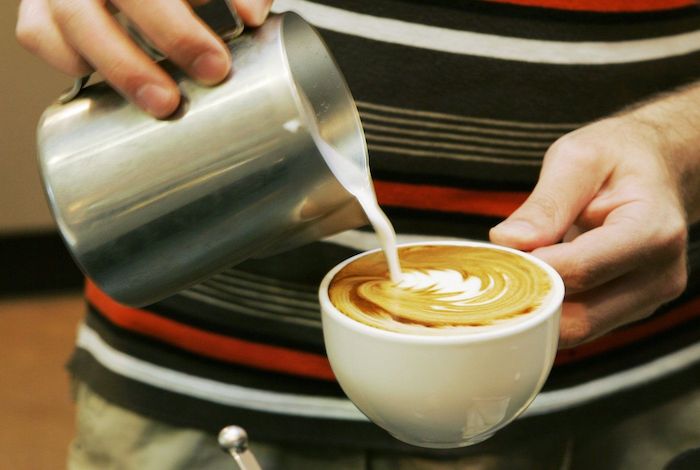 A worker prepares a coffee drink at a shop in Overland Park, Kan., Thursday, Aug. 14, 2008. In a study published in the New England Journal of Medicine on Wednesday, March 22, 2023, healthy volunteers who were asked to drink coffee or skip it on different days showed no signs of an increase in a certain type of heart rhythm after sipping the caffeinated drinks, although they did walk more and sleep less. (AP Photo/Orlin Wagner)
By Jonel Aleccia
Coffee lovers — and their doctors — have long wondered whether a jolt of java can affect the heart. New research published Wednesday finds that drinking caffeinated coffee did not significantly affect one kind of heart hiccup that can feel like a skipped beat.
But it did signal a slight increase in another type of irregular heartbeat in people who drank more than one cup per day. And it found that people tend to walk more and sleep less on the days they drank coffee.
Coffee is one of the most common beverages in the world. In the U.S., two-thirds of Americans drink coffee every day, more than bottled water, tea or tap water, according to the National Coffee Association, a trade group. Coffee contains caffeine, a stimulant, which is widely regarded as safe for healthy adults at about 400 milligrams per day, or roughly the equivalent of four or five cups brewed at home.
Coffee has been associated with multiple health benefits and even a lower risk of dying, based on large studies that observed participants' behavior. Despite research that has shown moderate coffee consumption doesn't raise the risk of heart rhythm problems, some professional medical societies still caution against consuming caffeine.
The latest research:
THE EXPERIMENT
Researchers outfitted 100 healthy volunteers with gadgets that continuously monitored their heart function, daily steps, sleep patterns and blood sugar. The volunteers, who were mostly younger than 40, were sent daily text messages over two weeks instructing them to drink or avoid caffeinated coffee on certain days. The results were reported Wednesday in the New England Journal of Medicine.
This type of study, which directly measures the biological effects of drinking or not drinking caffeinated coffee in the same people, is rare and provides a dense array of data points, said study co-author Dr. Gregory Marcus, a cardiologist at the University of California, San Francisco, who specializes in treating heart arrhythmias.
THE FINDINGS
Researchers found that drinking caffeinated coffee did not result in more daily episodes of extra heartbeats, known as premature atrial contractions. These extra beats that begin in the heart's upper chambers are common and typically don't cause problems. But they have been shown to predict a potentially dangerous heart condition called atrial fibrillation.
They also found slight evidence of another kind of irregular heartbeat that comes from the lower heart chambers, called premature ventricular contractions. Such beats are also common and not usually serious, but they have been associated with a higher risk of heart failure. The researchers found more of these early beats in people on the days they drank coffee, but only in those who drank two or more cups per day.
The volunteers logged about 1,000 more steps per day on the days they drank coffee — and they slept about 36 minutes less, the study found. There was almost no difference in blood sugar levels.
One interesting result: People with genetic variants that make them break down caffeine faster experienced less of a sleep deficit, while folks with variants that lead them to metabolize caffeine more slowly lost more sleep.
WHAT IT MEANS FOR YOU
Because the study was performed in a small number of people over a short period of time, the results don't necessarily apply to the general population, said Dr. Dave Kao, a cardiologist and health data expert at the University of Colorado School of Medicine, who was not involved in the study. However, the study is consistent with others that have found coffee is safe and it offers a rare controlled evaluation of caffeine's effect, Kao added.
Co-author Marcus cautions that the effects of drinking coffee can vary from person to person. He said he advises his patients with heart arrhythmias to experiment on their own to see how caffeine affects them.
"They're often delighted to get the good news that it's OK to try coffee and drink coffee," he said.