Innisfail and Sundre RCMP detachments kept busy by rowdy party goers
July 28, 2020
Innisfail and Sundre RCMP detachments kept busy by rowdy party goers
Red Deer County, Alta – Innisfail and Sundre RCMP detachments were kept busy on the weekend responding to multiple complaints in the Garrington Bridge area in Red Deer County. This area is a rural location that is West of Bowden Alberta on highway 587 near range road 43. In total on July 25th 2020 RCMP responded to 11 calls for service between the hours of 7 pm – 7 am the following day.
The calls for service ranged from damaged property, driving complaints, liquor offences, stolen property, uttering threats, and one report of possession of a weapon dangerous to public peace. While RCMP were responding to complaints and attempting to keep the peace, a Sundre RCMP vehicle had its window smashed out by an unknown individual. Fish and Wildlife attended as well to investigate a deer that was found deceased near the location of the party.
Residents in the area expressed frustration to RCMP as they were kept awake by the noise of people partying and setting off fireworks all night long. One resident reports that the following day there were still 40 vehicles in the area.
RCMP members returned to the scene the following day to survey the damages and found human feces, toilet paper, garbage, empty alcohol containers, stolen traffic signs, and covid social distancing signs littering the ground that had obviously been stolen from Innisfail. RCMP approximated crowds in the area to be approx. 500 people.
There was a fair amount of enforcement primarily in the form of Provincial tickets and both detachments worked together and conducted numerous checkstops in an attempt to ensure there were no impaired drivers leaving the area. Law enforcement efforts will be ongoing in an attempt to maintain safety in the area and hopefully provide some peace to the people who reside there.
"This is concerning behavior which has become very unfortunate for people who reside in this area, their ability to enjoy their homes and their property has obviously been impacted. Further to this RCMP are concerned with the criminal behavior as well as the health concerns which are obvious" (Sgt Lori Eiler).
RCMP response will continue to be prevalent and resources will be dedicated to prevention and public education primarily, however we will not hesitate to lay charges if the situation warrants it.
Author Salman Rushdie attacked on lecture stage in New York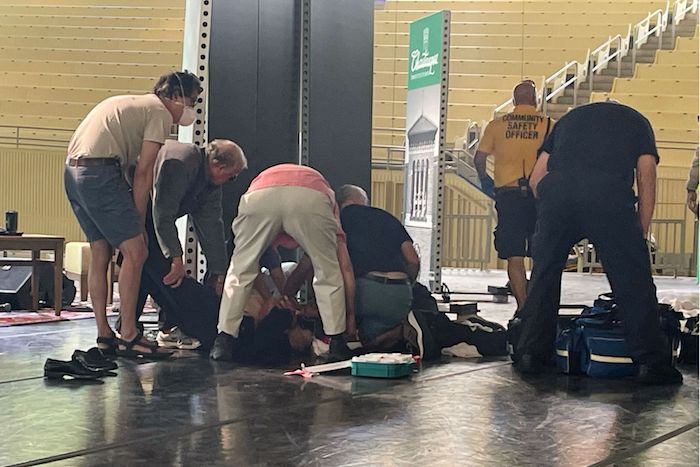 CHAUTAUQUA, N.Y. (AP) — Salman Rushdie, the author whose writing led to death threats from Iran in the 1980s, was attacked and apparently stabbed in the neck Friday by a man who rushed the stage as he was about to give a lecture in western New York.
An Associated Press reporter witnessed a man confront Rushdie on stage at the Chautauqua Institution and punch or stab him 10 to 15 times as he was being introduced. The 75-year-old author was pushed or fell to the floor, and the man was arrested.
State police said Rushdie was apparently stabbed in the neck and was flown to a hospital. His condition wasn't immediately known. The moderator at the event was also attacked and suffered a minor head injury, police said.
Rabbi Charles Savenor was among the roughly 2,500 people in the audience. Amid gasps, spectators were ushered out of the outdoor amphitheater.
The assailant ran onto the platform "and started pounding on Mr. Rushdie. At first you're like, 'What's going on?' And then it became abundantly clear in a few seconds that he was being beaten," Savenor said. He said the attack lasted about 20 seconds.
Another spectator, Kathleen Jones, said the attacker was dressed in black, with a black mask.
"We thought perhaps it was part of a stunt to show that there's still a lot of controversy around this author. But it became evident in a few seconds" that it wasn't, she said.
A bloodied Rushdie was quickly surrounded by a small group of people who held up his legs, presumably to send more blood to his chest.
Rushdie has been a prominent spokesman for free expression and liberal causes. He is a former president of PEN America, which said it was "reeling from shock and horror" at the attack.
"We can think of no comparable incident of a public violent attack on a literary writer on American soil," CEO Suzanne Nossel said in a statement.
Rushdie "has been targeted for his words for decades but has never flinched nor faltered," she added.
His 1988 book "The Satanic Verses" was viewed as blasphemous by many Muslims. Often-violent protests against Rushdie erupted around the world, including a riot that killed 12 people in Mumbai.
The novel was banned in Iran, where the late leader Grand Ayatollah Ruhollah Khomeini issued a 1989 fatwa, or edict, calling for Rushdie's death. Khomeini died that same year.
Iran's current Supreme Leader Ayatollah Ali Khamenei has never issued a fatwa of his own withdrawing the edict, though Iran in recent years hasn't focused on the writer.
Iran's mission to the United Nations did not immediately respond to a request for comment on Friday's attack.
A bounty of over $3 million has also been offered for anyone who kills Rushdie.
The death threats and bounty led Rushdie to go into hiding under a British government protection program, which included a round-the-clock armed guard. Rushdie emerged after nine years of seclusion and cautiously resumed more public appearances, maintaining his outspoken criticism of religious extremism overall.
He has said he is proud of his fight for freedom of expression, saying in a 2012 talk in New York that terrorism is really the art of fear.
"The only way you can defeat it is by deciding not to be afraid," he said.
Iran's government has long since distanced itself from Khomeini's decree, but anti-Rushdie sentiment has lingered. The Index on Censorship, an organization promoting free expression, said money was raised to boost the reward for his killing as recently as 2016, underscoring that the fatwa for his death still stands.
In 2012, Rushdie published a memoir, "Joseph Anton," about the fatwa. The title came from the pseudonym Rushdie had used while in hiding.
Rushdie rose to prominence with his Booker Prize-winning 1981 novel "Midnight's Children," but his name became known around the world after "The Satanic Verses."
The Chautauqua Institution, about 55 miles southwest of Buffalo in a rural corner of New York, has served for more than a century as a place for reflection and spiritual guidance. Visitors don't pass through metal detectors or undergo bag checks. Most people leave the doors to their century-old cottages unlocked at night.
Police said a state trooper was assigned to Rushdie's lecture.
The Chautauqua center is known for its summertime lecture series, where Rushdie has spoken before. Speakers address a different topic each week. Rushdie and moderator Henry Reese were set to discuss "the United States as asylum for writers and other artists in exile and as a home for freedom of creative expression."
___
Associated Press writers Carolyn Thompson in Buffalo, New York; Michael Hill in Albany, New York; and Jennifer Peltz in New York City contributed to this report.
Wanted man cut through fence to cross U.S. border with children: Border Patrol
United States Border Patrol says a convicted Canadian sex offender drove through a barbed wire fence to cross the intentional border with two children and their mother.
U.S. border patrol says agents found a cut fence near the Turner Port of Entry between Saskatchewan and Montana.
Mounties in Saskatchewan issued an Amber Alert for the boy and girl Monday and it was extended into South Dakota Wednesday.
Benjamin Martin Moore, who is 50, was taken into custody in South Dakota soon after.
The seven-year-old girl and eight-year-old boy, as well as their mother, were with Moore.
U.S. Immigration and Customs Enforcement confirm that Moore, as well as the mother, remain in custody.
This report by The Canadian Press was first published Aug. 11, 2022.