Iconic Canadian band Northern Pikes Sunday at the Krossing
There was a time when the Northern Pikes were one of the hottest bands in the country. It was a time of Blue Rodeo and Grapes of Wrath. The Pikes are all Saskatoon lads who formed in 1984. After 4 years of relentless bars, clubs and demos, they rose to stardom across North America with the release of 1987's Big Blue Sky. Hit singles like "Teenland", "Things I Do For Money" and "Dancing In A Danceclub" brought the band's music to a whole new audience as they became regulars on Much Music and MTV.
I met Jay Semko when in 1987 I moved to Saskatoon to launch a brand new TV station; what is now Global television. Personable, humble, polite, and quiet; he didn't seem like a typical rockstar. I was already a fan of the band and meeting Jay cemented my interest. I was further hooked the moment I heard Crystal Taliefero of John Mellencamp fame wail at the 1:12 mark of the song "Girl With a Problem". When I saw the band in concert, I was blown away by their energy and musicianship. They epitomized the hope and promise that the prairies have always held for me. They can do it. So can all of us!
The Northern Pikes have been part of musical fabric in this country for more than 3 decades. In that time, they've toured the world, pursued solo projects, notably Jay Semko who in the early 90's wrote the theme song for what would become Canada's most successful internationally syndicated TV series, "Due South". The series was the first Canadian-made drama to debut and air on a major network in the USA (CBS-TV). More than 65 episodes were made from 1993-98.
Jay has 10 solo releases and has recorded with such music luminaries as Garth Hudson (The Band), John Sebastian (Lovin' Spoonful), Crystal Taliefero (known for her work with John Mellencamp, Bruce Springsteen, etc), Margo Timmins (Cowboy Junkies), Melanie Doane, Ashley MacIsaac, Ken Greer (of Red Rider and the Road Hammers), Bob Egan (of Wilco and Blue Rodeo fame), Serena Ryder, Patricia Conroy, Matt Andersen and Greg Godovitz (Goddo), and worked in the studio with Grammy-winning engineers/producers/mixers Bob Clearmountain, Hugh Padgham, Ed Stasium, and Bob Ludwig.
The Pikes bring their special 30th anniversary edition of their debut album, Big Blue Sky to The Krossing. I know that I, for one, will be right there in the front soaking up some of the most iconic songs Canada produced in the late part of the last century, performed by a band with energy and enthusiasm that is surpassed only by their longevity.
List of 2023 Oscar winners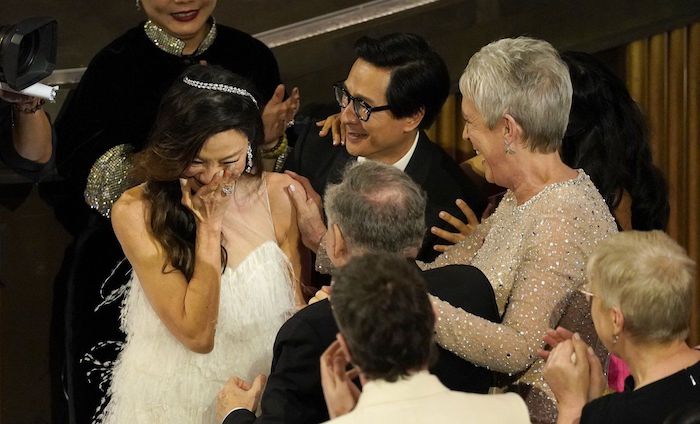 Michelle Yeoh, left, reacts in the audience with excitement as she accepts the award for best performance by an actress in a leading role for "Everything Everywhere All at Once" at the Oscars on Sunday, March 12, 2023, at the Dolby Theatre in Los Angeles. Jamie Lee Curtis, from right, and Ke Huy Quan are seen in the audience. (AP Photo/Chris Pizzello)
By Jake Coyle in Los Angeles
LOS ANGELES (AP) — Oscar winners announced Sunday:
Best picture: "Everything Everywhere All at Once"
Best actress: Michelle Yeoh, "Everything Everywhere All at Once"
Best actor: Brendan Fraser, "The Whale"
Best supporting actor: Ke Huy Quan, "Everything Everywhere All at Once"
Best supporting actress: Jamie Lee Curtis, "Everything Everywhere All at Once"
Original song: "Naatu Naatu" from "RRR"
Film editing: "Everything Everywhere All at Once"
Best director: Daniel Kwan and Daniel Scheinert, "Everything Everywhere All at Once"
Best animated feature: "Guillermo del Toro's Pinocchio"
International feature film: "All Quiet on the Western Front" (Germany)
Documentary feature: "Navalny"
Live action short: "An Irish Goodbye"
Cinematography: James Friend, "All Quiet on the Western Front"
Makeup and hairstyling: "The Whale"
Costume design: "Black Panther: Wakanda Forever"
Documentary short: "The Elephant Whisperers"
Animated short: "The Boy, the Mole, the Fox and the Horse"
Production design: "All Quiet on the Western Front"
Music (original score): Volker Bertelmann, "All Quiet on the Western Front"
Visual Effects: "Avatar: The Way of Water"
Original screenplay: "Everything Everywhere All at Once"
Adapted screenplay: "Women Talking"
Sound: "Top Gun: Maverick"
___
For more on this year's Oscars, visit: https://apnews.com/hub/academy-awards
Bruce Willis has frontotemporal dementia. What is FTD?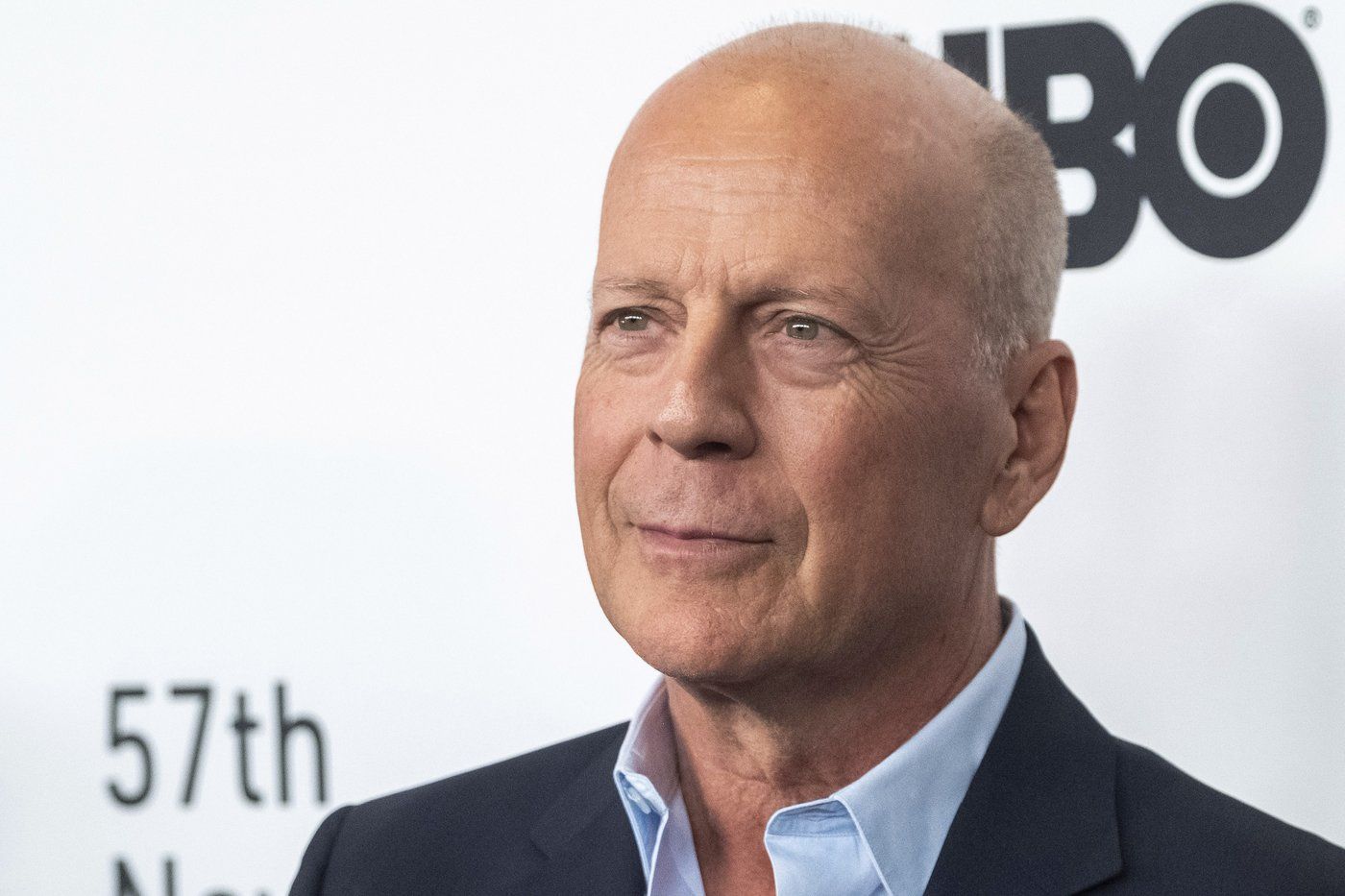 Bruce Willis' family has announced that he has been diagnosed with frontotemporal dementia.
The announcement Thursday came about a year after his family said that Willis would step away from acting after being diagnosed with aphasia, a brain disorder that leads to speaking, reading and writing problems.
Here's some details on the condition:
WHAT IS FRONTOTEMPORAL DEMENTIA?
There are different types of dementia, and the frontotemporal form affects regions in the front and sides of the brain. Because it causes problems with behavior and language, aphasia can be a symptom.
It's caused by damage to neurons, the brain's information carriers, but the underlying reasons for a particular case are often unclear. People with a family history of the condition are more likely to develop it. It's rare and tends to happen at a younger age than other forms of dementia, between ages 45 and 65.
The terms frontotemporal disorders and frontotemporal dementia are sometimes shortened to FTD.
WHAT ARE OTHER SYMPTOMS OF FTD?
Symptoms can include emotional problems and physical difficulties, such as trouble walking. Symptoms tend to worsen over time, though progression varies by person.
The statement from the actor's family said communication problems "are just one symptom of the disease Bruce faces."
CAN FTD BE TREATED?
There are no treatments to slow or stop the disease, but some interventions can help manage symptoms.
Some patients receive antidepressants or drugs for Parkinson's, which has some overlapping symptoms with frontotemporal dementia. Many also work with speech therapists to manage communication difficulties and physical therapists to try to improve movement.
People with the condition are more likely to have complications from things like falls, injuries or infections. The average life expectancy after symptoms emerge is seven to 13 years, according to researchers.
___
The Associated Press Health and Science Department receives support from the Howard Hughes Medical Institute's Science and Educational Media Group. The AP is solely responsible for all content.