Help build the North Saskatchewan Regional Plan
March 07, 2018
Albertans are invited to provide their input on how land in the North Saskatchewan Region will be used and managed.
Public feedback will help the Alberta government develop the final North Saskatchewan Regional Plan (NSRP), which will ensure government policies guide natural resource development, support local economic growth, enhance recreation opportunities, respect traditional Indigenous land use and protect the environment.
"The North Saskatchewan Region is home to about 1.5 million Albertans, as well as Alberta's Industrial Heartland, some of the best farmland in the world, foothills and mountains with immense recreation opportunities, and prized headwaters that supply drinking water to many communities. It is important that Albertans are engaged in building a plan for the region that is good for the environment, good for the economy and good for Albertans."
Shannon Phillips, Minister of Environment and Parks
NSRP will be the third regional plan developed under Alberta's Land-use Framework.
To help develop the draft plan, a regional advisory council made up of 27 Albertans was appointed in 2014 to provide independent, strategic advice, analysis and options to government. The council provided 69 recommendations to government in six topic areas.
Council recommendation areas
Managing wetlands and lakes as part of watershed management.

Supporting biodiversity in the region.

Inclusion of Indigenous peoples in land-use planning.

Community growth and community land-use planning.

Management of outdoor recreation.

Economic development.
The council's report and recommendations provide important perspectives for Albertans to consider. The government encourages all interested parties, including Indigenous communities, stakeholders and the public, to provide their input and ideas for development of this plan.
The consultation period runs from March 7 to May 4, 2018. To read the North Saskatchewan Regional Advisory Council's recommendations and provide feedback online, please visit: https://www.landuse.alberta.ca.
Quick facts
The North Saskatchewan Region covers about 85,780 square kilometres of central Alberta – 13 per cent of the total land base of Alberta.

About 38 per cent of the provincial population of four million people lives in the region.

The North Saskatchewan Region is home to prized headwaters that supply the drinking water to the City of Edmonton and surrounding communities, such as Red Deer.

Banff is included in the North Saskatchewan Region to ensure that the key headwaters for the region are within the geographical boundary. The regional boundaries were based on major watersheds and adjusted to align with municipal boundaries.

Rapid population growth in the North Saskatchewan Region, particularly in the Capital Region, has created pressures on regional transportation routes and recreation areas.

From 2000 to 2013, the North Saskatchewan Region observed a 3.1 per cent annual growth rate in GDP, largely due to the Capital Region becoming a dispatch hub for goods shipped south to export markets or north for further natural resource development.
Related information
Calgary, Edmonton mayors expect good relationship with re-elected UCP government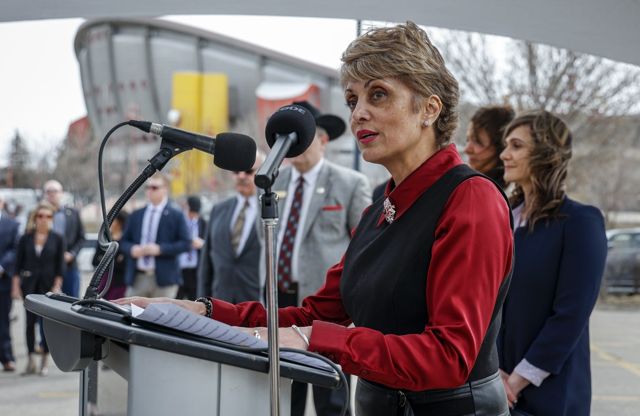 Calgary Mayor Jyoti Gondek speaks at an announcement in Calgary on April 25, 2023. The mayors of Alberta's two largest cities say they expect a good relationship with a re-elected United Conservative Party government, despite its loss of seats in Calgary and Edmonton. THE CANADIAN PRESS/Jeff McIntosh
Calgary
The mayors of Alberta's two largest cities say they expect a good relationship with a re-elected United Conservative Party government, despite its loss of seats in Calgary and Edmonton.
Calgary Mayor Jyoti Gondek adds that all politicians need to stand up against hate and divisiveness.
Gondek and Edmonton Mayor Amarjeet Sohi say the cities and the province need to work together to address affordability.
Sohi adds that it's unfortunate Edmonton won't have any representation in the provincial government.
Danielle Smith's UCP dominated outside the two big cities while retaining enough support in Calgary to lessen the pain of an NDP sweep in Edmonton and win a second consecutive majority government.
Several of Smith's cabinet ministers were unseated, including former health minister Jason Copping and former mental health and addiction minister Nicholas Milliken in Calgary, as well as deputy premier Kaycee Madu in Edmonton.
This report by The Canadian Press was first published May 30, 2023.
'It doesn't feel real': uneral held in Edmonton for mother, child killed in stabbing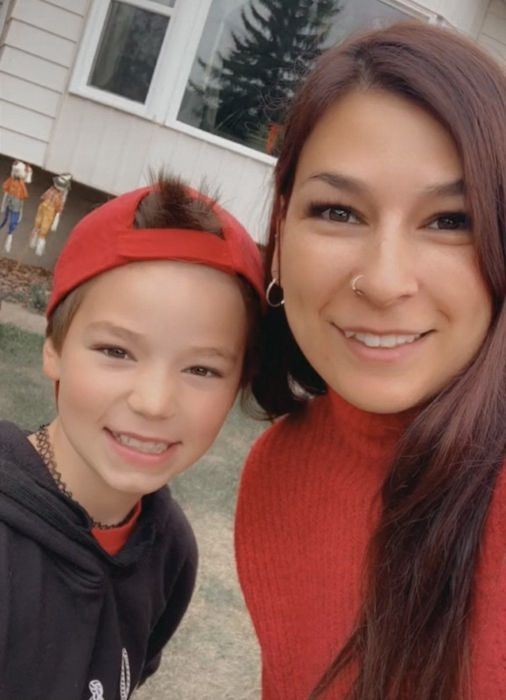 Carolann Robillard, 35, and her child Sara Miller, 11, who had started using the first name Jayden, pose in this undated handout photo. THE CANADIAN PRESS/HO, Vanessa Carlin
By Ritika Dubey in Edmonton
Dozens of people gathered at a church Wednesday to bid an emotional farewell to a mother and her child who were stabbed to death outside an Edmonton school earlier this month.
Carolann Robillard, 35, and 11-year-old Sara Miller, who had recently started using the first name Jayden, were killed in what police said was a random attack outside Crawford Plains School on May 5.
Those who attended the funeral at Sacred Heart Church of the First Peoples, northeast of downtown Edmonton, donned T-shirts with a photo of the mother and child. Attendees embraced each other ahead of the service
Robillard's sister, Amanda Robillard, said purple was her sibling's favourite colour. She said a community member donated pins with a purple ribbon for the funeral to honour Robillard and Jayden.
With a blend of Indigenous traditions and Catholic practices, their caskets were carried inside the church as the hall resounded with Cree drums and singing, with the scent of sage lingering in the air.
"It doesn't feel real," Amanda Robillard said. "(Carolann) cared about her kids. She was a great mother."
Robillard was studying to become a teacher's assistant, the sister said in her eulogy.
"Carolann will be remembered for her continuous dancing, her deadly auntie laugh, her big dimples and her beautiful outlook on life," she said.
She added that Jayden had a "huge heart" and loved everyone.
"(He needed) to make others feel accepted, he made sure to seek out the new janitor at school simply to tell him, 'Thank you for what you do.'"
He also aspired to become a professional basketball player, Amanda Robillard said.
She said their deaths "tore our family apart."
Police have said the man who killed Robillard and Jayden had been facing assault charges for allegedly attacking a man on a scooter. The charges were stayed two days before the mother and child were stabbed.
Officers shot the man during an altercation with him shortly after the stabbings. He died in the hospital five days later.
Police have said the 33-year-old was the sole person responsible for the deaths. Since he was incapacitated in the hospital and later died, police said they won't be naming the killer or laying any charges against him.
The Alberta Serious Incident Response Team, the province's police watchdog, is investigating the shooting.
Investigators have said the killer was known to police, had mental health issues and a record of assaulting children.
After the funeral Wednesday, Robillard's brother questioned the security at the school.
"We don't know how long he was sitting at that park … Schools need to change, security-wise," George Robillard told reporters outside the church.
On the day of the stabbing, Jayden and his eight-year-old sister had walked home from school but could not get inside, police have said.
They walked back to the school to meet their mother when they were attacked. The eight-year-old escaped but witnessed the stabbings.
Robillard was a single mother of three and her two surviving children are being raised by Robillard's sister and mother.
During the funeral Wednesday, Katti Holmes, Robillard's best friend, described her as the life of the party.
"The day I found out about her (death) was my birthday," Holmes said of her friend of eight years.
"She was supposed to be there."
This report by The Canadian Press was first published May 24, 2023.